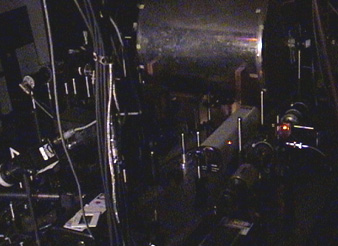 February 27, 2001  Cambridge, Massachusetts – A revolutionary step in physics was reported around the world on January 18, 2001 when The New York Times headlined "Scientists Bring Light to Full Stop, Hold It,Then Send It on Its Way." The scientists are actually two independent teams of physicists who both managed to slow photons down. One group is led by Lene Vestergaard Hau, Ph.D. of Harvard University and the Rowland Institute for Science in Cambridge, Mass. The second group was lead by Ronald L. Walsworth, Ph.D., and Mikhail D. Lukin, Ph.D. of the Harvard-Smithsonian Center for Astrophysics, also in Cambridge, with colleagues Dr. David Phillips, Annet Fleischhauer and Dr. Alois Mair.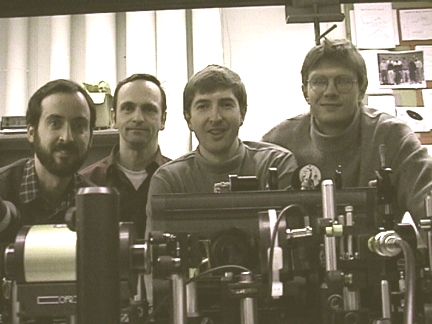 I talked with both Dr. Walsworth and Dr. Phillips about what was happening at the atomic level between the rubidium gas atoms and laser photons. Physicists call it storing information in the form of an atomic "spin wave" where the rubidium atoms are excited into a new state. "Spin" is used to describe tiny magnetic vectors in each of the gas atoms.
Dr. Walsworth provided his graphic which shows the first step is shining a "control" laser beam on a small glass cell filled with rubidium vapor which puts the atoms in an altered state of spin in which they cannot absorb light normally. Then a second "signal pulse" of light is sent which contains the information the physicists want to store in the gas atoms. As that second pulse enters the cell filled with rubidium atoms, the photons slow down and interact with the atoms changing the atoms' spin states in a joint atom-photon system known as a "polariton."
If the second laser beam is turned off, the first beam continues trying to alter the atoms' spin patterns as if imprinted by the second signal pulse. As it does, those photons slow down and "virtually disappear," or "stop" for a fraction of a second. Then when the second laser is turned back on, the photons struggling to alter the rubidium atom spins are "reactivated" and go on their way.


Physics News said this historic lab demonstration "increases the promise for quantum communication, which may someday be used to connect potentially ultrafast quantum computers in a large network analogous to the Internet. Usually photons (quanta of light) are absorbed by atoms, destroying the information carried by the light. With the present (Walsworth et al) method, in principle, no information in the light pulse is lost."
---
Interview:
David Phillips, Ph.D., Atomic Physicist and Staff Scientist, Harvard Smithsonian Center for Astrophysics, Cambridge, Massachusetts: "What we do in our experiment is to actually store the information described in a light pulse inside a cell full of atoms. What we do is start with a glass cell about 3 inches long and 3/4 of an inch in diameter that's hollow on the inside and filled with a dilute gas of rubidium atoms. We shine a laser on to the rubidium atoms that puts all the rubidium atoms into one particular electronic quantum mechanical state. Then with that first laser still on, we apply a pulse of light from a second laser. As that pulse of light enters the cell full of atoms, it slows down due to its interaction with those atoms.
It's as though the pulse were swimming through water. It has to push its way through and similarly, the pulse of light has to push its way through this cloud of rubidium atoms. And that slows it down. And it's not so much as bouncing off it as it is changing information between the two. While the pulse of light is traversing the cell, we turn the intensity of that first control laser down to zero and the information contained in the light pulse is transferred from the light pulse into the atoms. It can then sit in the cell for some length of time that we control until we turn that first control laser back on. Then the pulse of light, or its signal retained in the spin of the rubidium atoms, is converted back into light and leaves the cell.
So what we've done is to store the information contained in the light pulse inside our cell. The nature of that stored information so far has been to preserve the width and height of the laser pulse.
THE PULSE GOES INTO THE RUBIDIUM MOLECULES OF GAS?
Yes.
WHATEVER THE SHAPE OF THE PULSE IS TRANSFERRED INTO THOSE RUBIDIUM MOLECULES?
Yes. The energy associated with those pulses, the energy in each photon – how wide the pulse was, how tall the pulse was, that there was a pulse there at all. For example, if you are imagining this as a storage device to send telephone information you could imagine encoding the voice signals.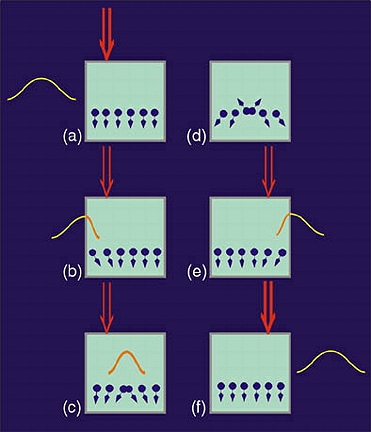 WHAT IS IT ABOUT RUBIDIUM GAS MOLECULES THAT WOULD HOLD THIS INFORMATION?
It's the quantum mechanical spin of the atoms, primarily of the outer electron of the rubidium atom. So, what we do with the control laser is to put all the rubidium atoms into one state, to make the spin point in one particular direction. And then as the pulse of light comes in, it rotates that spin and when the control laser is shut off, the information describing the pulse is converted into the direction the spins are all pointing. So instead of all pointing the same direction, the spins have been rotated a little bit and that represents the pulse.
WHICH PART OF THIS NOW APPLIES TO STOPPING LIGHT UNTIL PHOTONS ARE SENT ON THEIR WAY?
We can leave the atoms sitting there with their spins rotated for some time that we control that might be 1/10,000th/second and then we turn back on the control laser beam and it reads out the rotation of the spins and reconstructs the original pulse. Then having had the information sitting in these atomic states, the control laser extracts that signal and recreates the initial light pulse. So then we go back to the situation in which the atoms all have their spins in the same direction. All the info has been removed from them and the light pulse has been recreated and propagates along its way.
IT"S CONFUSING WHEN WE ARE TAUGHT THAT LIGHT, AT LEAST IN A VACUUM, ALWAYS TRAVELS AT 186,000 MILES PER SECOND. CAN YOU EXTRAPOLATE FROM THIS RESEARCH INTO SOME DATE IN THE FUTURE WHERE WE WOULD BE ABLE TO STOP PHOTONS IN THEIR TRACKS?
No. A photon will always travel at the speed of light. You can never bring a photon to rest. That's certainly true. But what you can do is bring the light pulse to rest, bring the info describing that light pulse to rest. But the photons themselves propagate on their way and leave the cell, leaving only their information in it.
SINCE YOU CAN'T STOP OR STORE PHOTONS THEMSELVES WHICH ARE ALWAYS TRAVELING AT 186,000 MILES/SECOND, YOU ARE TRYING TO PUT INFORMATION ON PHOTONS THAT CAN THEN BE IMPARTED TO A GAS LIKE RUBIDIUM AND THAT IS THE GOAL?
Yes, that is correct. So, instead of being interested in the energy of the photons, we are interested in the information. We want to take the info and encode it in the photon and store that and extract it at some later time.
Quantum Computers
That has potential applications in ideas of quantum information processing and also it helps us to understand interactions between light and matter which is a thing that atomic physicists have been interested in for a very long time now. We want to understand in detail what really happens when atoms and photons interact with each other. How can we control those interactions in a very detailed way?
So those are the two motivations for doing this experiment, in addition to the fact that it was a lot of fun:
1) to be able to understand how photons and atoms interact;
2) to study possible mechanisms for transporting quantum information which is potentially useful in quantum computers that people will try to build over the next decades.
HOW WOULD IT APPLY TO COMPUTERS?
In a computer that sits on your desk today, the calculations are performed by transistors which are collections of atoms in little films of metal through which electrons flow. That information has to be transported between different elements inside the computer in order to be stored in memory, read back from memory and returned back to a central processing unit. And that's done inside a computer today by having electrons flow.
In quantum computers – if physicists ever figure out how to build them – rather than using classical zeros and ones known as bits to store the information, quantum states will be used. That would allow you to use more than a single zero or one. A quantum state can be several positions at once, a little bit of zero and a little bit of one. Calculations with those can be done using ideas from physics about how atoms interact with each other.
DO YOU MEAN THAT WHAT WE CALL THE ZERO AND ONE STORAGE IN COMPUTERS TODAY IN INTEGRATED CIRCUITS, THEN BECOMES ZERO, ONE AND SHADES OF GRAY AT LITERALLY THE ATOMIC LEVEL IN FUTURE COMPUTERS?
Yes. That's correct.
THE ATOMS THEMSELVES, THEIR SPIN DIRECTIONS, IS WHAT YOU WOULD BE USING TO STORE INFORMATION AND RELEASE INFORMATION?
Yes. A natural place to store quantum information is inside atoms, but it's hard to move them from place to place maintaining that information. It's much easier to transport information using light. And so this new research slowing photons and transferring a signal to the gas atoms spin direction suggests how to transport quantum information from one ensemble of atoms to another. But we started with light that went into atoms and extracted it back out again. In order to transport info inside a quantum computer, you would have to start with info in atoms and extract it out into light and then write it back into atoms. But the theory that describes that is exactly the same theory that describes the experiments we did.
DOES THAT MEAN THAT COMPUTERS IN THE FUTURE WOULD LOOK LIKE THEY HAD CRYSTAL COMPONENTS THROUGH WHICH NOTHING WAS MOVING EXCEPT LIGHT?
That's entirely possible. These ideas are all very speculative today and it's hard to imagine whether people will actually succeed in building quantum computers and if they do succeed, how long it's going to take. If they do succeed in building quantum computers, will they sit on desks, or just be a few of them that sit in big laboratories? If they work at all, it's going to take some decades and will be used for very specialized tasks.
THOSE QUANTUM COMPUTERS BY DEFINITION WOULD NOT HAVE WIRES AND INTEGRATED CIRCUITS IN THEM. THEY WOULD HAVE TO HAVE SOME SORT OF TRANSPORT MECHANISM FOR LIGHT?
That's the most natural way we see to do it. Once again, what the future will bring, what new ideas people will have, I don't want to limit anything clever about what might happen. Maybe people will figure out how to transport information using electrons, or using something else. But the most obvious way to do it at this stage is light. And so yes, you would imagine crystals in which interactions took place and in which light beams propagated around to transport the information.
WHAT IS THE DIFFERENCE BETWEEN CRYSTALS TRANSPORTING LIGHT IN A QUANTUM COMPUTER AND FIBER OPTICS TRANSPORTING LIGHT IN OUR TELEPHONES AND COMPUTERS TODAY?
In a fundamental sense, they are not so different. One of the issues that we don't have to worry about today in a light fiber transporting information via photons is whether the quantum nature of things is preserved, or whether in the act of traveling down the fiber that the quantum aspects of information are destroyed.
HOW WOULD YOU DEFINE QUANTUM INFORMATION?
One of the interesting things that quantum mechanics says is that you can have two atoms or two photons or two quantum mechanical objects that are separated by great distances and yet are connected. So if you do a measurement upon one, that tells you what the answer of measuring the other will be.
Bell's Theorem and the Spooky Connection of All Photons
THAT RELATES TO BELL'S THEOREM WHERE THEY EXPERIMENTED WITH PHOTON SPIN AND THE DEDUCTION WAS THAT IN SOME WAY EVERY PHOTON IN THE UNIVERSE KNOWS THE SPIN DIRECTION OF ALL THE OTHER PHOTONS?
Yes. And Einstein had some wonderful quote about spooky action at a distance and that spookiness is the heart of quantum computing. And so in order to transport quantum information, you have to be able to transport that weird connection that quantum mechanics tells us can develop between pairs of photons or pairs of electrons or pairs of atoms. Potentially using these ideas that we are just beginning to demonstrate. We haven't done experiments trying to verify the quantum nature yet, because they are harder than what we've done so far. But the theory says that we can use these ideas to create one ensemble of atoms sitting in one of these cells on one table. We can then extract half of the quantum information from it and transport to a cell sitting on a different table where information is simultaneously transferred into another set of atoms in that strange Bell's Theorem way.
AND DO IT ALL WITHOUT WIRES.
Correct.
IT'S ALMOST AS IF IT IS SYMPATHETIC RESONANCE.
Yeah, in a sense. And that's both interesting for elucidating the nature of quantum measurement and quantum entanglement. It's also useful in trying to understand how to construct a quantum computer.
YOU COULD HAVE A NETWORK OF COMPUTERS THAT WERE NOT CONNECTED AS SUCH, BUT HAD CRYSTALS WITH LIGHT RUNNING THROUGH THEM WHERE THE PHOTONS THEMSELVES WERE IMPARTING ENCODED INFORMATION WITHOUT HAVING ANY PHYSICAL CONNECTION?
Yes. You can have several quantum computers in separate locations all working on the same problem at the same time because they are entangled in that quantum mechanical way. I believe that is correct. Now, once again we are a long way from even knowing how to build a quantum computer. So, these are all dreams of the future. But there are a lot of very smart people working on these ideas and so probably these dreams will come true sooner than we skeptical physicists would guess.
Future Photon Research
WHAT'S THE NEXT STEP IN YOUR RESEARCH?
There are two things we are setting up to do next. The first is to clean up our existing experiment and do it better than we've done it so far. In our current set up, we can only store about half the pulse that moves through our cell and we can only store it for a few hundred microseconds. We'd like to be able to store it for 10 to 100 times longer and we would like to store closer to 98% of it, or 99%, of it rather than just 50% of it.
The next thing we would like to do is demonstrate that we can transport quantum information as well as classical info. And that involves building a new and more sophisticated apparatus and we are just starting now to go out and get the money to do things like that.
THE PRACTICAL APPLICATION IN SOME DISTANT FUTURE WOULD BE QUANTUM COMPUTERS IN WHICH LIGHT IS THE MECHANISM FOR MOVING INFORMATION?
Yes, that's correct."
---
More Information:
See: "Storage of Light in Atomic Vapor," Physical Review Letters, January 29, 2001, Vol. 86, Issue 5, pp. 783-786.
---
Websites:
http://www.aip.org/physnews/update/521-1.html



© 1998 - 2019 by Linda Moulton Howe.
All Rights Reserved.