"The alien in the photo had a lima bean-looking head, skinny little slits for sunken eyes, hardly any mouth, kind of a baby nose, no ears that are discernible. It was just really creepy-looking. It was obviously a reptilian-kind of creature. Looked like whitish-grey snakeskin or something like that."
- U. S. Navy Chief Petty Officer, Chief Yeoman (Ret.)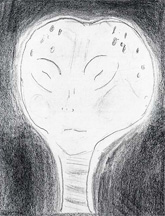 This report contains two important videos with U. S. Navy Chief Yeoman Thomas Colman Sheppard (Ret.), who describes non-human photographs he saw in a file labelled "Roswell" and was classified MAJIC when he was stationed in Okinawa in November 1976.

© 1998 - 2018 by Linda Moulton Howe.
All Rights Reserved.