"My new national strategy for space recognizes that space is a war-fighting
domain,just like the land, air and sea."
– Donald Trump, U. S. President, March 13, 2018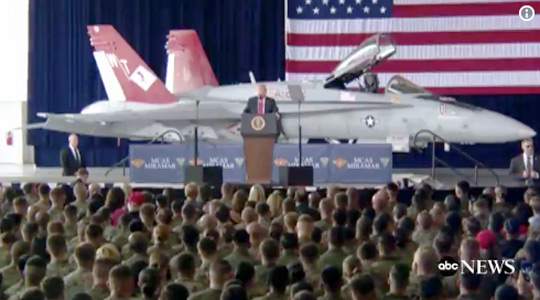 Earthfiles.com transcript of March 13, 2018, excerpt of President Donald Trump speaking at Marine Corps Air Station Miramar, San Diego, California: "Very soon we're going to Mars. You wouldn't have been going to Mars if my opponent won, that I can tell you. You wouldn't even be thinking about it. My new national strategy for space recognizes that space is a war-fighting domain, just like the land, air and sea. We may even have a Space Force, to develop another one. We have the Air Force. We'll have the Space Force. You have the Army, the Navy.
You know, I was saying the other day because we are doing a tremendous amount of work in space, I said, 'Maybe we need a new force. We'll call it the Space Force.' And first I wasn't serious. But then I thought, 'What a great idea! We'll have to do that.'
That could happen. That could be the big, breaking story. … From the very beginning, many of our astronauts have been soldiers and sailors, airmen, coast guardsmen and marines. Our service members will be vital to insuring America continues to lead the way into the stars, lead the way into space. We're way, way behind and we're catching up fast — so fast that nobody even believes it."

© 1998 - 2018 by Linda Moulton Howe.
All Rights Reserved.