December 6, 2018  Albuquerque, New Mexico – We've got a Christmas 2018 green, bright comet on its way toward Earth at 21,251 miles per hour. Astronomers call it:  Comet 46P/Wirtanen. The 46P means this is the 46th periodic comet discovered with an orbital period around our sun of less than 200 years. Now scientists know that 46P/Wirtanen is a small, short-period comet that goes around our sun every 5.4 years.
The name Wirtanen comes from Carl Wirtanen who first discovered the periodic comet in a photograph dated January 17, 1948. Some Earth observers now are already seeing the green comet with binoculars and here is a beautiful image by NASA.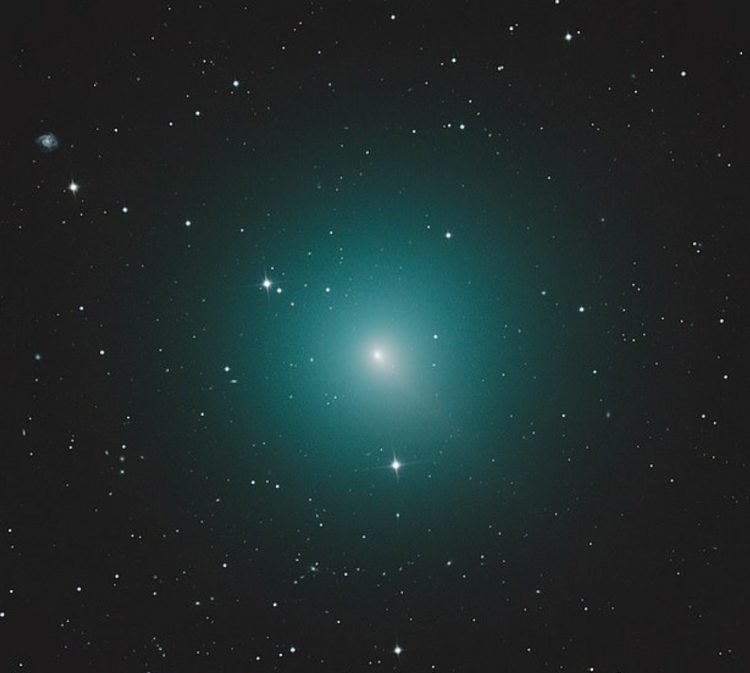 Then by December 16th, 2018, Comet Wirtanen will be at its closest approach to Earth, about 7.1 million miles away. That's about 30 times the distance from Earth to the moon.
So, that December 16th night, the comet might be magnitude 3.5 to 6, which would be faintly visible to the naked eye as a green fuzzy glow in the night sky. Local astronomy clubs are organizing telescope parties to see clear images of the green comet.
Will this comet have a tail? Due to the orientation in space of Earth and Wirtanen when the comet is closest, its tail of ions will be behind the comet, so not visible from Earth.
Comet Wirtanen belongs to the Jupiter family of comets. Its orbit brings Wirtanen just outside of Earth's orbit, to just inside of Jupiter's path around the sun. Since Comet Wirtanen's discovery on January 17, 1948, it has approached the Earth's orbit a dozen times, but was always on the far side of Earth's orbit. So that's why December 2018 is special — it's the closest and brightest it's ever been.

© 1998 - 2018 by Linda Moulton Howe.
All Rights Reserved.