PHENOMENON Radio – LIVE with Linda Moulton Howe and John Burroughs.
Earthfiles.com Reporter and Editor Linda Moulton Howe joins retired USAF Tech Sgt. John Burroughs to co-host PHENOMENON Radio LIVE broadcasts on db-KGRA. They explore firsthand testimonies from military, intelligence, technology and eyewitnesses about high strangeness of unknown origin on our planet.
KGRA worldwide web radio Thursday nights.
5 -7 PM Pacific / 8 – 10 PM Eastern.
http://www.kgraradio.com/portfolio-view/phenomenon-radio/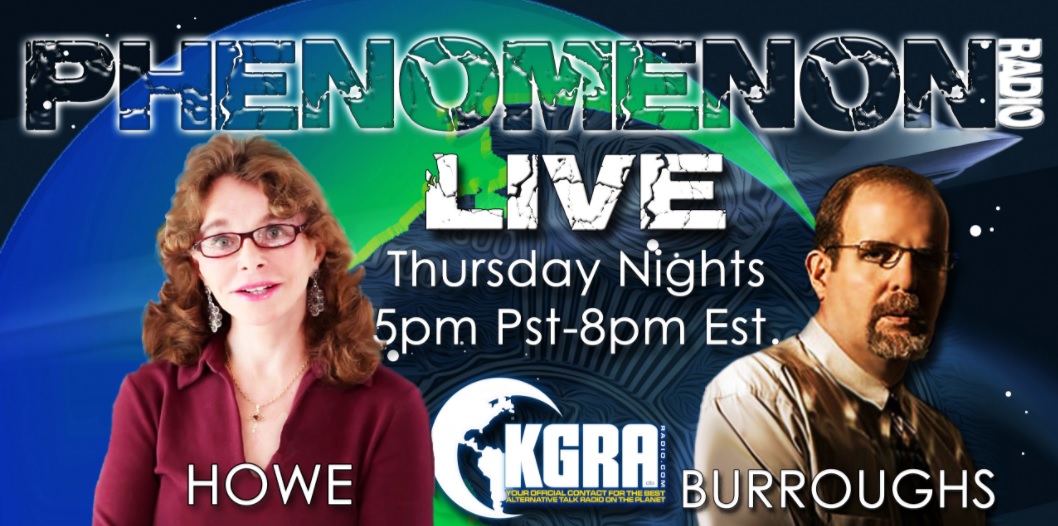 Earthfiles YouTube Channel – LIVE Reports by Linda Moulton Howe.

Wednesday nights Linda Moulton Howe, Reporter and Editor of Earthfiles.com, shares her latest investigations, insights and Real X-Files LIVE on her Earthfiles YouTube Channel from 6:30 to 7 PM Pacific and 9:30 to 10 PM Eastern. Subscribe to the Earthfiles YouTube Channel to receive instant notifications when Linda goes live. Jump on to the live chat and after Linda's updates, she welcomes questions from viewers in real time. All shows are recorded and ready to watch later that night and in the Earthfiles YouTube Channel archive. Stay tuned to social media for notices of the nights Linda will be on #LIVE.
Linda Moulton Howe at Conscious Life Expo
February 22 – 25, 2019

http://consciouslifeexpo.com/2019-expo/index.html
Tickets – http://www.consciouslifeexpo.com/2018-expo/feb-2018-ticket-purchasing.html
The Arlington Institute
March 15, 2019

Welcome to Berkeley Springs Transition Talks
Venue TBA
Berkeley Springs, WV 25411

(Registration: $60) http://transitiontalks.org/
Contact in the desert – Indian Wells CA
May 31 – June 3, 2018
Tickets – http://contactinthedesert.com/tickets/passes/
CONTACT in the DESERT holds its 7th annual event at the Renaissance Resort and Hotel in Indian Wells, California. There on May 31 – June 3, CONTACT in the DESERT will bring together an all-star team of experts to discuss the latest developments in the field, including the recently disclosed secret Pentagon UFO program. More than a conference the event is a portal through which attendees can gain knowledge and the most up-to-date info on UFOs and ancient alien studies.

AlienCon LosAngeles
June 21-23, 2019

AlienCon returns to the West Coast in June 2019! Featuring long-time favorites and all-new guests, new panels, programming sessions, and even more to explore, AlienCon Los Angeles brings together experts, the stars of Ancient Aliens®, and science fiction fan favorites. If you want to spend a weekend with likeminded people to challenge existing beliefs and seek disclosure of all kinds in an environment that fosters learning, discovery, and discussion all while having a good time, then you have come to the right place.
From June 21–23, 2019, AlienCon Los Angeles will feature thought-provoking panel discussions, celebrity appearances, exclusive merchandise, fan competitions, a party and much more.
Tickets: https://www.showclix.com/event/aliencon-2019-la/tag/about-page
Linda Moulton Howe at Awakening Manchester UK
July 19-20, 2019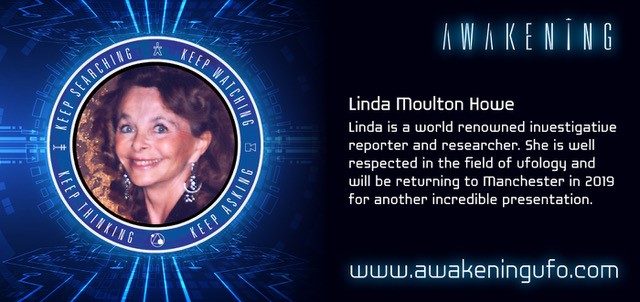 For more info – https://awakeningufo.com/ 
For information on tickets – click here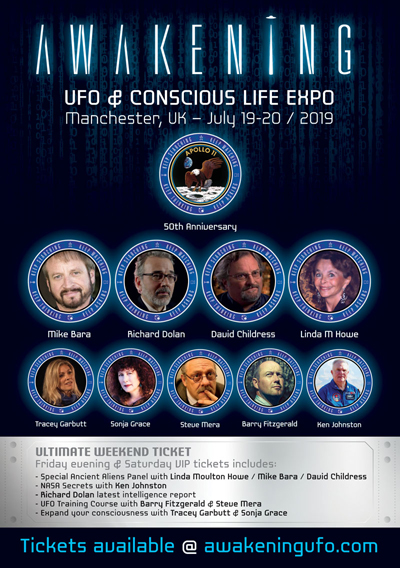 Europe's largest UFO & Conscious Life Expo returns to Manchester for our third Expo on Friday 19th & Saturday 20th July 2019 at Bowlers Exhibition Centre. After an incredible 2017 & 2018, we return with our biggest expo yet. 2019 will see Europe's largest push on disclosure with an interstellar line up of guest speakers. Join Ancient Aliens TV stars – Linda Moulton Howe, Richard Dolan, David Childress, Mike Bara & NASA whistle-blower Ken Johnston as we explore the Apollo Missions and what the future holds for mankind…
Saturday 20th July marks the 50th Anniversary of the Apollo 11 Moon Landing and we will host an out of this world panel to discuss mankind's greatest achievement or was it all a hoax?
Barry Fitzgerald & Steve Mera will be presenting their UFO training course whilst Tracey Garbutt and Sonja Grace show how powerful our mind and consciousness can be.
Awakening 2019 will be something very special. Make sure you get your tickets early as this will sell out.
We have a limited number of VIP ultimate weekend tickets available which includes our meet and greet on Friday evening where you will meet all of our guests and witness exclusive presentations including our Ancient Aliens panel.
Join us in Manchester for an interstellar journey into the unknown with the world's leading truth seekers.