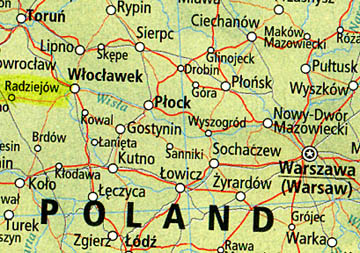 August 29, 2004  Kaczewo, Kujawsko-Pomorska Province, Poland - Robert K. Lesniakiewicz, Vice President of the CBUFOIZA (researchers in Poland who investigate unidentified aerial objects and crop formations) reported on August 28, 2004: "A crop pictogram made from three elements in wheat (2 circles and 1 rectangle) was found in the Kaczewo village of the Radziejow District in Kujawsko-Pomorska Province. The biggest crop circle measures 7.4 meters in its diameter (24 feet). The agroformation seems to be authentic. It was examined by a team of the IRG Torun and photographs were made by Mr. Stan Barski."

© 1998 - 2018 by Linda Moulton Howe.
All Rights Reserved.