© 1994 -1995 by J. Andrew Kissner
All rights reserved. No part of this book may be reproduced, in any form, without written permission of the author.
Reprinted in 2005-2006 as a Real X-Files series by Earthfiles.com with author's written permission.

"The flying disc intelligence was focused on the one area in the U. S. where any 'peculiar phenomenon' that disrupted weapons research activity was immediately a matter of concern to the JCS and the President."
- J. Andrew Kissner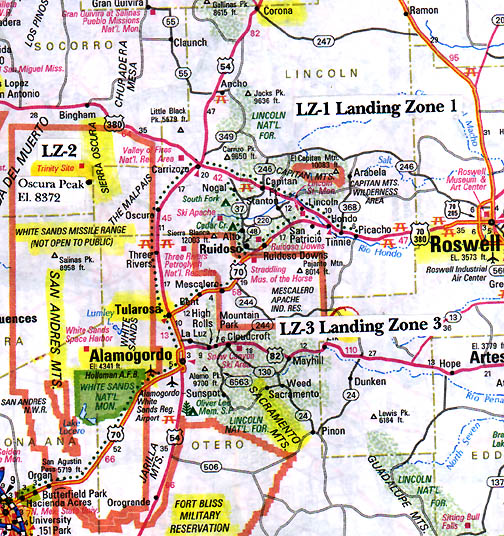 Return to Part 1
(Cont.) White Sands and OSRD: The Atomic Bomb and V-2s 
An observatory was constructed on Sacramento Peak east of WSPG by Dr. Donald Menzel (MJ-10) of the Harvard High Altitude Observatory (Climax, Colorado). "Sac Peak" was reported to "aid the observation of surface-to-air missiles launched from Holloman Field." Later, the observatory was used to conduct full coronographic studies of the sun and eventually became the primary instrument for the National Optical Astronomy Observatories and Solar Observatory funded entirely by the National Science Foundation with headquarters in 1996 at Tucson, Arizona. [ Source: Science With A Vengeance © Devorkin. ]
Click here to subscribe and get instant access to read this report.
Click here to check your existing subscription status.
Existing members, login below:

© 1998 - 2023 by Linda Moulton Howe.
All Rights Reserved.