© 1999 by Linda Moulton Howe
May 16, 1999 Virginia Beach, Virginia ­ We're now mid way into 1999 and two subjects that often come up from Dreamland listeners in this transition to the new Millennium concern the prophecies, or clairvoyance, of Edgar Cayce. Mr. Cayce lived in the first half of the 20th Century and is famous for his ability to remote view sick people, find out what was wrong and suggest a treatment that often worked. Over nearly five decades, as Cayce tapped into illnesses of the body, he could also see other lives of the patient's soul -- including incarnations in Atlantis between 12,000 and 50,000 years ago. And he said he could see a likelihood of earth changes at the end of the 20th Century.
Recently I talked with his son, Edgar Evans Cayce, now a retired electrical engineer in Virginia Beach, Virginia where his father died in 1945. The son has studied his father's several thousand readings and compiled information about Atlantis in a book entitled Mysteries of Atlantis Revisited now out in paperback in most bookstores.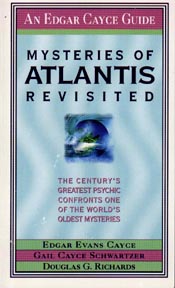 Click here to subscribe and get instant access to read this report.
Click here to check your existing subscription status.
Existing members, login below:

© 1998 - 2023 by Linda Moulton Howe.
All Rights Reserved.