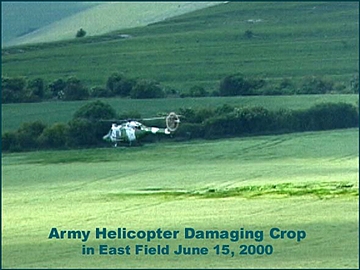 June 17, 2000  East Field, Alton Barnes, Wiltshire, England - Videographer Peter Sorensen e-mailed me alarming and puzzling photographs he took in the East Field on June 15, 2000, one of the Wiltshire fields famous for spectacular crop formations. There is no fresh crop formation in the East Field, only the remnants of the 5-pointed star referred to as the "Harlequin Pentacle" discovered there on May 20, 2000. Recently, a 'rook circle' was made by birds that Peter was photographing to compare to the truly mysterious crop formations that glisten and flow like water. Often patterns resemble ancient symbols which imply a profile of high intelligence in whomever, or whatever, is responsible for the enigmatic crop glyphs. Is military intelligence monitoring frequencies from satellites and other listening posts to "catch" something associated with crop circle creation? The following is from Peter to the farm's owner, Tim Carson, Alton Barnes:
Click here to subscribe and get instant access to read this report.
Click here to check your existing subscription status.
Existing members, login below:

© 1998 - 2023 by Linda Moulton Howe.
All Rights Reserved.