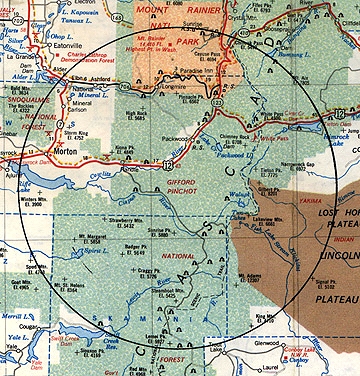 October 8, 2000 Tahuya, Washington - Bigfoot tracker, landscape contractor and Tahuya resident, Derek Randles, has a large plaster cast of what might be the first partial body print of a Bigfoot ever found. In September, he helped the Bigfoot Field Researchers Organization (BFRO) plan an expedition of fourteen people into the Gifford Pinchot wilderness west of Yakima, Washington. Their goal was to find Bigfoot tracks, hairs and screams for an Australian camera crew producing a segment for the Discovery Channel program Animal X . The group set up a sound projection system to loudly broadcast a Bigfoot scream recorded recently at Lake Tahoe, California. On September 21st, after one of the broadcasts of three Bigfoot screams, the researchers were shocked to hear a nearly identical series of three screams answer back.
Around 3:30 AM on September 22, Derek Randles and some of his colleagues went in the direction of the screams and placed fruit in the middle of a watery, muddy wallow in hopes that whatever was producing the eerie answers might be tempted to eat the fruit and leave tracks in the mud. After sunrise, the men found more than footprints.
Click here to subscribe and get instant access to read this report.
Click here to check your existing subscription status.
Existing members, login below:

© 1998 - 2019 by Linda Moulton Howe.
All Rights Reserved.