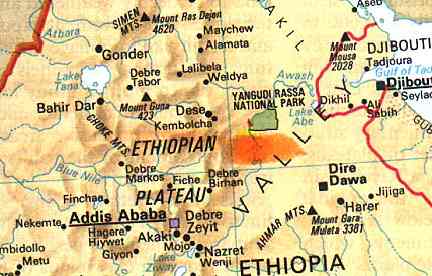 July 21, 2001  Alayla, Ethiopia – A graduate student named Yohannes Haile-Selassie studying paleontology at the University of California, Berkeley, found bones on December 16, 1997 at a site 140 miles northeast of Ethiopia's capital, Addis Ababa, Ethiopia which might be the missing link in evolving primates that went on to become humans. This creature, Ardipithecus ramidus kadabba, might have been the first primate to walk upright and the oldest human ancestor who lived in Ethiopian forests, not grassy plains, as far back as 5.8 million years ago. That's a million and a half years earlier than any other previous discovery and challenges the long held theory that primates stood up when they moved from trees to grassy plains.
This past week, Yohannes Haile-Selassie's research was published for the first time in the journal Nature. He is still in Africa, but anthropologist Brian Richmond, Ph.D. at the University of Illinois at Urbana-Champagne is familiar with the work and talked to me this week about its significance.
---
Interview:
Brian Richmond, Ph.D., Asst. Professor of Anthropology, University of Illinois at Urbana-Champagne, Urbana, Illinois: "First of all, it's a very exciting find. One of the most important things about it is that up until this time, up until a year ago, we had absolutely no information for the human fossil record prior to about 4.4 million years, until we go way back into the early ape record. So what was really exciting about this is that it's filling a critical gap in our understanding of the earliest parts of human origins.
ALMOST 6 MILLION YEARS AGO.
Exactly, almost 6 million years ago. And based on DNA evidence, we believe that chimpanzees and humans split off from one another somewhere between 5 and 7 million years ago. So, this is the critical time period at which we might find the common ancestor that gave rise to both chimpanzees that live today and humans that live today.
HOW WILL IT BE DETERMINED WHETHER THIS NEW FIND 5.8 MILLION YEARS AGO IN ETHIOPIA IS IN FACT AT THE ROOT OF THE HUMAN EVOLUTIONARY CHAIN OR THE CHIMPANZEE?
The one key trait that defines all modern humans and all our fossil relatives is the ability to walk upright on two legs. So, out of all our varied human characteristics like our large brains, our ability to speak, our ability to make and use complicated tools and things like that, as we go back in the fossil record, those things appear later in time than the ability to walk upright which is something that frees the hands for us to do other things. So, if there is good evidence in the skeleton of walking upright on two legs, that would be really strong evidence that the species was on the human line, not the chimpanzee line.
In fact, one of the bones they found was a toe bone and they suggest that – you might ask, what can you tell from a toe bone? Well, a toe bone is one of the bones you might get a hint about how it walked around in the world. And there is some indications on it that it might have been from an upright walker.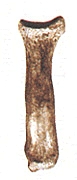 NOW CAN YOU TALK A LITTLE BIT ABOUT THIS BEING A FIND IN ETHIOPIA WHERE IT IS UNDERSTOOD THAT THERE WERE FOREST DWELLING CREATURES AS OPPOSED TO THE GRASSY PLAINS IN SAY THE OLDUVAI GORGE IN KENYA?
Yes, that is probably the most important find that has come out of this discovery is that these fragmentary fossil remains are not found on grasslands, but in a forest environment. So, if they do represent one of the earliest human ancestors, that upsets one of the long-standing theories in human origins that a transition from a forest environment to a more grassy, open environment was critical to the formation of early humans. The idea went that there were global climate changes going on at the time that caused forests in some parts of the world to shrink and give rise to open grass lands. And that shrinking forest caused the early apes to be forced to come down to the ground and they had to walk around on the ground some way and one of those ways might have been upright walking. So there was an idea about a shift to an open grassy environment as being critical to the earliest lineages of modern humans.
This discovery showing the forest environment means that the early transition to upright walking must have taken place in a forest environment. And so that really changes our ideas and we're going to have to create some new hypotheses – we're able to reject some old ones, which is nice. But we have to refine some hypotheses to explain how it is that this earliest nudge toward humanity started.
THE BRANCH BETWEEN CHIMPANZEES AND HUMANS – HAS THERE BEEN A MISSING LINK THERE JUST AS THERE HAS BEEN A MISSING LINK BETWEEN SAY MORE MODERN NEANDERTHAL TO CRO-MAGNON? DO WE HAVE SEVERAL MISSING LINKS?
That's a very good question. On the human side of things, even though we have a sparse fossil record, we have over a dozen species from which we know something about our own past. But not all the species lead directly to us. Some of those species were side branches that went extinct. And several of those species lived even at the same time. So, only one of those branches lead eventually to us.
What's remarkable is that we don't have a single fossil chimpanzee and that's what is going to make it all the harder to identify whether or not these early 5.5 million year old remains belong to the early human lineage or if they belong to an early chimpanzee lineage.
IF WE WENT BACK 40,000 YEARS ON THE PLANET AND NEANDERTHAL WAS LIVING AND EXISTING, WHAT EXACTLY WAS THE PRECURSOR TO WHAT BECAME CRO-MAGNON HOMO SAPIENS SAPIENS THAT WE ARE TODAY?
That's a tricky question to ask. Like what is the exact precursor to Cro-Magnon? There are a number of fossils from Europe that are broadly ancestral enough that might have given rise to Cro-Magnon. We wouldn't be able to link them directly as the ancestral lineage, but there are pools of fossils that represent populations that might have given rise to Cro-Magnon. It seems that modern humans originated as a species around 100,000 years ago in Africa and then dispersed throughout the rest of the world. So, the earliest ancestors of the Cro-Magnon would have occurred in probably southern or eastern Africa.
AND IS THAT HOMO ERECTUS OR LATER?
That would be the earliest members of Homo sapiens, of our own species. We believe around 100,000 years ago the fossil evidence suggests there was a transition to a much more modern human-like form. They weren't exactly modern like we are today. We would still be able to distinguish them from us, but they are much more modern than anything else we see before that time.
By looking at DNA of people from across the globe, it appears that the most diversity in DNA occurs in Africa. Based on the diversity that is there in the DNA, it suggests that around 80 to 100 thousand years ago is when modern humans as a species originated.
AND THIS NEW FIND THAT GOES BACK 5.8 MILLION YEARS AGO IS PLACING A POSSIBLE ORIGIN FOR THAT WHICH BECAME AN UPRIGHT PRIMATE IN ETHIOPIA AND NOT IN THE GRASSY PLAINS?
Exactly. And that part of Ethiopia – what is interesting there is they actually have fossil sites that were grassy plain, or more grassy areas, and they have fossil sites in more wooded areas in the same region. And they are not finding the hominids in the open grassy areas. So it's fairly interesting that they are only finding the hominids which are the early human ancestors, if that's what they are, that they are finding those fossils in more wooded environments.
I'M ALSO CURIOUS ABOUT GIGANTOPITHECUS. I'VE RECENTLY DONE SOME RESEARCH WORK ON A PROGRAM FOR THE DISCOVERY CHANNEL ABOUT BIGFOOT/SASQUATCH TYPE CREATURES THAT HAVE BEEN REPORTED IN VIETNAM AND LAOS AND ALL AROUND THE WORLD. AND SOME SCIENTISTS WONDER IF THERE IS SOME BACKWATER CONNECTION TO GIGANTOPITHECUS THAT COULD STILL BE RANGING AND ROAMING IN VERY REMOTE AREAS. WHAT CAN YOU TELL US ABOUT GIGANTOPITHECUS?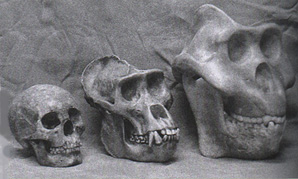 I wish I could tell you more than I can. The unfortunate truth about Gigantopithecus is that we only have dental remains and a few scrappy remains like parts of jaw bone for the species. It's clear from the teeth and jaw bone that this was the largest primate or ape that we've ever known, up to twice the size of a gorilla. They were really very large animals. And so they have really captured the imaginations of paleo-anthropologists and the public.
Despite pretty intense efforts, we have not been able to find any good skeletal evidence of these things. So, that really limits our understanding of the paleo-biology of this species. Now, it's clear that they persisted up to about a million years ago and co-existed with early members of human ancestors, Homo erectus. That's very interesting to contemplate how there might have been interaction in some way between Gigantopithecus, this giant ground dwelling primate, and Homo erectus in Asia. But there does not seem to be any relationship connection other than one that might go back to the origins of great apes in general.
FROM THE PHOTOGRAPHS I HAVE SEEN OF RECONSTRUCTION FROM THE TEETH AND JAW YOU WERE TALKING ABOUT, THE HEAD OF THE GIGANTOPITHECUS WOULD BE ALMOST TWO OR THREE TIMES LARGER THAN HOMO SAPIENS SKULL TODAY. WOULD THAT MEAN THEY COULD HAVE STOOD 15 FEET HIGH? OR TWELVE?
Possibly twelve. I don't remember the exact dimensions, but I believe the reconstructions were based on the size of the jaw and what we know about the size of the jaw and teeth in relationship to the rest of the body in apes today – it would have to be a very, very large individuals. Clearly, they were the largest primates we've ever run across. So, that's given rise to the ideas about there possibly being a Bigfoot or Yeti that could be the Gigantopithecus in some way. These claims, there still is no good evidence for it yet, but it still fuels a lot of imagination – the mythical Bigfoot or Yeti could be this living relics of Gigantopithecus. It's a fascinating idea, but right now, there really is not much evidence for it.
WHERE WOULD GIANTOPITHECUS HAVE ROAMED FROM WHERE THOSE BONES OF THE JAW WERE FOUND?
Gigantopithecus is mostly known from parts of Asia, particularly in areas like Pakistan, India, parts of eastern Asia. That's where we know it from. Some researchers believe they had a dietary specialization on bamboo. So, if that's the case, they would have followed the distribution of bamboo.
AND THIS RECENT DISCOVERY CHANNEL EXPEDITION WAS FOCUSED ON THE VERY REMOTE BORDER BETWEEN LAOS AND VIETNAM.
Yes, those are areas also where they have been finding evidence."
---
More Information:
DNA Precursor to Modern Man?
THE QUESTION OF THE CURRENT TRANSITION FROM SAY NEANDERTHAL TO CRO-MAGNON HOMO SAPIENS SAPIENS IN THE LAST 35,000 TO 40,000 YEARS, THE WORK THAT PABLO SVANTES DID IN GERMANY AND AT THE UNIV. OF PENNSYLVANIA ON THAT ELBOW THAT WAS FOUND IN NEANDER INDICATED THERE COULD NOT HAVE BEEN ANY SEXUAL INTERCOURSE BETWEEN NEANDERTHAL AND WHAT BECAME CRO-MAGNON HOMO SAPIENS SAPIENS. IS THAT STILL A MISSING LINK THAT WE REALLY DON'T KNOW WHO OUR PRECURSOR IS TO MODERN HUMANITY?
"That's a good question and this Neanderthal DNA study is probably one of the most important works to be done in paleo-anthropology in the last ten years. And it's really amazing that they are able to get a substantial amount of DNA out of a bone that is that old. What they found, as you mentioned, is that the DNA that came out of that Neanderthal specimen was so different from a large collection of over 100 modern human DNA samples that it could not have, it wasn't any more closely related to modern humans than humans are to each other. That means that all the humans form a cluster to the exclusion of Neanderthal. That doesn't quite mean they didn't interbreed in some way, but what it does suggest is that Neanderthals did not contribute to the modern human gene pool. And that is a very important finding because some people have seen Neanderthals as possibly being ancestral to Europeans, for example. And this research shows pretty clearly that Neanderthals lived side by side with the early ancestors of modern humans, especially in the Europe region.
But we do have good fossil evidence of things that seem to have given rise to both Neanderthals and modern humans. So, we have clear missing links there, but Neanderthal is not one of the links that lead to modern humans.
WHAT WOULD BE THE COMMON ANCESTOR?
There are a number of fossils. Some of them have been found in Spain in the last 10 years. Some people have given them a new species name which is Homo antecessor, but it's not clear if those fossils represent a different species or not. But they seem to be distinctive and general enough that they could have given rise to both modern humans and Neanderthals.
HOW FAR BACK DO THOSE BONES GO?
Those bones go back over half a million years, so they are old enough and they are in the right place and time that they could have broadly given rise to both lineages. There is still a lot of controversy about exactly how, which fossils and which lineages at which times give rise to modern humans. But we do at that point in time have a pretty decent fossil record. It's almost a matter of an embarrassment of riches making it more difficult to find the answer because if you think about it, as we find more and more fossils, we are starting to get such a high resolution that it's hard to tell species apart because you're getting on the order of tens and hundreds of generations. At that point, it's hard to find where populations split and gave rise to different species.
WERE THE HILLS IN WHICH THE FRENCH FOUND THE BONES FORESTED OR GRASSY?
Actually, the paleo-environment in which these remains were found – today it's a fairly open desert landscape, but 6 million years ago this was a fairly wet forest. So this is also confirming the ideas that the earliest ancestors, if these are human ancestors. It's possible they are not. But if these are early human ancestors and they are occurring in wooded environments again bolsters the idea that the earliest thing that happened in human evolution to walk upright occurred in a forest environment. So theories have to accommodate that.
CHANGE THE OLD IDEA OF MOVING OUT INTO GRASSY PLAINS.
Exactly. The only thing I would add is that just this last fall, there was another early possible human ancestor discovery in the form of a fossil discovered by a French team, Orrorin (local Kenyan name for root or base) tugenensis (place where bones found in the Tugen Hills of Kenya ). And they claim that it is the oldest human ancestor, right at the base of the human family tree. So at 6 million years of age, it is very close in age to the 5.5 to 5.8 million year discovery by the team in Ethiopia. So there is a little disagreement between these two groups about which might be the oldest ancestor. Or is either a human ancestor? And it illustrates the difficulty in trying to distinguish what might be human versus a chimpanzee ancestor versus an extinct line of apes at that point in time.
WHERE DID THE FRENCH FIND THE 6 MILLION BONES?
The French team lead by a woman named Brigitte Senut and a professor by the name of Martin Pickford, they discovered these finds in Kenya just this last October or November. They also claim this was an upright walker. They have a hip bone that is consistent with that, but right now the evidence is not 100% compelling. So there is still some more research for them to do to at least prove whether or not it was an upright walker. Right now, it's amazing. Ten years ago, we really didn't know much about this time period. And just in the last year and a half, there has been this real boom for anthropology."



© 1998 - 2019 by Linda Moulton Howe.
All Rights Reserved.