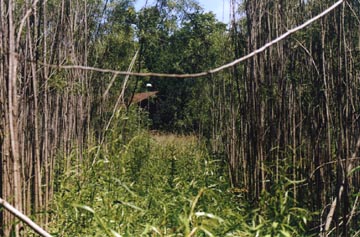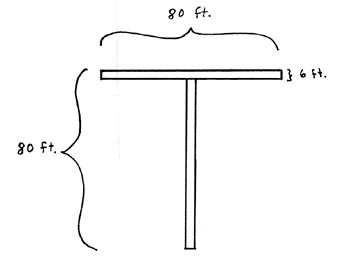 July 18, 2003  Defiance, Missouri ­ Unusual patterns in cereal crops around the world have provoked some people to wonder if the formations are a warning that the Earth's environment and food supplies are not guaranteed ­ and in fact, might be seriously threatened. The past ten years on Dreamland radio and now Dreamland Online, I have interviewed dozens of scientists about problems in the air, land and sea, including increasing extinctions of plant and animal life. Now comes a new study reported in the journal Science which shows that in only thirty years, the amount of coral reefs in the Caribbean have declined 80% from what they once were.
Heading the study is biology professor, Isabelle Cote, from the University of East Anglia in Norwich, England. She points to human pollutions, land development and deforestation that put toxins and sediments into the water as major human causes of the coral crisis. As coral reefs die off, the marine life that depends on them for protection and food must move away. That falling domino effect means the once beautiful Caribbean island culture that has depended on scuba diving, snorkeling and eco-tourism for money is "shooting themselves in the foot," says Prof. Cote, if they don't take the dying coral seriously and try to build marine sanctuaries.
In this uneasy standoff between humans and our planet, 2003 is turning out to be one of the most prolific years for crop formations. Current totals and countries as of this date:
Germany 40
England 41
Italy 16
Holland 8
At least 11 in the United States, depending on varying counts in Maryland. (T-pattern among saplings in Defiance, Missouri; circle in Louisiana; six or more odd patterns near Easton, Maryland; Mayville, Dodge County, Wisconsin; Knoble, Arkansas; Suisun City, California.)
Switzerland 4
Poland 4
Belgium 1
France 1
Czech Republic 1
Australia 1
One of the most bizarre 2003 incidents in the United States was the T-shaped pattern created by the cutting down of more than a thousand willow and poplar saplings on a muddy lake bed near Defiance, Missouri west of St. Louis.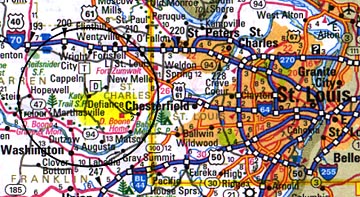 When I first reported this story back in May (Earthfiles, May 10, 2003), the owners of the property shied away from publicity or media contact and only asked the St. Charles County Sheriff's Department to investigate. Reporting Officer Frank Spencer stated in his Offense Incident Report: "Mr. Brown noticed that all the trees were cut off at about one foot from the ground all at the same height. Upon my investigation, I observed exactly what Mr. Brown had stated. I also noticed that there were no signs of footprints, tire tracks or wood chipping from where the trees were cut."
The Browns and Sheriff's Department didn't take any photographs. The Post-Dispatch got a couple of ground photographs, but none of the media in the area got any aerials of the pattern. Then in June, Bill Kranz, Director of The Celestial Theatre in Maryland Heights, Missouri, talked to the Browns who gave him permission to photograph the cut trees in their lake bed on June 21. He contacted me about the research he was doing and put me in touch with the perplexed owners. Arthur Brown, has lived with his wife, Pat, and now-grown sons in the same house in rural Defiance for sixteen years. Mr. Brown worked for Hughes Aircraft and other aerospace companies as a procurement manager until recent retirement. The Brown's house sits a thousand feet off a highway called "F" that runs through the very rural countryside west of St. Louis and Defiance. The most famous feature in their neighborhood is a log house originally built by Daniel Boone for his nephew, Nathaniel.
The Browns decided fifteen years ago that they wanted to build a large pond behind their house that would cover two acres. But after the digging was done and rains came, all the water seeped away into what must be caverns and aquifer below the limestone that covers their land. That dry lake bed that would never hold water filled up with willow and poplar saplings ­ until the morning of Palm Sunday, April 13, this year. Mr. Brown heard his married son who was visiting for the holiday yell, "Hey, Dad, come down and take a look here. This is strange!" He only had to walk 150 or 200 feet downhill from the house to the saplings, and Mr. Brown could not believe what he was seeing.
---
Interview:
Arthur Brown, retired aerospace procurement manager, Defiance, Missouri: "I couldn't really think too much about anything except how in the world did this thing get here!? And so my son and I started back tracking. You have to go down an incline to get down into this area. We were looking for tracks. We thought maybe a brush hog (vehicle) had come down there. But no tracks.
So, then we thought maybe somebody walked in here with a saw and cut it. We looked at some of the larger sapling stumps ­ there are stumps all over the place. Probably up to 1000 and no sawdust. (Bill Kranz said there were a few hundred still visible in the undergrowth on June 21.)
Then we thought maybe kids were out there playing a prank on us and so we looked for beer cans or cigarette butts, any kind of residue that might be there. There was nothing.
AND WHAT ABOUT FOOTPRINTS?
No footprints. None.
SO, NO KIDS NO MATTER WHAT COULD HAVE BEEN DOWN THERE.
That's right. We don't know what was down there. It had me so worried that we called the police the next day. It was a Sunday when this happened and we called the police on Monday. We wanted to think about what in the world was going on here? We didn't want to involve the police unless there was something going on, you know? So, they sent a deputy sheriff out on Tuesday of that week the day after I called and he said it was the most bizarre and weird thing he had ever seen. He couldn't figure it out. He looked for all kinds of clues and there weren't any. I wanted this to go in a file in case someone wanted to do harm here. That's the first thing that came to my mind because that path looked right directly at our house."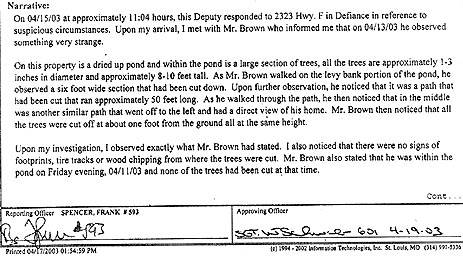 "WERE THE RECTANGLES THAT FORMED THE 'T' PATTERN VERY STRAIGHT?
They were straight.
THAT'S WHAT I SEE IN THE PHOTOS THAT BILL KRANZ TOOK.
Yes, and that was two months after this happened. (Photos on June 21, 2003; original discovery on April 13, 2003.)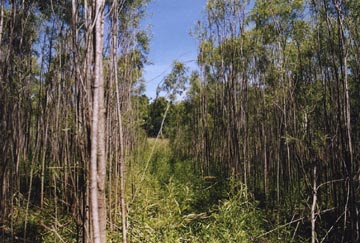 WHAT WERE YOU SEEING IN TERMS OF HOW THOSE SAPLINGS HAD BEEN CUT OFF?
I looked at them pretty closely. Some of them looked like they were whacked off with a knife. Some of them looked like they were chewed off, quite frankly. The little ones looked like they were chewed off. I couldn't tell. They didn't look like they were cut off with a saw, but maybe with a blade or something. I don't know. I couldn't really tell.
WERE THERE 45 DEGREE ANGLES ON A LOT OF THE CUTS?
There were angles on some of the cuts. I don't know how many. I didn't count them, but there were slanted angles.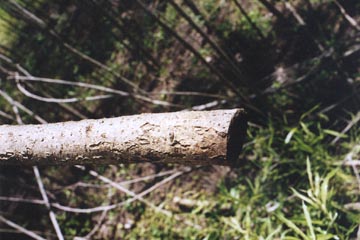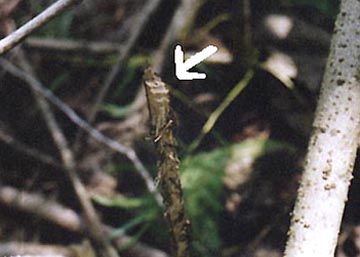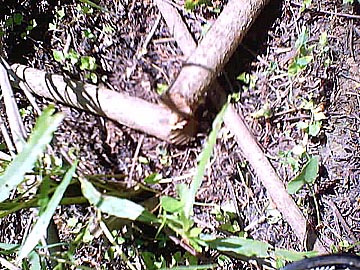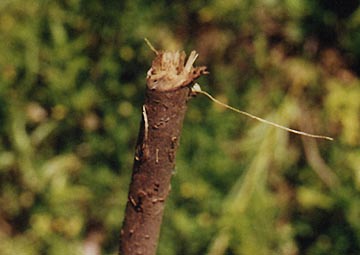 IN BILL KRANZ'S PHOTOS, HE SHOWS THERE ARE MULTIPLE LAYERS WHERE THE SAPLINGS WERE LAID VERY NEATLY – IN SOME CASES, FIVE LAYERS DEEP, CROSSING AT 90 DEGREE ANGLES.
I know there were some layers. And keep in mind, these saplings, some of them were at least 20 feet long or more. They weren't little.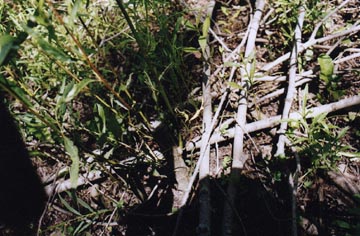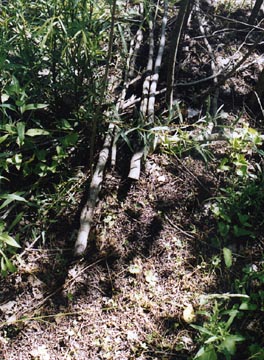 COULD YOU EXPLAIN WHERE YOUR HOUSE IS IN RELATIONSHIP TO THE NEAREST ROAD AND WHAT WOULD HAVE BEEN NECESSARY IF SOMEBODY DROVE ON YOUR PROPERTY THAT WEEKEND TO GET PAST YOUR HOUSE WITHOUT YOU KNOWING?
Well, we are approximately 1000 feet off of Highway F, which is a little 2-lane road. It's probably the least traveled highway in Missouri. It's in southwest St. Charles County, which is a rapidly growing county. My nearest neighbor is approximately ­ he's next door ­ but to get to his house by driving would probably be 3/8th of a mile. And then where there's an intersection of another road called Femme Osage Creek Road. And we're a mile from Daniel Boone's home ­ that's what they call it here. It's a home he helped build and lived there.
WOULD IT BE EVEN FEASIBLE THAT YOU AND YOUR FAMILY COULD BE HOME ALL PALM SUNDAY WEEKEND AND NOT KNOW THAT SOMEBODY DROVE ON TO YOUR PROPERTY?
No, we would know. We would know. Certainly, if there was equipment, we would have heard it. And Channel 2, one of the television stations here, they flew over. They couldn't see it from the air because the saplings ­ these are willow saplings ­ and from the air I guess you can't see anything. The trees surrounding the path were all pretty tall. I mean anywhere from 15 to 25 feet. They are very thin at the top and they bend with the wind. So I guess that's why they couldn't see the pattern.
Browns' Home and Pond Atop Limestone and Aquifer
DO YOU KNOW IF THERE ARE ANY INDIAN BURIAL GROUNDS ON OR NEAR YOUR PROPERTY?
I don't know that. I don't know. The one thing I do know is that this lake we had dug, or just a very large pond, will not hold water and the Missouri Conservation Department told us that it should. So, then we find out that this area before prohibition was called 'Vine Hill.' That's where they planted grapes and they had a vineyard here and apparently they kept a lot of the wine in casks beneath the ground, so there might be caves down there. Could have been Indian caves for all I know. There are caves across the street from us.
I SEE, SO UNDERNEATH WHERE THE 'T' PATTERN WAS PLACED IN THE LAKE BED, IT MIGHT BE COMPLETELY HOLLOW UNDERGROUND?
It could very well be because the water just goes in and goes down quickly.
DOES THAT MEAN YOU ARE SITTING ON PROPERTY THAT IS LARGELY MADE OF LIMESTONE?
I believe so, yes.
LIMESTONE IS ONE OF THE MOST PREVALENT COMMON DENOMINATORS AROUND THE WORLD IN ANY COUNTRY ASSOCIATED WITH WHERE CROP FORMATIONS ­ OR IN THIS CASE, A CUT FORMATION ­ MIGHT OCCUR.
Yes, in fact, roughly about a mile from us is one of the largest quarries in the whole area that they mine limestone. It's huge.
Mysterious Lights
HAS ANYBODY, WHETHER INDIAN LEGENDS OR ANYBODY BEFORE YOU MOVED THERE 16 YEARS AGO, WHO HAVE TALKED ABOUT SEEING ANY SMALL, STRANGE, MYSTERIOUS LIGHTS?
I don't know about other people, but we did.
WHAT?
This is a strange experience that happened about eight years ago. We were on a security system. We still are and we were linked with two other neighbors: one about half a mile away and the other about a mile away in case there was an emergency, all three would know about it. Saturday night, my wife and I had been out late and got home around midnight and went to bed. We were waked up about 1 a.m. with the alarm going off. We got a phone call from Brinks, that was our custodian. It was a medic alert for the Raymeyers who were the closest to us, about half a mile away. Quickly I put on a pair of pants and my wife put on a robe and we drove over there and there was Raymeyer and the Fire Chief standing on the porch. And Warren Raymeyer said, 'There's nothing wrong here, nothing at all.'
I said, 'I'll drive up to Cokes,' (which was the one about a mile away) 'and maybe there is something wrong with Mr. Coke.'
So I got in the car, my wife and I, and drove out of the driveway and went down Highway F. Right next door to us is this huge grist mill and Nathaniel Boone's home. And right over the top of it was this humongous red ball, shining ­ the Fire Chief saw it, everybody saw it. So we don't know what that was.
WAS THE RED BALL GLOWING IN AN EVEN LIGHT, OR DID IT LOOK A BIT LIKE FIRE, OR WHAT?
No, it didn't look like fire. It was just nice even light.
THE COLOR OF A RIPE CHERRY TOMATO?
Yes, it was strange in the middle of the night. It was a clear night. We could see stars and everything.
DID THE FIRE PEOPLE TRY TO APPROACH?
No, this thing was up in the air. I don't know how high it was ­ I was in a hurry and a panic to make sure that the Cokes were all right, so we just kept on driving and said, 'What in the world is that?'
BUT THAT'S PROBABLY WHAT SET OFF THE ALARM.
Oh, yeah, that's what we think.
YEAH, AND HOW BIG DO YOU ESTIMATE IT WAS – BASED ON THE SIZE OF THE DANIEL BOONE HOUSE – AND HOW HIGH ABOVE THE HOUSE?
Well, let's put it this way ­ it was relatively high, probably I'd say somewhere between 750 and 1000 feet over the building. When you see the moon at its fullest, it was about 1.5 times the size of a full moon.
AND PURE RED?
Pure red and stationary. Not moving.
THAT IS FASCINATING AND IS THAT THE ONLY REPORT OF MYSTERIOUS LIGHTS IN YOUR AREA THAT YOU'VE EVER PERSONALLY HAD KNOWLEDGE OF?
There was another time when we were driving down Highway F and a runoff creek runs along that road as we are going south. That night, the Raymeyers were ahead of us ­ we didn't know that at the time ­ but all of a sudden it got as light as day and a light ran down, a light from the sky, ran down that creek bed. I mean, it was just like noon time. But there were stars above. It wasn't lightning, or ball lightning. I've seen ball lightning on airplanes and that wasn't it. We kept it to ourselves and the next day was Sunday and we were in church and Mr. Raymeyer said, 'The strangest thing happened last night,' and he told us what we saw because they saw it, too.
THAT CREEK WHERE THAT OCCURRED IS HOW FAR FROM YOUR HOUSE?
Probably about 1500 feet.
SO EVERYTHING THAT HAS OCCURRED HAS BEEN RIGHT IN YOUR AREA?
Yeah. My wife and I have talked about that. In fact, before that thing happened to our trees, we had been talking and said, 'We haven't seen anything recently, or had anything weird happen here.' And then that happened.
SOME HOW, THIS EIGHTY FEET BY EIGHTY FEET BY SIX FEET 'T'-SHAPED PATTERN GOT CUT OUT OF THE SAPLINGS GROWING IN THAT DRY LAKE BED WHICH SEEMS TO FILTER WATER DOWN INTO WHEREVER ALL THIS UNDERGROUND WATER IS IN THE LIMESTONE?
I guess that's a good way to describe it.
AND WHO, OR WHAT, WOULD WANT TO MARK THAT SITE?
I have no idea. But you know, one thing that crossed our minds were young people out there who wanted to grow marijuana.
BUT THEY WOULD HAVE TO HAVE LEFT FOOTPRINTS.
You would think so. I mean, it would be impossible to not leave some kind of clues.
WHICH IS WHAT THE POLICE CONCLUDED AND WHY THIS IS SO BAFFLING BECAUSE THERE IS NO PHYSICAL EVIDENCE WHATSOEVER BEYOND ALL THE CUT TREES IN THE SHAPE OF THAT 'T.'
That's correct."
---
Websites:
http://www.ctheatre.homestead.com/ctindex.html (Bill Kranz, Missouri)
http://home.clara.net/lucy pringle
http://www.cropcircleconnector.com
http://www.cropcircleresearch.com
http://www.temporarytemples.co.uk
http://www.invisiblecircle.de and http://www.invisiblecircle.org/ser/d-archiv-2003.html
http://www.busty-taylor.com/cropper/98busty2.htm

© 1998 - 2023 by Linda Moulton Howe.
All Rights Reserved.