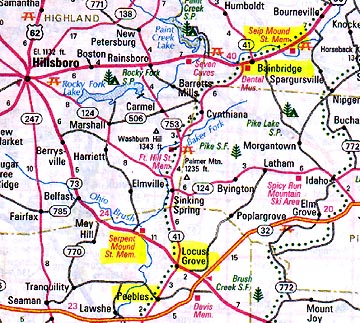 October 3, 2003  Bainbridge, Ohio –
Serpent Mound
"JEFF, WHEN WE TALKED LAST WEEK OF SEPTEMBER, IT WAS BECOMING CLEAR THAT THERE HAS BEEN MORE MILITARY FOCUS ON THE SERPENT MOUND FORMATION.
Yes, I heard two stories in the past week about people who had gone to visit the Locust Grove, Adams County formation located just near the Serpent Mound. One gentleman said he was just out there on Sunday and there was a military helicopter that came over and hovered over the site less than 1000 feet up and then made several circling passes over it before it left. And I did hear kind of a vague report from someone who lives in the area that they were out at the formation site where they have not been allowing visitors into the formation. We were only allowed out there because of our agreement with the landowners.
AND WE ARE TALKING SPECIFICALLY ABOUT WHAT WE CALL THE SERPENT MOUND FORMATION?
Yes, the Serpent Mound formation. And this person described a van pulling up to the side of the road. A number of people in black uniforms got out and ran to the edge of the field and crawled their way into the formation, never stood up in the soybeans, but crawled their way out there and then turned around after some period of time out there and crawled back out.
ON THEIR HAND AND KNEES?
Yes, I guess. I don't know if it was military or not, but he said there was a whole team of adults all dressed in what looked like black uniforms who crawled their way in and then crawled back out.
WHAT DATE DID THIS OCCUR APPROXIMATELY?
Mid-September.
ABOUT A WEEK AFTER THE PATTERN WAS FIRST FOUND?
Yes.
DELSEY HAS SEEN A HELICOPTER?
Delsey Knoechelman lives on the same ridge that the Serpent Mound sits on, so she lives less than a mile away from where the Serpent Mound formation was and where the mounds are. She also saw the helicopter on Sunday, September 21, 2003, that this other gentleman wrote about and said the helicopter came over her house and went in the direction that the formation was. So she must have seen the same helicopter. She also said another helicopter showed up again on Monday, September 22. I'm not sure why the delayed interest in that particular formation (Serpent Mound), but they seem to be ferrying people over to look at it.
IT WAS AUGUST 24, 2003 WHEN DELSEY FIRST SAW THE SERPENT MOUND PATTERN. I WONDER WHY ALMOST ONE MONTH LATER ANYONE IN A MILITARY CONTEXT WOULD BE GOING BACK OVER THE SERPENT MOUND?
That's a good question, but that very same time frame happened to us when we went to investigate the one in Wisconsin where we met the military there. That formation came down on the 4th of July and we didn't get out there until three weeks later. That's when we encountered the military out there. So, I'm not sure what the delay is or why they are coming out there after the fact, but they still seem to be interested in them like we are interested maybe.
I KEEP THINKING ABOUT ANDY BUCKLEY'S CONVERSATION IN THE SUMMER OF 2003 WITH AN INSIDER IN THE M.O.D. IN ENGLAND WHO SAID THAT, 'YES,' THEY WERE MONITORING AND TRACKING AND GOING AFTER SOME SORT OF ENERGY THAT WE HAVE DESCRIBED AS BEING MYSTERIOUS LIGHTS ASSOCIATED WITH CROP FORMATIONS IN WHICH THE PHRASE WAS USED, '95% OF WHAT THE HELICOPTER ACTIVITY IS GOING AFTER IS INVISIBLE TO THE HUMAN EYE.' COULD THE SAME THING BE HAPPENING NOW IN OHIO?
I guess it could be possible. The eyewitness to the formation in Wisconsin reported not seeing any lights or whirlwinds or anything in association with the formation of the plants going down. So, whatever he is seeing, the energy being driven there is beyond the visible part of the spectrum. So, that could be possible if the military has figured out a way to have get a sensor to track that or pick that energy up.
IF THE MILITARY WATCHES IN INFRARED OR SOME OTHER PART OF THE ELECTROMAGNETIC SPECTRUM, WHAT ARE THE INVISIBLE ENERGIES DOING A MONTH AFTER THE PATTERN FIRST EMERGED?
Yes, another good question. I will say that the helicopter that we saw in Wisconsin, we got a really good look at it. In fact, we managed to possibly track down where it came from. It just so happens that an almost exact duplicate of the helicopter we saw was pictured on a website of an Air National Guard base about 25 miles from where that formation came down in Wisconsin. they have a pretty good picture of the kind of equipment that is housed on the front of the helicopter. It has equipment called FLIR (Forward Looking Infrared). In my limited understanding, it's a system that detects things in the infrared spectrum. Now, I'm not sure if it is standard equipment on military helicopters now, but it was on the one that we saw over the formation in Wisconsin. So, perhaps they are using that kind of technology to attract or figure out what's out there.
Seip Mound
ANY EVIDENCE OF MILITARY INTEREST IN THE PAINT CREEK FORMATION?
Not to my knowledge, yet. We didn't experience anything in this particular trip ­ no military sightings this time around. However, I think I described last time about the hoaxed formation, about four miles away from the Seip Mound to the east ­ that we had experienced military flyovers while we were there. When we left that hoaxed formation after surveying it, we drove to the west to go visit the Seip Mound earthworks and while we were there, we noticed that a military helicopter had come up over the ridge to the north and then flew over in the direction where the hoaxed formation was. Just about at the point where the helicopter appeared over the ridge is almost where this new Paint Creek formation is. So, whether they could see it or not, we don't know, but they were in close proximity at the time.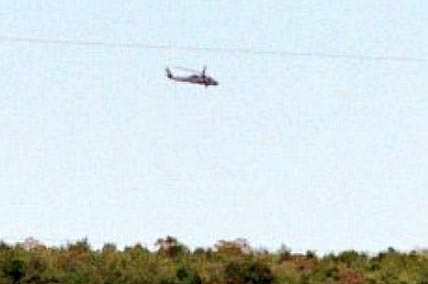 We think this newly reported formation on the Paint Creek Island came down before the hoaxed formation did on the road off Route 50 ­ the Mercedes-Benz symbol. That hoax came down after this new one (Paint Creek), but nobody seemed to know about the Paint Creek Island formation until now.
SO THE IMPLICATION IS THAT YOU SAW A HELICOPTER OVER THE SAME HILL IN WHICH THIS PAINT CREEK FORMATION WOULD HAVE BEEN VISIBLE ON THAT DAY THAT YOU WERE AT THE SEIP MOUND HOAXED FORMATION INVESTIGATING, AND THE MILITARY MIGHT HAVE KNOWN ABOUT THIS PATTERN AT PAINT CREEK FOR THE PAST TWO OR THREE WEEKS.
It's possible. If you look at the photograph where you can see where the golf course is ­ that golf course sits on a ridge to the north of Paint Creek and that is the ridge over which the helicopter came over while we were at the Seip Mound and just about the same vicinity. So, it's possible they could have seen Paint Creek from that perspective.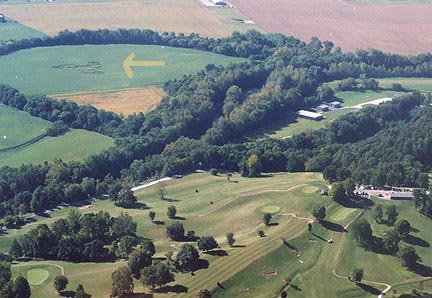 When we flew to photograph the hoaxed Seip formation, we flew right up Route 50 and we had a hard time seeing when we did that because of the haze. If it weren't hazy, there's no doubt we would have seen it at the same time. We went to the location of where the 'Mercedes-Benz' crop circle formation was, which is located about four miles to the east of the Native American Seip Mound. We had got permission to go out into the field to investigate it.
We didn't stay more than an hour and a half inside the formation because we had already determined pretty quickly that it was a hoax. But in that hour and a half, while we were out there, we noticed a fighter jet flew over us. But after he flew over us, he kept circling around and coming back and each successive time, he flew lower and lower. And it was directly over the formation! Not off by 100 yards or 300 yards. I mean, right over the top of us. Each successive time, he got lower and lower. He started out about maybe 5,000 feet and on his last path, he was maybe 800 feet up. We took photographs just about every time he came over the top of us. We kind of got maybe the idea that he was using it as a navigational marker or something because right after he flew over it, he banked in a turn and made this big loop around and came back over us again.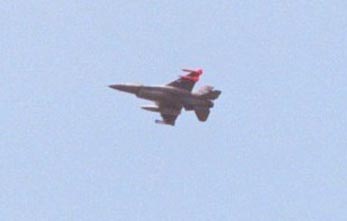 We finished our work there, documented the things we needed to document and then we walked back to the side of the road to our cars. We went up the road and wanted to go and visit the Seip Indian mound. That was the last past the fighter jet made over the area and this time went right over the top of my car. I want to say that was his lowest pass. I talked to Ted Robertson this morning to get him to recollect what he saw because he was in the van behind me. He described seeing the shadow of the plane on the ground. He could actually see the defined shadow of the plane on the ground go right over
I WONDER WHAT IT IS THAT THE MILITARY IS CONCERNED ABOUT?
That's a good question. I know there has been some speculation out there that this is just the local soldiers' interest in this and they are people with interest just like you and me. So, if they are in a helicopter or lane, they are going to fly over and take a look at it. That might be part of it, but there might be more to it. Obviously, our encounter with the soldier on the ground in Wisconsin indicated otherwise. Whether we can get confirmation on his tory to us or not, that is something else. But it does seem that the military in the U. S. does have more than a passing interest for whatever reason this year."
Continued in Part 3
---
Website:
http://www.cropcirclenews.com/


© 1998 - 2023 by Linda Moulton Howe.
All Rights Reserved.