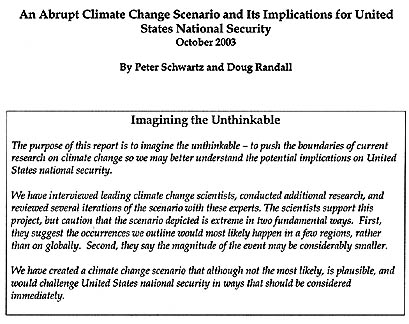 February 27, 2004  New York City, New York – One year ago at the Office of Net Assessment in the Pentagon, its director – Andrew Marshall – read the 2002 National Academies of Sciences study entitled Abrupt Climate Changes: Inevitable Surprises. Scientists have been warning for years that uncontrolled build up of carbon dioxide around the Earth could heat up the planet so much that drought, flooding, high winds, more severe storms, food shortages and wars over water might result. However, global warming and potentially rapid climate change have been controversial and politically unacceptable to discuss in this current Bush Administration which has also rejected proposals to control carbon dioxide emissions.

So why did one of the oldest and most respected employees of the Pentagon pay for a study entitled, An Abrupt Climate Change Scenario and Its Implications for United States National Security? Andrew Marshall is 82-years-old and has been Director of the Defense Department's Office of Net Assessment since the early 1970s. To Washington insiders, he is often referred to as "Yoda," the brilliant and inscrutable wise being in the Star Wars movies. According to one of the co-author's on the study hired by the Pentagon – Peter Schwartz, Chairman of Global Business Networks (GBN) of Emeryville, California – Andrew Marshall asked him: "Suppose the abrupt (climate change) guys are right? What would happen?" Schwartz and his colleague, Doug Randall, had written futurist scenarios for the Pentagon before.
In their Executive Summary of their report, Schwartz and Randall wrote: "The purpose of this report is to imagine the unthinkable – to push the boundaries of current research on climate change so we may better understand the potential implications on United States national security. … We have created a climate change scenario that although not the most likely, is plausible, and would challenge United States national security in ways that should be considered immediately."
The scenario the futurists feature is a change in the current of the Atlantic Ocean that now keeps Great Britain and parts of Europe warmer than they otherwise would be at their northern latitudes. Further, the futurists project the possibility of the warm current stopping its circulation by 2020 ­ only sixteen years from now.
It is curious that the 22-page study quietly shelved in the Pentagon since October 2003 and then suddenly leaked to The Observer in London and Fortune Magazine for news release on Sunday, February 22. Every climate scientist I have interviewed this week is surprised. On Monday, February 23 – perhaps because of the shock and confusion that the study's release provoked – Andrew Marshall's Pentagon office released this statement, "The Defense Department continuously looks ahead to ensure that we are prepared in the future for any contingency."
North Atlantic Drift Warm Current Speeds Color Coded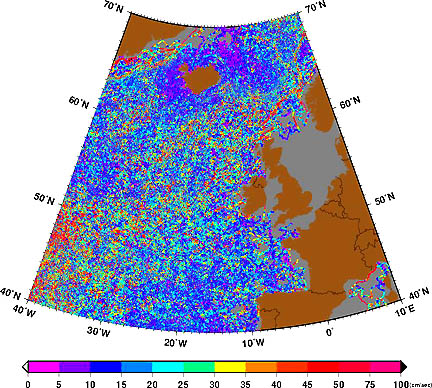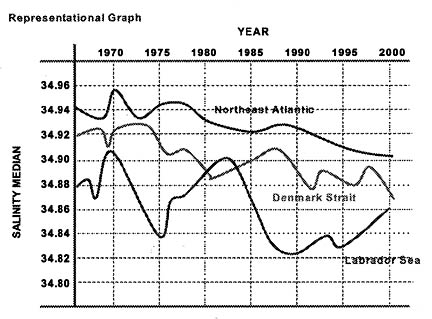 Among the several leading scientists and institutions I went to for comment, the only person who had received a copy of the abrupt climate change scenario study was Wally Broeker, Ph.D., Professor of Geochemistry and Earth Sciences at Columbia University where he has worked since he received his doctorate in earth sciences back in 1958. A half century later, his research lab is in the Lamont-Doherty Earth Observatory in Palisades, New York, and Dr. Broeker is considered one of the world's pre-eminent experts on the dynamic between the oceans and the global climate. He has been irritated by the Bush Administration's dismissal of global warming as "total nonsense," as stated by an Oklahoma Senator. So he was especially surprised that the future scenario featured in the Pentagon's study is Europe plunged into a cold Siberian ice age if the warm water current of the Atlantic Ocean known as the North Atlantic Drift should stop.
What could stop the warm current from circulating around Great Britain and Europe? A drop in the salt content of the ocean waters. What could change the saltiness so much that the Atlantic warm water drift might stop circulating? Large quantities of fresh water. And what could put large quantities of fresh water into the Atlantic Ocean? That's where a lot of scientific debate persists and no one knows for certain what could happen. Some think that all the glaciers melting around the world and running off into the oceans could do it. Professor Broecker is not so certain. Which is why he is concerned that the rapid climate change scenario featured in the Pentagon study focuses on the potentially devastating consequences if the warm water conveyor belt in the Atlantic should stop. Prof. Broecker and other scientists think this administration and the world should be concentrating right now on reducing carbon dioxide emissions in the atmosphere in order to prevent such a scenario from happening in the first place.
---
Interview:
Wally Broeker, Ph.D., Professor of Geochemistry and Earth Sciences, Columbia University, New York, New York, and Lamont-Doherty Earth Observatory, Palisades, New York: "Who are they speaking for in the Pentagon? I can't imagine they are speaking for the Bush Administration. The Bush Administration must be upset about this.
IT'S FAIR TO SAY THAT ALL OF YOU IN THE SCIENCE COMMUNITY WERE CAUGHT OFF GUARD ABOUT THE RELEASE OF THIS PENTAGON REPORT?
I certainly was. I had no idea it was being done. The specifics stun me. I haven't read it very carefully, but the fact they think they can make definite statements about how it's going to effect various regions of the world is to me outlandish. Again, they could be right in some respects. But we're not up to that point in making scenarios that have any meaning. So why they are doing this? I don't know.
But I would think that certainly the Pentagon ought to think about this! Because a lot of aspects, the whole world is closely tied together that anything that happens climate-wise can have ­ like if China were to have continuing droughts so that it couldn't produce enough grain to feed itself, it would start buying grain. We supply half of the world's grain or something, so we would be selling the Chinese grain that would raise our food prices and so forth. The whole situation is really complex. It's good that the Pentagon is thinking about it.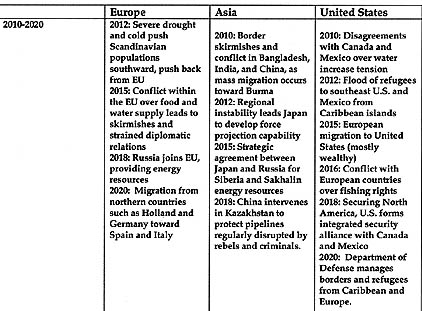 AS A SCIENTIST WHO HAS BEEN DEALING WITH THESE ISSUES FOR DECADES, DO YOU THINK IN YOUR OWN MIND THOUGH THAT YOU ARE WORRIED ABOUT WHERE THINGS WILL BE IN ANOTHER 20 TO 50 YEARS?
Yes, I am. Will the warming involve a reorganization of the Earth's system as happened during glacial times? And if it reorganizes, will it plunge Europe into extreme cold? By adding CO2 to the atmosphere, we threaten to change the climate substantially. Unfortunately, there is enough uncertainties in making simulations with regard to the impact of CO2 that the range of possibility is quite large. I mean, as some would like to believe, the impacts could be so moderate that we would not have to do anything about it.
At the other end of the spectrum would be a major warming coupled with a reorganization of the climate system that has happened over and over during glacial times and this would produce the maximum effect and certainly have dire impacts on wildlife around the world. And it would also play havoc with agriculture. There would be no doubt about that.
What I think is that the world is not ready yet to make a major step to do something about this and the Bush Administration is an indication of what we are up against. They don't even want to believe it's a problem. Well, it is a problem. It's a long-term problem and the worst of this is not going to come in 2020. It's going to come in 2080, or late in the century. Therefore, it behooves us as stewards of the planet to have something in our pocket so we can turn CO2 off. Now, turning CO2 off is a huge enterprise because the amount of CO2 that we are adding to the air this year – if liquefied – would fill a volume 25 cubic kilometers (15.5 cubic miles). That's a huge amount of CO2.
So to either turn that off by stopping using fossil fuel energy and going to nuclear, wind or whatever, even if we knew we could do that and we were willing to do it, it would be a huge, huge change.
Capturing Carbon Dioxide So It Can't Keep Increasing
and Warming the Earth
On the other hand, I think that we need something that's sure fire ­ that we know we can do, that is technically not all that challenging. And that is capturing the CO2 that we produce by burning fossil fuels and burying it. This is certainly something that can be done.
Our idea is to extract CO2 both from electrical power plants and from the atmosphere and aim for a way to go to CO2 neutral. In other words, for every unit of CO2 we put into the atmosphere, we take a unit out.
ISN'T IT TRUE THAT MOTHER NATURE CAPTURED CO2 IN LIMESTONE AND WE WOULD HAVE TO RECREATE SOME KIND OF CHEMISTRY LIKE THAT?
No, we would put ­ we would liquefy the CO2. We would put it in deep salty aquifers on the continents. We could possibly put some at the bottom of the ocean because that's where it's going to go anyway. We could put it underneath the Antarctic ice cap. And we could, the ultimate solution would be to mine ultra basic rock which contains magnesium oxide, extract the magnesium oxide and combine it with the CO2 to make magnesium carbonate so we would be storing in a very stable form that basically would last forever.
WHICH IS SORT OF THE CYCLE INTO LIMESTONE THAT THE EARTH HAS DONE, RIGHT?
Yes, except that the earth does it so slowly. I mean, we're adding now CO2 at a rate that is 100 times faster than volcanoes are adding it. So we are really taking over. These natural things aren't going to do it, or do it on such a long time scale that they won't help us in the next couple of hundred years.
THIS SOUNDS LIKE A VERY EXPENSIVE AND LARGE OPERATION AND YOU WOULD NEED TO HAVE NOT ONLY THIS GOVERNMENT, BUT OTHER GOVERNMENTS IN THE PLANET INVOLVED IN DOING THIS, RIGHT?
It's something that's just starting. I would say that 5 years ago, people were talking about it, but not thinking about it seriously. Now, suddenly, there is a lot of interest in it. Automobile companies, Iceland energy companies are starting to realize that if we have to go this route, it's a huge business. So, if you get in on the ground floor for this enterprise, it's going to involve 3 to 6% of the world's GNP. So, it's a huge thing! It will probably be equal to 20% of our energy costs.
Playing Russian Roulette with Earth's Climate
BUT IF WE DON'T DO IT, WHAT DO YOU THINK THE PROGNOSIS FOR THE PLANET IS?
Well, we're playing Russian roulette with climate. I said there is no way to predict accurately what will happen. If we take the results of the best thing we have which are these big computer models. Some people don't believe them, but at least it's an honest way to try to do it where you put in as much of what is known as possible and then sort of have to fudge in the rest. They suggest that the impacts are going to be sizable, and they even suggest that if we put in enough CO2 fast enough, it will turn off the ocean conveyor (North Atlantic Drift) which is in a sense forcing one of these reorganizations (of the entire global climate).
THAT'S WHAT COULD POSSIBLY PLUNGE EUROPE INTO A DEEP FREEZE AGAIN?
I don't think so. I think that's been much exaggerated. I think it would change the climate in Europe and other places, but after all, it is going to be countering an already serious warming. So you could say one way to look at it is (collapse in Atlantic drift) would bring Europe back to where it is now than being warmer. It's part of the uncertainty. The answer is that we don't really know what it would do. And any speculation on that is just speculation at this point. There are a lot of people struggling to put it in context so we can make more definite statements, but if people make those statements now, they are just talking through their hats.
The chances of it producing another ice age ­ I think that's just adding confusion. It's going to make things very different. It's going to make life much more difficult for wildlife because they don't have any place to go. If the Arctic sea ice melts and the tundra thaws, a huge ecosystem up there is going to be put into chaos. Caribou, polar bears, people who live up there ­ that's an extreme case because they have no other cold place to go to. You aren't going to move all those ecosystems down to Antarctica.
Most Recent Halt of North Atlantic Drift
IS THERE EVIDENCE THAT THE NORTH ATLANTIC DRIFT HAS STOPPED FOR A SPECIFIC REASON IN OUR PLANET'S RECENT CLIMATE HISTORY?
Certainly we are quite sure it has stopped anywhere between five and eighteen times during glacial periods. But since the glacial period ended and for the last 12,000 years, we have had reasonably warm climates on the planet and the climate has been very stable compared to what it was during glacial time when it was bouncing all over the place.
We've only had one episode during that 12,000 years and that was 8200 years ago when water that was pooling in front of the retreating Canadian ice cap in a big lake ­ suddenly a big ice dam broke and allowed a lot of that water to go into the North Atlantic and we think it did kill circulation. It did kill the conveyor. The impact of that was a 5 degree cooling in Greenland, a drop in the global methane content ­ which would suggest that areas of swamps that were main methane producers were reduced because it was drier.) The monsoons were slightly weakened. So, the impact of this was broad. But again, it was a sudden surge of a very large amount of water that did this job.
WOULD THE MELTING GLACIERS TODAY AROUND THE PLANET…?
No, they are too slow. We don't have any pooling of any great amounts of water. So, the way people envision this happening is that as you warm the planet, then you warm the planet, you strengthen what we call the "hydrologic cycle" ­ more water evaporating off the ocean, more rain falling and particularly more rain falling in the northern Atlantic and into the continents surrounding the North Atlantic. So that puts more fresh water going in. And that, just hydrologic normal rainfall and stuff in models has been shown in the models that the conveyor belt stops if you do this rapidly enough and over a long enough period of time. That does not mean it's really going to happen because models are models. They are imperfect. So they suggest it could happen.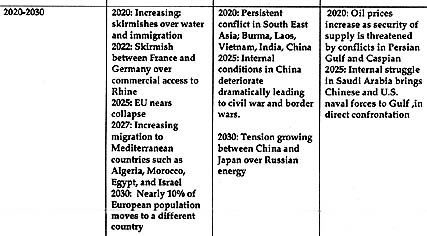 Why Is Alaska Warming Faster Than Rest of Planet?
DO THE MODELS SUGGEST A TIME TABLE OF WHEN IT COULD HAPPEN?
Well, most of the models suggest this is something that would not happen before 2050. On the other hand, the Woods Hole group has been screaming that it's already happening, which is interesting. Their evidence for this is solid that something is happening. Alaska is warming much faster than the rest of the planet. Something is going on up there that we don't understand. Whether it's a natural fluctuation that will go away, or whether it's a precursor to the CO2 and that already something big is happening? If it's that- it really is driven by CO2 ­ then we may be in for even deeper trouble because we haven't really added that much (so far). We've gone from 280 ppm CO2 to 370 ppm CO2. If we continue business as usual and get 85% of our energy from fossil fuels and there are plenty of fossil fuels to do this. We'll push the CO2 on the planet up to between 700 ppm and 800 ppm toward the end of the next century.
So the fact that CO2 stays in the atmosphere for so long means that as long as we are using fossil fuels, it's just going to keep going up and up. Then presumably the impacts are going to get greater and greater. It is surprising to me that anything is happening so soon.
MEANING THAT ALASKA AND THE TUNDRA SEEM TO BE MELTING ALREADY?
Yes, and at a higher rate than you would expect from what's happening on the rest of the planet. Alaska has gotten so warm that forests are being infested by pests that couldn't hack it before. The ice along Alaska and the Canadian Archipelago is decreasing and the shores are being eroded, the tundra is softening, the equipment involved with the oil pipeline ­ their work season, if they obey the rules as far as what temperatures they can work at has been cut more than a month because of the warming. So the period of really cold climate up there is considerably shortened.
THE IMPLICATION IS THAT THERE COULD BE A LOT OF FRESH WATER GOING OFF OF THE ALASKA TUNDRA?
No, I don't think anybody knows that. I don't think anybody understands why it is happening. I mean some of the models say the biggest effects will be in the north. If you start to melt sea ice and open blue water, then of course you expose warm water in the sense that it can't get below the melting point of sea water to the atmosphere. Whereas before, you had sea ice that could be minus 30 degrees centigrade on top. That might have something to do with it ­ that there are just more open regions in the Arctic. But we don't know. That's the tragedy of it all ­ this system is so complicated and even though there are a helluva lot of smart people working full time to try to understand what is going on, the system is so complicated that the kind of answers you would like to have and we would like to give just aren't there. And if we try to say we understand, we're bullshitting the world because we don't.
IF ALASKA AND THE TUNDRA ARE MELTING, IS THE SAME THING HAPPENING IN GREENLAND AND COULD THAT AFFECT THE CONVEYOR BELT IN THE NORTH ATLANTIC?
As I said, I think the changes in fresh water up there are going to come from rainfall and river runoff. There is not enough water stored ­ the rate at which the tundra is melting back, I don't think is making a very large affect on the fresh water budget. It's a small addition.
Greenland ­ there is certainly no evidence of large scale extra melting on Greenland. There is certainly mountain glaciers in eastern Greenland that are retreating exactly as they are everywhere else in the world ­ everywhere in the world, mountain glaciers started to retreat in the mid 1800s and they've continued to retreat up to the present. That's one of the things that makes the subject complicated because half of that retreat can't be blamed on human affects ­ it has to be natural. So then people who don't want to believe CO2 is a problem say, 'Well, if the first half (of the warming) was due to Nature, why not the second half? Maybe we don't have any CO2 warming?'
1850 – 1950, Earth On Its Own Warming Trend
MEANING IF IT GOES BACK TO THE MID-1800S, THAT WAS WARMING SEPARATE FROM CARS AND INDUSTRY?
That's right. Climate on its own is wandering around. You know, from at least 1850 to 1950, it was warming and that's probably all natural. Since then, we don't know now that CO2 becomes important ­ all we see is the combination of what the Earth is doing on its own and what CO2 is doing. It's quite possible that the Earth's climate turned around and started to cool on its own and now CO2 is warming it up, so the warming isn't as big if it might have been if the Earth was not cooling.
On the other hand, maybe the natural warming went on. In which case, a fair amount of the warming we've seen since 1975 is natural and there is no way in hell that we can say which is the case! That's unfortunate, but it's true.
Now, in the next 25 years, if the models are correct, climate will warm enough that it's outside of the natural envelope and it will be clear that the warming is so big that there is no evidence that similar warming happened in the last 8,000 years.
Now, we know for instance that if you go to the Alps in the summer when there is melting on the glaciers, that water sinks, falls through crevices to the bottom and comes out as a roaring inferno from the edge of the ice. It brings with it boulders and pieces of wood and peat and stuff and when they are dated, you find that these pieces of wood date at various times during the past 10,000 years, indicating that there were times when the ice was even further back up the mountains than it is now and trees could grow in places now covered with ice. So we do know it was warmer than now and we're not in the warmest time of the last 8,000 years.
I mean, the thing we have to respect is this is complicated. People can argue for a long time this way and another way no matter how they think about it, that we are giving the (Earth's climate) system such a big poke that there is a reasonable likelihood that something is going to happen. Therefore, we ought to be prepared to thwart it.
Let's say as a prudent society, we've got to be prepared to do something. Let's put that amount of effort into getting ready to cut off the CO2. If we don't need to do it, we leave it on the shelf if the climate does not warm. OK, then we're all right and we wait until it does really start to warm significantly and then we get busy implementing. It will take twenty years to get ready to do this because a lot of things have to be done. It's not something you can just start to do tomorrow."
---
More Information:
Water Wars
After the 9/11 attacks, a new Institute for Strategic Threat Analysis and Response was formed at the University of Pennsylvania. Its greatest concern is that water disputes could lead to wars in the future. One potential conflict is Turkey's Southeastern Anatolian Project begun in 1960 and projected for completion in 2040. Turkey's goal is to impound or divert as much as 75% of the water flowing in the Tigris and Euphrates rivers for hydroelectric power.
Prof. Robert Giegengack, Prof. of Earth and Environmental Sciences at the University of Pennsylvania in Philadelphia told me this week: "The consequences could be catastrophic for both Syria and Iraq downstream. Both nations are completely dependent upon water from those two rivers for irrigation and domestic and industrial water supplies.
I think the crisis at hand is a function of plans by one country to use water at the expense of others. And that potential is repeated throughout the Middle East in a part of the world that is also experiencing some of the most rapid population growth of any place on Earth."
---
Websites:
http://www.ems.org/climate/pentagon_climate_change.pdf  (Pentagon study)
http://www.whoi.edu/institutes/occi/currenttopics/climatechange_wef.html  (Woods Hole Oceanographic)
http://www.nap.edu/books/0309074347/html/  (National Academies of Sciences 2002 study)
http://oceancurrents.rsmas.miami.edu/atlantic/north-atlantic-drift.html  (North Atlantic Drift Current)
http://www.gbn.com/  (Pentagon study author, Global Business Networks)

© 1998 - 2023 by Linda Moulton Howe.
All Rights Reserved.