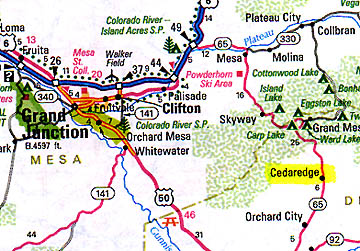 March 12, 2004 Cedaredge, Colorado – Cedaredge, Colorado is west of Grand Junction in a Rocky Mountain region that has long been the home of farmers and ranchers. And one of those ranchers had 31 of his cattle die last weekend on Saturday, March 6, 2004, in only 12 hours. Vern Hillis estimates the one yearling bull and 30 mostly pregnant heifers were worth about $31,000. Veterinarians at first were not able to confirm what caused the cattle to stumble and fall down kicking and tossing their heads until their last breath. But today, a positive test was confirmed for a particular milkweed plant that grows in the region. It can kill cattle rapidly and violently.
Rancher Vern Hillis is 62-years-old and was born and raised on the ranch first settled by his grandfather. In the past half century of working the family's 1400 acres, Mr. Hillis told me he has never encountered anything like the mass death of half his herd. I talked with him this week about what happened – prior to the Friday, March 12, lab confirmation that the culprit was milkweed.
---
Interview:
Vern Hillis, 62-year-old rancher, Cedaredge, Colorado: "I fed them at 10 o'clock Friday morning (March 5, 2004) and everything was healthy and no sick cattle or nothing. Then I went to get a load of hay down in the lower valley and came back and unloaded and everything seemed to be alright then. I went into my sister's for supper and then when I came back late that night, it was raining and I went over to check the cows that was calving to be sure I didn't have one needing help or anything. Then I got up about 7 a.m. on Saturday morning and went back over to check them again that morning and I seen a cow in the ditch kicking. I got out and tried to get her out of the ditch and I glanced up and the field was full of dead cows.
The ones that was still partially alive, they were just kicking real fast with their feet and throwing their heads. You couldn't get them up or nothing, they were just kicking and drowning in their own fluid.
HAD YOU EVER SEEN ANY OF YOUR ANIMALS LIKE THAT BEFORE?
No, I have found some that have died from poison before, upon the hill a poison weed or something, but nothing like this.
RECENT ONES THAT WERE KICKING FAST ­ WHAT IS THE DIFFERENCE?
Most of the ones that I've come across up on the hills, they usually die without convulsions and stuff, no kicking and fighting like that. You usually find them kind of laying in a natural position and they are just dead. These, they were kicking and bleeding internally and drowning in their own fluid. It was a very painful death. They bloated up real bad from it. I don't know what kind of poison it was, or nothing. It wasn't a very pretty sight.
THIS WAS SATURDAY MORNING?
Saturday morning around 7:30 a.m. MT.
DID YOU CALL THE SHERIFF AND VET IMMEDIATELY TO GET THEM OUT THERE?
Yes, I called the vet first and then the Sheriff's Department.
AND WERE THEY OUT ON THE SCENE PRETTY QUICKLY?
Yes, the vet was out here and he did an autopsy on two of them: an older cow and a younger cow and took the stuff back to his office and said he thought he would have an answer for me in an hour or hour and a half about what killed them.
Well, he returned with the Colorado State Veterinarian to take more samples. We're still waiting for what killed them. I figure somebody doctored a bucket of grain and give it to them is what I figured happened. I may be wrong, I don't know.
WOULDN'T THEY HAVE FOUND THE POISON IF IT WERE THAT OBVIOUS ON SATURDAY?
Well, the cows would eat all the grain up and the reason I say I think it was in the grain is the ones that died are the ones I call the grain hogs ­ they hit the grain and eat it the quickest. They are the ones who died quick and the ones that didn't get as much took longer to die. There were two that didn't die until after midnight on Saturday to Sunday.
BUT WOULDN'T THE VET HAVE BEEN ABLE TO CONFIRM A POISON IN THEIR STOMACH IN THE NECROPSY?
They've been running tests on it and they haven't come up with what kind of poison it is. They are kind of ­ like I say, it's went through two labs already running tests and they haven't come up with any, what the poison is yet.
SO AT THIS POINT….
it's still a mystery, basically is what it is.
HAVE YOU EVER HAD ANYTHING HAPPEN LIKE THIS BEFORE?
No. You lose a few during calving season or from poison weeds in the hills or predators and that kind of stuff. But you kind of expect that. But this kind of massive kill ­ poisoning ­ nothing like it!
YOU LOST 31 ANIMALS SATURDAY TO SATURDAY NIGHT. DID ANY OF THEM THAT YOU SAW ALIVE TRY TO GET UP ON THEIR LEGS?
They tried ­ I had two that was kind of sickly and down that did get up and go again and they are still going. They survived it. I figure they just got a mild dosage of it.
WAS THERE ANY INDICATION OF PARALYSIS IN ANY OF THE ANIMALS THAT YOU SAW ALIVE?
They just staggered and stumbled and fell down. They just kind of staggered around and went down and went to kicking because they were puffing up like a balloon. They were puffed up real tight, even while they were still kicking alive.
DID THE VET SAY THAT HE HAD EVER SEEN A BIG BLOAT ON AN ANIMAL LIKE THAT WHICH KICKED WHILE IT DIED?
Whatever the poison is, is causing them to bloat up.
HAD THE VET SEEN IT BEFORE?
He didn't say anything about it, but they pretty well knew it was a poison when they left here because they said there were no known diseases that would kill that many cows in that length of time without some symptoms before."

© 1998 - 2023 by Linda Moulton Howe.
All Rights Reserved.