[ Editor's Note:  Many questions, including size and energy intensity of the Mexico objects, are yet to be answered. FLIR camera engineers are studying the infrared images. Earthfiles' journalistic goal is to continue updating new information and refine technical facts as they are clarified. More updates and a special feature about infrared frequencies and infrared technologies will appear in upcoming Earthfiles reports. ]
May 13-14, 2004  Mexico City, Mexico – On April 20, 2004, independent TV producer and journalist, Jaime Maussan – who has worked in Mexico City media for thirty-two years – received a call from Mexico's Secretary of Defense office. Jaime went the next day on April 21 to meet with General Clemente Vega Garcia, Secretary of Defense, and his staff. One of General Garcia's challenges is to stop narcotics trafficking. He told Jaime that on March 5, 2004, Mexican Air Force pilots in the 501st Aerial Squadron were flying a Merlin C26A Bimotor airplane in a routine flight to look for aircraft trying to smuggle drugs near Ciudad del Carmen in the State of Campeche. The Merlin C26A was equipped with FLIR (Forward Looking Infrared) StarSAFIRE II and RADAR APS 143 (V) 3 made by Telephonics (See websites below). In the war on drugs, infrared cameras are used to photograph the heat from airplanes trying to fly at night without navigation lights to avoid police.
On March 5, 2004, the FLIR camera recorded on Mini-DV videotape several aerial objects that were invisible to the human eye, but made bright heat signatures in the infrared. Three objects even showed up on radar indicating reflective mass. Why the rest of the objects did not show up on radar is not known. All of the unidentified objects are still a mystery.
It all began when radar showed an object that was moving 37 miles north of the Mexican Air Force plane, which was moving at approximately 200 mph at an altitude of 11,480 feet. The pilot videotaped off and on with the FLIR camera over a period confirmed on May 14, 2004, to be 31 minutes total time according to running clock, but only 11 of those minutes were actually videotaped in infrared. Below are some of the infrared images arranged in chronological order.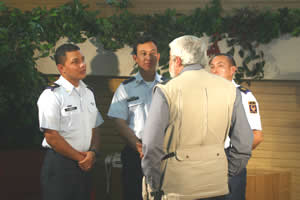 At one point, at least eleven different objects were together in a single frame. The pilot tried to approach and identify the area of the infrared images, but they maintained distance from the C26A. Once, the objects were seen on the infrared and radar to move closer and surround the military plane. All the pilots were upset seeing the encircling objects on their instruments, but not able to see any physical objects in the sky with their eyes.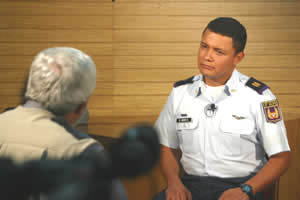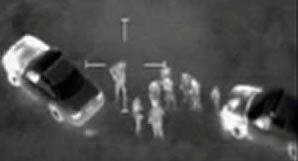 ---
Interviews:  (Updated with Bruce Maccabee, Ph.D., Naval Research Physicist in More Information below.)
Jaime Maussan, Television Journalist, Maussan Productions and www.ovnis.tv, Mexico City, Mexico: "This is infrared in black and white. You can see the clouds. Then you can see an object, they chase one object like a little sphere moving 37 miles away from them for maybe three to five minutes."
05-03-04 16:51:27L March 5, 2004 at 4:51:27 p.m. local time
"White Hot" thermal image of unidentified aerial object at center of FLIR Camera cross hairs.
Cumulus cloud in lower right corner is also warm in the infrared frame. The numbers on the left show elevation of object in cross hairs in degree relationship to the FLIR camera's horizontal position in the airplane. The event took place at 3,500 meters, or 11,480 feet. The black numbers on the bottom white bar show latitude, "LAT," longitude, "LON," the date "05-03-04" (March 5, 2004); and the running clock time that begins "16:51:27L," or 4:51:25 p.m. local time over the State of Campeche, Mexico. All FLIR video images provided by the Mexico Department of Defense.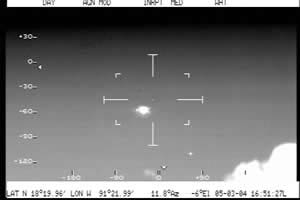 05-03-04 16:51:27L March 5, 2004 at 4:51:27 p.m. local time
Image is magnified and "white hot" polarity is changed to "black hot" for more clarity. Unidentified object and cloud change from white to black. Image is also "decluttered" in which the numbers and text are removed.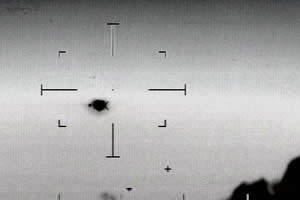 Jaime Maussan: "Then on the video two huge spheres appear near the center of the cross hairs above the clouds, moving with the airplane. You can see how these spheres go behind the clouds. You can see them passing behind the clouds, proving this is not a reflection."
05-03-04 17:03:41L
March 5, 2004 at 5:03:41 p.m. local time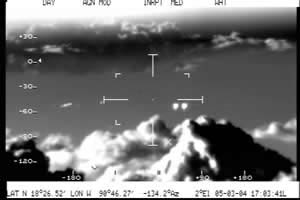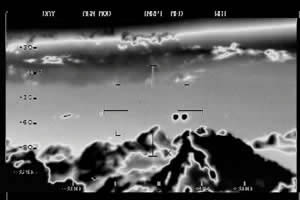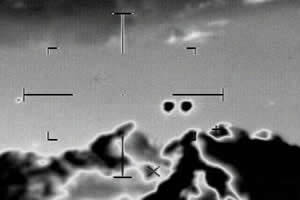 05-03-04 17:03:45L
March 5, 2004 at 5:03:45 p.m. local time
Back in "white hot" polarity and four seconds later at 17:03:45 local time, the two "car head lights" seem to have divided, or other objects joined below the larger bodies. All white objects in these infrared must be giving off heat to be seen as white in these frames. The black of the cloud in the lower left corner would be the result of water below the dew point where it begins to evaporate and cools portions of the cumulus clouds.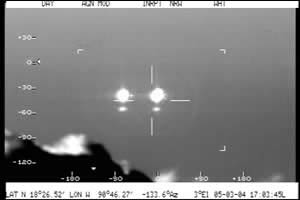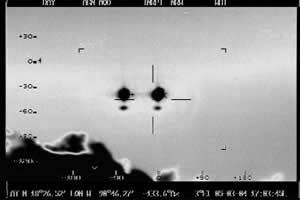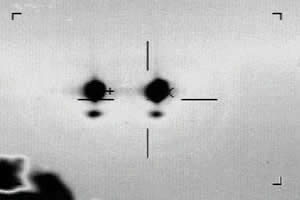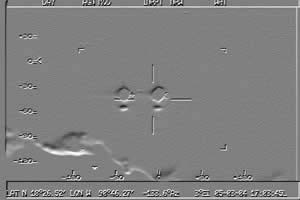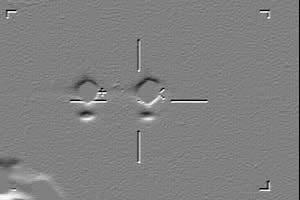 05-03-04 17:03:49L
March 5, 2004 at 5:03:49 p.m. local time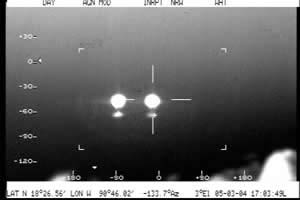 05-03-04 17:03:55L
March 5, 2004 at 5:03:55 p.m. local time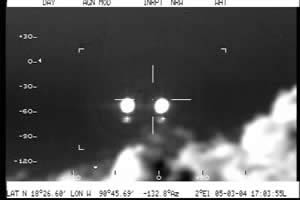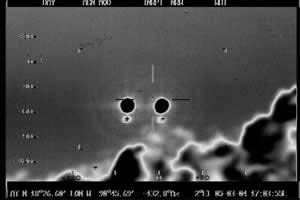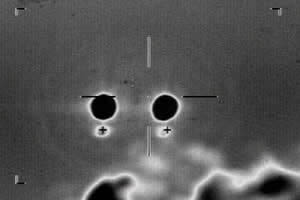 05-03-04 17:06:24L
March 5, 2004 at 5:06:24 p.m. local time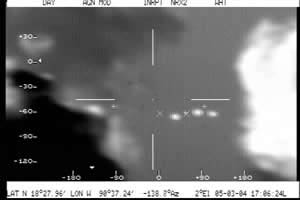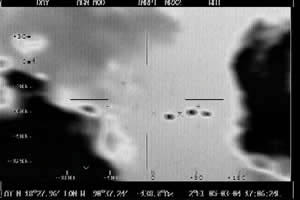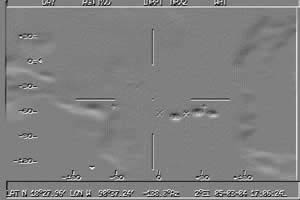 05-03-04 17:06:49L
March 5, 2004 at 5:06:49 p.m. local time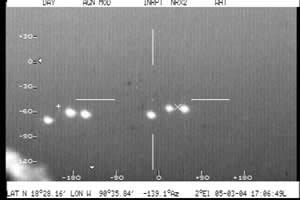 Jaime Maussan: "And then you can see all the eleven objects following the two big spheres. The lights are in formation. Then after that, you see them going through clouds for a few minutes and then you see separated images of these lights standing still. They said it was because the lights were chasing the plane at the same speed. OK, then I think, Linda, it is very spectacular. To explain in all the scientific basis, this video is going to be very difficult for anybody who does not want to accept that something is going on. You will see this as evidence that will be around the world ­ so many are going to investigate this and this is going to be one of the cases that will receive the most attention ever."
05-03-04 17:07:05L
March 5, 2004 at 5:07:05 p.m. local time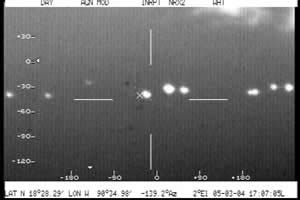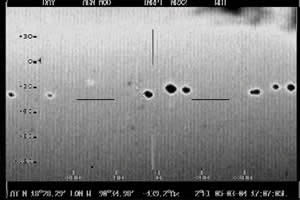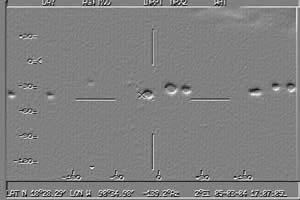 Jaime Maussan: "These lights continued moving until they surrounded the plane in the front, in the center and the back. For that reason, the pilot decided to turn off the lights to try to avoid any conflict with these objects. For some minutes, they felt tension and they were a little bit afraid, not really threatened, but something unknown. They realized this was not normal.
Then the objects disappeared, but some of them still chased the airplane for some more minutes in the back of the airplane at the same speed. For me, that proves that these objects have intelligence and at the same time have mass because they were recorded on radar. They have energy because they were recorded with infrared. At the same time, they were invisible. The pilots and all the crew ­ 8 individuals ­ were not able to see these objects when they were no more than two miles away from them. That was very strange for them because they were able to see them just through the radar, three at the same time, and then eleven at the same time with the FLIR.
WHAT YOU ARE SAYING IS THAT THEY COULD SEE THREE OBJECTS AS SOLID MASSES ON RADAR, BUT THEY COULD SEE ELEVEN OBJECTS BY HEAT IN THE INFRARED.
Exactly. But the objects were the same. They were part of the same group, but not all of them were captured by the radar. The radar captured one, then two, then three. In the infrared, they were able to see two at one moment and then eleven more in a different moment."
05-03-04 17:15:44L
March 5, 2004 at 5:15:44 p.m. local time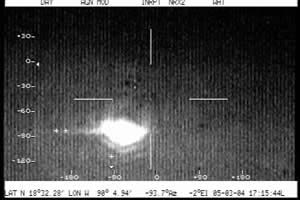 05-03-04 17:16:24L
March 5, 2004 at 5:16:24 p.m. local time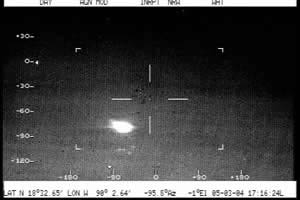 05-03-04 17:26:45L
March 5, 2004 at 5:26:45 p.m. local time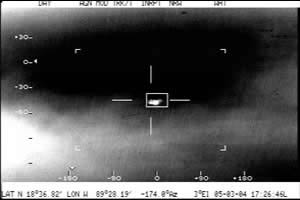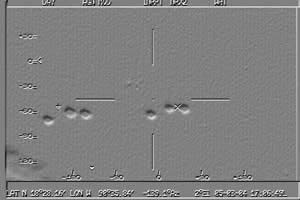 Invisible Unidentified Objects Surrounded the Mexican Air Force Plane
"DID I UNDERSTAND THAT WHEN THE MEXICAN AIR FORCE PILOT AND HIS CREW WERE SURROUNDED, NONE COULD SEE ANY OF THE OBJECTS?
That's right. The pilot and his crew were not able at any time to see the objects. He received the information from the radar that have two or three different objects at the same time in the radar in the back and they had two more at that same moment with the FLIR (infrared camera). For that reason, he (pilot) realized he was surrounded. But he could not see the objects (with his eyes.)
However, he turned off the navigation lights (of Mexican Air Force plane) because he thought he had to do something. He didn't know what was going to happen. To me, that proves he felt some tension. He was not imagining these events.
IN TERMS OF TALKING WITH GENERAL CLEMENTE VEGA GARCIA, SECRETARY OF DEFENSE, WHO GAVE YOU THE VIDEOTAPE ­ DID HE HAVE ANY MORE INFORMATION BY APRIL 22ND TO TELL YOU ABOUT HIS INVESTIGATION?
No, that's the reason he gave me the tape. He said, 'We don't know what they are. We have been analyzing them.' I believe he is a very honest man. He gave me this tape to see what else could I do with it. I presented this to the Mexican people. This has not been received very well by the scientific community who said that they should have received the video before I did.
However, this morning the Secretary of Defense announced to all the scientists in Mexico that they could have a copy of this tape to investigate. The government has nothing to hide. If this is investigated correctly, we have one of the most solid evidences ever, Linda.
Any Contact With American Government?
DID YOU ASK THE GENERAL IF HE HAS HAD ANY DISCUSSION OR COMMUNICATION WITH ANYBODY IN THE UNITED STATES GOVERNMENT ABOUT THIS INCIDENT?
No, he didn't tell me. I think he was acting independently and at the same time, he was trying to be transparent. In Mexico, we have a transparent policy established by the government. I think he was acting according to that policy of the government. He did not tell me anything else.
I WOULD ASSUME THAT THE MEXICAN GOVERNMENT WOULD WANT TO MAKE CERTAIN THAT WHATEVER THIS WAS FLYING OVER THE STATE OF CAMPECHE IN MEXICO WAS NOT SOME ADVANCED TECHNOLOGY BY THE UNITED STATES.
Well, when you don't see them, see these objects, I don't think the General or the Government of Mexico would think that it was the technology of the U. S. because it was invisible. That simple reason makes this case a very strange case, Linda.
Time Line of Event Was At Least 24 Minutes Based on FLIR Camera Clock
They had enough time on the FLIR camera and radar to prove to them that they were dealing with something definite. This was an interceptor plane and the radar is usually used just to locate the airplanes. Then you have the FLIR camera. With that infrared camera, you can use the images that are recorded of any airplane in the area as in trying to capture narcotic smugglers.
We interviewed the expert of the radar, the expert of the FLIR and the pilots for a long time. Then they gave me all the information. They were very honest. I don't think they were lying. The Secretary of Defense authorized them to speak openly to me without any censorship, which means to me that they were acting in their reality, they were acting on personal basis telling me exactly what happened.
THIS IS WHY THE VIDEOTAPE CAME TO BE BROADCAST ON NATIONAL TELEVISION IN MEXICO ON MONDAY NIGHT, MAY 10, RIGHT?
Exactly. Because what I wanted to do was to present this to all the Mexican public through the national news that are the most important in this country. After that, I did a press conference yesterday morning inviting everyone that was in Mexico ­ CNN, ABC, BBC, Reuters, AFP, all the international agencies in Mexico and all the Mexican papers and stations in Mexico, Channel 40, Channel 22, Channel 11, all the media was represented in that press conference. This material was given freely to them because I understand this belongs to the people. Nobody has the right to copyright this material."
---
Updated More Information:
Completely ignoring the invisibility factor, Mexican scientists today are trying to explain the 31-minute event (of which 11 minutes were videotaped in infrared with the FLIR camera) as meteorites, electric discharges, ball lightning, or even balloons. Today I talked with U. S. Navy Research physicist and longtime UFO investigator, Bruce Maccabee, after he discussed the Mexico objects with engineers at the FLIR company in Portland, Oregon, that makes the FLIR StarSAFIRE II infrared camera. Cost $400,000, plus installation cost in airplane.
Bruce Maccabee, Research Physicist, U. S. Department of Navy, Infrared Applications, Washington, D. C.:  "This is the first time I've ever heard of a case of radar and infrared and you have to add in no visuals. This is a radar-non-visual-infrared case, which makes it unique. So we are talking about something that is so red that your eyeballs can't pick it up.
BUT WHEN YOU GO TO INFRARED, YOU ARE DEALING WITH HEAT SIGNATURES AND THEY ARE BLACK AND WHITE?
Right. When you go to infrared, first of all ­ you don't know how to assign colors to it anyway. It's not something that you can see. It's a foreign world of vision. About all you can tell is yes, what degree of hot is it and how much power is it radiating.
You can understand the problems we are running into with this thermal imager (FLIR). If you have a home video camera and suppose you have a light bulb with a dimmer switch and you can crank the light bulb up and down in brightness. When you stand back some distance ­ 10, 20, 40 feet with your camera ­ and you videotape this light bul in the dark with your camera and then you change the intensity by changing the power with the dimmer switch from very bright to very dim. The size of the bulb does not change, but the size of the image in your camera will. The size will grow with the amount of brightness. This happens with all optical systems ­ films, movies, video cameras and also with infrared cameras. So, this infrared imager, when you look at these images, they appear extremely bright ­ what we call saturated. The detectors can't handle any more ­ very saturated and quite large.
Now, there could be an object out there which is a teeny, weeny thing that is generating an awful lot of energy, power, in that wavelength band(3.6 to 5 microns) and creating those images. The image itself would be big. If you assume the image is the size of the object, you can project outward to the field and calculate how big it would be if it were a certain distance. You would be doing a calculation that was much too large.
WE WOULD NEED TO HAVE A TIME LINE AND DISTANCE LINE ESTABLISHED FROM THE VERY FIRST FRAME OF THE VIDEOTAPE TO THE END?
That would be nice and if we could establish a specific radar distance that corresponds to a specific infrared image, then if we have multiple lights up there, then we can tell how far aparts the lights are. It still isn't going to say how big the light source itself was because these images are overexposed. If the images were much dimmer, then their size would be much closer to what it ought to be.
THEY ARE OVEREXPOSED BECAUSE WHATEVER THEY ARE, THEY WEREN'T VISIBLE TO THE HUMAN EYES, BUT THEY MUST BE GIVING OFF A LOT OF HEAT ENERGY?
That's right. One of the things I'm hoping the engineers will be able to help us do is find out just how much energy that would be ­ whether we're talking about milliwatts, or watts, or thousands of watts. And that's going to depend upon trying to duplicate the image.
In the situation where you have the very bright ones side-by-side and the two little images down beneath, there is a very faint halo around it.
The FLIR engineers told me it was an artifact of the video camera optics. when there is so much radiation coming in, there are reflections around inside the optics that creates spurios, weak images on the focal plane array. That turns up like a halo around a very bright image.
AGAIN, REINFORCING THAT THERE WAS INTENSE ENERGY BEING GIVEN OFF BY THESE OBJECTS.
Right.
Meteorites? Ball Lightning? Balloons? American Stealth Technology?
TODAY I WAS ABLE TO CONFIRM IN JAIME MAUSSAN'S OFFICE THAT THE MINI-DVD OF VIDOTAPE THAT WAS USED BY THE FLIR CAMERA OPERATED FOR 31 MINUTES FROM BEGINNING TO END. THIS WAS A LONG TIME EVENT. GIVEN THAT FACT, AND THAT THIS INFRARED VIDEOTAPE CAME FROM SECRETARY OF DEFENSE'S OFFICE IN MEXICO, WHY DO YOU THINK ANY SCIENTIST WOULD BE SAYING ONE EXPLANATION, METEORITES, AND TWO, BALL LIGHTNING?
And three, balloons.
YES, HOW COULD ANY OF THOSE EXPLAIN THESE 31 MINUTES OF THERMAL IMAGING OF THIS INTENSITY?
Having looked at the video and thought about this for awhile and calculating where the plane was going and how fast it was traveling, the problem with the meteorite explanation is that meteorites just don't last that long and they go a lot faster than an aircraft. They wouldn't be pacing an aircraft.
The ball lightning suggestion doesn't make any sense to me either because even if ball lightning were somehow to be generated in this clear air atmosphere ­ no storms around supposedly ­ they wouldn't move at all. They would just appear and disappear somehow or other and not lasting very long, a few seconds. These objects, whatever they were, lasted for a long time.
The last one are the balloons. Balloons can last for a long time, but balloons have a tough time keeping up with an aircraft that was traveling at 200 mph. ­ especially like circling an aircraft at 200 mph!
So, I don't buy any of those explanations.
A fourth explanation that has been presented is some top secret Air Craft of device. Some people have argued it was stealth aircraft. One argument has to do with stealth aircraft using infrared devices so they can keep track of each other at night. Of course, this was not at night and stealth aircraft ­ guess what, can be seen in the day time. No one has figured out how to make them totally invisible yet. So there was something there."
---
Websites:
http://www.FLIR.com/imaging/airborne/products
http://www.telephonics.com/products/MaritimeSurveillance.shtml#anaps143

© 1998 - 2023 by Linda Moulton Howe.
All Rights Reserved.