Update on June 17, 2004 – Another 2,000 American White Pelicans have disappeared from the Chase Lake Wildlife Refuge, leaving behind hundreds of chick carcasses and eggs on an island. U. S. Fish and Wildlife project leader, Kim Hanson, says there are only about 300 adult pelicans left on the entire island. Pelicans have nested at Chase Lake for more than a hundred years without such baffling disappearances. So far, none of the 29,000 pelicans have showed up anywhere else and no one yet has an answer to the mystery.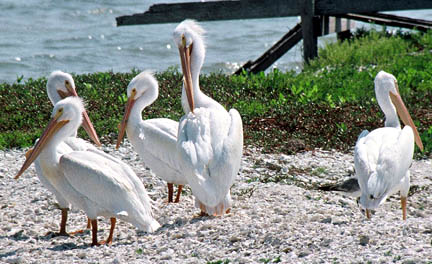 June 15, 2004  Medina, North Dakota – Beginning on May 24, 2004, the Bismarck, North Dakota office of the U. S. Fish and Wildlife Service began hearing that American White Pelicans were disappearing from the Chase Lake National Wildlife Refuge north of Medina, North Dakota. Over four days, the estimated number of large water birds dropped from 27,000 down to 80 at two of three nesting sites. The third nesting site of pelicans remained normal with 2,400 birds – adding to the mystery about why? – and how? – could 27,000 pelicans disappear without a trace?I talked today with a spokesman for the U. S. Fish and Wildlife Service in Bismarck who confirmed that so far none of the missing pelicans have turned up anywhere.
---
Interview:
Ken Torkelson, Writer-Editor and Spokesman, U. S. Fish and Wildlife Service, Bismarck, North Dakota: "No one knows what happened. We have some theories. We have ruled out a lot of theories. We have ruled out disease break out, we've ruled out toxins, we've pretty much ruled out human disturbance. We are leaning toward, but not convinced of, animal disturbance. We have found at least one active coyote den in the area and that has since been eliminated, but we are leaning that direction that it was the coyotes that scared the birds away. However, coyotes and the pelicans have been co-existing in this location basically together for a hundred years or more and why it's taken until now for the coyotes to scare the pelicans away, we don't know.
IF YOU SET THE COYOTE EXPLANATION ASIDE FOR A MOMENT, WHAT OTHER STRANGE THING MIGHT OCCUR? COULD THERE BE A CHANGE IN MAGNETIC FIELDS, OR SOMETHING LIKE THAT?
There are so many possibilities that we are slowly eliminating them one by one that we aren't ready to pin it down to even a dozen yet. There were no major weather events that went through there that we are aware of. It's an unstaffed wildlife refuge, so we can't tell for sure. But there were some thunderstorms in the area, but again, the thunderstorms and pelicans have been existing together for hundreds of years. So why should they all of a sudden be scared off by a thunderstorm?
WHAT ABOUT THINGS LIKE MAGNETIC LINE CHANGES?
We believe if it were something like that, it would have effected all three nesting sites. But since the third one remained stable in every aspect, we don't think it was anything like that.
TO DATE, NO ONE ELSE ANYWHERE ELSE IN THE UNITED STATES OR ANY PLACE HAS PICKED UP ON AN INFLUX OF THESE PELICANS SOMEWHERE ELSE?
Nobody is reporting a sudden influx of 27,000 white pelicans. We are, however, getting reports here and there of maybe up to a couple hundred pelicans. For example, we are seeing more pelicans along the Missouri River in North Dakota. But as far as one big mass of pelicans suddenly descending some place, no, we're not seeing that at all.
WHEN YOU TALK WITH ORNITHOLOGISTS WHO KNOW A GREAT DEAL ABOUT THESE AMERICAN WHITE PELICANS, IS THERE ANYTHING THEY KNOW THT COULD SCARE OFF OR MAKE PELICANS MOVE IN A BIG MASS LIKE THIS?
We're not getting any definite answers from anybody. This might be a slight exaggeration, but we're asking just about everyone. There are some theories, yes. But do they qualify as answers yet? Probably not.
THAT'S A LOT OF BIRDS TO DISAPPEAR.
Yes.
YOU WOULD EXPECT THAT THEY WOULD BE FOUND IN SOME KIND OF A CLUSTER SOMEWHERE.
I certainly would.
AND THE FACT THAT THEY ARE NOT, LEADS PEOPLE TO THINK WHAT?
We're getting a lot of theories that they are sick and flying off to die somewhere. But we have certainly not found any evidence to back that up. There is a normal amount of mortality from pelican colonies. Actually, this year at Chase Lake, we've found less than normal mortality this spring.
THEY WERE THRIVING?
I guess you could say that. They were certainly getting along fine. The population there has been pretty stable for a couple of years.
THEN THEY UP AND DISAPPEAR.
Right.
Other State and Federal Agencies
ANYBODY FROM OTHER FEDERAL AGENCIES LOOKING INTO THIS?
All our traditional partners ­ we have a U. S. Geological Survey station nearby in Jamestown, North Dakota. They've sent some people over, including a predator expert. I believe she is leaning toward the coyote theory as well.
WHY?
That's her area of expertise and she believes there was one too many incursions by the coyotes. Like the straw that broke the camel's back, well, this was the incursion that drove the pelicans away.
BUT WHERE WOULD THEY GO?
(laughs) We have no firm ideas on that. And we have put out the word to birders, to biologists, to other wildlife refuges, to any other locations that have nesting colonies of white pelicans, other state agencies and federal agencies. We've had phone calls from everywhere looking for the answers, but they are supplying more questions than solutions.
HAS ANYONE IN ANY OTHER COUNTRY SAID THEY'VE HAD ANYTHING COMPARABLE LIKE THIS ­ LARGE BIRD DISAPPEARANCE?
Maybe in history, but not now that I'm aware.
ANY NEXT STEPS IN YOUR INVESTIGATION?
We continue to pay visits to the nesting colonies at Chase Lake looking for anything we can find that might help lead us to an answer. We are closely examining our historical records. We've kept very detailed records dating back to the early 1970s. Hopefully, we could find something in there. And we are asking all our partners, federal and state ­ especially sites with pelican nesting colonies ­ if they have any information they can use. And through media such as yourself, we're putting information out to the general public hoping someone might come up with an answer.
We're also changing plans at the Chase Lake Wildlife Refuge, hoping that the 27,000 birds will come back next year and re-nest and we want to make sure they have the peace and quiet they need if that happened.
To Contact Chase Lake National Wildlife Refuge
IF ANYONE HAS INFORMATION, WHO SHOULD THEY CONTACT?
Chase Lake National Wildlife Refuge at 701-752-4218.
We don't want to hear reports of one or two pelicans, but if someone sees a hundred or so pelicans, especially in a place they haven't seen white pelicans before, we definitely want to hear about that."
---
Websites:

© 1998 - 2023 by Linda Moulton Howe.
All Rights Reserved.