See: Part 1
July 23, 2004 Wiltshire, England – Between July 11 and July 23, 2004, sixteen crop formations have been reported in southern England, the majority in the country of Wiltshire which has been the heart of the modern British phenomenon since at least the late 1980s. To keep up with news about English crop formations, see Cropcircleconnector.com and other websites included in the final segment of this report.
---
Interview:
Lucy Pringle, Crop Circle Researcher/Author and Aerial Photographer:
"I've flown over most of the recent ones in Wiltshire. On July 21, I was flying back from the "swastika-like" one at Pewsey which is just underneath the chalk white horse.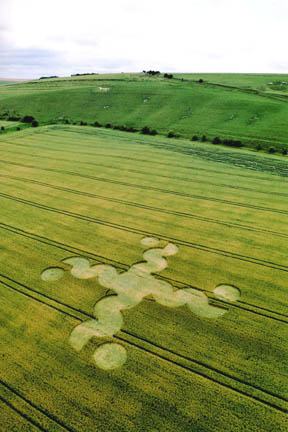 Editor's Note: British crop circle researcher, Francine Blake, suggests the pattern is a variation on a symbol known as "Axis Mundi," a world axis. In my own research of Celtic cross designs, I found the drawing of an Axis Mundi symbol found in a pillar stone at Trawsmawr, Wales. Originally, the oldest symbol of the world axis symbol was the Sacred Tree, later replaced by the pillar stone. The world axis symbol honors three worlds: earth, sky and the space between, or the spiritual, matter and psychic dimensions.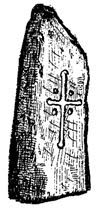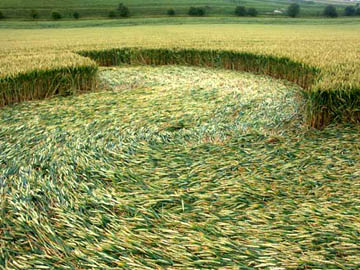 "And flying back over Woodborough Hill and South Field, Alton Barnes, we found this new formation which is rather like a spider's web in Tim Carson's big wheat field.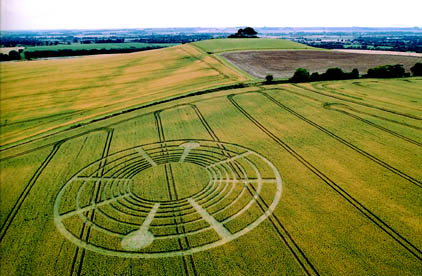 "Yesterday after lunch, I went to Windmill Hill at Avebury Trusloe formation ­ it measures at least 700 to 800 feet long. It's taking us back to the older days, the 1991 days, where you had the linear effect.
AND ALMOST INSECT-LIKE.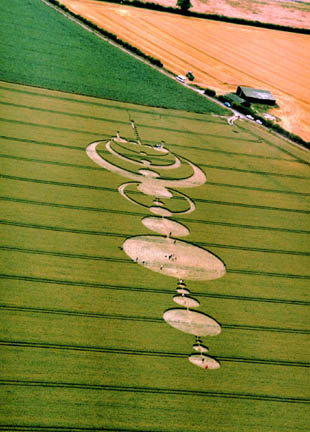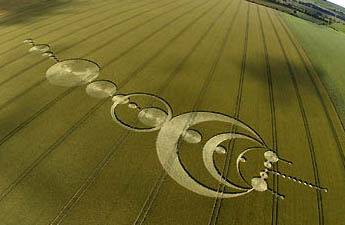 Yes, because you have the proboscis coming out and the sort of horns at the top. It's curious. But I have to tell you that it's on Robin Butler's land. He's the farmer. He's open minded and put out an honesty box which hopefully people will pay when they go in. But when he went into it at 6 o'clock on the morning on Saturday, July 17, and discovered it for the first time, he found a lot of mud on the downed crop – at least where he entered..
I UNDERSTAND FROM CHARLES MALLETT THAT IT RAINED ALL NIGHT, FRIDAY TO SATURDAY.
I don't know because that's Wiltshire and I'm Hampshire. But it's not a good sign, the mud (meaning could be manmade). But I have to tell you because it was extraordinary ­ I got a terrific headache in certain parts of the pattern, particularly at the top (the pattern goes up a hill), the proboscis going north toward Windmill Hill. I can only think that was due to the energy lines (magnetic ley lines) radiating from the old enclosure of Windmill Hill.
I KNOW WHAT THOSE VICE-LIKE HEADACHES ARE INSIDE SOME OF THE FORMATIONS. I'VE EXPERIENCED THEM AND ASSOCIATE THEM WITH SOME KIND OF ENERGY THAT IS STILL RESIDUAL IN SOME OF THESE FORMATIONS.
Yes, that's it. We're dealing with residual energy. So I find it very interesting that I should be experiencing those strange effects despite the suspicious mud. I can only put it down to the energy lines that are running from Windmill Hill."
Charles Mallett, longtime crop circle researcher who did a night watch on Silbury Hill all night Friday, July 16 to Saturday morning, July 17, 2004: "Up until the arrival of that formation, there certainly was not anything in that Windmill Hill field when I did my night watch on Silbury Hill the night of July 16. On that night, I had gone to dinner members of the Norwegian crop circle group. One of them, Guro Parvanova, got her map out. She is a very sensitive person and pointed her finger at a field on the map which was one of the lower fields on the slopes of Windmill Hill that turned out to be the exact field that the big formation happened in. She said, 'I just have a feeling about this field, something special is going to happen there.'
I went from dinner to Silbury Hill where I spent a night watch. The weather was horrendous with rain most all night. I did not see anything unusual, but I can confirm it was raining until at least 3 a.m. The next morning, I learned from Nick Nicholson, who photographs for the Cropcircleconnector, that a formation had been reported at Windmill Hill. I couldn't believe it! I contacted Guro and her friend, Irene, and we got to the formation around 10 o'clock in the morning. There were maybe half a dozen people in the formation, but because it was so huge, there were large sections of it that were untouched from anyone walking on it. Obviously, because there were a number of people in there before us, we could not be certain where they had walked or how muddy their boots were when they came in. There was mud around in some places, consistent with visitor activity, certainly not with hoax activity from my experience. There was no rhythmic damage across the plants that you would expect from mechanical damage.
I'd say on balance, I don't think it's a hoax due to the mud because I could not find the plank marks which one sees in young green wheat. The marks can be obvious in a rhythmic sense. Generally we all found the Windmill formation to be pretty clean and crisp and flowing."
Camera Failures and A Surprising Anomaly in the Windmill Hill Formation
I learned that at least five people had cameras fail to operate inside the Windmill Formation, but when each left the pattern, the cameras would operate again. Lucy Pringle was aware of cameras that failed.
"LUCY, BERT JANSSEN TOLD ME THAT ONE OF THE MORE EXTRAORDINARY ANOMALIES WAS IN ONE OF THE LARGE RINGS, THERE WAS A ONE-INCH WIDE THIN RING WITHIN THE LARGE RING IN WHICH ALL THE PLANTS WERE LAID DOWN GOING THE OPPOSITE DIRECTION.
Yes, I saw that. I did see that. That was very interesting. I haven't worked that out. In one of my photographs, I don't know if you have noticed that in one of the circles as it opened out into the next circle, the plants were going in opposite directions. They were meeting, in fact, and overlapping in totally opposite directions. There were definite anomalies."
Bert Janssen, longtime crop circle videographer and photographer from Holland: "In the Windmill Hill formation, I noticed a feature I haven't seen before. There is a center part of the formation that's kind of a ring and in the ring was crop going clockwise. But in the center of the ring, there were a few stalks going counter-clockwise. This little inner ring went all around inside the bigger ring, only two or three stalks wide. The big ring itself I think was two meters wide, but this tiny line in the center was only about an inch wide, maybe two inches. Sometimes it was only one stalk. Other times, only three or four stalks. But it continued all the way around. It was really a thin ring inside a bigger ring, each going the opposite direction from each other.I made a lot of photos of it and I've never seen a thing like that before in a crop circle in England. That made me wonder even more what was going on here.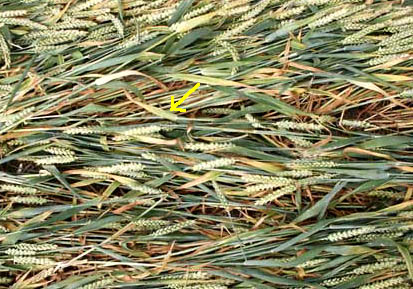 WERE YOU ABLE TO SEE IF THERE WERE ANY LENGTHENED NODES OR EXPULSION CAVITIES OR ANYTHING LIKE THAT IN THE STEMS?
I did study a lot of stems, but I did not notice anything strange to the plants ­ nothing like blown nodes or elongated nodes. The only thing that impressed me was the way the crop was laid down. The flow was really impressive. It was not always logical. A circle would not really spiral toward the center, but would just meander toward the center, like it was water running around."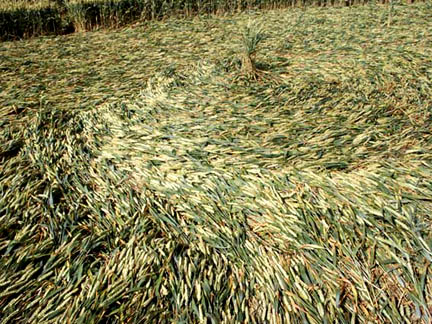 There was one more aspect of the Windmill formation that I thought is important. I met at least three people whose camera batteries went flat in a few seconds after they came into the formation. They started working with their cameras, wanted to take a picture, and no battery. That's something I have only seen in the better formations.
THIS ISSUE OF WHAT DRAINS BATTERIES AND AFFECTS ELECTRONIC EQUIPMENT INSIDE OF SOME OF THE FORMATIONS?
I don't know. I don't know exactly what is draining these batteries, but it happens. And the batteries are not drained outside the formations. Many people have had cameras for many years and never experienced this problem before until they step into a crop circle.
YOU WOULD ASSOCIATE THAT WITH THIS BEING MORE EVIDENCE THAT SOME KIND OF AN ENERGY SYSTEM HAD INTERACTED WITH WINDMILL HILL?
Yes. It looks very much that way. It's not a mechanical force. It's much more a force that has energy into it. So it's not flattening with boards. That would not explain batteries draining. There has to be some energetical force in the whole crop area.
ESPECIALLY THAT LITTLE ONE INCH-WIDE RING INSIDE THE BIGGER RING GOING THE OPPOSITE DIRECTION. HOW WOULD ANY HUMAN PUT DOWN A ONE-INCH-WIDE STRIP RING INSIDE OF ANOTHER RING?
The only way you could do it is to crawl on your knees through all the crop circle and get every stalk and put them in the opposite direction by hand. The little ring stalks were not only laying on top of the bigger ring or under it, but in between like it was interwoven with the other crop of the bigger ring, woven going in the opposite direction. So, it's not something that happened earlier or later. It happened at the same time. That was really amazing."
The "Erased" Formation
Lucy Pringle: "I was flying over this evening (July 21, 2004) and there was a new formation that had been harvested out and I think it was by the farmer called Farthing, who owns the land around Avebury. This was closer to Avebury than the Avebury Trusloe one (Windmill Hill). The farmer must have destroyed it with his harvester very quickly because I don't think anybody got a picture of whatever the pattern was before it was cut out.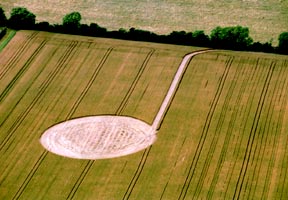 "Just recently, I visited the West Kennet one which is rather like the crescent moon and the rising sun. Whereas it looks very dramatic from the air, it is strange on the ground. It had a sort of empty feeling. I could not find any anomalies in the plants such as elongated nodes or expulsion cavities.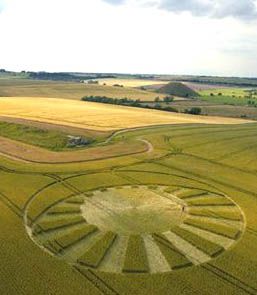 "My favorite one of this year – and I do think it is extremely significant – is the Fort Nelson one. I was talking to Jim Lyons and he said they were doing a lot of work on the negative and positive which is represented in that particular formation. I did take seed samples. And I did bury my bottles of water and I sent them up to him because he is in touch with the people at various laboratories who will analyze the seeds and do a whole chemical spectrum of the water. He was excited about that. It is important because we've got to back up our gut feelings with scientific evidence.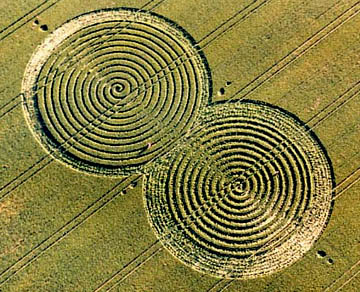 "In addition to Fort Nelson, I did like the East Field one, the one I think looks like a musical instrument when you look at the harmony and from a musical point of view, it has a great deal of harmony to it.
IT WAS UNIQUE COMPARED TO MOST PATTERNS OVER THE YEARS, WASN'T IT?
Yes, we've never had anything like that. That again is a joy, something entirely new and beautiful."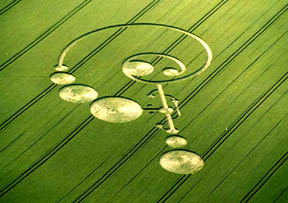 Continued in Part 3 – Mysterious lights near East Field.
---
Websites:
http://www.cropcircleconnector.com
http://www.cropcircleresearch.com
http://www.wylatowo.mogilno.pl/news.php?art=94
http://www.temporarytemples.co.uk
http://thecropcirclewebsite.50megs.com
http://members.iinet.net.au/~bwratten/ccc.html
http://www.CropCircleAnswers.com
http://www.busty-taylor.com/cropper/98busty2.htm
http://www.cropcircleconnector.com/ilyes/ilyes.html
http://www.wylatowo.mogilno.pl

© 1998 - 2023 by Linda Moulton Howe.
All Rights Reserved.