July 26, 2004  Eau Claire, Wisconsin – I talked with Terry Fisk, an Eau Claire, Wisconsin, electric power company employee whose hobby is to investigate crop formations with his colleague, Chad Lewis. On Monday, July 19, 2004, Chad received an e-mail from someone called "Adam Prince." The short e-mail said there was a crop circle just outside Chippewa Falls, Wisconsin, and gave directions. Chad was working, but Terry drove out to see if he could find the field and formation.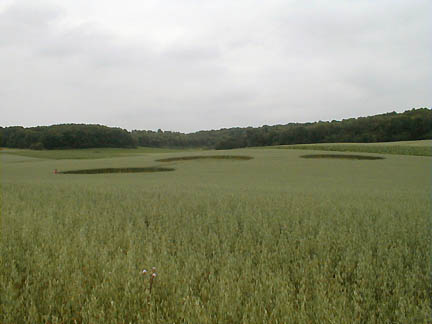 Terry found oats with three circles "impressed into the grain." When Terry and Chad went to find the farmer to ask permission to enter the field and investigate the pattern, the farmer was shocked. He had no idea there was anything amiss in his crop and told Terry the oats were the best he had ever grown. The farmer was very upset and Terry said, "He was cussing and swearing like you wouldn't believe." The farmer was convinced it had to be a teenage prank, not anything mysterious.
---
Interview:
Terry Fisk, electric power company employee who likes privately to investigate earth mysteries, Eau Claire, Wisconsin:
July 19, 2004 – Tilden, Wisconsin, Oats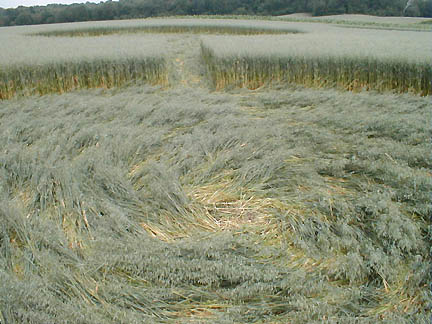 "Prank versus truly mysterious – we're kind of undecided about it. We're not really certain that it is anything more than a hoax.
WHY?
First of all, we were suspicious of the e-mail. Later when Chad and I drove together out there to investigate more, just driving down the road, we would not have noticed the circles unless we had been looking for them. Even looking, we could barely tell that was a crop circle because it was so far out in the field.
WHAT YOU ARE SUGGESTING IS THAT WHOEVER SENT THE E-MAIL HAD TO HAVE SOME KIND OF KNOWLEDGE ABOUT IT'S BEING THERE?
We suspect that, but we haven't actually talked to the e-mailer yet.
WAS THERE ANYTHING IN THE PATTERN ITSELF THAT GAVE YOU THE IMPRESSION THAT MAYBE THIS WAS THE REAL DEAL?
We had some equipment out there. We checked for radiation. We had a Tri-Field detector ­ we checked for electric, magnetic, radio and microwave anomalies. There was nothing out of the ordinary there.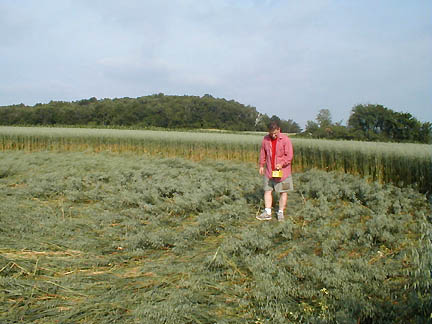 One thing that did seem unexplained is that we did not find any footprints or paths through the oats to explain how somebody got out there to form this crop circle. And just as we went through the oats to get to the crop circle, we left a definite path through the plants. They were growing so close together, it was virtually impossible to walk through the field without damaging the plants. In the oat field, there was no sign of how anyone could have got in or out.
We do want to go back again to see if our path is still visible. We don't know how many days prior to us arriving there that the formation appeared. Just looking at the grain, we are guessing it might have appeared during the weekend. There had been some rain Monday morning, so whether the rain would erase any signs that somebody had passed through the grain, we're not sure. But we would like to make a second visit there and see what evidence is left of our trail through the grain.
COULD YOU GO OVER THE DETAILS OF THE SIZE OF IT?
It consists of three circles. The first is 55 feet in diameter. The center one is over 64 feet in diameter. And the third one is a little over 53 feet in diameter. They are connected by walkways. One is about 29 feet long by 5 feet wide. And the other is about 26 feet long and 4 feet wide. So, it's a fairly simple design ­ just three circles connected by passageways.
SORT OF LIKE THE BEGINNING OF THE CROP FORMATION PHENOMENON IN ENGLAND AT THE END OF THE 1980S AND EARLY 1990S?
Yes, and it's very similar to one we investigated down in Mayville, Wisconsin, last year about this time.
Similar to 2003 Mayville, Wisconsin, Wheat Circles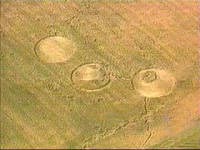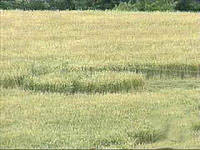 WHAT WERE THE RESULTS ON MAYVILLE IN TERMS OF SOIL AND PLANT SAMPLING?
There were some exploded nodes on the plants. We dragged a magnet through the circle in the field and we did find some magnetic fragments that attached to it.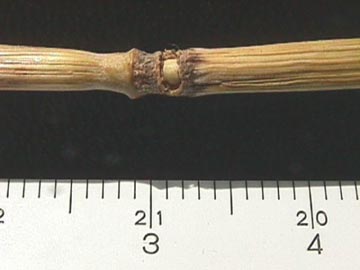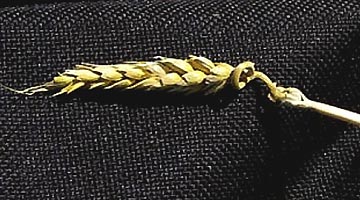 THIS YEAR IN THE TILDEN, WISCONSIN PATTERN, DID YOU DO A MAGNET DRAG AND FIND ANY NODE EXPULSIONS?
We did a magnet drag. We didn't find anything. We didn't find any expulsion cavities.
SO ESSENTIALLY, THIS IS A TRIPLE CIRCLE PATTERN IN OATS IN WHICH YOU HAVE NOT BEEN ABLE TO VISUALLY SEE ANY ANOMALIES IN THE PLANTS OR THE SOIL, BUT THE LACK OF TRACKS AND LACK OF ENTRY WOULD SUGGEST THAT PEOPLE DID NOT WORK IT IN A NORMAL WAY GOING THROUGH THE CROPS?
Right.
HAVE YOU COLLECTED ANY PLANTS AND SOIL FROM THERE TO GET THEM ANALYZED BY EITHER BLT, W. C. LEVENGOOD OR ANYBODY ELSE TO SEE IF YOU CAN SEPARATE OUT WHETHER THIS FALLS INTO THE GENUINE CATEGORY BASED ON THE SCIENCE?
Right, we did take some samples and they will be examined by BLT.
July 4, 2004 – Litchfield, Minnesota, Barley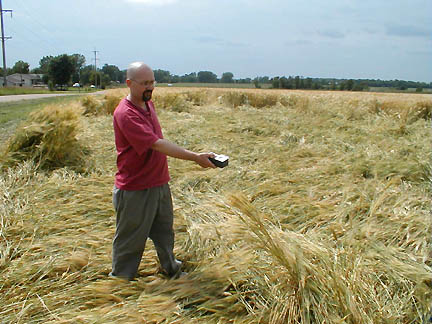 Earlier on 4th of July weekend, Chad and I visited another reported anomaly at Litchfield, Minnesota, in a field of barley and it was quite a huge field – over 6 square miles. This was a randomly downed formation, but it covered basically the entire field.
IN THE RANDOMLY DOWNED CROP, WAS THERE ANY CONSISTENCY IN THE LAY?
It was just randomly downed crop, but you had it laying in different directions. Then you had layering – the crop laid down in different directions.
THAT IS NOT CONSISTENT WITH LODGING OR WIND DAMAGE, IS IT?
No, it's not. And we did find another oat field just outside of Litchfield and that was partially down. We went out and examined that one and that was clearly caused by the wind and all of the crops were laid down facing the same direction throughout the entire field. Whereas in the 6-square-mile of barley, it was laid down in every direction you could imagine.
SO IN LITCHFIELD, YOU HAD HOW MANY LAYERS DEEP OF PLANTS GOING AT 90 DEGREE ANGLES TO EACH OTHER OR SOME ANGLES TO EACH OTHER?
Some places up to three layers.
IN THOSE THREE LAYERS, WERE THE PLANTS LAID DOWN ON EACH OTHER AT 90 DEGREE ANGLES?
Yes, if I remember right, they were.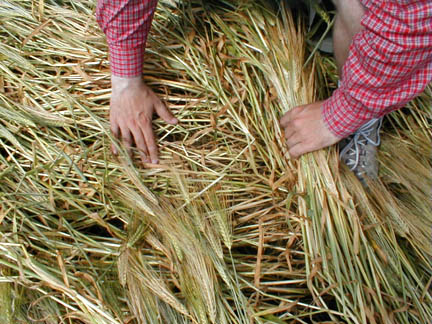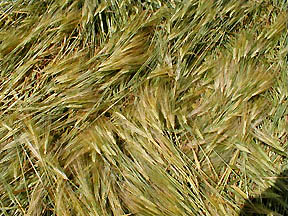 We talked to a meteorologist (at Channel 13-TV in Eau Claire) who said the barley was not typical of wind damage in crops in general and he has been unable to explain it. They've never seen or heard anything like that before.
IN LITCHFIELD, AROUND THAT FOURTH OF JULY, HAD THERE BEEN ANY KIND OF THUNDERSTORM WEATHER THAT MIGHT HAVE EXPLAINED IT?
Yes, there had been some storms. The farm family we talked to who owned the field, they basically are dismissing it as being caused by the wind.
BUT THE PROBLEM IS THAT WIND DOES NOT DO NEATLY LAYERED 90 DEGREE ANGLES.
Right. And I don't think the family actually walked out into the field to examine the crop. They just looked at it from the house and assumed that was the wind.
DID ANYONE AROUND THE FIELD REMEMBER NOTICING ANYTHING IN THE SKY OR HEARING ANY STRANGE SOUNDS?
No."
Also see: Reports about U.S., English and Canadian Crop Formations.
---
More Information:
Terry Fisk and Chad Lewis produce a website to provide information about their investigations and to receive reports about new formations via e-mail or mail. See http://www.ChadLewis.com
---
Websites:
http://www.cropcircleconnector.com
http://www.cropcircleresearch.com
http://www.wylatowo.mogilno.pl/news.php?art=94
http://www.temporarytemples.co.uk
http://thecropcirclewebsite.50megs.com
http://members.iinet.net.au/~bwratten/ccc.html
http://www.CropCircleAnswers.com
http://www.busty-taylor.com/cropper/98busty2.htm
http://www.cropcircleconnector.com/ilyes/ilyes.html
http://www.wylatowo.mogilno.pl

© 1998 - 2023 by Linda Moulton Howe.
All Rights Reserved.