Click to Part 1 – "Peculiar Phenomena," V-2 Rockets – and UFOB Retaliation?
Update December 17, 2004: Viewer reply to this Earthfiles report:
E-mail December 15, 2004
Nebraska Resident:
"As a former university archivist, I can assure you that the person you interviewed for your December 11th Dreamland report was correct in every detail of his description of archival protocol and operation.
I write requesting confidentiality, but perhaps you might be interested to know that there is sensitive information on the controversial subject of UFOs and related subjects at both the Nebraska State Historical Society and at the Archives/Special Collections of the University of Nebraska-Lincoln. But such is the case across the country's archives. 
Being familiar with directly working with government and military records, I can also tell you that the public–by which I mean all non-staff and non-faculty members who do not work in an archives–has no way to know what exists in an archive. If an archive does not want one of their document collections to be available to the public, the administration merely has to claim that a particular collection is still unprocessed or in need of conservation or preservation work. It will remain on a shelf or in a vault and never be cataloged. Lack of funds and time will usually be cited as justification. That is my main point: If an archive wants something to remain secret, all it has to do is keep it on the back-log of unprocessed materials, and there will be no public record that it even exists. The public has no legal right to access archival materials that are unprocessed. That is at the discretion of the archives administration. The secret world of archives. The stories one could tell . . .
My interest in UFOs goes back to the Mojave Desert in Palmdale, California in the 1970s, where I grew up near the Lockheed base. All of the family's closest friends were in intelligence and government work, and I will never forget the talk of strange stories we heard from them, and that I and my siblings experienced first-hand more than once. There are many stories, some involving events I would never put in an email. To protect my scholarly career, I am afraid to venture too deeply into such waters, but I certainly appreciate people like you who try to get to the bottom of things."
December 10, 2004  St. Louis, Missouri – Since I first posted the 4-part series about "Peculiar Phenomena" at Earthfiles that included former New Mexico Congressman Steve Schiff's frustration with the DOD claim that all 1947 Roswell Army Air Field outgoing records had been destroyed without proper authority, I received this week an e-mail about another famous destruction of military files that might also have included Roswell UFO crash information. The source has worked as an archive technician at the National Personnel Records Center (NPRC) in St. Louis, Missouri. That's where U. S. military personnel records have been kept since the 1950s.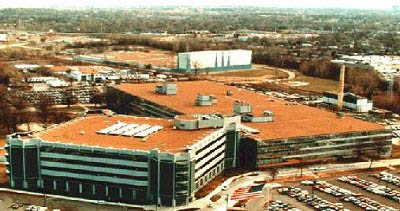 He has requested anonymity, but here is an excerpt from his email:
"I saw your report on the Peculiar Phenomena on your website. What most attracted my attention was the
part where you explain how Cong. Steve Schiff tried to get a GAO Report on the Roswell Incident.
When I started reading the DOD response mentioning the National Personnel Records Center, I was even more intrigued. …I was assigned to the Records Reconstruction Branch (commonly referred to as Recon). On July 12, 1973, a fire occurred at the Center, destroying or severely damaging close to 17 million military personnel records from pre-WWI to post-Korea. The records primarily involved were all Army records up to 1957; and all Air Force records from the last name of Hubbard to Z, up to 1963. As you know, in July 1947, the Army Air Force and Army Air Corps combined into what is today known as the U. S. Air Force."
He agreed to talk on the record, but anonymously, about the July 12, 1973, fire at the National Personnel Record Center in St. Louis.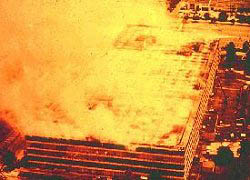 ---
Interview:
Former Archive Technician, National Personnel Record Center (NPRC), St. Louis, Missouri: "The fire that occurred on July 12, 1973, that destroyed so many records ­ it destroyed around 16 to 17 million records. These records comprised Army and Air Force records from 1898 around the Spanish American War to 1963 for Air Force and 1957 for Army.
The problem that has occurred since the fire is when we've had veterans come in, there is no way to truly answer a request. We have bits and pieces of information ­ we have entry dates we can get from the V. A. (Veterans Administration) to make a certificate say when they got in the service and when they got out and if honorable discharge or not. Then they use that for benefits.
But say if they got hit by shell fragments or pieces of bullets in their body. Now later on, things are affecting their health. What are they going to do? They go to the V. A. and it turns them down for any kind of benefits because they can't prove it was service-connected. That's one of the problems I noticed.
But the big thing also is that we really don't know how the fire started and how it could have destroyed so many records. Or even how it was allowed to occur. I had a friend who was a firefighter and still is a firefighter and he used to work with veteran firefighters who were at the scene on that day of July 12, 1973. He told me that some of the firefighters were not allowed to go into the building. Basically, it was allowed to burn. They cited security reasons, but you can make your own estimate on what that means.
The way the building is set up, they have these metal shelves where they stack the records. That perplexed me, too, because I wonder how the fire was not contained by some of the metal shelving? I thought it quite odd that the fire could travel so extensively and so quickly to destroy so many of the records.
People said there was a man who was crazy and he put cigarette packs in different spots, lit them up and that's what destroyed all those records. I'm thinking to myself, how does a couple of cigarette packs do so much extensive damage? We're talking about 16 to 17 million records! The fact that so many people really don't know how it happened. It's very perplexing, Linda.
THE IMPLICATION IS THAT THIS MIGHT HAVE BEEN A FIRE THAT WAS DELIBERATELY STARTED BY SOMEBODY IN THE GOVERNMENT WHO WANTED TO DESTROY MILLIONS OF RECORDS FOR REASONS THAT MIGHT RELATE TO THE FACT THAT THE FREEDOM OF INFORMATION ACT (FOIA Privacy Act of 1974) WAS GOING TO COME INTO PLAY WITHIN HOW MANY MONTHS OF THAT FIRE?
Actually, I'm not sure the month it came out in 1974, but it was in 1974 that the Freedom of Information Act (FOIA Privacy Act) came into play. You can see the dates are very close. I personally believe it had something to do with that ­ the fire ­ there's something more than we are led to believe."
Editor's Note:  The FOIA Privacy Act of 1974 enhanced the FOIA by permitting individuals access to records about themselves, which are held by federal agencies. The law requires that each agency publish a description of its record system and forbids the agency from disclosing personal information except to the individual who is the subject of such information. Both laws permit the individual to request access to federal records regarding himself or herself and allows the individual to appeal a denial of that request. The Freedom of Information Act (FOIA) became law in 1966 and guaranteed the public the right of access to information held by the federal government. According to the act, any individual may request and receive a document, file, or other record held by any agency of the federal government.
"Those records involved a lot of information ­ classified information, I believe ­ OSS, the predecessor to the CIA and personnel who were in that agency. It involved most likely information involving Roswell and other possible crash sites and the Freedom of Information Act Privacy Act was going to come out in 1974 ­ who knows what kind of a panic the government went in at the time and said, 'We have to do something to make sure people don't have a chance to look at this information.'
RIGHT, AND IT WOULD BE THE SAME SYNDROME THAT SO FRUSTRATED CONGRESSMAN SCHIFF ­ GETTING RID OF RECORDS.
Right. And the scary thing about it all is that we have so many veterans out there that are suffering and there is nothing that can be done because their records were burned up. It's a very odd situation in many respects.
Are Multiple Allergy and Other Health Problems
at NPRC Related to 1973 Fire?
IN YOUR E-MAIL TO ME, YOU SAID: "THE RECON SECTION WAS ALWAYS SHROUDED IN MYSTERY" AT THE NPRC. COULD YOU ELABORATE ON THAT?
What I stated in my e-mail about a shroud of secrecy and mystery is that a lot of people got sick (asthma, allergies, skin dermatitis, sleep apnea). I was one of them. But especially a person I knew ­ a young woman about 39 years old. She got sick one day and she just didn't come to work. The day she left and the day we found out she had passed (from cancer) was maybe about not more than five or six months.
WHAT YOU ARE SAYING IS THAT YOU AND OTHERS WHO HAVE WORKED IN THE NPRC IN THE RECON SECTION HAVE WORKED WITH 1973 FIRE-DAMAGED DOCUMENTS THAT MIGHT HAVE CAUSED A LOT OF YOU TO GET SICK?
Right. Core 5, 'Recon,' is situated on the second floor of the NPRC building. The fire occurred on the sixth floor. Over the
years since 1973, Recon has been shuffled around the building, but ever since I worked there, it has been on the second floor.
And a lot of the records were not completely destroyed. A lot of the records were simply charred very badly. Obviously, they used some kind of water to put out some of the fire. I'm sure this happened right after the fire where there was a huge growth of mold on the records. I remember at the beginning I was working there that I would touch the records and they were covered in mold. The mold was of all different colors. I guess I was a little bit not knowing what was going on that I did not think it was mold. I guess I thought it was something covering the records. I didn't expect it to be a dense mold.

In September 2003, the Center started placing the moldy records in large, plastic bags (similar to those large freezer bags you can buy in the store.) We were all told that the mold was "contained" while in the bags, and that way everyone would be able to work with them like they used to before the Special Mold Project in the special room that lasted for about one year. I asked, 'The record must be taken out of the bag to be worked, so how is it contained then?' Never received a good response. And that is how they are still working with the burned records to this day – receiving them in large, plastic bags.
IN YOUR WORK IN THE NPRC, DID YOU EVER TALK WITH ANYONE PRIVATELY ABOUT THEIR HAVING FIRSTHAND KNOWLEDGE OF SEEING RECORDS CONCERNING PEOPLE WHO HAD SPECIFIC ASSIGNMENTS RELATED TO UNIDENTIFIED FLYING OBJECTS?
No, I haven't. I have never wanted to go there because I don't really know what might happen. It's a very touchy subject, as you know. I know there are records that are not burned that are in the vault (large record room built like a safe in which sensitive classified personnel records are stored) that involve, from what I've learned in books I've read, that involve military personnel that were connected to Roswell. So if those aren't burned, who knows what kind of information could be in there (the vault)?
Of course, the records are more of a personal nature, but there could be glimpses, hints of things. There could be actual documents, for all we know."
---
Websites:
http://www.archives.gov/facilities/mo/st_louis.html
The 1973 fire: http://www.archives.gov/facilities/mo/st_louis/military_personnel_records/fire_1973.html

© 1998 - 2023 by Linda Moulton Howe.
All Rights Reserved.