"We took a geiger counter out and there were no abnormal readings anywhere on the landslide. So we did not pick up any indications there is any radioactivity. We have also asked U.S.G.S. to check the samples that are in there now being analyzed for any signs of radioactivity. So, we're doing a double check on it. … It's a very interesting and mysterious site that we're really hoping we get some more definitive answers on. But so far it has been quite, quite mysterious."
– Allen King, USDA Forest Service Geologist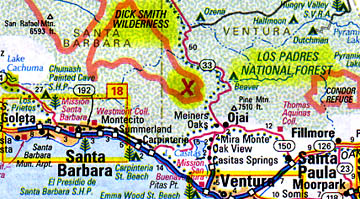 July 22, 2005 Updated – In this unusually hot July, the National Interagency Fire Center based in Boise, Idaho, reports that right now there are active large fires in 11 states – Alaska, Arizona, California, Colorado, Idaho, Louisiana, Montana, Nevada, New Mexico, Oregon and Utah. Nearly 4 million acres (3.9 million) have burned so far this year.
In Arizona this date, 150 homes in Punkin Center northeast of Phoenix in the Mazatzal Mountains, were evacuated when a 38,000-acre wildfire was raging within two miles of the city.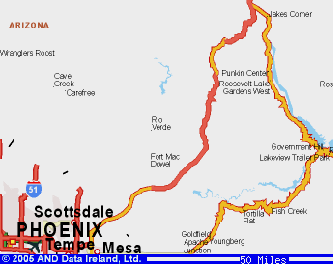 July 14, 2005  Goleta, California – This week, brush fires in Rancho Palos Verdes, California, were inflamed by harsh winds and threatened multimillion-dollar homes. And in Colorado, nearly 13,000 acres burned south of Denver, causing 5,000 people to run for their lives ­ until firefighters got the flames back under control. Raging brush fires are becoming a yearly problem in the west, especially California.

Now comes a science report about rocks so hot they started the August 21, 2004, fire in the Los Padres National Forest that burned up three acres last year about 18 miles northeast of Santa Barbara. The fire started on the surface of a landslide that covers 17 acres and probably slid within the past five to ten years. The cause for the landslide is unknown, and the source of all the hot rock is unknown. So far, geothermal or volcanic magma have been ruled out.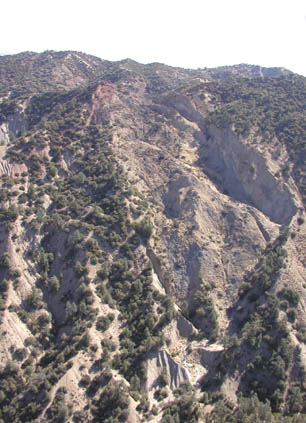 This week I talked with a scientist who is going to present a paper about the phenomenon at the Geophysical Society of America in Salt Lake City, October 16-19. The scientist is Allen King, Southern California Province Geologist for the U.S.D.A. Forest Service, based in Goleta, California. The title of Mr. King's upcoming presentation is: "The Landslide That Caused A Forest Fire: The Study of An Unusual Thermal Anomaly."
I asked him about the beginning of the August 2004 fire and the discovery of at least one temperature test area eleven feet deep that measured 584 degrees F. Scientists are still uncertain about the sustaining source of such heat over the past eleven months.
---
Interview:
Allen P. King, Southern California Province Geologist (Los Padres, Angeles, San Bernardino and Cleveland National Forests), U.S.D.A. Forest Service, Goleta, California: "The firefighters went out and extinguished the fire, but still felt heat coming out of the ground and they saw a number of fissures in the ground and areas with whitish and various colored mineral deposits on the surface and a lot of heat coming out.
So, after not being able to figure out what was going on, they brought out a candy thermometer and stuck it down in one of the fissures and the thermometer registered a temperature of 400 degrees F. which was the maximum the thermometer could register.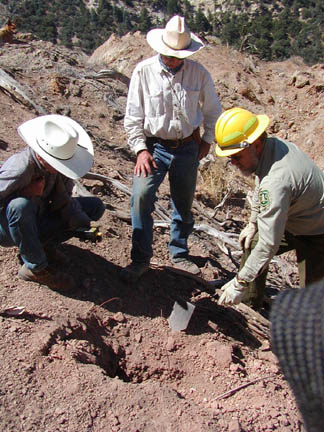 At that point, they called me out to take a look at it as a forest geologist. I made a visit to the site and was quite amazed at what I was seeing there. We've measured heat at the surface initially ­ let's say between the surface and down a couple of feet. The measurements we got were initially just over 500 degrees F. Eventually we found a spot that had a temperature of approximately 550 degrees F. down to a depth of about 14 inches under the surface.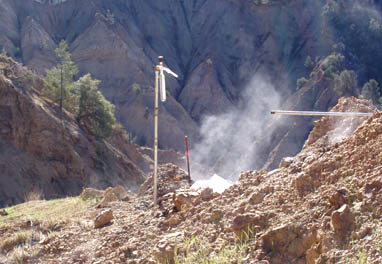 Then we also installed some monitoring wells, just some pipes that were driven down into the ground that went down about 12 to 15 feet. We measured a maximum temperature at about 11.5 feet of 584 degrees F.
Landslide Is Eocene Epoch Shale –
Reaction With Oxygen Creating Heat?
[ Editor's Note: The Eocene epoch is part of the Tertiary
Period in the Cenozoic Era, and lasted from about 54.8 to 33.7 million years ago.]
WHAT EXACTLY IS CAUSING THAT MUCH HEAT?
That's what we are still trying to figure out. The exact cause is still unknown, but again our theory ­ or working hypothesis is that the sulfide minerals in the shale body are reacting with oxygen and giving off an exothermic reaction that is producing the heat. But so far, it's not at all proven because the quantities of the sulfide minerals and organics within this rock body are so small that we're just not sure there is enough there to support our hypothesis. So, we're still looking for other possibilities.
BUT THIS IS HEAT HOT ENOUGH TO HAVE PROBABLY STARTED THAT AUGUST 2004 FIRE?
That's right.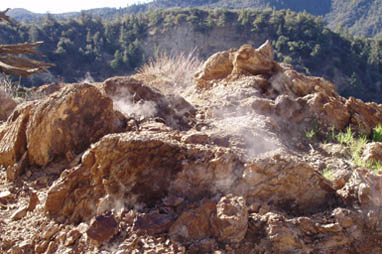 THAT MUST BE OF GREAT CONCERN. I MEAN, CALIFORNIA IS OFTEN LIKE A TINDERBOX.
Absolutely. The real curious part about it is there are lots of landslides out in that country. It's very steep and rugged country. So far, this is the only landslide we've recognized that has had this heat develop in it.
It's still somewhat of a mystery exactly what the cause is. We do anticipate that since there was some vegetation that re-grew this winter and spring, that there is a possibility that another fire could be ignited. But the vegetation is very sparse in that area, so it's not a major concern at this point.
Landslide Hot Region Causing Fire Is Unique
HAS THERE EVER BEEN A PRECEDENT FOR A LANDSLIDE THAT WOULD CAUSE A CHEMICAL REACTION IN ROCKS THAT WOULD BE THIS HOT AND CAUSE FIRE?
Not that we're aware of. We've done some literature search and talked to many scientists in both the academic and government agencies. Nobody we've contacted or talked with so far or people they've networked with so far have come up with any other features of this sort.
We made a visit back to the site about a week and a half ago and took some more rock samples where we dug down into a couple of the hottest areas and down to a 2-foot depth, we were able to sample the rock that was over 400 degrees F. We pulled the rock out and let it cool. then we shipped that rock off for additional testing. We're hoping that this rock that was right in the middle of the hot areas will give us some more clues about the chemical reaction or what the cause of the heat actually is.
WHAT ABOUT THE POSSIBILITY OF UNDERGROUND GEOTHERMAL OR MAGMA OR SOMETHING LIKE THAT?
We've considered those possibilities and so far have not found any indicators that geothermal Nor volcanic actions are involved at all. None of the gas testing has indicated anything of that nature.
WHAT ABOUT JULY SO FAR ­ ANY MEASUREMENTS?
No, we haven't been back out there since June 29.
BUT THE IMPLICATION IS THAT WHATEVER IS CAUSING ALL THIS HEAT IS NOT GOING AWAY.
That's right. The hottest areas have cooled down a little bit ­ for example, down from 584 degrees F. down to 565 degrees F., which is not major cooling over the span of about six months.
Next Research – Infrared Thermal Flights Over Hot Area
THIS FIRE WAS IN AUGUST 2004 WHICH WAS NEARLY A YEAR AGO. THAT MEANS THE ROCKS HAVE BEEN SUSTAINING THAT HIGH TEMPERATURE FOR A YEAR. IS THERE ANYBODY WHO HAS AN IDEA EVEN AT THE CHEMICAL REACTION LEVEL WHAT WOULD SUSTAIN HIGH HEAT LIKE THIS IN ROCKS FOR SO LONG?
Not any specific ideas, no. We're testing this hypothesis and trying to get more laboratory results that might give us some more clues of the cause of the heat. We hope to get some infrared thermal flights over the area before too long to indicate if there is any relation to local faults and heat, or other landslides in the area and any heat. So far, we don't have that information.
I might add that the heat is not spread evenly over those 3 acres. It's quite patchy, which is part of the reason we suspect the heat is not a deep seated source, but it seems to be occurring within pockets fairly near the surface scattered around the three acre area. It's a very interesting and mysterious site that we're really hoping we get some more definitive answers on. But so far it has been quite, quite mysterious."
---
Websites:
USDA Forest Service: http://www.fs.fed.us/r5/lospadres/
National Interagency Fire Center: http://www.nifc.gov/fireinfo/nfn.html

© 1998 - 2023 by Linda Moulton Howe.
All Rights Reserved.