"Elvis, as a child, was communicated to, apparently, by two cosmic beings of light."
– Michael Luckman, Author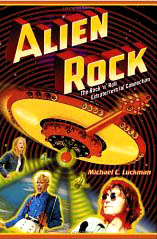 September 9, 2005  New York, New York – The American government has worked so hard to convince the media and public that there is no substance to reports of unidentified flying objects and extraterrestrials, that even famous rock stars have tried to hide their own encounters with non-human entities and craft. But now there is a new book recently published by VH1 and Pocket Books entitled Alien Rock: The Rock 'n' Roll Extraterrestrial Connection by Michael Luckman. Mr. Luckman grew up in New York and in the early 1970s was Director of Publications for the New School for Social Research in Manhattan. He also taught a college level course there about rock music and edited a newspaper called The New York Daily Planet. The 1970s were full of UFO and human abduction stories and Michael Luckman started collecting reports ­ including insider tales about the link between some of the greatest rock stars and UFOs. Now he is Director of the New York Center for Extraterrestrial Research.
This week I asked him which rock star he thinks has had the strongest link to an extraterrestrial presence.
---
Interview:
Michael Luckman, Author, Alien Rock: The Rock 'n' Roll Extraterrestrial Connection, and Director of the New York Center for Extraterrestrial Research, New York, New York: "The strongest link ­ and there are many strong links ­ but the strongest link if I had to pick one is Elvis Presley. That coincides with the 50 year-plus rock and roll extraterrestrial connection I talk about in my book, Alien Rock.
Elvis Presley's Encounter with "Beings of Light"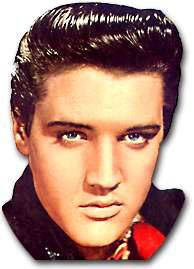 "- Elvis Presley is the best selling solo artist In U.S. History.
– Elvis charted more songs on Billboard's Hot 100 than any other artist. (149)
– Elvis spent more weeks at the top of the charts than any other artist. (80)
– Elvis had the greatest number of consecutive #1 hits. (10)
– Elvis is second only to the Beatles in total of #1 hits. (18)
According to the RIAA:
– Elvis is #2 for overall album sales (117.5 million)
(The Beatles sold 166.5 million; Led Zepplin, 106 million)
– Elvis has the most Multi-Platinum albums (25)
(The Beatles have 24; Led Zepplin and Barbra Streisand have 13)
– Elvis has more Platinum albums than any other artist (55)
(The Beatles have 37; Barbra Streisand has 30)
– Elvis has the most Platinum singles (27)
– Elvis has more Gold albums than any other artist (97)
(Barbra Streisand has 51; The Beatles have 42)
– Elvis has the most Gold singles (24)
No wonder they call him The King."
"Elvis had so many different experiences. It started when he was born, according to Vernon Presley, his father. There was a strange blue light seen over his home in Tupelo, Mississippi, at the exact moment that he came into this world, perhaps from another world. Elvis had UFO sightings throughout his lifetime, many more than the average person would hope to have. Elvis, as a child, was communicated to, apparently, by two cosmic beings of light, maybe when Elvis was six or seven. This according to Wanda June Hill, who was a very close friend of Elvis ­ one of the last people to talk to him before he died. Wanda interviewed Elvis over the phone and there are audiotapes that exist of those discussions.
WHAT WERE THE DETAILS OF THE FIRST CHILDHOOD ENCOUNTER WITH THE LIGHT BEINGS?
They were beings of light that showed him what the future would be like. As a child, he didn't realize what he was seeing, but they showed him like a motion picture, a little snippet of what his future would be like. He sees a man on stage in a white jumpsuit and he does not realize it, but figures out later that's himself. It also showed someone who was involved with karate. There was enough there that he began to understand it was him he was actually seeing. They informed him, and he believed, that he came from a blue star planet located in the Orion constellation.
When this story got out, some of the die-hard Elvis fans and media were playing around with it and trying to suggest that Elvis was an alien. Well, no one's saying he's an alien, but he did believe he did have origin from off planet Earth.
WHAT DID HE UNDERSTAND THE BEINGS TO BE EXACTLY AND WHY WERE THEY FOCUSING ON HIM HERE ON EARTH?
I don't think he had a clue when he was a child, but what he came to believe was that they were monitoring us and that they were essentially representatives of God.
AND YET, THEY TOLD HIM THAT HE ­ AND THE BEINGS ­ WERE FROM A BLUE STAR SYSTEM IN ORION?
That's correct.
GIVEN THE FACT THAT SUGGESTS A SOLAR SYSTEM AND NOT THE WHOLE UNIVERSE AT A GOD LEVEL, WHAT DID HE SAY LATER ABOUT THIS ISSUE OF EXTRATERRESTRIALS BEING INVOLVED WITH THIS PLANET AND WITH HIM?
Elvis wanted to be what amounts to a modern day musical Messiah. He was not using that word, but he would go and wanted to go to the Middle East and try to use his status to try to bring about peace in the Middle East and put his show business career on hold. This was the very thing that Col. Tom Parker was so upset about.
His (Elvis's) interest, by the way, extended to ­ according to Wanda June Hill, who I believe is legitimate ­ the apparent ability to physically move objects. She claimed he was at his home in Graceland and actually was able to move a large green ashtray which she still has from one end of the coffee table to the other. This was after she asked Elvis about whether he believed in levitation.
AND HE JUST DEMONSTRATED.
And he demonstrated it.
DID HE GIVE ANY DETAILS ABOUT WHAT HAPPENED WHEN HE WAS 6 OR 7 YEARS OLD, WHAT WAS HE DOING WHEN THE BEINGS FIRST SHOWED UP?
When he was a kid, he felt he had been communicated to by Jesus. He started to say that and his parents ­ I think, his father, punished him and put him in a closet, a cloths closet, to punish him because he was saying this. They did not believe his words. But he said, 'I've seen Jesus.'
IT WAS SOMETHING LIKE SHOWING HIM A MOVIE IN HIS HEAD OF WHAT HE INTERPRETED TO BE HIS LIFE?
Yes. Absolutely.
Jerry Garcia's Alleged Abduction by Insectoid Entities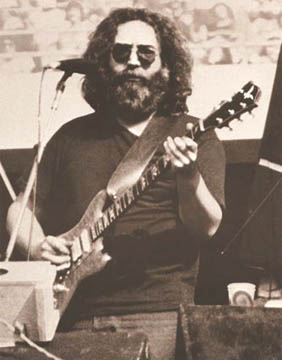 "Grateful Dead Facts
– The Dead produced 164 songs over a 30 year career.
– The average true "Deadhead" spent over $2,000 on Dead concerts and traveled over 3,000 over the past 3 decades.
– It is recorded that one person actually spent $13,000 attending Dead concerts.
– The Dead, over the length of their career, have performed to more people than any other band in history.
– Their song, 'Touch of Gray' was an expression of Jerry Garcia's determination to survive. The music was recorded shortly after Garcia recovered from a diabetic coma and the accompanying video features
skeletons that transform into the members of the band.
– The Grateful Dead are named after an old British ballad which sings about spirits that are called
Grateful Dead when they finally are freed from whatever binds them to remain on Earth."
"WE'VE HEARD THAT CLEARLY FROM SOME PEOPLE IN WHAT IS CALLED THE 'HUMAN ABDUCTION SYNDROME,' SOMETHING SIMILAR TO THAT.
COULD YOU TALK ABOUT JERRY GARCIA'S ABDUCTION?
Yeah, this is high strangeness for you. Jerry Garcia reported that for two days, he was locked in what he called 'a futuristic spaceship with insectoid presences.'
INSECTOIDS.
Insectoids. He described them as rather large beings and I imagine that what he meant was something along the line of large praying mantis-type beings or something like that which has been reported from time to time.
THAT WOULD BE IMPORTANT TO KNOW BECAUSE SOME PEOPLE HAVE DESCRIBED THE SO-CALLED ANT BEINGS AS TALL, THIN GREYS. BUT THE PRAYING MANTIS IS A DIFFERENT GROUP. I WONDER IF HE DREW ANYTHING OR MADE ANY OTHER DETAILS?
He did not draw anything, but he spoke about ­ he was asked when he was interviewed his experience and connection with DMT. DMT is a substance that is a heavy psychedelic substance. There has been a study done of individuals who were put on DMT with the approval of the FDA for experimental purposes. What was found was that the DMT replicates the pineal gland. What they found was that almost every person who was part of the experiment reported having real ­ or felt were real ­ contact experiences with alien beings.
DID THEY DESCRIBE ALWAYS THE SAME TYPE?
I think they did, but I don't know if it matched what Garcia was talking about.
WHAT YEAR WAS HIS ABDUCTION?
I would say it was most likely in the 1970s. He also talked about having communication ­ whether from that encounter or other encounters ­ with beings that he felt were highly advanced.
DID HE DESCRIBE THEM?
No, he did not describe them.
Jimi Hendrix and Band Saved By Tall Being from Acorn-Shaped UFO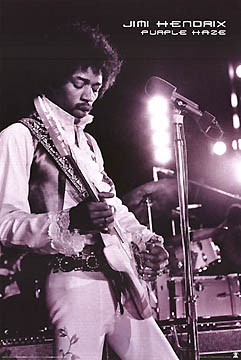 Jimi Hendrix Facts
" – James Marshal Hendrix was born in Seattle, Washington, on November 27, 1942;
an American of African, European, Cherokee Indian and Mexican descent.
– 1960-1964 he toured the States playing back-up guitar for various R&B bands including
Little Richard, Ike and Tina Turner, Wilson Pickett, the Isley Brothers and the late King Curtis
among others. Eventually he was drawn to New York 's Greenwich Village where he
recorded with the Isley Brothers, Curtis Knight and various other artists.
– In late 1965 he formed his first band – Jimmy James and the Blue Flames and by late 1966,
he went to England where The Who, The Beatles and Cream with Eric Clapton, Jimmy Page
and Jeff Beck were the three leading exponents of the electric guitar.
– The Jimi Hendrix Experience was formed with Noel Redding on bass and
Mitch Mitchell behind the drums and suddenly there was this black guy on the scene
doing things with his guitar that were just not possible. Respect from his peers and adoration
from the crowds was instantaneous. They toured Europe, breaking attendance records
at one club after another, and then signed a recording contract.
– A series of singles that all gained top 10 rank, followed. 'Hey Joe', 'Purple Haze'
and 'The Wind Cries Mary ' made Jimi a star in England, setting the stage
for his Monterey, California, major rock star-making appearance.
– His final recording 'Voodoo Chile', was released after his death and shot to the
Number One position in the charts. Over 300 previously unreleased pieces
of material, have appeared and more to come."
"Jimmy Hendrix was involved with the subject so much that when he passed on, his father, Al Hendrix, commissioned a sculpture. I don't know where that sculpture is presently. But it was originally intended for his grave site. It was a sculpture of a flying saucer, a large metallic sculpture. So, he was very much into this from the time he was in grade school and on. He saw a UFO at the time ­ and many people did ­ during the filming of the Rainbow Bridge Concert in Hawaii.
There was another incident that happened that was more shocking that happened apparently in Woodstock, New York ­ not connected to the concert. But the band was returning home. It was a winter night and the car was stalled in a snowstorm. The temperature was going lower and they did not know what they were going to do. They were even worried about whether they would survive it.
According to Curtis Knight, who was very close to Jimmy ­ one of the band people and who discovered Jimmy when he had a group called "Curtis Knight and the Squires" ­ it was an acorn-shaped UFO landed near the car several hundred yards away. A very tall being of some kind came out, sort of glided toward the car. At that point, they felt the temperature was getting warmer and then hotter. All the snow melted. The being was seen apparently looking at Jimmy and Jimmy looking at the being through the car window and the feeling was that there was some kind of telepathic communication going on.
The being then left and got back into the craft and the craft disappeared and Curtis Knight felt this literally saved their lives.
AND DID JIMMY HENDRIX SAY ANYTHING ABOUT WHAT WAS THE TELEPATHIC DOWNLOAD?
No, he never did. He kept that to himself.
Mick Jagger Saw Large Cigar-Shaped UFO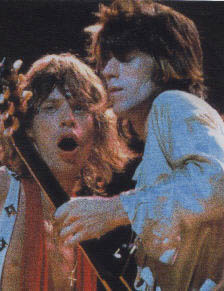 Mick Jagger Facts
"- Michael Philip Jagger, also known as Mick Jagger, discovered early rock & roll
music during his teenage years and formed the band Little Boy Blue & the Blue Boys.
– In his late teens while at Dartford Grammar School for Boys, he met up with future
Rolling Stones guitarist Keith Richards, who he had first met years before when they both
attended the Wentworth County Junior School in Dartford. They started the band shortly thereafter,
due to their mutual love of rock & roll and blues.
– Jagger then attended the London School of Economics, where he studied
History and Literature (and not Economics as widely believed).
– During the 1960s he was linked romantically with Chrissie Shrimpton,
(the sister of supermodel Jean Shrimpton) and then with singer Marianne Faithfull, for whom
Jagger and Richards composed several songs, including her signature tune, As Tears Go By. They remained
a couple until late 1969, when Jagger and Faithfull traveled to Australia to star in the Tony Richardson
film Ned Kelly. Soon after their arrival in Sydney, Faithfull overdosed on sleeping pills
and almost died. The relationship was over by the time she was sent home to England to recuperate.
– Mick Jagger's solo hit singles include:
– "Memo from Turner" (1970) #32 UK
– "Just Another Night" (1985) #32 UK; #12 US
– "Dancing in the Street" (with David Bowie) (1985) #1 UK; #7 US
– "Lucky in Love" (1985) #38 US
– "Let's Work" (1987) #31 UK; #39 US
– "Sweet Thing" (1993) #24 UK
– Mick Jagger has appeared in movies:
Mayor of the Sunset Strip, 2003
The Man from Elysian Fields, 2001
Enigma, 2001
Mein liebster Feind (aka My Best Fiend)-
with Klaus Kinski 1999
Bent, 1997
D Wings of Ash: Pilot for a dramatization
of the life of Antonin Artaud 1978
Umano non umano 1972
Ned Kelly 1970
Performance 1970
– Mick Jagger was knighted on 12 December 2003, for his "services to popular music."
– In the Autumn/Fall of 2005 in conjunction with a major stadium tour
will be the release of the next Rolling Stones album called A Bigger Bang, sponsored by Mercedes Benz.
"Mick Jagger was particularly interested in the UFO subject earlier on in his career. He's still interested in outer space exploration and I guess he believes in extraterrestrials. But he certainly did have an experience when he was out with his then girlfriend, Marianne Faithful, on a skywatch in the English countryside. They saw, and there were other witnesses, a wide cigar-shaped mothership that other people saw as well. He had a UFO detector in one of his estates in England. They were popular at the time. Whenever he would leave and come back, he would find that the alarm had been triggered. What that means, I don't know. But something had triggered his alarm.
John Lennon's Gift From Alien Beings Before He Was Assassinated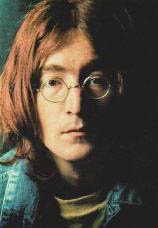 John Lennon Facts:
– Lennon was born in Liverpool on the evening of October 9, 1940 during a period of much turmoil
as the UK was heavily engaged in World War II. Both of his parents had musical
backgrounds and experience, though neither pursued them seriously.
– Lennon developed severe myopia as he grew up, and was obliged to wear glasses in order to see clearly.
During his early Beatle career, Lennon wore contacts or prescription sunglasses (or simply "toughed it out"
without them). In 1966, on the set of How I Won The War, Lennon was issued a pair of National Health spectacles.
He continued to wear these round, wire-rimmed glasses which became part of his iconic public image.
– John's mother, Julia, was responsible for introducing her son to a lifelong interest in music
by teaching him how to play the banjo. On July 15, 1958 – when Lennon was 17 – his mother was killed
after she was struck by a car driven by a drunken off-duty police officer, and he had to go to the morgue to identify
her body. Julia's death was one of the factors that cemented his friendship with Paul McCartney, who had lost his own mother to breast cancer in 1956, when Paul was 14. Years later, Lennon wrote the songs "Julia", "Mother" and "My Mummy's Dead" regarding his mother, as well as naming his firstborn son, Julian, after her.
– John devoted himself to music, inspired by American Rock 'n' Roll and singers like Elvis Presley,
Chuck Berry and Buddy Holly. He'd started a skiffle band in grammar school called the Quarry Men
(after his alma mater, Quarry Bank). With the addition of Paul McCartney and George Harrison, the band
changed to playing rock 'n' roll, taking the name "Johnny and the Moondogs", followed by "The Silver Beetles"
(a tribute to Buddy Holly's Crickets), which was later shortened to The Beatles.
– In early 1960s, John Lennon had a profound influence on rock and roll and in expanding the genre's
boundaries. He is widely considered, along with songwriting partner Paul McCartney, as one of the
most influential singer-songwriter-musicians of the 20th century. Many of the songs written by Lennon,
however, are more introspective – often in the first person – and personal than McCartney's. His most
surreal pieces of songwriting, "Strawberry Fields Forever" and "I Am the Walrus",
are fine examples of his unique style.
– Lennon often spoke his mind freely to the press. On March 4, 1966, in an interview for the
London Evening Standard with reporter Maureen Cleave, who was a friend of his, Lennon made an off the cuff remark regarding religion. The article was printed and nothing came of it, until five months later when a teen magazine reprinted the words: "I don't know what will go first – Rock and Roll or Christianity. We're more popular than Jesus now."
– Of the four former Beatles, Lennon had perhaps the most varied recording career. While he was still a Beatle,
Lennon and Ono recorded three albums of experimental and difficult electronic music, Unfinished Music No.1:
Two Virgins, Unfinished Music No.2: Life with the Lions, and Wedding Album. His first 'solo' album of popular
music was Live Peace in Toronto 1969, recorded in 1969 (prior to the breakup of the Beatles) at the Rock 'n' Roll
Festival in Toronto with The Plastic Ono Band, which included Eric Clapton and Klaus Voormann. He also recorded
three singles in his initial solo phase, the anti-war anthem "Give Peace a Chance", "Cold Turkey"
(about his struggles with heroin addiction) and "Instant Karma!".
– In the late afternoon of December 8, 1980, in New York City, deranged fan Mark David Chapman
assassinated John Lennon near John and Yoko Ono's Dakota apartment."
"John Lennon subscribed to flying saucer magazines for a very long period of time. He felt very much different than a lot of people and he thought he might have perhaps been an abductee himself, although there was nothing specific to connect him to that. But he felt that perhaps he was.
He had a sighting when he was living with his then girlfriend, Mai Ping, on Manhattan's Upper East Side. The two of them happened to be dressed and they saw from their penthouse rooftop apartment a flying saucer at very close range, maybe several hundred feet long. It was quite large. He described it as being saucer-shaped with lights around the rim and a red light on top, capable of holding perhaps two human-sized passengers. He was very excited about it. He could not stop yelling, 'I've seen a flying saucer! I've seen a flying saucer!' He could not get over it. He called the local newspapers. There had been a few reports of a UFO that night. They took some pictures, but unfortunately, they did not turn out. He went to great lengths to say that he was not on any substance at the time that happened. He was very strongly into the subject. He mentions on one of his albums that there are UFOs over New York, 'and I ain't too surprised' were the exact words that he used.
'I AIN'T TOO SURPRISED.' MEANING HE EXPECTS THEM TO BE THERE SOMEWHERE.
Yes. Now, there was a more extraordinary, more recent sighting that happened to John, according to Uri Geller, the psychic. It's an amazing story and I don't know what to make of it, frankly. But Uri claims that John told him ­ they were close friends ­ that John was asleep at the Dakota (apartments) and he saw a light coming through from around the door of his apartment. Yoko Ono, his wife, was asleep in bed. He got out of bed and opened the door and was met by three or four small alien beings, presumably greys, with spindly arms and legs. They had some kind of communication with him. It's not exactly clear what was communicated, but they gave him a gift, if you will. They left him with something, an object, which he gave to Uri Geller. This all happened weeks before he was assassinated.
The object is a small, smooth, round, egg-shaped ball, metallic. Uri still has it. So far, he still hasn't been willing to have it analyzed. I think that's a mistake because if it is something real and is not on the Periodic Table of Elements and it's by its nature, extraterrestrial, then it's the ultimate extraterrestrial evidence. He hasn't been willing to have it tested. That's a mistake.
DID URI GELLER SHOW YOU THE OBJECT?
No, he hasn't shown me the object, but I've seen a photograph of him holding the object. It's quite small, maybe a couple of inches tall. It's a metallic, brass-color, egg-shaped object.
SO IT SITS SORT OF VERTICALLY AS OPPOSED TO HORIZONTALLY?
That's right.
DID HE, URI GELLER, SUGGEST THAT HE KNOWS, OR JOHN LENNON TOLD HIM, WHAT THIS OBJECT IS SUPPOSED TO DO?
He said that he felt there was more to it, that John had not told him much about it, but that Uri thought it had some deep meaning, but he never got it out of John.
WHY WOULD JOHN LENNON HAVE GIVEN A GIFT FROM EXTRATERRESTRIAL GREYS TO URI GELLER?
That's a very good question. I'll have to ask Uri that. I have no idea. they were very, very close. In fact, they used to meet once a week at the Sherry Netherlands restaurant to discuss UFOs and the paranormal.
WAS THERE ANY CONSENSUS OUT OF THIS RESEARCH ABOUT ROCK STARS HAVING INTERACTIONS WITH PERCEIVED NON-HUMANS, A CONSENSUS ABOUT WHAT IT IS THAT THE NON-HUMANS WANT AND WHY DON'T THEY JUST PHYSICALLY SHOW UP HERE?
I think they are involved in a process. In one chapter, I call 'EMF, or Extraterrestrial Musical Forces,' which is a term I coined ­ it turns out that many major rock stars described the song writing process as not only being mystical, but furthermore, that they feel they are channeling the music. this includes the Beatles. Paul McCartney cannot read or write music. Jimmy Hendrix could not read or write music. This includes a whole lot of people.
Not only are they channeling the music and not knowing where the music and lyrics are coming from, but they are also over and over again, you have major artists talking about how the music on stage when they are doing a performance, how they are not in control of it. They are along for the ride. You hear that repeated over and over again. This goes on to the extreme of people on stage in a major band, or bands, where there might be 6 or 8 musicians on stage where music is being played. They have no idea where the music is coming from. They know where some of the music is coming from, but there is other music that they don't feel they are creating.
IF THE MAJOR ROCK STAR GROUPS WERE CHANNELING INFORMATION FROM EXTRATERRESTRIALS OR OTHER DIMENSIONALS, WHAT WOULD YOU SAY IN 2005 IS THE LEGACY OF ALL THAT CHANNELED MUSIC?
I really don't know. That is the billion dollar question. I think that it's something that has to play out. My hunch is that it's going to play out in the near future."
---
More Information:
Michael Luckman's newly released book is available now at amazon.com, Barnes & Noble and local bookstores.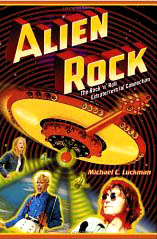 © 1998 - 2023 by Linda Moulton Howe.
All Rights Reserved.