"According to recent work that was published in Science two weeks ago, it's very clear that the 1918 virus was a pure avian strain that probably mutated and directly infected humans. And it's very similar potentially to the current avian flu."  
– Ira Longini, Ph.D., Emory University, Biostatistics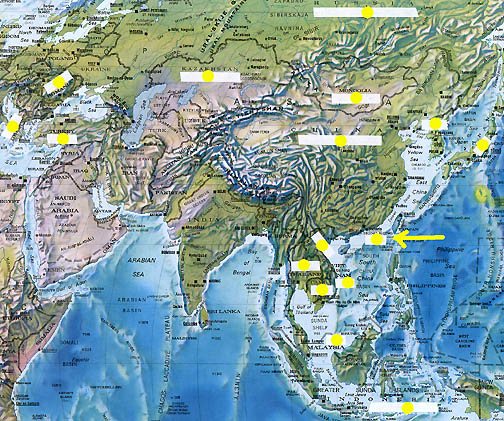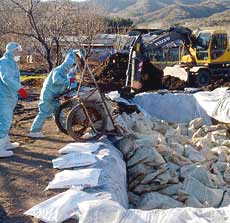 Updated October 26, 2005  Atlanta, Georgia – The lethal H5N1 avian influenza virus has been making headlines nearly every day the past four weeks:
– On September 30th, the U. S. Senate approved $4 billion to prepare for a bird flu pandemic.
– On October 4th, President George Bush said he wanted authority to use the military to quarantine regions of the U. S. if avian flu starts infecting human-to-human.
– The next day on October 5th, scientists announced that the 1918 pandemic flu that killed over 50 million people worldwide was also a bird virus with similarities to the H5N1 virus now spreading from Asia into Europe.
– On October 6th, the World Health Organization headlined at its website: 'WHO Warns Flu Pandemic Is Imminent; Millions May Perish."
– On October 10th, the New York Times published a leaked report from Health and Human Services which says a human bird flu would kill about 2 million Americans, put 9 million in hospitals and cost more than $450 billion.
– On October 14th, scientists reported that the H5N1 virus is becoming more resistant to antiviral drugs such as Tamiflu.
– On Octobr 18th, the maker of Tamiflu ­ which is Roche in Switzerland ­ announced it will build a plant in the United States to make more of the antiviral in case there is a pandemic.
– On October 20th, the Ministry of Public Health in Thailand confirmed another case of human infection by H5N1 avian influenza. The patient was 48-year-old Bang-orn Benpad. He worked as a driver and gardener in the Thai province of Kanchanaburi. A couple of times he slaughtered sick chickens in his neighbor's flock for food. Then on October 13, he developed a cough and high fever, was hospitalized on October 17 and died on October 19 after his lungs were destroyed by the H5N1 virus. The man's 7-year-old son also became ill on October 16 and remains hospitalized. The boy had helped his father remove feathers from chickens found to be positive for the H5N1 virus. Thailand has confirmed eighteen H5N1 human cases of which thirteen have died – a 72% fatality rate.
– And in England today, October 26, 2005, British authorities confirmed in that country 32 quarantined birds from Taiwan died of bird flu "a few days before the October 16, 2005, death of a quarantined parrot imported from South America which had contracted the most deadly H5N1 virus strain." Tests are underway to confirm if H5N1 killed the 32 quarantined birds from Taiwan.
– Also this month in Europe, 50,000 potentially infected birds have been killed and incinerated trying to stop the H5N1 spread from migrating birds.
Why the urgency now?
H5N1 has killed an estimated 140 million birds in China and Southeast Asia ­ including those destroyed by authorities to stop the virus's spread – and has now been spread by migratory birds to Kazakstan, Russia, Turkey, Romania, Croatia and Greece. Last week in the Arab Emirates, five rare cormorants and a buzzard were found dead. Lab tests are being run to see if H5N1 is now in the Middle East.
Back in 1997, Hong Kong thought it could stop the spread of H5N1 after it first showed up in people. The government had more than a million chickens killed. But even though killing and incinerating infected birds has been standard operating procedure for nearly ten years, the H5N1 virus has continued to spread. And today's strain in lab tests is more virulent that it was in 1997.
In addition to all the birds that H5N1 has killed in at least fifteen countries, there are human victims as well. According to the World Health Organization (W. H. O.), since 2003 at least 138 people in southeast Asia have been sick with the H5N1 virus and sixty-eight have died. That's a 50% mortality rate.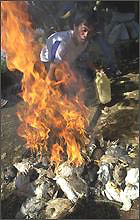 According to the World Health Organization, a very disturbing fact has been discovered after the H5N1 virus that first appeared in 1997 was compared to the H5N1 viruses circulating in 2004. The latest H5N1 virus kills even more rapidly the mice and ferrets its tested on and survives longer in the environment.
H5N1 Killed Migratory Geese in China 
Not only is the latest bird flu virus more virulent in lab animal tests, it seems to be increasing its virulence among wild water birds. The World Health Organization reports that this spring of 2005, at least 6,000 wild migratory geese at a nature reserve in central China died from an H5N1 strain. W.H.O. describes the large number of deaths as "highly unusual and probably unprecedented."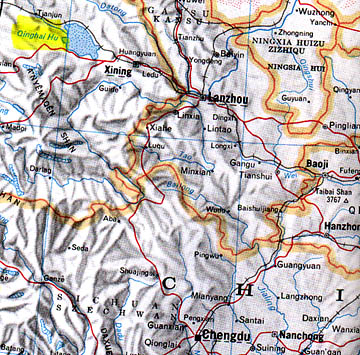 It's also been discovered in 2005 that domestic ducks can excrete large quantities of H5N1 virus without showing illness. That means ducks are "silent carriers" of the deadly virus to other birds and animals – including humans.
How Do People Get the H5N1 Virus? 
By handling infected birds or bird feces during slaughter, butchering, removing feathers or preparing raw poultry for cooking. There is also some evidence that mammals such as pigs which were originally thought to be resistant to avian flu, have also become infected with the H5N1 virus from birds and subsequently might infect human pig handlers through contact.
What Are the Bird Flu Symptoms in Humans? 
High fever, body aches, nausea, vomiting, diarrhea, hepatitis, renal failure and pancytopenia, which is an abnormal deficiency in all blood cells: red blood cells, white blood cells and platelets. That means that H5N1 infection affects more body organs and systems than normal influenza which focuses primarily on the respiratory system. Also different than more common influenza, H5N1 kills directly and rapidly while other flu deaths are often related to secondary infections caused by bacteria.
Could H5N1 Be the Next Pandemic? 
When humans can be infected by a bird virus that kills half the people who become sick – alarm bells go off. All that virus has to do is change enough during its exposure to human victims so that it can adapt more easily to the human host. Once a virus can spread itself through human coughing, sneezing, perspiration, urine and feces – it can spread rapidly. That's what happened in the 1918 Spanish Flu that killed more than 50 million people worldwide. Scientists who have studied that virus in bones of buried pandemic victims recently reported in the journal, Science, that the 1918 virus was also from birds.
This week I talked about the pandemic threat with a computer modeler who is working with scientists at Los Alamos National Laboratory in New Mexico. Their goal is to model strategies to contain the H5N1 avian virus as soon as there is any evidence of human-to-human transmission anywhere in the world. Ira Longini, Ph.D., is Professor of Biostatistics at the Rollins School of Public Health in Emory University, Atlanta, Georgia. Dr. Longini and his team, working with Los Alamos, have created a very detailed computer model of how the H5N1 avian flu might begin infecting people in a rural southeast region that could potentially spread to the world. The computer model shows that if all the families in the affected area quarantine themselves, and as many people as possible are treated for ten days with an antiviral medicine, such as Tamiflu, an eruption of H5N1 among people might be contained.
The estimated amount of anitviral doses needed for containment: 200,000 10-day courses. Currently, W. H. O. has a mobile stockpile of 120,000 10-day courses ready to move if needed and plans to build its stockpile up to 3 million courses.
But what if that first containment effort does not work?
---
Interview:
Ira Longini, Ph. D., Prof. of Biostatistics in the Dept. of Biostatistics, Rollins School of Public Health, Emory University, Atlanta, Georgia: "If that does not work and pandemic influenza spreads throughout the planet and eventually gets to the United States, we would need a large stockpile: tens of millions courses of Tamiflu. And we would need enough vaccine to eventually cover ­ if we really wanted to stop transmission to slow the virus considerably ­ probably on the order of 150 million doses of vaccine.
Limitations On Antivirals Such as Tamiflu
ISN'T THE PROBLEM THAT IF YOU DON'T GET TAMIFLU INTO SOMEBODY WITHIN THE FIRST 36 HOURS OF SOME KIND OF SYMPTOMS SUCH AS FEVER, IT WON'T DO ANY GOOD? AND IF YOU ARE VACCINATING PEOPLE, IT TAKES AT LEAST TWO WEEKS FOR THE IMMUNE SYSTEM TO KICK IN AND HAVE RESISTANCE.
First in respect to Tamiflu: it's true. It's not particularly effective as a treatment or therapeutic agent if you don't treat people quickly within 36 hours or so, it's largely ineffective. Even if you do, it has a relatively minor affect on illness. Its great utility is as a prophylactic drug that if you take Tamiflu while you are being exposed and before you are infected – say take a 10-day course when there are flu cases in your household or your school or work place. Then you get very good protection against illness ­ about 86% effective. And if you do become infected, you'll have a mild infection and the anti-viral agent essentially cuts transmission to others quite effectively.
And we could have a very good chance of containment because an early strain would not be highly transmissible ­ it would not be well-adapted to human populations. So, we do have the capacity to get at least the mobile W.H.O. stockpile of Tamiflu to the source of a nation's epidemic within a week or so.
YOUR MODEL SHOWS THAT IF IT HAPPENS FAST ENOUGH AND EVEN IF IT'S TAMIFLU, WHICH IS NOT A VACCINE, THAT IT COULD HAVE A CONTROL EFFECT ON A LOCAL POPULATION?
Absolutely. If we got the mobile stockpile to the source within two or three weeks and quickly ­ and as each focus developed, we would have a very good chance of containment.
How to Get and Take Antiviral
WHAT DO YOU SAY TO THE GENERAL POPULATION THAT SAYS: I WANT THE TAMIFLU NOW?
Well, go to the drugstore and get some. It's probably available in most pharmacies now.
DO YOU NEED A PRESCRIPTION?
You do need a prescription and so you would have to have your doctor write a prescription. The standard dosage of Tamiflu is called a course and it's 10 pills in a packet. If you are going to use it prophylactively, you simply take one pill a day. If you are using it therapeutically, you take 2 pills a day.
For small children, you can buy a suspension that you can drink. But for the vast majority of people, it's a matter of taking a pill or two a day.
IF THERE IS A FLOOD OF REQUESTS ON PHARMACISTS THROUGHOUT NORTH AMERICA, THEN WHAT HAPPENS?
It would run out very quickly. The U. S. stockpile (not including pharmacies) is on the order of only 5 million courses. So, it would quickly disappear. There is nowhere near the amount of Tamiflu available in the U. S. that we would need in the case of a pandemic.
THAT IS THE PROBLEM: THE SALES OF TAMIFLU HAVE BEEN RISING VERY RAPIDLY WITH ALL OF THE PUBLIC DISCUSSION ABOUT THE IMPENDING POTENTIAL PANDEMIC. THAT COULD LEAVE US IN A BIGGER CRISIS LATER ON.
Right. We need to dramatically increase the production of Tamiflu. That will have to be done over the next year or several years. Currently, there is not enough to even begin to meet the demands in the case of a pandemic.
How Fast Would Pandemic Spread Around the World?
How Many People Would Be Sick?
DOES YOUR COMPUTER MODELING GIVES US ANY INSIGHT ABOUT HOW FAST H5N1 MIGHT START SPREADING AROUND THE WORLD IF IT SWITCHES INTO THE PANDEMIC OF HUMAN-TO-HUMAN TRANSMISSION?
Yes. Earlier work ­ not the particular work we're referring to that only covered a half million people in southeast Asia ­ but we have modeled the entire planet in the past. Within 6 to 9 months, it spreads throughout the entire planet. That is based on computer models and observations from past pandemics.
IN THE 4 TO 6 MONTHS OF THE PANDEMIC SPREADING AROUND THE WORLD, WHAT DO YOU ESTIMATE IS THE REALISTIC NUMBER OF PEOPLE WHO WOULD DIE IN THAT PERIOD OF TIME WOULD BE?
Probably about 33% of the entire world's population would become ill at some level.
THAT'S 33% OF 6 BILLION.
Right, so you're looking at probably 2 billion cases worldwide.
OF THOSE 2 BILLION, WOULD YOU THINK THAT BY THAT POINT IN A PANDEMIC, THE FATALITY RATE WOULD HAVE DROPPED DOWN TO 10%, 15%?
No, it would be less than 1%. Even in 1918, which is the worst pandemic we've seen, it killed at least 50 million people worldwide. It had a case fatality rate of about 1 in 100, or about 1%. That's an absolute upper limit.
SO IF 2 BILLION PEOPLE CAME ILL FROM AN H5N1 PANDEMIC, 1% OF THAT 2 BILLION IS WHAT WOULD BE EXPECTED TO BE THE MORTALITY RATE AROUND THE WORLD?
That's the absolute upper limit. I would not expect to see that. That comes out to about 20 million dead.
IT WOULD LAST FOR HOW LONG?
In the U. S., the intense part of the epidemic would probably last about two months, which is what happens every year in the U. S. during inter-pandemic periods. I mean people should not forget that we have a flu epidemic every year in the U. S. Forty to fifty thousand people die. The official number is 36,000, but it's probably higher. And about 15% of the American population becomes ill. We have a lot of costs.
THE SIGNIFICANT PARALLEL IS THAT FROM THE LATEST WORK, WE HAVE LEARNED THAT THE 1918 VIRUS ALSO CAME FROM BIRDS. AND NOW, WE'RE FACING A SIMILAR KIND OF SITUATION?
Exactly. According to recent work that was published in Science two weeks ago, it's very clear that the 1918 virus was a pure avian strain that probably mutated and directly infected humans. And it's very similar potentially to the current avian flu. It's certainly cause for concern and careful surveillance and the fact that this virus infects humans. But think of the hundreds of millions of people who live in southeast Asia and we've only had 117 cases. So, avian flu in humans is obviously not very transmissible from birds to humans.
SO FAR.
So far, right.
Military Force to Control Borders and Quarantines?
COULD YOU COMMENT ON PRESIDENT GEORGE BUSH'S APPEAL TO CONGRESS TO GIVE HIM THE AUTHORITY TO USE THE MILITARY FOR BORDER CONTROL AND QUARANTINE?
Yes, at least based on our work, border control and mass quarantine is not effective against influenza. It moves too quickly and it can't be contained in that fashion.
What works well is voluntary household quarantine. About 70% level of effectiveness or greater. So, if people in an infected area that is having a large epidemic simply stay home and send out a designated person to do the shopping and things like that and you do that on a wide basis, that can be quite effective in slowing transmission. But sealing off borders and large scale quarantine would probably not be effective.
IF THAT IS THE CASE, THEN WHY WOULD THE PRESIDENT BE PROPOSING THAT AS AN OPTION?
I'm not sure where the President is getting his information. The pandemic plan which is being formulated by the Dept. of Health and Human Services will be coming out later this month and will give some guidelines on what control strategies might be effective and which ones may not."
---
More Information:
For more information about the H5N1 avian flu threat, please see the reports below which can be accessed in the Earthfiles Archives:
07/22/2005 —  H5N1 Bird Flu Virus Kills Three Indonesians

06/21/2005 —  Vietnamese Doctor Studying H5N1 Bird Flu Falls Victim to Virus

06/03/2005 —  West Nile and Bird Flu: Two Increasingly Dangerous Viruses

03/12/2005 —  Could Avian Flu H5N1 Cause the Next Pandemic?

01/29/2004 —  Unprecedented Outbreak of Avian Flu Has Killed Ten People in Asia

01/13/2004 —  Updated: SARS and Bird Flu Back in Asia

01/18/2003 —  Can the United States Cope with Bioterrorism Attacks?
---
Websites:
World Health Organization (W. H. O.): http://www.who.int/en/ Centers for Disease Control (CDC): http://www.cdc.gov/
University of Minnesota Pandemic Flu: http://www.cidrap.umn.edu/cidrap/content/influenza/panflu/index.html
Nature, May 2005, Bird Flu and Java Pigs: http://www.nature.com/nature/journal/v435/n7041/full/435390a.html

© 1998 - 2023 by Linda Moulton Howe.
All Rights Reserved.