© 1994 -1995 by J. Andrew Kissner
All rights reserved.
No part of this book may be reproduced, in any form, without written permission of the author.
Reprinted in 2005-2006 as a Real X-Files series by Earthfiles.com with author's written permission.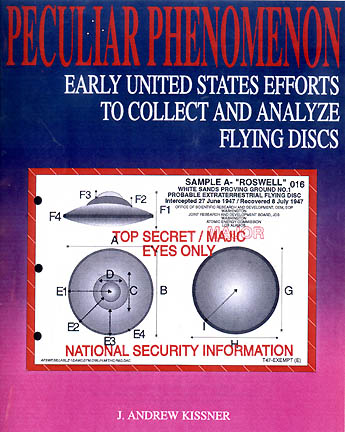 [ Editor's Note:  In the mid-1990s, I was approached by former Las Cruces, New Mexico State Representative, Andrew Kissner. He told me about his official research into UFO crashes and retrievals in New Mexico, and his off-the-record conversations with military and intelligence operatives from White Sands Missile Range, the Naval Research Lab and other government agencies. Rep. Kissner had assembled many old newspaper articles and government documents leaked to him.
Former Rep. Kissner asserted that in the late 1940s to early 1950s, there was an American government policy to shoot down unidentified aerial discs. But the discs retaliated. Many of our pilots died, which forced an end to our "shoot down" policy. ]
---
Part 1
Prologue 
By J. Andrew Kissner, August 1995
In a democracy, the people must be aware of and learn fundamental truth. Without this knowledge, others are empowered to make decisions for the people secretly with little regard to the checks and balances of constitutional government. It is evident that most United States decision makers involved with this phenomenon have not been elected to public office.
Click here to subscribe and get instant access to read this report.
Click here to check your existing subscription status.
Existing members, login below:

© 1998 - 2023 by Linda Moulton Howe.
All Rights Reserved.