"We're absolutely thrilled, after 143 years of frustration, to finally get the information we need about this star so that we can work out whether our theory of white dwarfs is actually correct."
– Martin Barstow, Ph.D., Leicester Univ., U.K.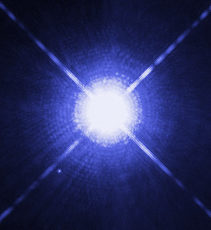 December 17, 2005  Baltimore, Maryland – For the first time in human astronomical history, scientists have used NASA's Hubble Space Telescope to isolate the light from the white solar dwarf known as Sirius B orbiting its huge and bright companion, Sirius A, in the constellation Canis Major. Since the Sirius B discovery in 1862, astronomers have been frustrated by the intense glow of Sirius A overwhelming their ability to "see" and "weigh" tiny, but very dense, Sirius B.
This breakthrough information was published in the recent Monthly Notices of the Royal Astronomical Society: "An international team of astronomers used the keen eye of the NASA/ESA Hubble Space Telescope to isolate the light from the white dwarf, called Sirius B. The new results allow them to measure precisely the white dwarf's mass based on how its intense gravitational field alters the wavelengths of light emitted by the star."
Huge Sirius A is 1.5 million miles in diameter (2.4 million kilometers) and has a mass two times that of our Sun. Now it turns out that its companion and very dense white dwarf, Sirius B, has a mass that is 98% that of our own Sun, while it is even a bit smaller than our Earth. Sirius B is only 7,500 miles (12,000 kilometers), in diameter. "It's powerful gravitational field is 350,000 times greater than Earth's, meaning that a 150-pound person would weigh 50 million pounds standing on Sirius B's surface. Light from the surface of the hot white dwarf has to climb out of this gravitational field and is stretched to longer, redder wavelengths of light in the process. This effect, predicted by Einstein's theory of General Relativity in 1916, is called gravitational redshift, and is most easily seen in dense, massive, and compact objects whose intense gravitational fields warp space near their surfaces."
The Hubble observations also refined the measurement of Sirius B's surface temperature to be 44,900 degrees Fahrenheit (25,200 degrees Kelvin). Much larger Sirius A's surface temperature is half as warm at 10,500 degrees Kelvin.
How Could A West African Tribe Have Known About Sirius B? 
The Sirius binary stars are only 8.6 light-years from Earth. Human stargazers of ancient history carefully watched the brightest star in the sky. Egyptians might even have oriented pyramids in relationship to Sirius A. But officially, astronomers did not know there was a second, dwarf sun with Sirius until 1862, one hundred forty-three years ago, finally seen in one of the most powerful telescopes of that time.
And yet, in a 1954 book entitled African Worlds, edited by Daryll Forde at Oxford University Press, there is a chapter about the Dogon tribe of West Africa translated into English from the original French of two eminent anthropologists: Marcel Griaule and Germaine Dieterlen. The scientists had studied the Dogon tribe and wrote: "The starting-point of creation is the star which revolves around Sirius and is actually named the 'Digitaria star'; it is regarded by the Dogon as the smallest and heaviest of all the stars; it contains the germs of all things. Its movement on its own axis and around Sirius upholds all creation in space. We shall see that its orbit determines the calendar."
Those sentences later provoked Robert K. G. Temple to write in his 1976 book, The Sirius Mystery:
"The Dogon consider that the most important star in the sky is Sirius B, which cannot be seen. They admit that it is invisible. How, then, do they know it exists? Griaule and Dieterlen say: 'The problem of knowing how, with no instruments at their disposal, men could know the movements and certain characteristics of virtually invisible stars has not been settled, nor even posed.'
" …Grill and Dieterlen make clear that the large and bright star of Sirius is not as important to the Dogon as the tiny Sirius B, … The Dogon also know the actual orbital period of the invisible star, which is fifty years. Referring to the sacred Sigui ceremony of the tribe, Dieterlen and Griaule tell us: 'The period of the orbit is counted double, that is, one hundred years, because the Siguis are convened in pairs of 'twins,' so as to insist on the principle of twin-ness.'
"The Dogon also say that Sirius B rotates on its axis, demonstrating that they know a star can do such a thing. … Griaule and Dieterlen wrote, 'As well as its movement in space, Digitaria also revolves upon itself over the period of one year and this revolution is honoured during the celebration of the bado rite.'
"…the orbit of digitaria (Sirius B), which the Dogon elsewhere describe as egg-shaped or elliptical, is specifically described as having the main star Sirius as 'one of the foci of its orbit'.
"…How did the Dogon tribe, who had no access to the theories of Johannes Kepler (1571-1630) or his successors, now about matters like this? How did they even get the idea in the first place that elliptical orbits existed, rather than circular – much less apply this idea to some invisible star way out in space? And also to get it right by saying that Sirius A was at one of the foci, rather than just somewhere in the ellipse? And not at the center?"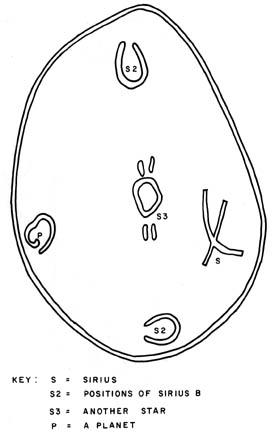 Temple: "It was Kepler who first proposed that heavenly bodies do not move in perfect circular paths. He hit upon the brilliant insight that the planets in their motions around the sun were moving in elliptically-shaped orbits, with the sun at one of the two foci of each ellipse.
"The Dogon describe Sirius B as 'the infinitely tiny.' As we now know, Sirius B is a white dwarf and the tiniest form of visible star in the universe. But what is really the most amazing of all the Dogon statements is this: 'The star which is considered to be the smallest thing in the sky is also the heaviest: 'Digitaria is the smallest thing there is. It is the heaviest star.' It consists of a metal called sagala which is a little brighter than iron and so heavy 'that all earthly beings combined cannot lift it.' In effect, the star weighs the equivalent of … all the seeds, or of all the iron on the earth …' (all this from the 1954 article by Griaule and Dieterlen).
"So we see the Dogon … know that the Sirius B star is invisible, but they know it is there nevertheless. They know that the star's orbital period is fifty years, which it really is. They know that Sirius A is not at the center of its orbit, which it is not. They know that Sirius A is at one of the foci of Sirius B's elliptical orbit, which it is. They know that Sirius B is the smallest kind of star, which it is (barring totally invisible collapsing neutron stars). They know that Sirius B is composed of a special kind of material which is called sagala, from a root meaning 'strong,' and that this material does not exist on the earth. They know that this material is heavier than all the iron on earth, all of which is perfectly true. For Sirius B is in reality made of super-dense matter of a kind which exists nowhere on earth."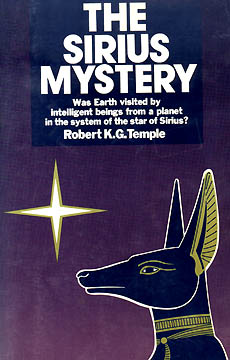 ---
More Information:
For more about binary stars, please see reports below in Earthfiles Archives :
12/07/2005 — Zeta Reticuli I and II – Binary Home of Extraterrestrial Biological Entities?

10/05/2002 — Part 1 – Two Scientists Describe An Extraterrestrial Biological Entity Called "J-Rod"

09/06/2000 — Hubble Photographs Mystery Object in Centaurus Constellation
---
Websites:
Royal Astronomical Society: http://www.blackwellpublishing.com/journal.asp?ref=0035-8711
Hubble Space Telescope: http://www.stsci.edu/hst/ NASA: http://hubble.nasa.gov/index.php


© 1998 - 2019 by Linda Moulton Howe.
All Rights Reserved.