"What does surprise me, or what has baffled me, is that the H5N1 virus has been able to infect so many animal species in a relatively short period of time and really spread so fast around the world."
– Albert Osterhaus, Ph.D. and D.V.M.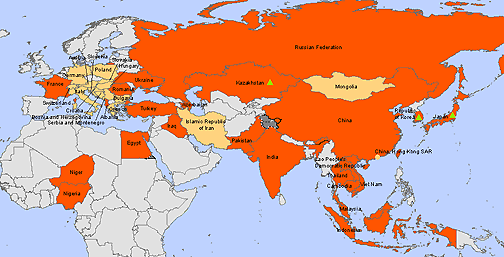 As of March 8, 2006: Total Human H5N1 cases: 175 and 96 Deaths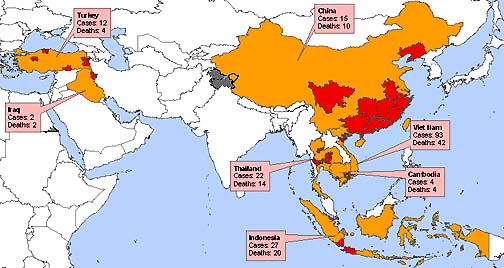 March 10, 2006  Rotterdam, The Netherlands – This week, the World Health Organization (WHO) gathered international public health experts at its Geneva, Switzerland, headquarters to discuss a rapid response strategy in the event that a serious worldwide flu pandemic occurs. The current worry is the H5N1 bird flu that has spread so rapidly the past few months from Asia to Africa, the Middle East and into the European Community. The spread is most likely caused by wild, migrating birds which have died in the hundreds of thousands, along with millions of domestic poultry that have been deliberately slaughtered to try to stop the deadly virus's spread. Yet, one of the mysteries about H5N1 is that no one knows exactly which bird species are most responsible for spreading avian flu. Ironically, the answer could be birds most resistant to the virus – birds that carry H5N1 without dying, and perhaps not even showing signs of illness.
Despite the massive slaughters, the virus has continued to spread. Medical experts are surprised at how fast H5N1 has moved from Asia to Europe in the past few months. Experts are also alarmed that the virus is infecting an increasingly wider spectrum of hosts. Poultry and wild birds are not the only target. H5N1 has killed tigers, domestic house cats, and pigs. This week in Germany, the virus was also confirmed in a sick and dying weasel-like animal called a stone marten.
1997 was the first year that the H5N1 avian flu virus emerged in Hong Kong killing chickens. Then to everyone's shock and alarm, the bird virus jumped to a few humans who also died. Scientists now know the global flu pandemic of 1918 that killed up to one hundred million people was also an avian flu virus somewhat similar to H5N1. That's why everyone is so scared that this current rapidly spreading, mutating virus could change inside human victims and begin spreading human-to-human like more ordinary influenzas do. If that happens, the entire world faces a pandemic crisis.
W. H. O. authorities at the Geneva meeting this week said that H5N1 "poses a greater challenge to the world than any infectious disease, including AIDS. H5N1 has cost 300 million farmers more than $10 billion in its spread through domestic poultry around the world."
W. H. O.'s official total of confirmed human illness and death by H5N1 as of March 8, 2006 is:  175 cases and 96 deaths. Half the people infected with the bird flu are dying.
Beginning this month of March, Asian birds will start migrating to Alaska. How many might carry H5N1 with them? How long will it be before birds, cats and other animals in North America die from bird flu? This week the U. S. Department of Agriculture announced it will increase its screening program for H5N1. The government's goal is to test 75,000 to 100,000 live or dead birds in 2006, ranging from Alaska to southern California and along other North American paths where migrating birds fly. Currently, the greatest concern are the 10 billion chickens produced every year in the United States. If H5N1 were to get into the American poultry industry like it has in Asia, millions of birds would have to be slaughtered, some poultry workers might become infected, and the economic toll on farmers could be terrible.
But migratory birds are not the only way deadly H5N1 could get into North America. The Smithsonian Migratory Bird Center at the National Zoo in Washington, D. C., says "the movement of birds through the illegal pet trade is probably the most likely way the virus is going to get here." As an example, Taiwan received its first H5N1 case last October in birds smuggled from China. Nigerian officials also think H5N1 got into that African country through illegal poultry imports.
This week I talked about the rapid spread of H5N1 with the Chairman of the European Scientific Group on Influenza. Dr. Albert Osterhaus, Ph.D. and Doctor of Veterinary Medicine, is an expert in animal viruses. He is a Professor and Director of the Department of Virology at Erasmus Medical Centre in Rotterdam, The Netherlands. I asked Dr. Osterhaus if he agreed with the World Health Organization warning this week that H5N1 "poses a greater challenge to the world than any infectious disease, including AIDS."
---
Interview:
Albert Osterhaus, D.V.M. and Ph.D., Professor and Director, Department of Virology, Erasmus Medical Centre, Rotterdam, The Netherlands:   " I should stress at this very moment we are still mainly dealing with an agricultural problem that has public health implications, but it is not equal to a pandemic influenza outbreak, although the pandemic threat is there.
This, we are all afraid, that this virus might mutate or re-assort into a form that could eventually cause a pandemic outbreak of influenza. The world at this moment is not sufficiently prepared for that. So, that could cause a disaster. Whether it would be a disaster as big as the HIV pandemic, I'm not sure whether we can substantiate that at this moment. But looking back at the 3 pandemic outbreaks of influenza that we have seen in the last century: the Spanish Flu that cost some forty to fifty million people their lives – that was 1 to 2% of the world's population.
But then in 1957 and 1968, the Asian and Hong Kong flu respectively caused between one and four million deaths worldwide. These last figures are not comparable to the HIV pandemic because to date, more than 60 million people have become infected with HIV and 20 million of those have died already. Every year some 3 million people are dying from AIDS.
BUT THE OMINOUS THING IS THAT THIS IS AN AVIAN INFLUENZA VIRUS THAT NEVER WAS SUPPOSED TO JUMP INTO HUMANS AND KILL IN THE FIRST PLACE. AND THE FACT THAT WE ARE NOW NINE YEARS SINCE THE FIRST DISCOVERY IN HONG KONG IN 1997 OF SO MANY POULTRY DEATHS AND SOME HUMAN DEATHS AND THAT NINE YEARS LATER, THIS VIRUS IS SPREADING FASTER – ACCORDING TO THE WORLD HEALTH ORGANIZATION – THAN ANY OTHER PREVIOUS VIRUS AMONG ANIMALS. COULD YOU COMMENT ON THAT?
What we see happening now is dramatic for sure – especially the fact that the virus is also in Africa, the Middle East and in Asia where people can become infected. And the more people who are infected, the higher the chance will be that the virus will mutate into a form that is transmissible between humans. Indeed, I think it's a very serious situation.
Why Has H5N1 Been Spreading So Rapidly in 2005-2006?
AS A VETERINARIAN, WHY DO YOU THINK THAT THE H5N1 VIRUS HAS SPREAD SO RAPIDLY AROUND THE WORLD IN JUST THE PAST SEVERAL MONTHS?
I think that this virus – and there is still some controversy about that – this virus probably spilled back from infected poultry to the wild bird population. In contrast to what we thought before, this virus can probably infect wild birds without killing them. Certain species will die like the swans that we have seen in Europe. But other species might carry the virus for longer periods of time without dying, or perhaps without even developing any clinical signs.
What you said about nine years ago – well, my lab was the first to discover this virus, H5N1, in a young boy, together with colleagues from Hong Kong, as an H5N1 virus. At that time, it was hard to convince people that indeed an avian virus could spread to humans. It was not anticipated and not known at that time that that could be the case.
Now, this virus has gained that possibility and therefore, while we were talking about dissemination in the bird population and wild, migratory birds spreading this virus worldwide. On the other hand, the virus can make a species jump to humans, but it is not very infectious to humans. Given the fact that less than 200 people have developed disease in those vast (geographical) areas, as far as we know. But once it has done that (mutate to spread human-to-human), then it has a 50% mortality rate approximately.
THE FACT THAT IT HAS MOVED SO RAPIDLY IN THE BIRD POPULATION BETWEEN THE SUMMER OF 2005 TO WHERE WE ARE IN MARCH OF 2006, IT SEEMS TO ME MANY PEOPLE IN THE MEDICAL COMMUNITY HAVE BEEN ASTONISHED BY THE RAPIDITY OF THE SPREAD.
Yes, we were astonished. We were anticipating that once the virus moved from the Qinghaihu  Lake in China to Kazakhstan in Siberia, we actually alerted our Minister of Agriculture here in the Netherlands. We were the first to actually have the free-range poultry ordered indoors. At that time, there was a general disbelief among our colleagues that this was the right thing to do. If you see what has happened now, many countries are doing the same thing and are considering or using vaccination in poultry.
[ Editor's Note:  Not only is the latest bird flu virus more virulent in lab animal tests, it seems to be increasing its virulence among wild water birds. The World Health Organization reports that this spring of 2005, at least 6,000 wild migratory geese at a nature reserve in central China died from an H5N1 strain. W.H.O. describes the large number of deaths as "highly unusual and probably unprecedented."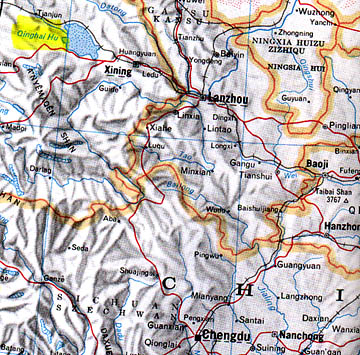 It's also been discovered in 2005 that domestic ducks can excrete large quantities of H5N1 virus without showing illness. That means ducks are "silent carriers" of the deadly virus to other birds and animals – including humans. ]
IT'S COMPARABLE, ISN'T IT, TO TRYING TO QUARANTINE HUMANS WHEN THERE IS AN INFECTIOUS DISEASE?
This is difficult because we don't know what wild bird species are actually the culprits, which are disseminating the virus. It might be different species. So, there is a lot of work ongoing in different laboratories, including mine, where people look at the susceptibility of different bird species.
DO YOU HAVE ANY EDUCATED GUESS RIGHT NOW ABOUT WHAT IS CAUSING THE SPREAD OF H5N1 SO RAPIDLY?
I think it's related to the bird species that can be infected without dying. Still there is no consensus in the scientific community about the role of the wild birds. There are still people who say wild birds are not disseminating this as much as illegal trade and smuggling.
BUT INTUITIVELY AND IN COMMON SENSE IT SEEMS THAT THE SPREAD AMONG ALL OF THE COUNTRIES THAT HAVE BEEN AFFECTED, ESPECIALLY IN THE LAST YEAR, THAT IT WOULD HAVE TO BE BY MIGRATORY BIRDS, WOULDN'T IT?
That would be my interpretation, especially the way it spreads over Europe. Once it reached the doorstep of Europe and spread over Europe, I think it's quite plausible indeed.
HOW DO HUMANS CONTROL THE SPREAD OF H5N1 THROUGH MIGRATORY, WILD BIRDS?
That's a difficult thing to do, obviously. The only thing you can do is once it's in the wild birds is make sure it doesn't get into your poultry. So, order them indoors or develop vaccination strategies.
Computer Simulation of H5N1 Spread in America


H5N1 Has Mutated More Than 250 Times Since 1997
I READ A REPORT BY A CHINESE VIROLOGIST WHO HAD REPORTED JUST A FEW MONTHS AGO THEY HAD DOCUMENTED AT LEAST 250 MUTATIONS IN THE H5N1 VIRUS IN THESE PAST NINE YEARS AND WERE CALLING IT A VERY DYNAMIC VIRUS.
Influenza viruses per se do have a very high mutation frequency. So, this is what you could expect in these viruses. So far, I think the most important thing is that the virus seems to have enlarged its host species range. We are not completely sure, but definitely for the way it behaves in laboratory animals. We can infect many animal species, including mice, rodents, cats, ferrets, and monkeys. So, it has a very wide host range.\
DOESN'T THAT MEAN THAT POTENTIALLY IT IS EVEN MORE DANGEROUS IN THE SENSE THAT IT MIGHT MAKE THAT ONE MUTATION THAT COULD SPREAD AMONG HUMANS?
That's a possibility indeed. But I think it's very difficult to speculate about what the virus could do. It has a wide host range, so the more different animal species it does infect that might be in contact with humans, the more humans could become infected at the end of the day. But we cannot predict exactly what's going to happen there.
H5N1 Infecting Animals Beyond Poultry and Wild Birds
FROM YOUR PERSPECTIVE NOW IN MARCH OF 2006, HOW WOULD YOU DESCRIBE THIS H5N1 VIRUS IN RELATIONSHIP TO ALL THAT YOU HAVE STUDIED IN YOUR PROFESSIONAL CAREER IN TERMS OF ITS LETHALITY, ITS MUTABILITY, KILLING OR INFECTING OVER SUCH A WIDE RANGE OF ANIMALS?
What does surprise me, or what has baffled me, is that the H5N1 virus has been able to infect so many animal species in a relatively short period of time and really spread so fast around the world.
IF YOU WERE SPECULATING ABOUT WHY THAT IS OCCURRING, WHAT WOULD YOU SPECULATE?
It has to do with the genetic make-up of the virus. We don't understand everything about – on the one hand, pathogenicity – and on the other hand about transmissibility. Those are the two key issues. We haven't got the full picture yet. We're just scratching the surface so far.
FROM BIRD-TO-BIRD, DO YOU THINK IT IS LIKELY THAT IT'S SPREADING THROUGH FECES? WHAT WOULD YOU GUESS?
It could be either feces or from the respiratory tract and also if birds are being caught by certain carnivores like the tigers and cats, it can also spread by eating carcasses.
THAT WOULD EXPLAIN THE DEATHS OF THE TIGERS AND THE CATS?
Yes, well, we have done experimental infections in cats here (Erasmus Medical Centre) and we have shown that we can infect cats by feeding them one-day-old chicks infected with the virus, after (the newborn chicks) having been euthanized obviously.
How H5N1 Kills Animals and People
COULD YOU ALSO EXPLAIN HOW THIS VIRUS KILLS PEOPLE AND ANIMALS SO QUICKLY?
One of the problems is that we don't know the full pathogenicity in humans to date because of the 90-plus people who have died, only a handful of people who died do we have data on from autopsies. So, we don't know.
We know, though, that in the cats the H5N1 virus disseminates all over the body. In humans, we don't think that is the case, but we are not 100% sure because we have too little data on that. So, we don't know exactly what causes the deaths of the people, apart from people who died from pneumonia. But still, the virus has been found in the cerebrospinal fluid and in the feces of some children. These are anecdotal reports, but we don't have the full picture.
I KNOW THAT IN VIETNAM, THE DOCTORS THERE WERE REPORTING FULL ORGAN FAILURE.
Full organ failure, as you call it, you get that if you have lung failure. So if you have a serious pneumonia, then you get multi-organ dysfunction at a certain point in time just before dying.
IS IT TRUE THAT IN BIRDS THAT HAVE BEEN STUDIED THE MOST IN-DEPTH, THERE HAS BEEN AN AUTOIMMUNE RESPONSE IN THE TRACHEA AND LUNGS?
I don't think we can say that at this moment. The birds that die, like the chickens, they die from acute disseminations of the virus through all the organs of the body.
NOT JUST CONCENTRATED IN THE LUNGS?
Not in the birds – at least in chickens and poultry, it is not concentrated on the lung. It's more like what we see in cats.
WHEN YOU SAY THROUGHOUT THE BODY, HOW IS THE VIRUS ACTUALLY KILLING THE ANIMALS?
If you get many organs infected, if your lungs don't function anymore, or if you get encephalitis (brain swelling), or other, then obviously you will die.
WHAT YOU MEAN IS THAT IF THE BRAINS, THE LUNGS, THE HEART, THE KIDNEYS AND ALL THE ORGANS COULD BE AFFECTED SIMULTANEOUSLY.
Except in humans, we don't have that data yet. But for cats, we know that can happen.
THEY DIE WITHIN 24 OR 48 HOURS?
They can die – in birds, typically in poultry; they die within one to two days after their first clinical signs. In cats, it takes a little bit longer.
Only A Few Human Autopsies On H5N1 Victims
I THINK THE AVERAGE OF THE PEOPLE WHO HAVE DIED FROM H5N1, FROM THE TIME THEY WERE HOSPITALIZED UNTIL DEATH, IT WAS ONLY A MATTER OF 3, 4 OR 5 DAYS, CORRECT?
Yes, but it depends on what time they have been brought into the hospital. Half of them survive, so there will be a lot of people that will be intermediate there.
HOW MANY AUTOPSIES HAVE BEEN DONE ON H5N1 VICTIMS?\
Just a handful.
IN THOSE FIVE OR SIX, DID THEY FIND COMMON DENOMINATORS OF THE SPREAD OF THE DISEASE IN THOSE BODIES?
No, the general picture that emerged was it was primarily a respiratory disease, I think.
WAS THAT INFLAMMATION IN THE LUNGS AND TRACHEA?
Yes, that means that if you get infected in the lungs, then you die from pneumonia, plus the other organ dysfunctions.
Is H5N1 Becoming Resistant to Antivirals Such As Tamiflu?
COULD YOU COMMENT AGAIN ABOUT THE CONTROVERSY OVER WHETHER TAMIFLU IS NOW BEING RESISTED BY H5N1 IN BOTH LABORATORY TESTS AND THE WORK OF THE VIETNAMESE DOCTORS?
The scientific community knows that resistance might develop in a small percentage of cases. But we are not sure what the impact of that will be at the end of the day.
RIGHT NOW, IS IT FAIR TO SAY THAT NO COUNTRY OR HOSPITAL ANYWHERE HAS THE ANSWER ABOUT HOW TO COPE WITH H5N1 IN PEOPLE?
If you are early enough, if you start treatment within 24 hours after the first clinical symptoms, I think there is a fair chance that (antiviral) Tamiflu will work well. Laboratories are prepared for that. [ Editor's Note: Vietnamese medical report in 2005 described Tamiflu's failure to protect teenagers when applied prophylactively.]
H5N1 Vaccines?
The other point is that at this moment, what we don't have and cannot have is a vaccine. The final answer to this problem would be a vaccine. As soon as a pandemic virus develops, or the virus spreads from human-to-human, we need a vaccine. We need a vaccine for the world. There we have logistic problems. We have problems to formulate the vaccine. One of the major problems is at the moment that we do not know how to formulate the vaccine. If we had the strain, we could produce the virus that could be inactivated. But what we don't know – if we use that inactivated virus or vaccine material as we do for the seasonal flu – we know it's not strong enough. So, we have to do something extra there. That means involving an activant, which is a non-specific immune stimulator. The point is: if you were going to use an activant in vaccine on a large scale in humans, you would at least have to have shown by using a prototype vaccine with such an activant that such a prototype vaccine would be safe and effective. To date, we are not there yet.
Industry should do those kinds of studies, human trials, with candidate vaccines. The problem is there is little incentive for industry to do that because they are not going to sell. It is a huge investment, these human trials, and they are not going  – they will not be selling those prototype vaccines. So, what we really need is public/private partnerships between the public sector and the private sector to help each other out.
IS THERE ANY MEDICAL LAB IN THE U. S. OR EUROPE CLOSE TO HAVING WHAT THEY WOULD CONSIDER TO BE AN H5N1 VACCINE?
Oh, definitely. I think in principal that different activant vaccines should be tried as soon as possible – now! There is some of that work ongoing, but I feel that the public sector should invest more there definitely. Europe has 60% to 70% of the world's flu vaccine production.
ARE YOU IN YOUR LABORATORY TRYING TO WORK ON A VACCINE YOURSELF?
Absolutely.
HOW CLOSE DO YOU THINK YOU ARE?
I'm not going to comment on that. I think one of the major issues at the moment is the possibility to carry out the appropriate human trials. That's the main bottleneck at this moment; also, the financing of those studies. If the virus starts to spread from human-to-human, initially it will not be too efficient. So, there is a possibility if we blanket the area with antivirals in the area where it happens. Mathematical models have been developed for that. Then we might still be able to nip it in the bud.
AND THE SAD THING IS THAT WE WON'T KNOW UNTIL IT HAPPENS TO TRY TO SEE IF IT ALL WILL WORK?
Absolutely.
FROM YOUR PERSPECTIVE, DO YOU EXPECT H5N1 TO BECOME A HUMAN PANDEMIC?
Well, I'm not sure if that is going to happen. I think we have to seriously count it as a possibility. But I would not be surprised if yet another influenza virus would be at the basis of the next pandemic.
AND NOT H5N1?
Well, it could be H5N1, but we should not be surprised if it would be just another avian influenza virus. We cannot say that at the moment.
But if this virus is not going to develop into a pandemic influenza virus, at least let's take this as a serious warning. Perhaps the last warning we get before we have the next pandemic in the 21st Century."
It was only 5 months ago that the U. S. Department of Health and Human Services released its first pandemic influenza plan. It said the United States "will be severely taxed, if not overwhelmed" by a pandemic. The report said the H5N1 virus could break out repeatedly for as long as a year. Hospitals will run out of beds and whatever vaccines are available. Doctors and nurses will be exhausted with overwork. Dead bodies could overwhelm mortuaries and morgues. Current estimates are that such a pandemic could infect as many as 90 million Americans, hospitalize 10 million and kill at least 1 million.
---
More Information:
For more information about H5N1 and pandemic concerns, please see the following reports in
Earthfiles Archives:
11/13/2005 — H5N1 Avian Flu Has Infected 21st Person in Thailand. 13 Have Died.
10/26/2005 — Updated – H5N1 Bird Flu – The Next Pandemic?
07/22/2005 — H5N1 Bird Flu Virus Kills Three Indonesians
06/21/2005 — Vietnamese Doctor Studying H5N1 Bird Flu Falls Victim to Virus
06/03/2005 — West Nile and Bird Flu: Two Increasingly Dangerous Viruses
03/12/2005 — Could Avian Flu H5N1 Cause the Next Pandemic?
01/29/2004 — Unprecedented Outbreak of Avian Flu Has Killed Ten People in Asia
01/13/2004 — Updated: SARS and Bird Flu Back in Asia
04/04/2003 — Quarantined Doctor in Toronto Describes SARS Disease
03/22/2003 — Medical Experts Are Worried About the New SARS Pneumonia
03/18/2003 — SARS Pneumonia Tentatively Identified as Paramyxoviridae Virus
---
Websites:
World Health Organization (W. H. O.):  http://www.who.int/en/
Centers for Disease Control (CDC):  http://www.cdc.gov/
University of Minnesota Pandemic Flu: http://www.cidrap.umn.edu/cidrap/content/influenza/panflu/index.html
Nature, May 2005, Bird Flu and Java Pigs: 
http://www.nature.com/nature/journal/v435/n7041/full/435390a.html

© 1998 - 2023 by Linda Moulton Howe.
All Rights Reserved.