© 1994 -1995 by J. Andrew Kissner
All rights reserved. No part of this book may be reproduced, in any form, without written permission of the author.
Reprinted in 2005-2006 as a Real X-Files series by Earthfiles.com with author's written permission.
"Col. Turner said that he had WSPG military personnel searching for two 'flying discs' which appeared to fall into air space above White Sands Proving Ground."
- J. Andrew Kissner
Return to Part 1
Military Intelligence, Flying Discs and Plane Crashes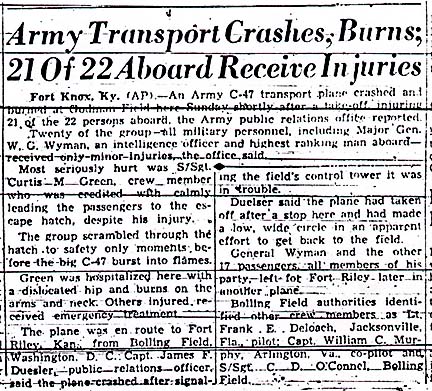 A U. S. Army C-47 crashed on takeoff on June 15, 1947, at Goodman Field, Fort Knox, Kentucky. Eyewitnesses in the control tower said that the transport could not gain altitude. As it lifted off the runway, "it did a low wide circle in an attempt to get back to the field." The flight had departed Bolling Field, Washington, D. C., and was reportedly destined for Ft. Riley, Kansas. Aboard were twenty-two military personnel, twenty of them members of a military intelligence group headed by Major General W. G. Wyman. Twenty of those on board were injured in the crash. S/Sgt. Curtis Green, the most seriously injured, was credited with saving the lives of both the passengers and crew after he opened the escape hatch and helped the others out shortly before the airplane exploded. [ Source: El Paso Times, June 16, 1947.]
Click here to subscribe and get instant access to read this report.
Click here to check your existing subscription status.
Existing members, login below:

© 1998 - 2023 by Linda Moulton Howe.
All Rights Reserved.