– March 28, 2006
– Two circles in 2.5-foot-high wild, mixed grass.
– 4 degrees east of magnetic North.
– About 1.5 miles north of 2004 four circles in straight line
that were 20 degrees east of magnetic North.
– Larger circle 8 meters diameter and south of smaller circle.
– Smaller circle 4 meters diameter.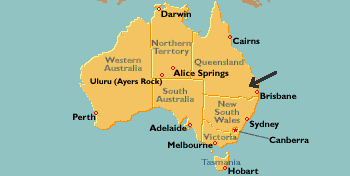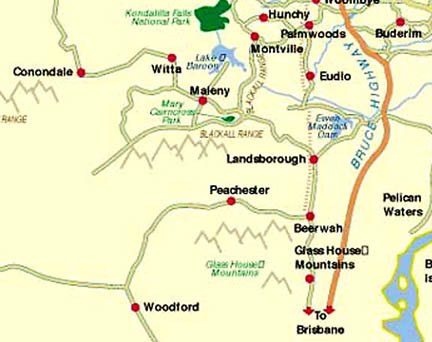 April 6, 2006  Conondale, Queensland, Australia –  On March 28, 2006, the air around Conondale, Queensland on the east Australian coast, was unusually warm and still. There were no thunderstorms or wind, yet two beautifully spiraled circles in 2.5-feet-high wild grass were found only about a mile and a half north of where four beautifully spiraled circles were discovered in a line, also on March 28th, in 2004. The year before in 2003, in the same region, residents reported oddly, but randomly, downed sorghum.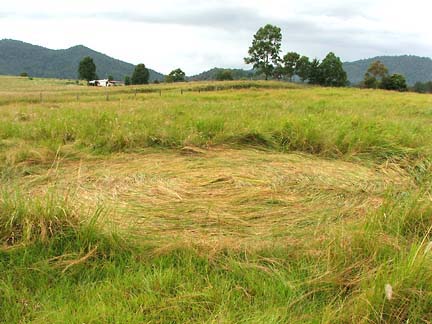 What is it about Conondale? It's a small dairy farm community a couple hours by car northwest of Brisbane.  It's also suspected there is a lot of underground water there. Not far away is a Crystal Waters community supplied by a river. Underground water flowing beneath the limestone of Great Britain has also been discussed as a link to why so many crop formations there. But no one knows for certain.
Whatever the reason, Something has visited Conondale at least three times to interact with the tall grasses, without leaving tracks or signs of disturbance around the circles. This year, one of the two circles is 8 meters in diameter, or about 27 feet.  The smaller is about half that size at 4 meters, or about 13 feet in diameter.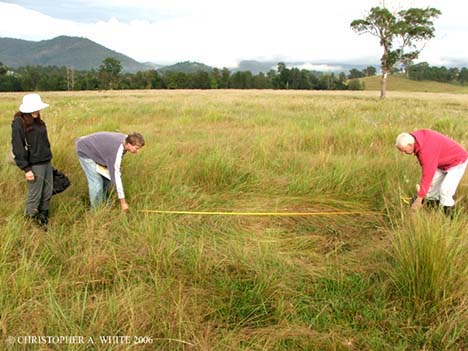 Two years ago, in 2004, the largest of those four circles in a straight line measured 7.9 meters – about the same as this year. Then  the next  size down was 4 meters at the most southern end. On the other side of the largest circle were two that measured .85 meter and 1.8 meters. Those four circles in 2004 were aligned exactly 20 degrees east of magnetic North. The two this year at the end of March 2006 was just 4 degrees east of magnetic North.
This week I talked with the photographer I interviewed in 2004 who also went to the two new circles to photograph. He is Christopher White – a gardner and handyman now living in Maleny. Last year, he photographed at night and ended up with unusual glowing orbs in some frames which he did not see with his eyes. See Earthfiles 040704 and Earthfiles 041404.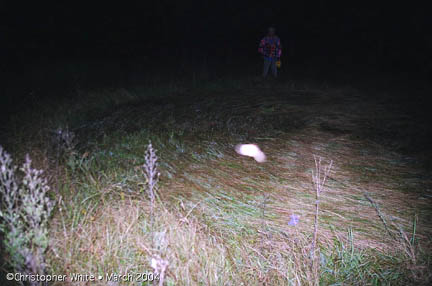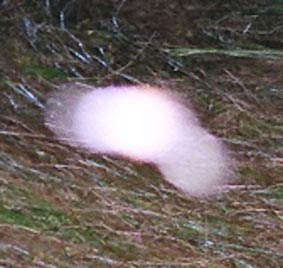 ---
Interview:
Christopher White, Photographer, Gardner and Handyman, Maleny, Queensland, Australia: "The grasses seemed to be laid down in a very similar manner, giving this lovely sort of lumpy rippled effect all the way around the perimeter especially. The cones (centers raised) were possibly a little more raised and a little more swirled this time than 2004. These central crowns were raised a good 6 inches or more above the swirled grasses surrounding and off center by a noticeable, though small, margin of some 4 inches. They weren't so pointed from before by memory. Both of the two circles this time had very similar cone centers.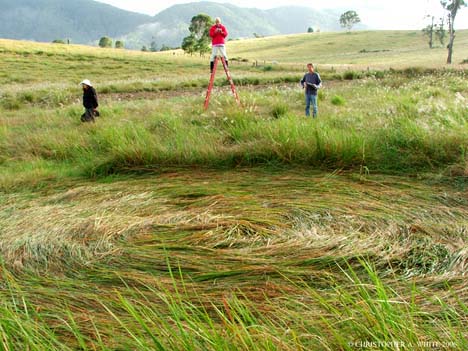 The largest circle had a (center) cone at least a meter wide. They were all laid clockwise. The smaller circle – I think it was about 4.2 meters. It had some lovely short bits of green grass left vertically in the center with a slight twist to them which was actually kind of pretty.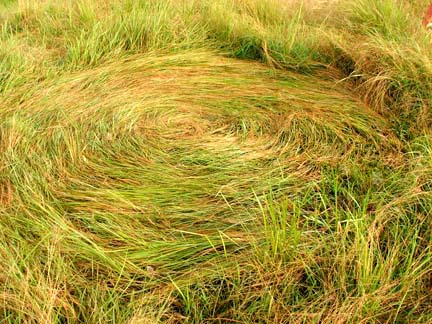 I know that one of the friends we had took a pendulum in there which swung quite wildly east and west, although the circles in alignment were north and south. I believe the pendulum also swung strongly anticlockwise for awhile, but outside of the circles it just swung a little bit north and south.
SINCE YOU ALL WERE THERE FOR AN HOUR OR SO, COULD YOU FIND ANY EVIDENCE OF ANY TRACKS OR ANY GRASS DISTURBANCE OF ANY KIND AROUND THE TWO CIRCLES?
Not that I know of, no. I certainly didn't. We talked about it briefly among ourselves and no one else did, as far as we know, either. Some of the grass had just started to spring up again. The green blady grass are quite strong lumps of material and it would have taken an interesting force to actually bend it down and ripple it into the rest of the grasses without damaging it. We saw no sign of holes where people could stick poles in the center or anything like that.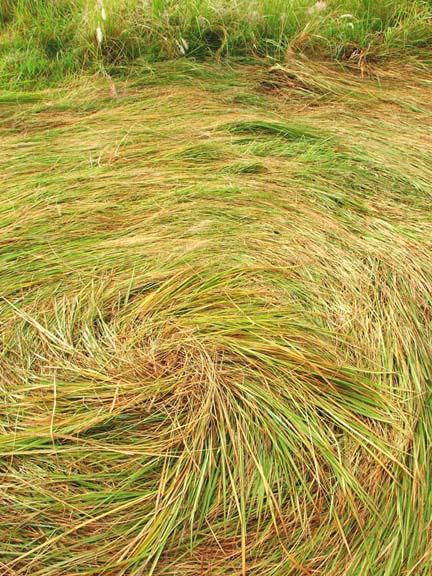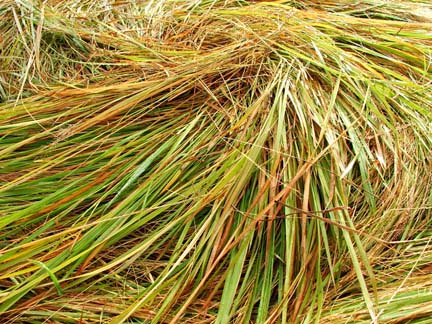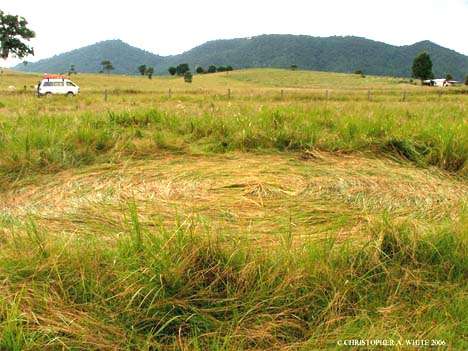 DO YOU KNOW WHAT THE WEATHER CONDITIONS WERE LIKE AROUND MARCH 28?
Yes, it was fairly warm and sunny. We've had quite a hot year.
BUT NO THUNDERSTORMS OR WIND?
No. No. Not those days.
SO MARCH 28, IT WAS HOT AND STILL.
Yes.
WOULD THAT BE THE SAME WEATHER CONDITION IN 2004, DO YOU REMEMBER?
From memory, very similar, I think. The morning was a bit cooler back then.
SO FOR PEOPLE WHO SAY, 'IT'S GOT TO BE WIND' COMING DOWN AND SPINNING THESE CIRCLES, WHAT DO YOU SAY?
Nonsense.
BECAUSE?
My own research into crop circles is that really does not occur. Someone did actually – a woman drove by and was kind of intrigued and said it must have to do with whirly winds and things like that. I said, 'No, it's definitely not whirly winds.' The beauty of the central cones of the circles themselves and the way the surrounding grasses are not touched at all, and not being in a vertical crop, the edges were still clean and tidy. We could not find any evidence of broken or trampled grass anywhere.
AND THOSE CENTERS – IN ENGLAND I HAVE SEEN THOSE BEAUTIFUL RAISED CENTERS, SOMETIMES AS FAR AS 12 INCHES OFF THE GROUND. IF I UNDERSTAND FROM YOUR PHOTOGRAPHS AND YOUR DESCRIPTION, THE CENTER OF THESE TWO CIRCLES IN 2006 ARE RAISED IN THE CENTER FROM THE GROUND?
Oh, quite significantly. One of the pictures I sent you of Paul Boulton holding a tape measure – it's a vertical picture. You can see very clearly in there how high that cone actually is and the size of it. His feet are sinking at least 6 inches into the rippled grass.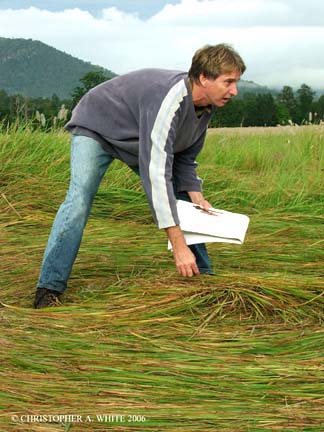 HAVE THERE BEEN ANY REPORTS IN THAT AREA OF UNIDENTIFIED LIGHTS IN THAT AREA ANY TIME RECENTLY?
Not that I know of, Linda. But last time, I had a woman send me an e-mail from the Gold Coast. She's in her twenties now. She sent me an e-mail that said when she was younger – this was in the 1980s and down on the Gold Coast, it was nowhere the development as it is now. They had large open tracts and fields down there. When she was playing in the fields with a couple of girlfriends, she saw circles like the ones in Conondale quite regularly. She was referencing the 2004 circles. They saw them all the time down there in one particular area.
She said she was down there one day near one of these big fields on a sports day in school and she and a friend of hers looked up in the sky over the sea and there was this huge black cigar in the sky, just hanging there. She said there was something that came out of the bottom of it, at least one or two – something flew out of the bottom of it and flew away."
---
More Information:
For more about the grass and crop formations, please see reports below in Earthfiles Archives and my book, Mysterious Lights and Crop Circles in the Earthfiles Shop.
09/02/2005 — "Mayan Clock"? in August U. K. Crop Formations
09/02/2005 — First 2005 Canadian Crop Circles Reported
09/02/2005 — Part 2: Mysterious Lights At Coles County, Illinois, Corn Circles
09/02/2005 — Part 1: New York and Ohio Corn Circles "Flattened 2 to 5 Feet Above Ground"
08/09/2005 — Three Extraordinary U. K. Crop Formations Reported August 9, 2005
08/07/2005 — Mysterious Light Photographed in Canadian Woods
08/02/2005 — Part 2: Anomalies Confirmed in Pennsylvania and Arizona Randomly Downed Crops
08/02/2005 — Part 1: Anomalies Confirmed in Pennsylvania and Arizona Randomly Downed Crops
07/23/2005 — Mystery of Six Grass Circle Formations in North Carolina
07/18/2005 — Garsington, Oxfordshire, U.K. Wheat Formation – Astronomical Orbit?
07/01/2005 — U. K. Bicyclist Reports Mysterious, Low Hovering Objects Bending Wheat
06/28/2005 — Crop Circles in Poland
06/02/2005 — Part 2 – Highly Anomalous Pigment Formation in 2004 Hillsboro, Ohio, Crop Formation
05/26/2005 — Phoenix Barley Mystery: Apparently Irrigation and Wind
05/20/2005 — May 2005 Crop Formation Update in Six Countries
05/09/2005 — Mysterious Lights and 2003 Serpent Mound Soybean Formation
04/20/2005 — Outer Space Impact At Serpent Mound, Ohio, 256 Million Years Ago
04/12/2005 — First 2005 Dutch Crop Circles Reported in Hoeven, Holland Grass
10/17/2004 — American Crop Formations: 1880-2004
09/22/2004 — Miamisburg and Serpent Mound, Ohio Crop Formations: Geometries Compared
09/17/2004 — Part 1 – High Strangeness in Canadian Cattle Corn
09/12/2004 — Part 2 – High Strangeness in Canadian Cattle Corn
09/10/2004 — Update on Miamisburg, Ohio, Corn Pictogram – Balls of Light?
09/05/2004 — Part 2 – Hillsboro, Ohio Corn Plant Anomalies
09/04/2004 — Hillsboro, Ohio Corn Formation – High Strangeness in Soil and Plants
09/02/2004 — Updated Photos: Big, Impressive New Corn Formation in Miamisburg, Ohio
08/29/2004 — Another Pictogram in Poland
08/28/2004 — Cow Mutilation and Loud, Unidentified Sound in Farnam, Nebraska
08/12/2004 — Circles in Belgium and Holland
08/10/2004 — Updated Aerial Photos of West Overton, Wiltshire "Serpent"
08/09/2004 — Pictograms in Poland
08/03/2004 — Crop Formations: Fifteen in Southern England Since July 20, 2004.
07/26/2004 — Crop Circles in Tilden, Wisconsin Oats and 90-Degree Angles in Litchfield, Minnesota
07/25/2004 — 2004 Canadian Crop Formations: Scorched Soybeans and "Dirt" Pattern in Barley
07/24/2004 — Part 3 – Crop Formations and Mysterious Lights in Wiltshire, England, July 2004
07/24/2004 — Part 2: Crop Formations and Mysterious Lights in Wiltshire, England, July 2004
07/15/2004 — Updated: Part 1-Beyond Hillsboro, Ohio, More Corn Down in New Milford, Connecticut
07/13/2004 — Updates on Spanish Fork, Utah Barley Formation
07/07/2004 — Fourth 2004 Crop Formation in Poland Has Multiple Parts
07/06/2004 — Mysteriously Downed Oat Plants in Eagle Grove, Iowa; Downed Corn in Hillsboro, Ohio
07/06/2004 — Additions to Spanish Fork, Utah Formation and Mysterious Lights Seen
07/04/2004 — Crop Formation in Spanish Fork, Utah
06/17/2004 — More 2004 Holland and Poland Crop Formations
06/16/2004 — England: 2004 Crop Formations and 2003 Research
06/03/2004 — Updated – Second 2004 Pictogram Crop Formation in Poland
06/02/2004 — 2004 Peach Orchard, Arkansas Crop Formation
05/24/2004 — Biophysicist W. C. Levengood's Crop Circle Reports Available for First Time On Internet
05/22/2004 — 2004 Overview of Crop Formations in Six Countries
05/17/2004 — Crop Formation Reported in Zabno, Poland
05/11/2004 — An Extraordinary Photograph in A Dutch Home
05/09/2004 — 2003 English Crop Formations on Documentary DVDs
04/14/2004 — Light Anomalies in Photos of Conondale, Australia Grass Circles
01/10/2004 — Strange Unidentified Aerial Objects in Indiana and Pennsylvania
12/05/2003 — Diatonic Ratios and Seed Changes in 2003 California Wheat Circles Rule Out Hoax?
11/07/2003 — British UFO Crash Retrievals
11/01/2003 — Another Soybean Formation in Ohio
10/17/2003 — 2003 "UFO Flap" in Ohio
10/03/2003 — Part 2 – Military Interest in Serpent Mound and Seip Mound Formations?
10/02/2003 — Part 1 – Another Soybean Formation Near Seip Mound in Ohio
09/12/2003 — Second Soybean Crop Formation in Ohio – Special USAF Investigation Unit Involved?
09/06/2003 — Part 2 – Unusual Soybean Formation Near Serpent Mound, Ohio
09/05/2003 — Part 1 – Unusual Soybean Formation Near Serpent Mound, Ohio
09/03/2003 — Helicopter "Attacks" Wiltshire, England, Residents At Knap Hill on August 26, 2003
08/29/2003 — Part 2 – After August 10, No Crop Formations Except in Canada?
08/29/2003 — Part 1 – Why Do Military Helicopters Focus On Crop Formations?
08/23/2003 — Fourteen Crop Formations in Canada
08/05/2003 — Field Notes from Morgan's Hill Crop Circle
08/01/2003 — Field Notes About English Animal Mutilations
07/21/2003 — Strange Orange Lightning and A Sampling of Recent English Crop Formations
07/19/2003 — Update – Defiance, Missouri T-Pattern Cut in Saplings
07/17/2003 — Land Surveyor Comments About Ogbourne St. George, U.K. Crop Formation
07/16/2003 — Unusual Details in Dutch Crop Formations
07/11/2003 — Part 2 – Unusual Cylindar-Shaped Cloud Seen Night Before Dutch Crop Circles Discovered
06/27/2003 — Part 2 – Mysterious Lights and Fourteen Crop Formations in Italy
06/27/2003 — Part 1 – Mysterious Lights and Fourteen Crop Formations in Italy
06/13/2003 — Updated: Fractal Crop Formation in Knobel, Arkansas
05/26/2003 — East Sussex, England Has Third 2003 Crop Formation
05/20/2003 — More 2003 Crop Formations in Germany
05/10/2003 — Tree Formation in Defiance, Missouri
05/02/2003 — First 2003 English Crop Formations
04/29/2003 — Comparison Between First 2003 and 2002 U. K. Crop Formations
04/26/2003 — First 2003 U.K. Crop Formation Near Petersfield, Hampshire
12/07/2002 — Evolution of Crop Patterns Near Britain's Chilbolton Radio Telescope, 1999 – 2002
11/05/2002 — Canadian Crop Circles and Mysterious Lights in Saskatchewan
10/19/2002 — Shifting Time Lines and Earth's Destiny?
10/03/2002 — Part 3 – 2002 Crop Formations In Canada
10/01/2002 — Part 2 – September 2002 Maize Circles Update: Canada
09/28/2002 — Part 1 – September 2002 Maize Circles Update: England
09/02/2002 — Blue Lights and Helicopters in Wiltshire's East Field
08/31/2002 — One ET Experiencer's Reaction to the Winchester Formation
08/24/2002 — Crop Formation Update: Canada
08/19/2002 — Winchester, Hampshire Circular Code Analysis – UPDATED
08/18/2002 — Another Face and Code Appears in Hampshire, England – UPDATED
07/25/2002 — Strange Stem Anomalies in New Dutch Crop Circles
07/20/2002 — Mysterious Lights Seen Above Field Where Nautilus Formation Emerged
07/13/2002 — More Crop Formations in Holland and Germany
07/12/2002 — New Crop Formation in England
07/06/2002 — Stonehenge 4th of July Formation Echoes Hackpen Hill 1999 4th of July Spiral
06/26/2002 — New Crop Formations in England, Holland and Germany
06/04/2002 — New 2002 Crop Formations in Wiltshire and Sussex, England
05/23/2002 — Third 2002 Crop Formation in Germany Near Giant's Stone
05/18/2002 — A Bull Mutilation in Christmas Valley, Oregon
05/11/2002 — First 2002 Crop Formation In Wiltshire, England
05/09/2002 — More Orange Triangular Aircraft Over Red Deer, Alberta, Canada
05/04/2002 — Two Crop Formations Near Kassel, Germany
11/17/2001 — Mysterious Lights in Hessdalen, Norway Are Thermal Plasmas of Unknown Origin
10/27/2001 — Another Orange Triangle Near Red Deer, Alberta, Canada
10/10/2001 — Update On Unique British Crop Formations
09/27/2001 — A Scientific Report About Milk Hill and Chilbolton "Face" and "Code"
09/22/2001 — Huge Hexagram Crop Formation in Red Deer, Alberta, Canada
09/19/2001 — Part 2 – Gog Magog Hills, Cambridge, England – Two Unusual Crop Formations
09/18/2001 — Part 1 – Gog Magog Hills, Cambridge, England – Two Unusual Crop Formations
08/30/2001 — Chilbolton Observatory – What Does It Do?
08/25/2001 — Are Crop Formations at Chilbolton Observatory A Response to 1974 Earth Transmission?
08/22/2001 — Milk Hill 2001 – 409 Circles, Most For Any Crop Formation So Far
08/09/2001 — Crop Formation in Holland Changes  with Researchers Present
06/16/2001 — Beyond Stonehenge with Astronomer Gerald Hawkins
06/06/2001 — New Crop Formations Reported in Serbia and U. K.
05/31/2001 — More Crop Formations in England
05/21/2001 — Part 2 – New Crop Formations in Holland, Germany and England
05/19/2001 — Part 1 – New Crop Formations in Holland, Germany and England
09/30/2000 — Unidentified Moving Spiral of Light Photographed in Crop Formation
08/27/2000 — Crop Circle Reports from Whitefish, Montana – Updated Photos
08/26/2000 — Pulsing, Jumping Light in West Stowell, England Field
08/23/2000 — Intelligence Sensed In Mysterious Lights Associated With Crop Formations
08/20/2000 — Crop Formations In North Dakota
08/19/2000 — White Balls of Light and Helicopter Videotaped in Woodborough Hill Field
08/17/2000 — Mysterious Light Near Woodborough Hill Night Before August 13, 2000 Formation
07/16/2000 — Multiple Crop Formations Same Day in Wiltshire and Hampshire, U. K., July 16, 2000
07/09/2000 — New Book about Ancient Sites of Wiltshire, England
07/06/2000 — Extraordinary U. K. Crop Formations
06/17/2000 — Army Helicopters Damage East Field, Wiltshire Crop
06/11/2000 — Two New Crop Formations at Silbury Hill
05/30/2000 — Crop Formations In Germany, May 2000
01/16/2000 — Crop Circle Mysteries – A New Book
11/30/1999 — A New Crop Formation In Marion, New York and Crop Research Updates
11/18/1999 — Short Environmental Updates
10/29/1999 — A New Book About Crop Circles
09/29/1999 — Crop Formations Continue in Canada
09/21/1999 — 1999 Summary of Crop Formations in Canada and Latest 9/21/99 Edmonton Circles
08/15/1999 — More Mid-August 1999 Crop Formations in Wiltshire, England
08/01/1999 — 1999 Crop Circle Update from Wiltshire, England
07/22/1999 — Cherhill, England, New 1999 Crop Formation
07/15/1999 — Brentwood, Tennessee Crop Formation and New U.K. Photos by Peter Sorensen
06/27/1999 — New 1999 U. K. Crop Formations Photographed by Peter Sorensen
06/07/1999 — 1999 U.K. Crop Circle Update with Photographer Peter Sorensen
---
Websites:
http://www.members.iinet.net.au/~bwratten/ccc.html
http://www.cropcircleconnector.com
http://www.temporarytemples.co.uk
http://www.kornkreise-forschung.de
http://www.cropcircleresearch.com
http://www.CropCircleAnswers.com
http://www.ukcropcircles.co.uk/?page=home

© 1998 - 2023 by Linda Moulton Howe.
All Rights Reserved.