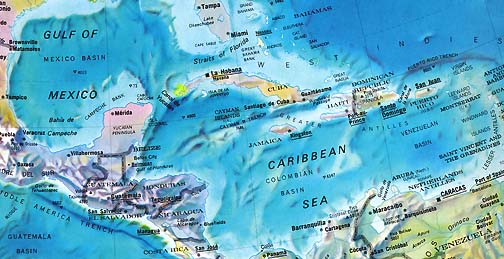 April 8, 2006  Silver Spring, Maryland  –  Eight months ago in August 2005, before Hurricane Katrina hit land on August 29th, the Gulf of Mexico and Caribbean  water  temperatures were the warmest on record going back to the beginning of record keeping a hundred years ago. Water west of Florida and the Keys measured 79 degrees F. to a depth of 150 meters (492 feet).
And never in weather records had two Category 5 hurricanes occurred within three weeks of each other in the same hurricane season – and on the same path. Those gigantic storms were Katrina followed by Rita, both fed by all that warm water in the Caribbean.
Today we know the 2005 hurricane season had the greatest number of intense storms ever,  dominated by Katrina which is now in the record books as the  most expensive natural disaster in American history.  With global warming expected to keep raising the world's average mean temperature for the remainder of this century,  ocean waters are also expected to be warmer.
Those warmer ocean temperatures mean more chances for another Katrina AND the decline and die-off of one of the world's most valuable life forms: coral reefs.  Coral reefs are like rainforests in the oceans which provide shelter to more than 25% of all marine life.  In only the past 25 years,  35 million acres of coral reefs have been destroyed – largely by human activities that range from water pollution to dynamite fishing and ramming boats into the fragile reefs. If the present rate of destruction continues, 70% of the world's coral reefs will be gone in a few decades. Like dominoes falling, when the reefs die, whole populations of fish, marine animals and plants have to move to survive. And survival is not guaranteed without the protective reefs.
Now comes sobering new data from the National Park Service, NOAA and Caribbean scientists that the warm Gulf of Mexico and Caribbean waters of 2005 caused the biggest coral reef die-off on record.  "Unprecedented," says Mark Eakin, Ph.D. in Biological Oceanography and Coordinator for NOAA's Coral Reef Watch based in Silver Spring, Maryland.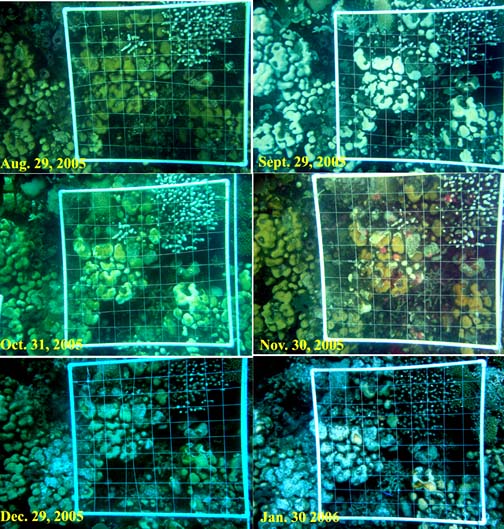 ---
Interviews:
Mark Eakin, Ph.D., Coordinator, Coral Reef Watch, National Oceanic and Atmospheric Organization (NOAA), Silver Spring, Maryland :  "What we've seen in using our global satellite data is that the warming in the Caribbean in 2005 was the largest that we've ever seen. From the satellite data, we see that the thermal stress to which the corals were exposed was greater than any we have seen in the last 20 years of records. And if we look at just average temperatures of the eastern Caribbean, September when the major warming was going on in the eastern Caribbean – it was the warmest September we have seen in the last 100 years of records.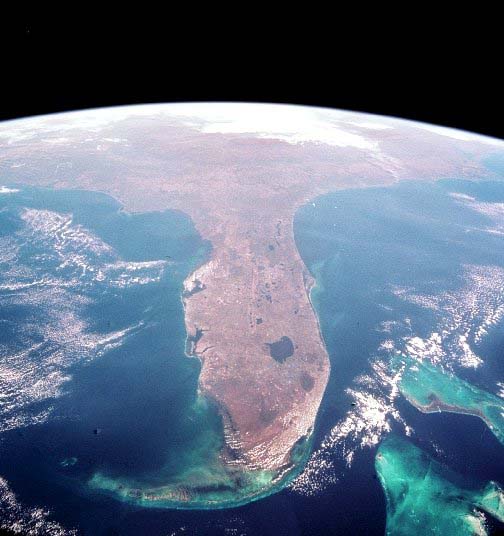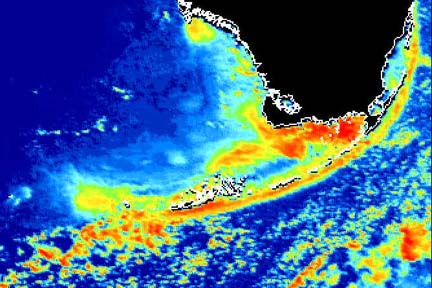 What we saw in 2005 was a warm water mass in the eastern Caribbean that was much more severe than any we've seen in the satellite or instrument records. The result of this was bleaching that extended throughout much of the Caribbean. In some areas such as the Virgin Islands, they saw over 90% of their corals bleached and more than 20% mortality on average. That wasn't in just that part of the Caribbean. This level of bleaching extended across the entire eastern Caribbean and was preceded by bleaching in the Florida Keys, in the flower garden banks off Texas, and on reefs off Panama and Belize. So, this was an event that went across the entire Caribbean. Right now as we're speaking, there is another area of warm water off of
Fiji and Tonga – we just heard reports that there is some mild bleaching going on in those areas.
THE BLEACHING IS ALMOST ALWAYS ASSOCIATED WITH WARMER WATER THAT CAUSES THE SYMBIOTIC ALGAE TO LEAVE THE CORAL ANIMAL?
That's correct. The same warm water throughout the Gulf and across the tropical Atlantic that leads to the most intense Atlantic hurricane season on record was the same water that leads to the coral bleaching. So, we're looking at a large-scale climate event that has many impacts.
Worst Case Future for Corals and Marine Life?
IF WE ARE IN GLOBAL WARMING AND WE CAN'T SUDDENLY REDUCE THE CO2 AND METHANE BLANKET THAT IS WARMING THE PLANET, THEN WHAT IS THE WORST CASE FUTURE FOR CORALS AND MARINE LIFE?
It's hard to really say what the worst case is. There is a wide range of different scenarios that have come out from the scientific community. What we do know though is that we expect an increase in ocean temperatures, as well as an increase in atmospheric temperatures. As those temperatures increase, coral bleaching events become more frequent and more severe. How severe and how frequent they are going to be depends on a lot of things that are still uncertain in the computer models. It would be difficult to project how the corals are going to respond over the next 100 years.
IS IT FAIR TO SAY THAT THE DIE-OFF OF THE CORAL IN THE 2005 TO 2006 EVENT IS AS MUCH AS 30% IN SOME AREAS OF THE CARIBBEAN?
I've seen numbers that exceed 25%. But the important part is that these surveys are still going on now. So the extent of this event is still being learned.
IT IS UNPRECEDENTED?
Absolutely."
830-Year-Old Star Coral Died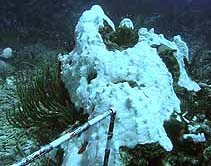 One of the most recent science reports about the unprecedented Caribbean coral die-off came from  Prof. Hernandez-Delgado at the Univ. of Puerto Rico. He recently found that a colony of 830-year-old star coral that was more than 13 feet high is now all dead. This surprising death, along with so many other reef corals, has only happened in the past four to five months.  That nearly 1000-year-old coral had survived  a lot of previous climate changes –  until now.
This week I asked a Fisheries Biologist with the U. S. National Park Service in the Virgin Islands if the death of 830-year-old star coral reefs in 2006 could mean in the future all coral reefs could die?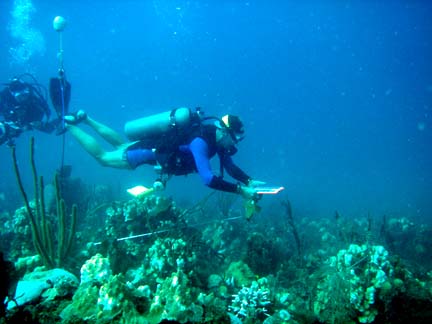 Jeff Miller, Fisheries Biologist, U. S. National Park Service, Virgin Islands National Park, St. John, Virgin Islands: "That is a very grave concern. When we have a ship that runs aground, they can pulverize a number of 800-year-old coral colonies as well.
BUT ISN'T HIS POINT THAT IN 800 YEARS, THIS HAS NOT HAPPENED TO THE PUERTO RICO STAR CORAL BEFORE NOW, WHICH MEANS THAT WHATEVER THE CONDITIONS ARE, THEY ARE WORSE THAN THEY HAVE BEEN FOR 800 YEARS?
We can say the accumulative effect of everything had a fatal result on that coral colony. And it's absolutely disturbing that that happened. There is no doubt. On one hand, I feel very honored to be able to see these corals. And then I feel very sad watching them die and knowing there is nothing I can do about them. They have lived for so long and I have to sit there and go out week after week and watch them disappear.
It is very troublesome. It is very discouraging. But yet, we have to keep trying to do something for the aspects we can manage. We have to keep researching. What caused that 830-year-old coral to die? Was it a bacterial infection? Was it a combination of different types of bacteria? What was the connection between the bleaching event and the coral disease that caused it to die in such a short period of time? Absolutely – those are questions we have to answer. Thank goodness he was there to document it so we can raise it to a national priority and say: let's do some genetic work and find out what really happens on a DNA level when these corals get sick. If you think it's hard to figure out how you catch the flu, imagine trying to figure out how a coral gets sick.
IF ALL THE CORAL IN THE CARIBBEAN AND OTHER PLACES WHERE THERE ARE CORAL REEFS DID DIE, WHAT WOULD BE THE WORST CASE FOR THE OCEANS?
If all the coral were to die – boy! I don't think there would be a time when all the coral dies. Reefs have survived a number of times through geological time. I think what we're seeing is as the reefs as we know them would change. Different components will move in such as sponges, macro algae. What happens when we lose reefs is there would be more shoreline erosion, the fisheries would be affected to a large degree, and islands that depend upon those fish for protein and food would be affected by the decline of reefs.
There are serious downstream consequences of coral decline, more so than just 'There won't be anything there to look at when I go on vacation.' There are some substantial consequences."
Coral Future in 2006?
This week, hurricane forecasters at Colorado State University announced the 2006 hurricane season will be busy with more large storms than normal, but will not be as terrible as last year. Their projections are based on complex data that change from season to season. Let's hope they are right and there isn't another Katrina. But coral reef scientists are very concerned that as water temperatures climb this summer, more coral will bleach and die.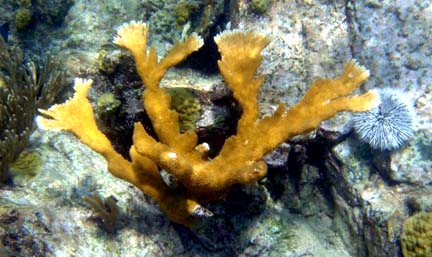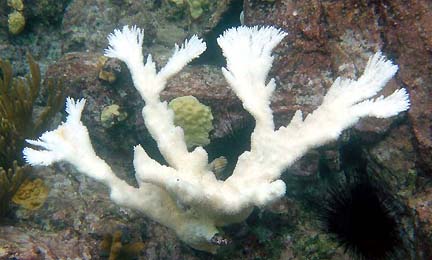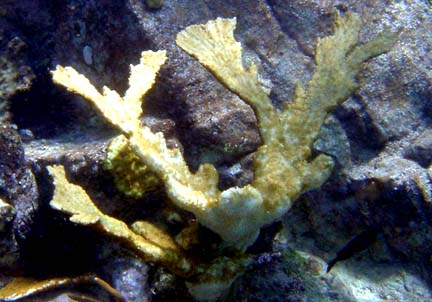 Coral Reef Restoration Project in Bali, Indonesia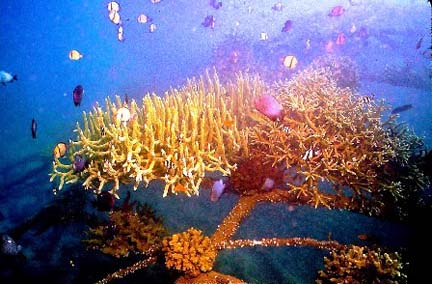 ---
More Information:
For more about threatened marine life in the face of global warming, please see reports below in Earthfiles Archives:
02/20/2006 — Mysterious Deaths of Whales in Mexico
09/29/2005 — 2005 Arctic Summer Ice Melt – Largest On Record
09/23/2005 — Phenomenon of "Instant" Hurricanes in 2005
08/26/2005 — What Is Killing Amphibians Around the World?
08/05/2005 — Scientists Puzzled by "Bizarre" Pacific Coast Die-offs in 2005
07/14/2005 — 8,000 White Pelican Chicks Mysteriously Died At Chase Lake, North Dakota
04/01/2005 — What's Killing Off Marine Life Every 62 Million Years?
01/22/2005 — From U. S. to Arctic – A Sea Change in the Weather
11/02/2004 — North Pole Summers Without Ice?
08/01/2004 — Sixth Straight Year Hundreds of Birds Die at Roestler Lake, North Dakota
07/24/2004 — What's Happening to Birds? – More Reports
07/22/2004 — What Is Happening to Birds? Updated With Viewer Reports
06/29/2004 — Four White Pelicans from Missing 29,000 Tracked by Satellite
06/17/2004 — 29,000 American White Pelicans Have Disappeared from North Dakota Wildlife Refuge
02/27/2004 — Abrupt Climate Change: Scenario from A Pentagon-Commissioned Report
12/14/2002 — Arctic Rivers' Fresh Water Flows Could Change Atlantic Ocean Current
11/14/2002 — What Happened 12,000 Years Ago That Killed So Many Animals?
07/20/2002 — Extinctions of Earth Life Are Accelerating Rapidly
04/01/2002 — Scientists Investigate Dark Coastal Waters of Southwest Florida
03/21/2002 — Antarctic Peninsula Is Melting – And So Is Arctic Ice
02/13/2002 — January 2002 Warmest On Record For Whole World
02/25/2001 — Environmental Updates
02/18/2001 — Environmental Updates and Mysterious Deaths of 2000 Atlantic Brant Geese
09/10/2000 — Arctic Ice Melt Threatens Polar Bears
07/02/2000 — Brown Tide Devastating Long Island'sGreat South Bay Shellfish
04/16/2000 — Environmental Update April 16, 2000
01/23/2000 — Possible Link Between 100,000 Lobster Deaths & Pesticide Spraying
11/18/1999 — Short Environmental Updates
10/24/1999 — Short Updates About Environmental Problems
10/21/1999 — Bird Deaths In Mascoutah, Illinois and Erie, Pennsylvania
10/10/1999 — Hurricane Floyd Runoff Suffocating North Carolina Estuary
06/08/1999 — Increased Gray Whale Deaths in Spring 1999
05/04/1999 — Mysterious Deaths of Harbor Porpoises on East Coast
---
Websites:
http://www.coralreef.noaa.gov/
http://www.solcomhouse.com/coralreef.htm

© 1998 - 2023 by Linda Moulton Howe.
All Rights Reserved.