April 11, 2006  Darmstadt, Germany  –  The European Space Agency (ESA) reported this morning that "at the end of a 153-day and 400-million km cruise into the inner Solar System beginning with its launch on 9 November 2005, ESA's Venus Express space probe fired its main engine at 09:17 CEST for a 50-minute burn, which brought it into orbit around Venus. With this firing, the probe reduced its relative velocity toward the planet from 29,000 to about 25,000 km/h and was captured by its gravity field. This orbit insertion maneuver was a complete success.
"During the next four weeks, the Venus Express probe will perform a series of maneuvers to reach the scheduled operational orbit for its scientific mission. It will move from its current highly elongated 9-day orbit to a 24-hour polar orbit, culminating at 66,000 kilometers. From this vantage point, the orbiter will conduct an in-depth observation of the structure, chemistry and dynamics of the atmosphere of Venus."
Monitoring Venus's Strange,
Spinning Atmosphere
"From previous missions to Venus as well as observations directly from Earth, we already know that our neighboring planet is shrouded in a thick atmosphere where there are extremes of temperature and pressure conditions. This atmosphere creates a greenhouse effect of tremendous proportions as it spins around the planet in four days in an unexplained 'super-rotation' phenomenon.
"The mission of Venus Express will be to carry out a detailed characterization of this atmosphere, using state-of-the-art sensors in order to answer the questions and solve the mysteries left behind by the first wave of explorers. It will also be the first Venus orbiter to conduct optical observations of the surface through 'visibility windows' discovered in the infrared spectrum.
"The commissioning of the onboard scientific instruments will begin shortly and the first raw data are expected within days. The overall science payload is planned to be fully operational within two months.
Venus Has No Protective Magnetosphere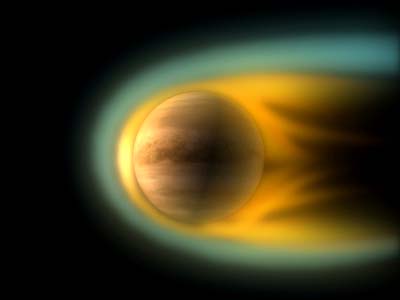 "Venus is a planet with no intrinsic magnetic field, which is quite different from Earth. Venus has no shield to protect it from the continuous attack of the capricious and violent solar wind. Venus Express will study how much of the atmosphere of the planet escaped under the bombardment of the solar wind and how much it combined with the surface material. On the outer edge of the atmosphere, the Aspera instrument and a magnetometer will investigate the interaction with the solar wind and plasma it generates in an open environment without the protection of a magnetosphere like the one we have around Earth. The VMC wide-angle multi-channel camera will provide imagery in four wavelengths, including one of the 'infrared windows' which will make imaging of the surface possible through the cloud layer. It will provide global images and will assist in the identification of phenomena detected by the other instruments."
Does Venus Have Active Volcanoes?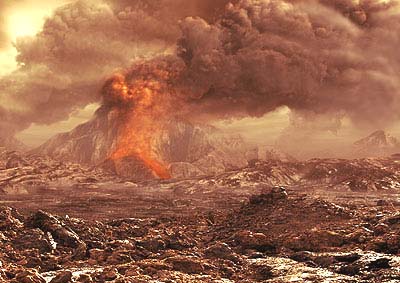 "An artist's illustration of possible volcano on Venus. Based on data from previous missions to the hot planet, Venus might be among the most geologically active in the solar system. Venus Express will look for gaseous markers in the lower layers of the atmosphere and variations in the planet's temperature which might indicate volcanic activity. Local variations in atmospheric temperature and pressure might also indicate seismic activity."
ESA Spacecraft Now Studying Venus, Moon, Mars and Saturn
"With the arrival of Venus Express, ESA is the only space agency to have science operations under way around four planets: Venus, the Moon, Mars and Saturn."
"'To better understand our own planet, we need to explore other worlds in particular those with an atmosphere,'" said Jean-Jacques Dordain, ESA Director General. "'We've been on Titan and we already are around Mars. By observing Venus and its complex atmospheric system, we will be able to better understand the mechanisms that steers the evolution of a large planetary atmosphere and the change of climates. In the end, it will help us to get better models of what is actually going on in our own atmosphere, for the benefit of all Earth citizens.'"
---
More Information:
For more about solar system exploration, please see reports below in Earthfiles Archives:
03/17/2006 — Planet Earth's Ice Melt
11/18/2005 — Is the Sun Heating Up?
11/09/2005 — Dust Storm On Mars, Cosmic First Light and Black Hole At Our Galaxy's Center
10/19/2005 — Saturn's Icy Moon, Dione, Up Close
09/23/2005 — 9 X-Class Solar Flares Between September 7 – 19, 2005.
09/16/2005 — "Planet X" and the Kuiper Belt's Oddballs, "Santa" and "Easterbunny"
08/12/2005 — Deep Impact Spectra: Carbonate, PAHs and Some Amino Precursors in Comet Tempel I
07/30/2005 — Astronomers Report 10th Planet Far Beyond Pluto
07/10/2005 — First Data from Deep Impact Crash Into Comet Tempel I
06/29/2005 — July 3-4, 2005: NASA "Deep Impact" Spacecraft to Blast Hole in Comet Temple I
05/07/2005 — Did Milky Way Gas and Dust Turn Earth Into Icy Snowball Four Times?
05/06/2005 — What Are The Straight Lines on Saturn's Titan Moon?
04/01/2005 — What's Killing Off Marine Life Every 62 Million Years?
03/25/2005 — Glow of Distant Worlds Seen For First Time
03/20/2005 — Astronaut John Young: "The Moon Can Save Earth's Civilization."
03/03/2005 — What Made Five Strong Radio Bursts At the Center of Our Galaxy?
02/17/2005 — Iapetus and Enceladus: Baffling Moons of Saturn
02/11/2005 — Story Behind "Inflation-Theory Implications for Extraterrestrial Visitation"
02/11/2005 — Sunspot Region 720 Emitted Strongest Solar Radiation Since October 1989.
01/22/2005 — Titan – A Moon Where It Rains Methane Into Seas and Soils of Hydrocarbons
01/13/2005 — NASA "Deep Space" Craft Will Hit Comet On July 4, 2005
12/17/2004 — Is Our Solar System's Red, Mysterious Sedna An Alien Planetoid?
11/17/2004 — European Space Agency's SMART-1 Satellite Begins Moon Orbit
10/07/2004 — Exploding Stars: Investigating the 1604 and 1987 Supernovas
08/28/2004 — Near-Earth Asteroid 4179 Toutatis Comes By Again On September 29, 2004
06/25/2004 — Wild 2, An Amazing Comet
06/11/2004 — Cassini Spacecraft Will Rendezvous with Saturn July 1, 2004
05/17/2004 — Unidentified Lights in Sunrise Photograph from Long Island, N. Y.
03/15/2004 — Most Distant "Icy Planetoid" in Our Solar System Has A Most Baffling Orbit
03/05/2004 — Part 3 – Mars: A Sulfate Salty Planet – Could It Have Sulfate-Loving Microbes?
02/11/2004 — Part 2: Opportunity Finds Martian Bedrock Has Lots of Sulfur and Small Spherical Rocks
02/03/2004 — Planet 150 Light Years from Earth Has Oxygen and Carbon Atmosphere
01/24/2004 — Updated – Spirit Alive, But in "Critical" Condition. Mars Express Sees Water Ice
01/19/2004 — Earthfiles and Radio Audience Feedback About Anomalous Sky Objects
01/14/2004 — President Bush's Sets "New Course for America's Space Program"
01/13/2004 — Part 1 – Is Dark Matter the "Heavy Shadow" of Visible Matter?
01/09/2004 — Robotic "Geologists" on Mars
12/07/2003 — "Smoking Gun" Evidence That Liquid Water Has Flowed on Mars?
10/25/2003 — Science Data Reinforces Invisible "Dark" Matter and Energy Make Up 96% of Our Universe
09/02/2003 — Updated – Astronomers Don't Think Asteroid Will Hit Earth in 2014
08/27/2003 — No Ancient Oceans On Mars? Only Glaciers?
08/26/2003 — Mars At Its Closest August 27, 2003, At 2:51 a.m. PDT / 5:51 a.m. EDT.
03/07/2003 — Scientist's Record Sun's Plasma Interaction with Comet NEAT
02/27/2003 — Pioneer 10 Goes Silent
01/05/2003 — What Are the Grooves in the Martian South Pole
10/07/2002 — Large Kuiper Belt Planetoid Found Beyond Pluto
09/07/2002 — Does Gravity Travel the Same Speed as Light?
07/25/2002 — Mile and A Half Diameter Asteroid 2002 NT7 Might Impact Earth in 2019
07/11/2002 — Hubble Telescope Photographs Seven Objects Traveling In Pairs Beyond Pluto
06/14/2002 — Another Solar System Like Ours?
06/01/2002 — Scientists Surprised by Abundance of Water On Mars
02/24/2002 — Mysterious Slowing of Pioneer Spacecraft 7 Billion Miles from Earth
01/26/2002 — Something Is Perturbing Comet Orbits in the Oort Cloud Surrounding Our Solar System
12/20/2001 — Will Our Universe End With Its Final Light Frozen in Time?
12/15/2001 — Are Carolina Bay Craters Linked to Atlantic Ocean Impact and Sinking of Atlantis?
11/10/2001 — The Orion Constellation and the Pyramids of Giza
08/25/2001 — Are Crop Formations at Chilbolton Observatory A Response to 1974 Earth Transmission?
06/06/2001 — Another Unusual "Face" On Mars
03/18/2001 — Can Earth Plants and Bacteria Grow On Mars?
03/11/2001 — Are the "Tubes" On Mars from Lava, Water, or Wind?
02/12/2001 — NEAR Shoemaker Spacecraft's Historic First Landing On Eros Asteroid
01/14/2001 — An Australian Zircon Crystal is 4.4 Billion Years Old
12/24/2000 — Martian Bacteria?
12/03/2000 — Bacteria from Outer Space?
10/09/2000 — Astronomy Updates
10/01/2000 — A Search for Earth's First Life
09/24/2000 — Asteroid Eros: Up Close, and Then A Landing?
09/12/2000 — Black Holes – A Surprising Mass in the M82 Galaxy
06/26/2000 — 250 Photographs of Mars Show Signs of Water
04/24/2000 — A Black Hole in the Big Dipper?
03/11/2000 — Is 433 Eros Asteroid Younger Than Expected?
02/16/2000 — 433 Eros, Orbiting An Asteroid Up Close
01/28/2000 — Black Hole Mystery at the Center of the Andromeda Galaxy
01/17/2000 — Chandra Telescope Helps Solve X-Ray Mystery
12/01/1999 — Six More Planets Discovered 60 to 190 Light Years Away
11/18/1999 — Short Environmental Updates
11/06/1999 — Leonids – and Linearids? – Light Up November Skies
10/25/1999 — A Mysterious "Perturber" at the Edges of Our Solar System
09/24/1999 — New Photos from NASA's Chandra X-Ray Observatory
08/28/1999 — Oddball Quasar and Salt Water Inside Meteorite
06/27/1999 — Microbes Two Miles Below Earth Surface in South Africa
06/15/1999 — Current Brightest Binocular Comet and Upcoming Solar Eclipse
02/01/1999 — Astronomy Updates with Brian Marsden and John Huchra, Harvard
---
Website:

© 1998 - 2019 by Linda Moulton Howe.
All Rights Reserved.