"She did not know if it was a helicopter, a UFO or what. She stayed there (on the balcony) for four or five minutes until she realized it was a horse."
– Jaime Maussan, Investigative Reporter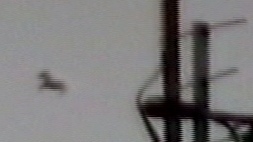 June 22, 2006  Mexico City, Mexico   –  While scientists are trying to save polar bears and other animals faced with hardship and extinctions as planet Earth continues to warm up this century, another kind of animal threat continues to happen around the world without comment from scientists or political leaders. Law enforcement calls that threat, "animal mutilations." The bloodless, trackless deaths have occurred among horses, cattle, sheep, goats, domestic cats and dogs, and wild animals around the world since at least the early 1960s. Long associated with the strange animal mutilations have been beams of light coming from unidentified aerial discs in the sky. I have interviewed about a dozen ranchers and other eyewitnesses who have seen animals either raised up from pastures in light beams or lowered back, dead and mutilated. What is that powerful beam technology? And who, or what, focuses the beams on animals – and even sometimes people? Military and intelligence insiders say the perpetrators are "extraterrestrial biological entities."
If so, was it an extraterrestrial beam that lifted a brown horse in the air near a Milan, Italy, apartment building and kept the horse suspended about a hundred feet off the ground? Or was it a balloon hoax? The incident goes back eight months ago to October 17, 2005, at 5:07 p.m., Milan time. The exact date and time were recorded on three minutes of digital videotape taken by Milanese fashion designer, Antonio Urze, from his 6th floor apartment balcony. His girlfriend, Simona Sibila, called him excitedly to get to the balcony to see the "flying horse." And Simona was called to the balcony by her young sister, who first cried out that she saw a horse "flying in the sky."
Antonio Urze and Simona Sibila are both in their late twenties and are successful professionals in Milan's active fashion industry. The unmarried couple has lived together in the same Milan apartment for the past five years. And both say they have seen strange phenomena since they were young, but don't know why. However, each thought the horse suspended in mid-air might mean another intelligence out there wants people to know that a large horse can be lifted and held high in the air. The couple wonders if the implication of the "flying horse" is that Something wants the human species to be better prepared to see such events on a more frequent basis.
In March of this year, the couple met Mexico investigative journalist and TV producer, Jaime Maussan, in Italy. They showed Jaime the videotape. He asked for a copy to study back at his offices in Mexico City and called me to say that what he was seeing on the tape reminded him of my animal mutilation investigative reports about eyewitnesses who have described animals rising in beams of light.
Jaime sent me a dub of the three-minute videotape that Antonio Urze shot from his 6th floor balcony in Milan. Unfortunately, because Antonio did not put the camera on a tripod, the lens is constantly moving and most of the individual video frames do not show a well-focused horse. Jaime sent me two frames from the videotape. One shows a wide shot that includes towers and antennae in the foreground and the horse suspended nearby.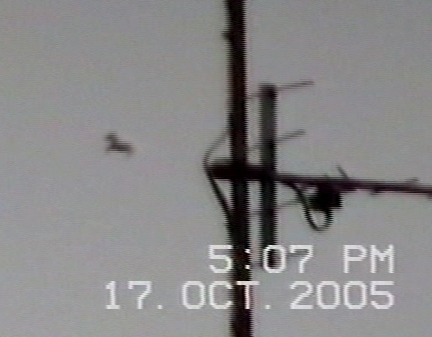 The second frame is zoomed in more and shows a silhouette of a horse, seemingly tipped up more vertically from the other frame. In the first minute or so, the sun does reflect off what seems to be an actual horse for a couple of seconds and the horse's hair is a brownish-red.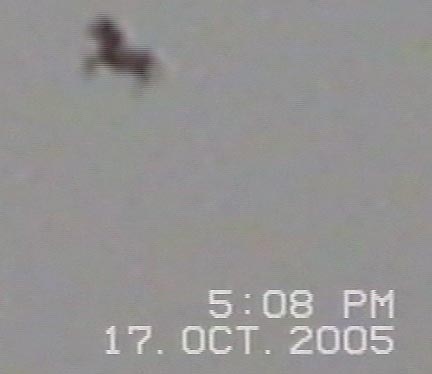 This week after screening the videotape several times, I called Jaime Maussan for an interview about what he has learned from the couple so far and how he plans to investigate further.
---
Interview:
Jaime Maussan, Investigative Journalist and Owner, Jaime Maussan Productions, which produces a television show called "Big Mysteries of the Third Millennium,"  Mexico City:  "They said the first person who saw the object, or horse, was a little girl, the sister of Simona. She was very excited, saying that a horse was flying. Simona came out to the balcony and then she saw something. But she did not understand what she was seeing. She did not know if it was a helicopter, a UFO or what. She stayed there for four or five minutes until she realized it was a horse. At that moment, she went inside and called Antonio Urze, who came and saw the horse for two or three minutes before he went inside to get his video camera and record what he was seeing.
You can hear in the video the voices of Simona and Antonio talking about the flying horse (in Italian). Antonio said in the interview that he knows about horses and he was able to see the horse very close from him. He saw sometimes that for him demonstrated that the horse was very tense. The ears were very pointed to the front. The neck very tight. He saw the legs moving and he realized that this horse was alive. That's when he decided that he had to record this. The duration of the tape shows it was brief, but at the same time long enough to see the perfect form of a very big horse. This horse is not a small horse, but very big. The color is brown. You can see that in the videotape. That's what I know about the incident.
They are absolutely convinced that these events happened as a demonstration of the beings that are somehow showing them the UFOs very close to them. They believe these are demonstrations. They don't understand exactly why, but that's what they believe, Linda.
COULD THE LITTLE GIRL OR COUPLE EVER SEE ANYTHING THAT MIGHT BE A BEAM HOLDING THAT HORSE IN THE AIR?
No, they just saw the horse flying. They never saw any kind of craft or anything else. They just saw the horse moving.
IN THE VIDEOTAPE, YOU CANNOT REALLY SEE MOTION OF THE HORSE ITSELF AS ANTONIO DESCRIBED HE COULD SEE WITH HIS EYES.  WHAT DID HAPPEN TO THAT HORSE? WHY DID ANTONIO STOP VIDEOTAPING?
That question, I don't know the answer for sure. I wonder, too, but it seems that the horse as we see at the end of the tape is going away and you can see the horse is very little when we had the last moment of the shot. In my opinion, the horse is really moving (while suspended).
IN TERMS OF EYEWITNESS DESCRIPTIONS IN INTERVIEWS WITH ME OVER THE LAST THREE DECADES, WHEN PEOPLE HAVE SEEN ANIMALS AND HUMANS RISE IN THESE BEAMS OF LIGHT, THE ANIMALS USUALLY AREN'T MOVING. IT IS AS IF WHATEVER THE BEAM TECHNOLOGY IS, IT SOMEHOW PARALYZES OR HOLDS IN PLACE PEOPLE OR ANIMALS.
I don't know if they (alien intelligence) were carrying this horse with a beam, or what?  We don't see the beam and we don't see a craft. I don't know if this is a similar event (to past interviews by Linda), or not?
Other Eyewitnesses and High Strangeness in Milan
IN THESE LAST 8 MONTHS SINCE OCTOBER 17, 2005, AT 5:07 P.M. – WHICH IS ON THE VIDEOTAPE WHEN THEY WERE VIDEOTAPING – HAVE THEY SEEN ANYTHNG AT ALL REALLY UNUSUAL NEAR THEIR APARTMENT IN MILAN?
Yes, they have continual recordings. They sent me some images. I won't have the new video until I go to Milan of what looks like some kind of robot or humanoid flying very close to them. The images are really startling. But they are just still images. I haven't seen the video of this (robots) flying. They e-mail me that they have new events happening very close to them.
It's very important that you see the other videos they have recorded because some of them are the best I've ever seen regarding UFOs. For that reason, I really believe that this couple is having a very particular experience – like having not just one contactee, but two contactees. But they are not claiming that they have received messages or that they have communication. All they say is that they have experiences.
And Antonio Urze, he claims that when there is going to be an important event or something in the sky, he feels it in the chest. When he feels that sensation, he takes the camera and he goes out and he sees the craft. But that did not happen with the horse. The horse, he didn't feel anything. He came out (on the balcony) because Sibila was calling him.
It seems there are many witnesses around Milan regarding these unusual events. Many of the eyewitnesses (in Milan) are policemen. That's very interesting. Another very important thing regarding the video of the horse is that Antonio tried to investigate around the area where they live. Somebody had to have lost a horse. But they could not find anybody who had lost a horse.
They (couple) looked honest and sincere to me. They didn't ask anything for their video. They said I should copyright the videos and give any money to the children of Georgia because as you know, Georgia  is feeding more than 2000 kids every day in Uruguay and Argentina. They gave the rights to all of their material to the Georgia boys. For me, that looked very nice and proves they don't want money, they don't want fame, even though he is a designer of clothes, a fashion designer, and she is also a designer and a model. She is a very beautiful woman. They are a very handsome couple, I would say. They live very well. They are very successful. They are really professionals. I don't find any reason to believe they are trying to hoax something, or lie about this. All they want is that the case is known around the world. They are not afraid of anything. They are not afraid of criticism. They don't care about criticism and they are willing to confirm anything because they really believe that the experience is important and is absolutely real.
Was It A Sophisticated Balloon?
CAN YOU TELL US WHAT YOU PLAN TO DO IN MEXICO CITY IN JULY TO TRY TO ANSWER THE CRITICISM THAT THIS MIGHT BE SOMEBODY'S HOAX WITH A BALLOON SHAPED LIKE A HORSE?
We are going to create a horse and we are going to try to make it fly exactly the same way it looks in the video. We will also take small balloons in the shape of a horse to see how they fly. We will do our best to try to really replicate to find the real answers. And if what is happening in Milan is really extraordinary. Or is it something which could be easily explained?"
---
More Information:
I appreciate hearing from Earthfiles viewers and radio listeners about your own firsthand knowledge and experiences concerning these subjects, or other earth mysteries. I always protect identities, if requested. Please e-mail: [email protected]
For further information about animal mutilations, a lifting beam technology and extraterrestrial biological entities, please see reports below in the Earthfiles Archives  and my books and documentaries in the Earthfiles Shop.
06/01/2006 — Recent Cattle Mutilations in Kiowa County, Colorado
05/05/2006 — Military Man's Description of EBE Telepathic Download
04/28/2006 — Modern Warfare Applied to Extra-Terrestrial Invasion
04/03/2006 — Genetic Harvest in Cimarron, New Mexico?
02/27/2006 — Part 4: Military Voices Reply About Government Interaction with UFOs
01/27/2006 — Part 2: Navy Physicist and USAF Geophysicist Discuss UFOs and ETs
01/13/2006 — 31st Cattle Mutilation on Red Bluff, California Ranch
11/02/2005 — Part 3: Unusual Animal Deaths -Sheep Mutilations in Moortown, Dartmoor, England
10/30/2005 — Updated Part 2: Unusual Animal Deaths – Another Half Cat Mutilation in San Antonio, Texas
10/27/2005 — Updated Part 1: Unusual Animal Deaths – 22 Horses and 1 Burro Near Calhan, Colorado
10/22/2005 — A Lifting Beam Technology in Colorado Human Abduction
10/03/2005 — 2005 Horse Mutilation in France
09/15/2005 — Animal Mutilations Reported in Switzerland, Hollywood and Kansas
08/26/2005 — Another Cattle Mutilation in Canada
08/22/2005 — More Half Cat Reports: San Jose and Seattle
08/13/2005 — Mystery of Bloodless, Decapitated Kangaroos in Melbourne, Australia
08/11/2005 — Part 4: Two Men See Cow Mutilated in Light Beam
08/03/2005 — Another Cattle Mutilation in Pondera County, Montana
08/02/2005 — Part 1: Anomalies Confirmed in Pennsylvania and Arizona Randomly Downed Crops
07/28/2005 — Feedback on Half Cat Mystery
07/14/2005 — More Half Cat Mutilations in Seattle, Washington Region
07/07/2005 — Part 2: Eyewitness Description of Cattle Mutilation
07/04/2005 — Part 1: Eyewitness Description of Cattle Mutilation
07/01/2005 — U. K. Bicyclist Reports Mysterious, Low Hovering Objects Bending Wheat
06/23/2005 — Updated: More Than 3,000 Unusual Animal Deaths Reported in Argentina and Chile Since 2002
06/17/2005 — Unusual Cow Death in Paradise Hill, Saskatchewan, Canada
04/13/2005 — Highly Strange Dog Death in Arkansas; 2000-Pound Bull Dropped On Log Pile and Calf Skinned
02/21/2005 — Updated – Bull and Cow Mutilations Northwest of Corpus Christi, Texas
01/15/2005 — Bull and Cow Mutilations Northwest of Corpus Christi, Texas
12/22/2004 — Part 2: "Reasons Why U.S. Government CAN'T Release Truth About UFOs!" with Canadian Researcher, Grant Cameron
12/22/2004 — Part 1: "Reasons Why U.S. Government CAN'T Release Truth About UFOs!" with Canadian Researcher, Grant Cameron
12/10/2004 — Part 3: "Peculiar Phenomena," V-2 Rockets – and UFOB Retaliation?
12/10/2004 — Part 4: "Peculiar Phenomena," V-2 Rockets – and UFOB Retaliation?
12/07/2004 — Part 2: "Peculiar Phenomena," V-2 Rockets – and UFOB Retaliation?
12/04/2004 — Part 1: "Peculiar Phenomena," V-2 Rockets – and UFOB Retaliation?
09/25/2004 — Part 6: "Clearview" Report on the Investigation of UFO Experiences on A Rocky Mountain Ranch
09/13/2004 — Part 1: "Clearview" Report on the Investigation of UFO Experiences on A Rocky Mountain Ranch
08/11/2004 — Newborn Heifer Mutilation in Anderson, California, on August 7, 2004
07/27/2004 — Part 12: UFO Crash/Retrievals: The Inner Sanctum – Status Report VI © July 1991 by Leonard H. Stringfield
07/21/2004 — The Apollo Program, Cape Canaveral and UFOs
04/26/2004 — Update About Microbiologist Dan Burisch, Ph.D.
02/24/2004 — Part 1: UFO Crash/Retrievals: The Inner Sanctum – Status Report VI © July 1991 by Leonard H. Stringfield
01/24/2004 — Oregon Man's Experiences with High Strangeness
12/21/2003 — Part 4 – UFO Crash/Retrievals, Status Report VII by Len Stringfield
10/28/2003 — Part 2 – U. S. Presidents and UFO Investigations
09/12/2003 — More Domestic Cat Mutilations – Again in Bothell, Washington
08/01/2003 — Field Notes About English Animal Mutilations
07/01/2003 — 40 Small Animal Mutilations in Denver and 11 in Salt Lake City
05/28/2003 — Cat and Dog Mutilations in Salt Lake City; $6,500 Reward
04/19/2003 — Unusual Animal Deaths in Valparaiso, Nebraska
03/08/2003 — Cattle Mutilation – The Unthinkable Truth, Chapter 3, Part Two
02/03/2003 — Cattle Mutilation – The Unthinkable Truth, Chapter 3, Part One
12/07/2002 — Cattle Mutilation – The Unthinkable Truth, Chapter 1, Part Three
11/16/2002 — More Cat and Cow Mutilations: Colorado, Utah and Missouri
11/05/2002 — Canadian Crop Circles and Mysterious Lights in Saskatchewan
10/15/2002 — Chapter 8 – Mystery Stalks The Prairie
10/05/2002 — Part 2 – J-Rod and Microbiologist Danny B Burisch, Ph.D.
10/05/2002 — Part 1 – Two Scientists Describe An Extraterrestrial Biological Entity Called "J-Rod"
09/07/2002 — High Strangeness Continues in Argentina
08/31/2002 — One ET Experiencer's Reaction to the Winchester Formation
07/19/2002 — Unusual Animal Deaths and Unidentified Aerial Lights Persist in Argentina
07/02/2002 — Argentina's SENASA Blames Mouse for Animal Mutilations
06/22/2002 — Argentina Animal Mutilation Count Rising Above 100 – Federal SENASA and INTA Investigations Have Begun
06/17/2002 — Part 3 – Deer and Cattle Mutilations in Oregon
06/15/2002 — Cattle Mutilations In LaPampa, Argentina
05/18/2002 — A Bull Mutilation in Christmas Valley, Oregon
03/16/2002 — Part 1 – 'Huge Saucer Armada' Shocked Farmington, New Mexico 52 Years Ago
01/12/2002 — Part 1 – Update On 2001 Montana Cattle Mutilations
10/13/2001 — Heifer Mutilation and Mysterious Light in Mantario, Saskatchewan, Canada
08/24/2001 — Part 2 – Unusual Montana Mutilation of Live Bull
07/28/2001 — Pure Hemoglobin Confirmed On Alabama Mutilated Cow
07/22/2001 — Mutilated Bull Calf in Missouri
06/09/2001 — Environmental Updates and Colt Mutilated in Leitchfield, Kentucky
05/11/2001 — Horse Slashings and Deaths in Calgary, Alberta, Canada
10/15/2000 — Mutilated Heifer Found Near Boulder, Colorado
10/15/2000 — Part 1 – Hardened Bovine Hemoglobin Found On California Mutilated Bull
04/16/2000 — A Close Encounter with a Disc in Wyoming
03/29/2000 — Mysterious Calf Deaths In Brothers, Oregon
02/06/2000 — Large Yellow Sphere In Snohomish, Washington
12/26/1999 — Hubble Repair, Gamma Ray Bursts and Unidentified Aerial Objects
12/22/1999 — Update – Unidentified "Arrowhead"-Shaped Object in California Sky
09/12/1999 — Unusual Animal Deaths, Part 1: Nevada
08/25/1999 — Unusual Animal Deaths in Australia and London, England
01/24/1999 — Nuclear Sabotage in Maryland; Bull Mutilation in Colorado; and Global Warming

© 1998 - 2023 by Linda Moulton Howe.
All Rights Reserved.