"No one to our knowledge has seen anything quite like this."
– Wesley Balla, New Hampshire Historical Society
July 29, 2006   Concord, New Hampshire –  One hundred and thirty-two years ago in 1872, workmen were digging post holes in the town of Meredith, New Hampshire. One of the workers hit something solid like a stone and lifted out glob of clay. When the dirt was cleaned off, the workers were surprised to see a brown-colored stone about four inches high and two and a half inches wide shaped exactly like a goose egg. All around the egg were carvings. The owner and manager of the post hole project was Seneca Ladd. He was interested in geology and historic relics, so he claimed the "mystery stone" for his private collection.
The dense stone was later identified to be fairly dense quartzite. Today, the stone is housed in the New Hampshire Historical Society in Concord. The Director of Collections and Exhibitions there since 2003 is Wesley G. Balla, M. A. I talked with him this week about the mystery stone and asked him to describe the symbols carved in it.
---
Interview:
Wesley G. Balla, M. A.,  Director of Collections & Exhibitions, New Hampshire Historical Society, Concord, New Hampshire: "All the way around the sides and the bottom, there are a series of images, symbols, pictographs that have been carved or cut on to the stone. The pictographs include a human face, a teepee, and circle on one side.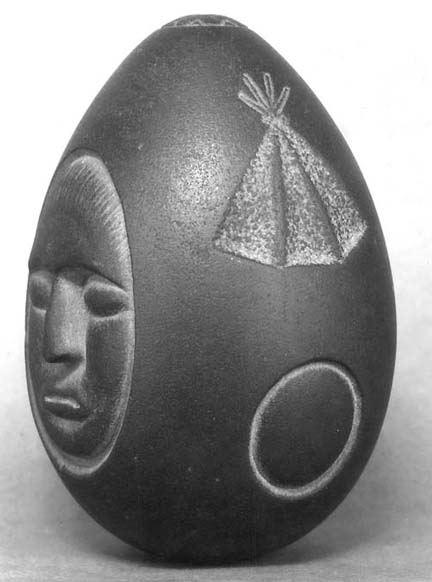 In another section of the mystery stone are arrows or spears, a crescent over crossed spears, and a spiral.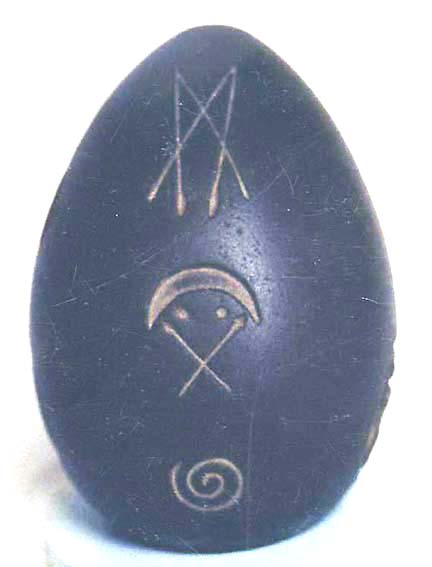 In another section, is an ear of corn over a circle that has a number of other figures inside of it, which are hard to make out. They are sort of curved and angled figures.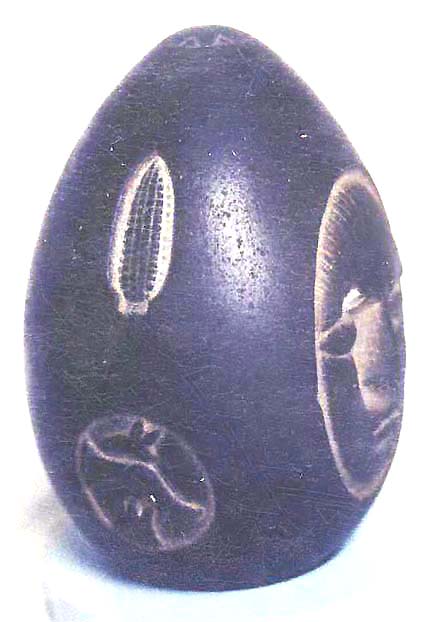 On the very bottom drawn around one of the boring holes is a multi-sided geometric figure. It is very precise and even in the way it's drawn, angles. It's similar to a star, but it's really a square superimposed on another square, so there are 8 straighter sides than you would have in the depiction of a star symbol.
Small Machine-Bored Holes At Top and Bottom of Mystery Stone
COULD YOU EXPLAIN THE BORE HOLES AND AT THE TOP AND BOTTOM? HOW WERE THEY MADE AND WHAT WAS THE PURPOSE?
Again, it's a mystery. We don't know why they were made or when. We know how they were made, probably by a metal drill. We've had an analysis done which suggests that the top hope is about an eighth of an inch in diameter. The bottom hole is 3/8ths inch in diameter. One is larger than the other. There are abrasions or scratches on the inside of each hole that suggest they were made by metal. When? and who? remains a mystery.
AN EIGHTH OF AN INCH FOR ONE OF THOSE HOLES MEANS IT COULD NOT HAVE BEEN MOUNTED ON ANYTHING THAT WAS THICK. IT HAD TO BE MOUNTED ON SOMETHING VERY THIN.
Yes. We assume it was mounted somehow, but there is no real context for any of this. No one to our knowledge has seen anything quite like this. The scratches found in the analysis inside the holes suggests that the egg-shaped stone was probably made in recent history, that it's not a prehistoric piece because Native Americans did not have the technology to drill with metal.
DID ANYONE EVER TRY TO DATE THE LAYER IN THE GROUND FROM WHICH THE STONE WAS TAKEN?
No, that is one of the things that is conspicuously absent. It was just viewed as something that was pulled up out of the ground. No one said what level or if there was anything else at that level. It was just, 'We found this when we were digging post holes.' That's been the story since 1927 when it was given to the Historical Society. We don't even know precisely which spot in Meredith it was dug up. If you don't have a very precise site, it's very hard to date.
IS THERE ANYTHING IN MEREDITH LIKE AN ANCIENT EARTH MOUND OR STONE CIRCLES OR SOME VERY OLD GROUND MARKING SIMILAR TO THE OHIO EARTH MOUNDS?
Not that I'm aware.
HAVE YOU HAD EXPERTS IN VARIOUS KINDS OF PICTOGRAMS AND RUNE LANGUAGES TO SEE IF THE EGG-SHAPED STONE SYMBOLS COMPARE TO ANY OTHER LANGUAGE OR SYMBOLS?
No, we don't know anything about the pictographs."
---
More Information:
For further information about archaeological mysteries, please see reports below in the
Earthfiles Archives:
07/07/2006 — Noah's Ark Atop Takht-e-Soleiman Peak in Iran?
03/26/2006 — "Anomaly" On Mt. Ararat's Western Plateau?
12/09/2005 — Mystery of "Footprints" in 1.3 Million-Year-Old Mexico Volcanic Rock
05/26/2005 — Part 2 – Corguinho, Brazil: Plasma Balls Which Enter Humans
12/28/2002 — Part 3 – Tall, Red-Haired, Non-Human Beings
11/14/2002 — What Happened 12,000 Years Ago That Killed So Many Animals?
11/02/2002 — Update on 6,500-Year-Old Astronomical Stone Circle and Megaliths in Nabta, Egypt
10/22/2002 — 63 A.D. Inscription Refers to "Jesus" – An Archaeological First
07/13/2002 — More Crop Formations in Holland and Germany
02/16/2002 — Sunken City Off India Coast – 7500 B. C.?
12/28/2001 — Images from Cuban Deep Water Megalithic Site
12/08/2001 — 70,000-Year-Old "Modern Humans" Lived in Blombos Cave, South Africa
11/19/2001 — Update on Underwater Megalithic Structures near Western Cuba
10/05/2001 — Large Prehistoric Underground Circle Found in Chillicothe, Ohio
06/13/2001 — Update on Mysterious Deep Water Sonar Images Off Western Cuba
05/18/2001 — Underwater City Reported Off Western Cuba
05/05/2001 — Archaeologists Find Central Asia Civilization As Old As Sumeria
09/17/2000 — Evidence of 7000 Year Old Flood and Human Habitation Discovered Beneath Black Sea
05/28/2000 — Hamoukar, Syria – A City Older Than 6000 Years?
05/16/1999 — Edgar Evans Cayce About His Father and Atlantis

© 1998 - 2023 by Linda Moulton Howe.
All Rights Reserved.