From Saucer Post ...3-0 Blue
© 1957 by Leonard H. Stringfield
With permission, reprinted in Earthfiles.com
© 2006 by Linda Moulton Howe.
"British scientists and airmen, after examining the wreckage of one mysterious flying ship, are convinced that these strange aerial objects are flying saucers from another planet. The source of my information is a British official of Cabinet rank."
- Reporter Dorothy Kilgallen, 1955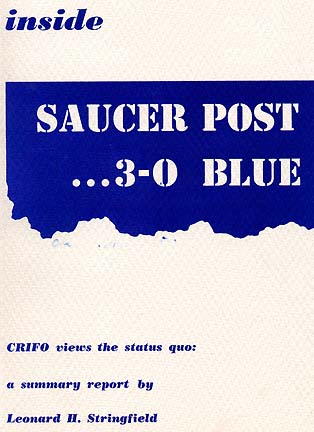 October 26, 2006  - In September 1957, Leonard H. Stringfield, finished his first book, Inside Saucer Post ... 3-0 Blue, based on his research cooperation with the U. S. Air Defense Command Filter Center in Columbus, Ohio. Len had served with the 5th U. S. Air Force and was baffled by three unidentified lights that he and other crew members saw in 1945 while being transported in a C-46 near Iwo Jima. After the war, Len Stringfield seriously began to investigate the UFO phenomena. For the next thirty-seven years, he tried to learn from firsthand sources about government cover-ups of UFO incidents and the interaction of non-human intelligences with Earth. Len died on December 18, 1994.
Click here to subscribe and get instant access to read this report.
Click here to check your existing subscription status.
Existing members, login below:

© 1998 - 2023 by Linda Moulton Howe.
All Rights Reserved.