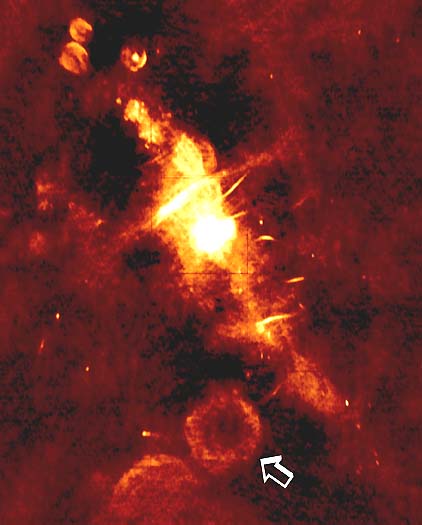 Date: Night of September 30 to October 1, 2002.
Radio Wave Size: About 1 meter in wavelength.
Number of Bursts:  Five bursts over 7-hour period.
Name Assigned 5 Radio Bursts:  "GCRT J1745-3009"
Length of Each Burst:  10 minutes duration and each radio burst separated by about 77 minutes of silence. Rise time in intensity was about 8 minutes, slower than decay time which was about two minutes.
Estimated Location: As far as 24,000 light-years, or as close as 300 light-years, toward center of Milky Way galaxy and region of red supernova remnant known as "SNR 359.1-00.5."
October 23, 2006  Sweet Briar, Virginia - A year and a half ago in early March 2005, I reported at Earthfiles about a physicist's report in Nature concerning a powerful and repeating burst of radio waves toward the center of our Milky Way galaxy in a region known as SNR 359.1-00.5. The galactic center is 26,000 light-years from Earth and is full of stars. There were five radio bursts in 1-meter-long radio wavelengths of 330 MegaHertz detected over a 7 hour period on the night of September 30 to October 1, 2002. The five radio bursts were equally spaced apart by 77 minutes and there were no detectable x-ray emissions. No one studying our galaxy has ever seen any radio bursts like that before. The source is a complete mystery.
Click here to subscribe and get instant access to read this report.
Click here to check your existing subscription status.
Existing members, login below:

© 1998 - 2019 by Linda Moulton Howe.
All Rights Reserved.