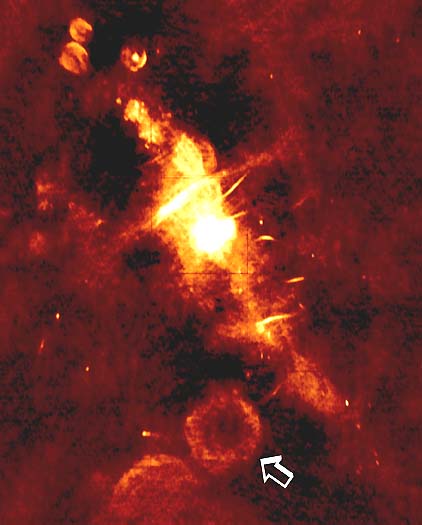 Date: Night of September 30 to October 1, 2002.
Radio Wave Size: About 1 meter in wavelength.
Number of Bursts:  Five bursts over 7-hour period.
Name Assigned 5 Radio Bursts:  "GCRT J1745-3009"
Length of Each Burst:  10 minutes duration and each radio burst separated by about 77 minutes of silence. Rise time in intensity was about 8 minutes, slower than decay time which was about two minutes.
Estimated Location: As far as 24,000 light-years, or as close as 300 light-years, toward center of Milky Way galaxy and region of red supernova remnant known as "SNR 359.1-00.5."
October 23, 2006  Sweet Briar, Virginia – A year and a half ago in early March 2005, I reported at Earthfiles about a physicist's report in Nature concerning a powerful and repeating burst of radio waves toward the center of our Milky Way galaxy in a region known as SNR 359.1-00.5. The galactic center is 26,000 light-years from Earth and is full of stars. There were five radio bursts in 1-meter-long radio wavelengths of 330 MegaHertz detected over a 7 hour period on the night of September 30 to October 1, 2002. The five radio bursts were equally spaced apart by 77 minutes and there were no detectable x-ray emissions. No one studying our galaxy has ever seen any radio bursts like that before. The source is a complete mystery.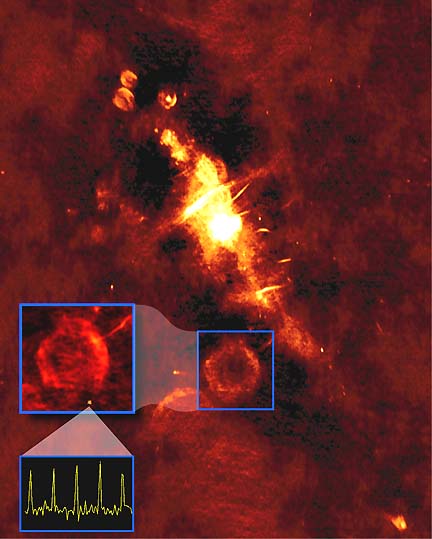 Another Radio Burst September 28, 2003
Now, this year on March 1, 2006, the same science team published in The Astrophysical Journal new data about another similar radio burst detected on September 28, 2003. That was a single burst luckily caught in a short 10-minute observation. No one knows if there were other bursts before and after the one detected from Earth. The 2003 single radio burst was approximately three times weaker than the five radio bursts in 2002. Still, no one knows what the source of such similar radio bursts toward the center of our galaxy could be, while a possible third radio burst is being analyzed from 2004 data.
The lead scientist monitoring the Milky Way Galaxy center is Scott Hyman, Ph.D., Professor of Physics in the Dept. of Physics and Engineering at Sweet Briar College in Sweet Briar, Virginia. He began his research a few years ago at the request of a colleague at the Naval Research Laboratory. Why the Navy would want to investigate radio signals in the galactic core is not known. But the strong, repeating radio bursts on regular intervals without x- ray emissions (X-rays are found in some natural cosmic emitters) provokes at least a question: could the source be another cosmic civilization? I recently talked with Prof. Hyman about that question and what more he has learned about the powerful, repeating long wave radio bursts.
---
Interview:
Scott Hyman, Ph.D., Prof. of Physics, Dept. of Physics and Engineering, Sweet Briar College, Sweet Briar, Virginia:  "It's still an enigma. The five bursts that were emitted were detected by the Very Large Array Telescope in Datil, New Mexico, operated by the National Science Foundation. On September 30 to October 1, 2002, the array was pointed at the galactic center.
The Very Large Array is a set of 27 dish antennas coordinated so they can act as one large antenna the size of those 27 to give very high resolution and sensitivity radio images. So, the object could have been anywhere in principal between us and the galactic center. We do not know the distance. We don't have a distance determination yet.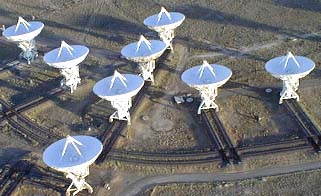 So, when I was analyzing the data two years later, I can describe the Eureka! feeling I had when I was looking at the data, which was compiled from all six hours. I saw a little radio source, little blob on the image of the galactic center that normally is not there. At this point, I have been monitoring for so long that I know pretty much every blob of radio emission that is a steady emitter.
What I did was divide the data set into halves in time and sure enough, I was able to hone in on five ten-minute-or-so bursts where it was very intense. In between, there was no emission at all. So, this is a very exciting moment.
THESE BURSTS CAME IN A VERY REGULAR INTERVAL, DIDN'T THEY?
Yes, yes, that's right. They came 77 minutes apart, give or take 30 seconds. The problem is that the observation was only six hours long and we do not know how long those bursts were occurring after the detection or observation ended, or before the observation began. It could have been going on much longer.
I should tell you that we have done more monitoring since we published the March 2005 paper in Nature. We applied for more observation time, principally to find and detect the source again. We've been monitoring all this year of 2006, but have not detected it again in our current observations.
However – and this is the good news – again we found the source in data from 2003. But again, two to three years too late to follow it up. So, we now have at least two different detections of the radio source:
1)the five bursts from September 30 to October 1, 2002;
2)and then one burst we detected in September of 2003, in data taken by the Giant Metrewave Radio Telescope, near Pune, India.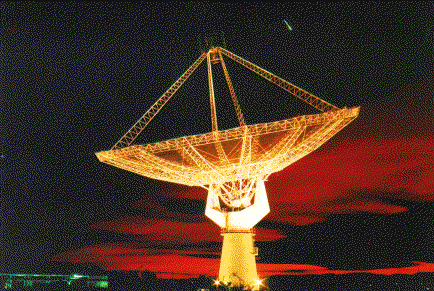 WAS THAT BURST THE SAME 77 MINUTES APART?
That's the problem. We only detected one burst. But that data was not taken in a contiguous manner. That instrument only observed typically ten minutes at a time with spacing in between for calibration or other observations. So, we caught one burst. But we might have missed the others, if there were others.
Enigma:  No X-Rays Associated with Radio Bursts
IS ONE OF THE BIG ANOMALIES ABOUT THE REPEATING RADIO BURSTS THAT THERE ARE NO ASSOCIATED X-RAYS?
In this case, yes. We've looked in the archives of various x-ray telescope facilities and do not find any x-rays emitted near the time that we detected the bursts in (very low) radio frequencies.
We also did our own search in 2005 with the Chandra X-ray Telescope, which is NASA's orbiting satellite telescope, and did not detect bursts or any steady emissions. We were hoping we would find a source of x-rays that was steady. There are other transient sources that exhibit steady, constant emission, and then periodically bursts. But we did not find that. So, on the one hand, we were disappointed. On the other hand, it adds to the  mystery about what the source is.
YOU'RE TALKING ABOUT AN UNKNOWN DISTANCE AND THE POWER OF THIS TO BE PERCEIVED HERE ON EARTH MUST BE GIGANTIC?
The luminosity is what we are really after and, of course, we don't know that because we don't know the distance (from Earth to the radio bursts.) But if it is at the galactic center, because we were just pointing at the galactic center, then it is a very bright, luminous object, in strong bursts – one of the strongest radio bursts ever detected.
Mysterious Radio Bursts Have No Circular Polarization
The other interesting feature about it that would tend to rule out a nearby object is that we have not detected any circular polarization. In other words, radio emissions can be polarized – which is a characteristic of its waves of radio emission. Nearby brown dwarf stars or flare stars tend to be polarized. We did not detect polarization in the bursts that we detected.
We also detected it at a low frequency for radio waves. Our monitoring program is at 330 megahertz precisely because we get a large field of view at that low frequency, so we can monitor over a fairly large region of the sky.
The low frequencies – we have not detected low frequency bursts from nearby flare stars or brown dwarfs typically. So the puzzling radio bursts doesn't fit a brown dwarf or flare star signature.
Could the Radio Source Be A "Magnetar"?
DO YOU AND YOUR COLLEAGUES HAVE ANY SPECULATION NOW IN 2006 FALL ABOUT WHAT IT MIGHT BE?
We have been working on a paper that would model the source as a 'magnetar,' which is a highly magnetized object, a very collapsed star like a pulsar, but even more magnetized, which could power extreme bursts like this.
But now the picture is getting more complicated because of the second detection we had in 2003 (from India). We have some evidence that it really did not repeat – that it really was an isolated burst, even though we only had ten minutes every hour. There are some other observations further afield in which we might still have detected this source 77 minutes later or earlier, if it had been emitting.
Possible Third Radio Burst in 2004
I should point out that we have possibly a third detection. Again, it's another archival data set from 2004. We're still analyzing that data, so it's a tentative detection. If it's true, it's strange it would have diminished quite a lot. It's a faint detection – one burst again, but thirty times fainter than the others. So, we're being very careful to determine whether this is a beneficed detection or not. But in fact, if its strength is decaying, that will then complicate matters as to the origin of the radio emissions. I'm sorry to say that we just don't have any really definitive idea or any additional information since 2002, except that it's still alive. We have had a detection in 2002, 2003 and perhaps 2004.
Could Source Be Another Cosmic Civilization?
SINCE SETI (Search for Extraterrestrial Intelligence, originally NASA program and now independent) IS CONVINCED THERE IS OTHER LIFE OUT THERE, WHY COULDN'T THIS MYSTERIOUS SERIES OF RADIO BURSTS BE FROM A FAR DISTANT CIVILIZATION?
That's something that would be so exciting. I actually do believe that SETI has at least filed this detection in their archives as one to keep an eye on. But nothing is ruled out, except the wise scientist will always try to rule out the more mundane explanations before going there (extraterrestrial).
IT SEEMS IN A WAY THAT SCIENCE IS IN A STRAIGHTJACKET. SETI AND CARL SAGAN AND SO MANY OTHERS OVER THE YEARS HAVE TALKED ABOUT THE 'BILLIONS AND BILLIONS' OF PLANETS THAT SHOULD HAVE LIFE OUT THERE IN THE UNIVERSE. WE HAVE BEEN LOOKING IN A VARIETY OF FREQUENCIES VIA SETI. WHEN SOMETHING LIKE THIS HAPPENS THAT YOU HAVE BEEN ABLE TO MONITOR OVER THREE YEARS, WHY IS IT THAT THE FIRST POSSIBILITY IS NOT THAT YOU MIGHT FINALLY HAVE GOTTEN A STRONG RADIO SIGNAL REPEATING FROM A CIVILIZATION?
Well, because that would be the most extraordinary conclusion that would demand the most evidence. Carl Sagan had a great adage where he said that extraordinary claims demand extraordinary evidence or proof. So, the more extraordinary the claim, the more sure you've got to be. The threshold for the evidence pointing in that direction would mean the bar would have to be set very, very high.
Variability of Radio Bursts Complicates Hypotheses
But the problem we have is that we haven't detected enough to rule out anything definitively and to constrain new models. If our evidence that it's not emitting every 77 minutes any more is true, then that will constrain models of the source. Some of the papers that have been published have suggested it could be a double pulsar or it could be a white dwarf pulsar or various things which may or may not be able to explain why it is not emit every 77 minute when it does emit.
HOW WOULD YOU PROVE IF THIS WERE A STRONG RADIO SIGNAL FROM AN ADVANCED CIVILIZATION IN THE GALACTIC CENTER?
I imagine you would need repeated – you would have to find a signal in the haystack that is a message, a statement, a code, something that cannot be explained naturally. And I don't really want to go there anymore (laughs).
OK, WELL, IT JUST SEEMS LIKE THIS IS AN ENIGMA AFTER ALL THIS TIME AND IT WOULD BE FASCINATING TO THINK ABOUT HOW WE ON EARTH WOULD GO ABOUT TRYING TO SEE IF IT WERE SOME KIND OF ADVANCED INTELLIGENCE.
Sure, well, the only way to do it is to keep monitoring and get more data. The first thing is experimental in this case. We can't go there! (laughs) So, we have to wait until it bursts again and hope we are detecting it. But one can't speculate in any logical direction without it only being a speculation unless one has more evidence and data.
Future Research
WHAT IS NOW THE CURRENT PLAN YOU HAVE WITH WHICH INSTRUMENTS AND WHERE TO KEEP MONITORING?
We have a program this year where we are monitoring approximately every week with the Very Large Array (VLA), which is run by the National Radio Astronomy Observatory (NRAO) in Datil, New Mexico. Also, we are monitoring with the GMRT in India. You take both instruments together, we are monitoring approximately once a week.
We've analyzed much of that data and have not detected more radio bursts. We have been awarded more monitoring time with the Indian telescope for the next six months into next year, first part of 2007.
The Very Large Array won't be in a configuration where we can monitor with it again until later in 2007. So, we are still monitoring, still hopeful that we will detect it, and other objects like that.
THE NAVAL RESEARCH LAB IS NOW BUILDING THE LONG WAVELENGTH ARRAY (LWA) IN CONJUNCTION WITH THE VLA?
Some of its construction might be there, but it might expand beyond even into Arizona and California. And it won't be completed until perhaps 2011.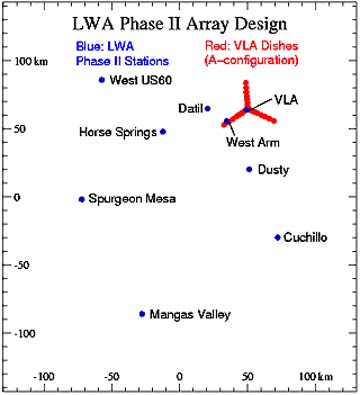 Importance of Detecting Low Frequency Radio Bursts
Even if we don't detect the repeating radio bursts again and even if we never figure out what it is – what's important is that this research demonstrates that there are phenomena out there, which at low frequencies, we can detect. Low frequencies are important because you can observe a wide field of view and there are new instruments that are being developed at low frequencies to take advantage of that wide field of view and that will have even higher resolution and higher sensitivity. That means many more classes of transient radio sources will be able to be observed. So, the more we open the window up to detecting new phenomena, the more we will be able to understand and perhaps be able to put this radio source in a context that contains other discoveries at low frequencies.
THIS IS BASICALLY THE FIRST TIME THAT SCIENTISTS HAVE HAD A CONCENTRATION IN VERY LOW FREQUENCIES ON THE GALACTIC CENTER?
It's been about ten years or so since the first really dedicated low frequency observations got underway. As far as I know, ours is the first to monitor the galactic center at low wavelength frequencies. There are other monitoring projects with other telescopes at somewhat higher frequencies, but they will be constrained by their field of view and other limitations.
SETI HAS NEVER LOOKED IN THIS LOW FREQUENCY BEFORE?
I'm not certain what they are using to search for extraterrestrial signals, which would be much more frequency-dependent. SETI is looking at particular frequencies, while we are looking at a bandwidth of low frequencies.
IS PART OF YOUR STUDENTS' EXCITEMENT BECAUSE YOU ALL MIGHT BE ON THE VERGE OF DISCOVERING PERHAPS ANOTHER INTELLIGENCE?
No, I'd have to say not! (laughs) That's not what's exciting about it for us. We're excited about the possibility of having detected a new natural source of radio emission that could open up new science – a new understanding of how our universe works. Or how compact stars emit such large bursts and the energetics involved deep within the star that causes such events to happen.
Now, I'm not going to tell you I haven't fantasized that it might be extraterrestrial life at times!! (laughs)  But that's not why I had a Eureka moment.
Why Doesn't Earth Pick Up Other Life Signals?
IF SAGAN AND DRAKE AT CORNELL WERE RIGHT ABOUT BILLIONS OF PLANETS IN THIS UNIVERSE THAT WOULD HAVE LIFE, WHICH DOES HAVE LOGIC TO IT, WHY DO YOU THINK WE HAVE NOT DISCOVERED SIGNALS COMING FROM OTHER SOLAR SYSTEMS SOME PLACE THE WAY WE EMIT IN THE ELECTROMAGNETIC SPECTRUM FROM THIS PLANET?
It's a big universe. Our instruments are too primitive. The signals, by the time they get to us, are too weak. Or not enough intelligent life. Who knows?
THAT'S PROBABLY THE BIG MYSTERY, ISN'T IT?
Yes. If you believe there is other intelligence out there. Of course, if you don't believe there is other intelligent life, then it's no mystery at all.
BUT WOULDN'T THAT SEEM ILLOGICAL THAT THERE WOULD NOT BE OTHER INTELLIGENT LIFE IN THIS HUGE UNIVERSE?
To me, it is. But often, you are always cautioned from extrapolating from one point. Still, I would agree with you.
I THINK YOUR WORK IS EXCITING ON ALL FRONTS – NATURAL, OR POSSIBLY ANOTHER CIVILIZATION.
Thank you! (laughs)"
---
More Information:
For further information about our mysterious cosmos, please see reports below in the Earthfiles Archives:
12/17/2005 — Sirius's Companion Star, Sirius B, Finally "Weighed"
12/07/2005 — Zeta Reticuli I and II – Binary Home of Extraterrestrial Biological Entities?
11/09/2005 — Dust Storm On Mars; Cosmic First Light; Black Hole At Galaxy's Center
09/16/2005 — "Planet X" and the Belt's Oddballs, "Santa" and "Easterbunny"
08/12/2005 — Deep Impact Spectra: Carbonate, PAHs and Some Amino Precursors in Comet Tempel I
07/30/2005 — Astronomers Report 10th Planet Far Beyond Pluto
03/25/2005 — Glow of Distant Worlds Seen For First Time
03/03/2005 — What Made Five Strong Radio Bursts At the Center of Our Galaxy?
08/28/2004 — Near-Earth Asteroid 4179 Toutatis Comes By On September 29, 2004
06/25/2004 — Wild 2, An Amazing Comet
06/07/2004 — Mayan Priest in Guatemala Writes About Rare Venus Transit
03/15/2004 — Most Distant "Icy Planetoid" in Our Solar System Has Most Baffling Orbit
02/03/2004 — Planet 150 Light Years from Earth Has Oxygen and Carbon Atmosphere
10/11/2003 — Is Our Universe Finite and Shaped Like A Dodecahedron?
09/02/2003 — Updated – Astronomers Don't Think Asteroid Will Hit Earth in 2014
07/16/2003 — First 3-D Images of the Sun's Granular Surface
03/07/2003 — Scientist's Record Sun's Plasma Interaction with Comet NEAT
11/02/2002 — 6,500-Year-Old Astronomical Stone Circle and Megaliths in Nabta, Egypt
10/07/2002 — Large Kuiper Belt Planetoid Found Beyond Pluto
08/16/2002 — Did CONTOUR Probe Break Apart Or Disappear Into Space?
07/11/2002 — Hubble Telescope Photographs Seven Objects In Pairs Beyond Pluto
06/14/2002 — Another Solar System Like Ours?
01/26/2002 — Something Is Perturbing Comet Orbits in Oort Cloud Around Solar System
11/10/2001 — The Orion Constellation and the Pyramids of Giza
10/05/2001 — Large Prehistoric Underground Circle Found in Chillicothe, Ohio
06/16/2001 — Beyond Stonehenge with Astronomer Gerald Hawkins
12/24/2000 — Martian Bacteria?
12/14/2000 — A Pleiadian Star Tears Apart Black Interstellar Cloud
11/19/2000 — Great Pyramid At Giza – Star Alignment Might Determine Age
10/09/2000 — Astronomy Updates
09/06/2000 — Hubble Photographs Mystery Object in Centaurus Constellation
01/28/2000 — Black Hole Mystery at the Center of the Andromeda Galaxy
12/01/1999 — Six More Planets Discovered 60 to 190 Light Years Away
11/06/1999 — Leonids – and Linearids? – Light Up November Skies
10/25/1999 — A Mysterious "Perturber" at the Edges of Our Solar System
08/28/1999 — Oddball Quasar and Salt Water Inside Meteorite
06/15/1999 — Current Brightest Binocular Comet and Upcoming Solar Eclipse
02/01/1999 — Astronomy Updates with Brian Marsden and John Huchra, Harvard
---
Websites:
Naval Research Lab:  http://xweb.nrl.navy.mil/personnel/paulr/gcrt.html
SETI:  http://www.seti.org/site/pp.asp?c=ktJ2J9MMIsE&b=178025

© 1998 - 2019 by Linda Moulton Howe.
All Rights Reserved.