"NORAD was talking back and forth to us and they were as flabbergasted as we were about the speeds we were seeing. There was no way the bogies were from Earth because they were going too fast."
– Dennis, Richmond USAF Station, Miami, Florida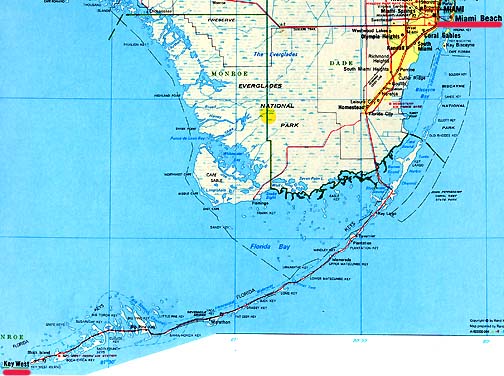 October 19, 2006  Albuquerque, New Mexico – In reply to one of my recent COAST TO COAST AM radio appeals for firsthand information from military or intelligence people about the UFO phenomena, I have heard from two military eyewitnesses about a remarkable radar tracking of UFOs east of Miami, Florida, in March 1967, over the Bermuda triangle region.
Neither man is willing to be identified beyond his first name, but the two are cousins who were in the American military in the late 1960s. In April 1966, Bill signed up for Army Air Defense Command called ARADCOM (no longer exists) after Army basic training at Ft. Benning, Georgia. By March 1967, Bill was working as both a missile crew launchman and fire control operator in the Army's "B (Bravo) " Battery, 6th Battalion, 65th Air Defense Artillery in Key West, Florida.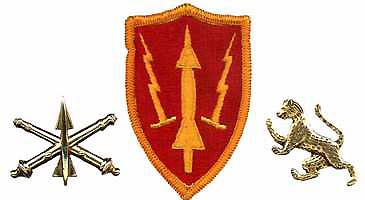 In the late 1960s , the U.S. Army Air Defense Command operated HAWK and HERCULES missile sites throughout the United States. Almost every major city was protected by such missiles. The name "HAWK" was an acronym for "Homing All the Way Killers."
[ Editor's Note: The HAWK surface to air missile system provides medium-range, low to medium altitude air defense against a variety of targets, including jet and rotary wing aircraft, unmanned aerial vehicles, and cruise missiles. This mobile, all-weather day and night system is highly lethal, reliable, and effective against electronic countermeasures. The Hawk was originally named for the predatory bird but later the name was turned into an acronym for "Homing All the Way Killer." Source: FAS Space Policy Project. ]
Inside the Battery Control Center, or BCC, was all the radar equipment necessary for watching the Miami skies and launching a missile, if necessary, at a perceived enemy target.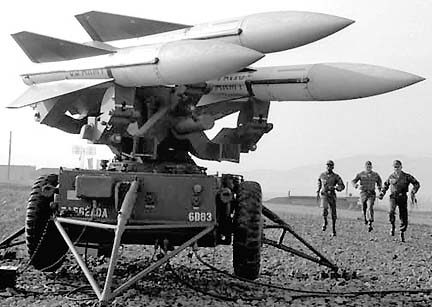 129 miles northeast of Bill's Battery Control Center in Key West, his cousin, Dennis, was in the 644th Radar Squadron at Richmond Air Force Station ten miles south of Miami. Next door was a CIA antenna farm. UFOs had been reported several times in 1966 to 1967 over Miami, the Bermuda triangle and Cuba. In fact, one of the most dramatic incidents was the disintegration of a Cuban MIG jet while scrambling after a UFO "bogey."
March 1967 Cuban MIG Disintegrated
After Radar Lock On UFO
The incident was reported to nuclear physicist and UFO investigator, Stanton Friedman, and published in the book, Clear Intent – The Government Cover-Up of the UFO Experience © 1984 by Larry Fawcett and Barry Greenwood.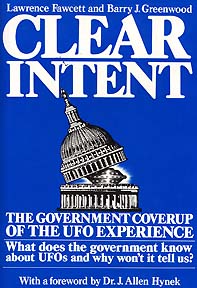 Fawcett and Greenwood wrote: "The Cuban jets were guided to within 3 miles of the UFO by Cuban ground control intercept radar personnel. The flight leader radioed that the object was a bright metallic sphere with no visible markings or appendages. When a try at radio contact failed, Cuban air defense headquarters ordered the flight leader to arm his weapons and destroy the object. The leader reported his radar was locked onto the bogey and his missiles were armed. Seconds later, the wingman screamed to the ground controller that his leader's jet had exploded." But there was no smoke or flame – only disintegration.
Within hours, the U.S. Naval Air Station on Boca Chica Key east of Key West, which monitored all Cuban Air Force communications and radar transmissions, was ordered by the National Security Agency to ship all tapes and data to NSA and to list the Cuban jet's destruction as "due to malfunction." But was it really a UFO retaliation to the radar lock on backed by armed missiles?
March 1967 Key West Radar Lock On UFO Provoked Another Retaliation
Bill and Dennis were also eyewitnesses to UFOs on American radar in which a lock on a  UFO resulted in retaliation from the unidentified object. The retaliation was the instantaneous polarity reversal of all the radar equipment in the HAWK B Battery Control Center in Key West. All of it shut down and much of the valuable American military equipment was damaged.
As in the Cuban incident, government superiors ordered a false, publicly acceptable explanation for what happened. The Miami bogies that sped between 1,100 and 5,000 miles an hour and caused the destructive polarity reversal were only "a NORAD exercise."
But that night in March 1967, Bill, Dennis, and many others in the Army, Navy, Marines, Air Force, NORAD, Pentagon and intelligence agencies knew the government's public explanation was a lie.
Bill and Dennis talked with me because they know the truth and were only told: "Keep your mouth shut." The cousins were never asked to sign non-disclosure agreements about the UFOs and radar drama.
Bill and Dennis tell what happened beginning around 11 p.m. on a night in March 1967. Their voices go back and forth, beginning with Bill who was in the Army HAWK B-Battery, 65th Artillery, Battery Control Center radar room in Key West.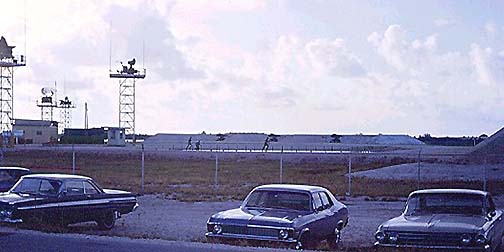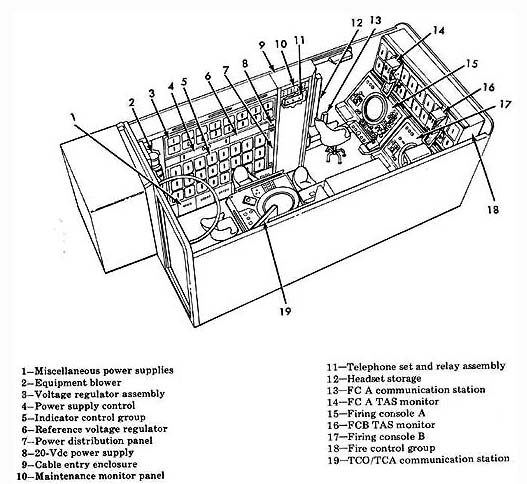 ---
Interviews:
Bill, in March 1967, Missile Crew Launchman and Fire Control Operator, U.S. Army's "B" Battery, 6th Battalion, 65th Air Defense Artillery, Key West, Florida (about 129 miles southwest of Miami):  "My cousin, who was also in the military, was in the United States Air Force. My cousin was in communications for the North American Air Defense Command. Since I was part of NORAD, too, we would get in there and chat because we grew up together. We were like brothers. So, we would chat on the COMNET. We would chat on the NORAD net.
Well, one night, he went away. He said, 'I've got to take something.' He came back and he said, 'I want to let you listen in on something, but don't say nothing.' So we opened up the COMNET and I heard chatter between various air defense locales about unidentified targets – bogies – off the coast of Florida. I believe initially they were like 150 to 200 miles east of the Miami-Dade County area (Bermuda triangle region).
Dennis, in March 1967, 644th Radar Squadron, Richmond Air Force Station (about 10 miles south of Miami and 129 miles northeast of Key West):   "We started seeing things on the scope and asking other locations, 'Do you see the same thing we're seeing?' I got on the phone to Bill and he said he saw the same thing I was seeing. So, we scrambled the F-104s from Homestead AFB because there were UFOs. We didn't know what it was – whether or not it was somebody coming in from Cuba? Or what? But they were so fast on the scope! They were moving at 5,000 miles an hour."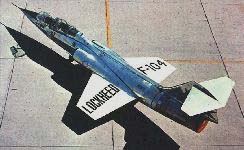 Bill:  "I had a pulse acquisition radar, which is the radar you'll see in all the movies where the sweep goes around and around the dial and you see your targets. I brought up my screen for my pulse acquisition radar, which had a range of – well, never mind – anyway, I could see Miami! (laughs)
And the targets were clear. There were three or four targets and they were east of Miami. Just as I brought the radar up, I noticed what appeared to be jets from Boca Chica Naval Air Station, which was in Key West, were being scrambled and headed north. The jets were heading north toward Florida.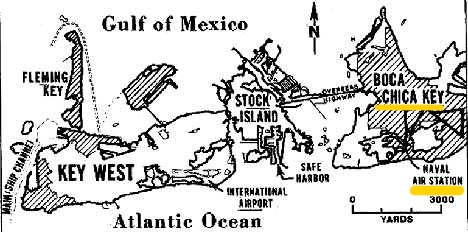 At the time, Homestead AFB, which is in Miami, was a SAC base – Strategic Air Command – and a very, very secure location. These items out there in the Atlantic really got them upset because that's close to their SAC base.
The first thing that I noticed that was really amazing was that as the Phantom jets leaving Boca Chica got close to the bogies – probably 40 miles away – the bogies simply disappeared.
UFO Speeds On Radars Between 1,100 and 5,000 MPH
Dennis:  "When the UFOs were just hovering over Miami, there were several of them. Then all of a sudden, they took off – off my screen and went to Bill's.
WHEN THEY WENT OFF YOUR SCREEN, THEY WERE DOING 5,000 MILES AN HOUR?
According to the radar, yes.
AND BILL SAW THEM AT LEAST DO 1,100 MPH.
He saw them when they were just starting up. He saw the same image I was seeing. He had a bit more sophisticated radar than I did. I don't know if you have ever heard of Semi-Automatic Ground Environment, the SAGE radar? That's the one you see that dips, like at airports. That's what I was using."
Bill:  "They just disappeared. Now, with a pulse acquisition radar (PAR) that is sweeping through an arc every few seconds – probably every 15 to 20 seconds – there is only one way for an aircraft to do that (disappear). You have to either go straight up, or straight down. If the bogies went in any other direction than that, I would have picked them up on a sweep. I would also have seen their trails. So, they just disappeared.
Now, I have no idea what the communications was with the fighters there on a completely different network. But the fighters remained in the area awhile and then came back. When the jet fighters were about 50 or 60 miles south of Miami, the bogies returned the same way – between sweeps. That means they returned to the location, either going straight down or straight up. They just popped up again.
This kept going for two or three hours. And as I watched the bogies track their various routes, in my mind it looked like they were searching. It looked like some kind of a search pattern because they were definitely working a grid. Every time the jet fighters would come to check them out, the bogies would disappear.
Now, when I finally got to talk to Dennis again, he told me the local radio was talking about people who were seeing these UFOs, these bogies. People were calling in about UFOs over Miami. So, now we were getting not only our electronics feedback, but people were actually visually seeing things.
NORAD "Flabbergasted"
Dennis:  "There were several sightings in the Miami area on different occasions. But this was the first time that we actually picked them up on radar. They were traveling at very high speeds. We had nothing that we knew about at that point that could do that speed.
BILL SAID THAT THIS WENT ON FOR THREE TO FOUR HOURS. IN ALL THAT PERIOD OF TIME, WERE YOU LISTENING TO THE VOICES AT NORAD AND CAN YOU REMEMBER WHAT WAS BEING SAID?
Well, we were all flabbergasted. But when we saw them start speeding up, we did contact NORAD. That's who we were under – North American Air Defense Command.
WHEN YOU CONTACTED THEM, WHAT DID THEY SAY? WHAT DID YOU HEAR THEM SAY?
They were able to see every scope in the United States – every one that was online at that point. They could see the same thing we were seeing and we were talking to them. At that one point, the commander that was on duty that night at Cheyenne Mountain – he went ahead and scrambled the F-104s. We didn't have anything faster than an F-104 back then in the 1960s.
WHEN THEY SAID, WE'RE GOING TO SCRAMBLE – DID YOU HEAR ANY CHATTER AT NORAD ABOUT THESE BEING UFOS?
Yes, they called them 'UFOs.'
DID YOU ALL THAT NIGHT UNDERSTAND THAT UFOS FROM NORAD TO MEAN SOMETHING EXTRATERRESTRIAL?
That's what we thought, yeah! (laughs)
BECAUSE THERE WAS NOTHING ELSE.
There was nothing else in the world!"
Bill's PAR Radar Locked On UFO, Followed By Retaliatory Damage
Bill:  "After awhile, one of the bogies broke off and headed south. He headed straight toward our location (in Key West). The other three or four were just flying their grid. I was curious because now I had a good track between sweeps and any radar operator can watch a target move between sweeps and have a pretty good idea of how fast it's going.
In my mind, I was thinking this thing is moving about 1,100 mph. Now, in 1966, 1,100 mph was not done every day! (laughs) It is now, but not in 1966. I used to track B-52s and Phantoms. Again, I won't tell you the maximum speeds they got on them, but it wasn't nowhere near 1,100 mph.
Now, we have another radar that I'll tell you uses something called the Doppler Effect. What happens with Doppler, if you can listen to it, it's when the signal comes back, you can actually hear the target. It's a little bit distorted, but I could definitely pick out helicopters, you could pick out turbo jet engines, you could pick out jet engines. After a long time on the scopes, you could hear it and pick them out. So we knew what they sounded like.
The difference between this Doppler radar and the pulse acquisition radar is that the Doppler stays on the target. In other words, the target is not being swept. This radar stays right on the target. The other thing about the Doppler radar is that it is used to control the flight of the missiles. I think whoever was in that UFO thing knew what it (Doppler radar) was. (laughs)
Like I said, it was moving about 1,100 mph. I put the Doppler radar on it – not to lock on it, but just to see if I could pick up a Doppler shift and hear it. And I did. It was a high-pitched whine, very solid, very consistent – a little higher than jet engines. I only heard it for a second before we were hit with what is called 'electro-counter measures.'
Whoever was in that craft KNEW that he was locked on. And he shut us down. He shut us down by reversing – what appeared to be reversing the polarity of every piece of equipment on the site. That lead to complete system failure and a lot of damaged equipment. And just as I was trying to turn the equipment off so it would not be damaged any more, one of the launcher crewmen who were outside – guys who are out on the pads – came running into the BCC and said, 'I saw it! It just went over. It was moving like a meteor. It looked like a meteor!' And it went north to south out of sight.
What happened interestingly the next day, we were advised the entire event was a NORAD drill and that we should disregard everything and consider everything confidential.
Dennis:  "NORAD was talking back and forth to us and they were as flabbergasted as we were about the speeds we were seeing. There was no way the bogies were from Earth because they were going too fast. We knew the Russians and the Chinese and whomever did not have air traffic that could go that fast.
DID ANYBODY AT NORAD TALK WITH YOU ALL ABOUT WHAT THEY MIGHT BE AND WHERE THEY MIGHT BE FROM?
No. They hushed it up after that. They didn't want to talk about it and they told us that we weren't supposed to talk to the press or anything about it.
DID THEY EXPLAIN WHY IT HAD TO BE HUSHED UP?
Not really. They just told us that it never happened! (laughs)
HOW MANY TIMES DID YOU EXPERIENCE THAT IN YOUR MILITARY CAREER?
Oh, three or four times.
WITH UFOS ON RADAR?
Yeah.
AND SOMEBODY SAYING THIS DID NOT HAPPEN?
Right. For some reason, the UFOs liked to hover over Miami. I don't know what they were doing. Nobody seems to know. But that one night – I got on the phone with Bill because we (in Richmond) had a direct line to Key West because we had another Army site right next to us that had missiles, also. We had no missiles on our site, but the Army did right next door. So, they were getting their missiles ready, too. They had the same type of setup as Bill had down in Key West.
When the UFOs went down south over Key West, I was talking to Bill while he was tracking and all of a sudden, I lost contact with him.
THAT'S WHEN THAT PULSE OF WHATEVER ENERGY…?
Yeah, I called him up later on another line, but we were told not to speak. We all had TOP SECRET clearances and we weren't allowed (to talk) because of the sensitivity, I guess, to talk about it."
Bill:  "Whatever it was – and only God knows what it was – it was visually seen along with electronically tracked. So, it could NOT have been targets that NORAD was putting up. The things that didn't make any sense was there were too many units involved. You had the United States Navy or Marine – whoever flew those jets from Boca Chica Naval Air Station. You had the Air Force. You had NORAD. You had radio stations in Miami. It happened! There is no denying it. I know there are hundreds of other members from the North American Air Defense Command that know what happened that night and can tell you the same story.
It was an amazing thing! I stood outside of that BCC and I looked into the sky and I realized that I had experienced something that had changed my life because I KNEW I'm one of the only people on the planet – several hundred of us – that know there is something flying around our skies. I know what I saw on the scope. I know it was there.
AND THAT IT APPEARS TO OPERATE WITH SUCH INTELLIGENCE THAT IT CAN PLAY CAT AND MOUSE FOR THREE HOURS WITH AMERICAN JETS AND THEN KNOW IT'S LOCKED ON BY YOUR PARTICULAR RADAR AND COUNTERS THAT WITH SOMETHING THAT DAMAGED ALL YOUR EQUIPMENT.
Yes, countered it with something that was absolutely – as a Fire Control Operator, I had seen all kinds of electro-counter measures, ECMs. We continually played tag with the Air Force. They probably still do – Air Force bombers and Air Force fighters will attempt to penetrate our air space for testing and we played games with each other trying to do electro-counter measures against each other.
This (that night) was something I had never seen. It was something that no one I've talked to has ever seen. It took incredible power to do what it did. But the interesting thing – the thing I always thought about was: it disabled us without hurting anyone. If it had that much power, it could have just put us away, I think! (laughs) But it disabled our capability to hurt it without hurting a single person.
If you can imagine taking your car while it's running, taking the battery terminals off and reversing them. That's pretty much what happened. The polarity reversed on much of the equipment and I have NO idea what could do that.
AT THAT POINT, DID ANY SUPERIOR OFFICER COME RUNNING IN AND SAY, 'X IS GOING ON'?
Yes, the commanding officer that night came into the control center and said, 'What the hell happened?' And I said, 'I don't know, sir, we've just been shut down.' I think he said, 'That's impossible!' I said, 'Well, we're shut down, sir, and I don't know what did it.'
Then he went and probably called the commanding officer of the unit. The next morning, they said it was just a NORAD test, don't panic about it. It was not a big deal."
Dennis:  "They had special devices on the radar to photograph anything that we saw on that radar. Everything that night that was photographed was sealed and marked TOP SECRET and I don't know where it went from that day forward, whether it went to NORAD or went to Washington, D. C.? I don't know where it went. Nobody told me.
BUT YOU SAW WITH YOUR OWN EYES 'TOP SECRET' ON WHATEVER THE FILM WAS PUT IN?
Right.
THAT ALSO CONTRADICTS THE IDEA THAT THIS WAS JUST A NORAD EXERCISE, DOESN'T IT?
Yes. NORAD came on the line and told us it was no exercise.
WHEN DID THEY SAY THAT?
From the very get go. We contacted NORAD. They saw what was on our radar and they told us, 'This is no exercise. This is the real thing.'
AND YET, BILL SAYS WITHIN THREE OR FOUR DAYS, SOME KIND OF OFFICIAL NOTICE CAME OUT SAYING, 'FORGET ALL OF THAT. IT WAS JUST A NORAD EXERCISE.'
Yeah, well, that's the way they used to do it. They were afraid maybe we were being attacked! (laughs) So, they are not going to tell us (the night of the event) that it was an exercise until days later. Then they said, 'Just forget it – it was just an exercise.'
BUT YOU ALL KNEW THAT WAS A LIE.
Oh, yeah. Oh, yeah.
Bill:  "I've always been wanting to tell this to somebody responsible. Linda, there's got to be hundreds of military people who know what's going on. There are people that outranked me that night. There were people in command who knew exactly what was going on. And they are all senior citizens now and hopefully some of them will get the guts to come forward."
I hope there are military and intelligence people listening to COAST and viewing Earthfiles.com, who also have firsthand knowledge about the March 1967 UFO and radar retaliation event – or any other firsthand knowledge about this government's interactions with the disc technology and non-human entities. I would appreciate hearing from you – on or off the record. You can reach me by email at:  earthfiles @ earthfiles.com
Upcoming UFO Crash Retrieval Conference
I will be talking more about this Florida radar retaliation incident and other firsthand military testimonies concerning non-human aerial craft and entities at the:
4th Annual UFO Crash Retrieval Conference
November 10-12, 2006  
Tuscany Suites and Casino
255 East Flamingo Road
Las Vegas, Nevada
For registration information, please go to www.ufoconference.com.
This is an excellent conference that Ryan Wood of Majesticdocuments.com produces.  I highly recommend it to COAST and Earthfiles listeners and viewers.
---
More Information:
For further information about American military and UFO exchanges, please see reports below in the Earthfiles Archives:
10/11/2006 — Part 2: Time Travel, Insights from USAF Sergeant and UFO Abductee
10/08/2006 — Part 1: Time Travel, Insights from USAF Sergeant and UFO Abductee
09/20/2006 — Updated: Three Sets of Concentric Rings in South Texas Field
09/13/2006 — Part 2: Enchanting Wheat Bundles of Charlbury, Wiltshire
09/05/2006 — Part 2: "Alphonso Lorenzo" – Military Visitor to Another Planet?
08/17/2006 — Military Helicopter Aggression Toward Red Sphere in U. K.
08/16/2006 — Etchilhampton August 15, 2006, Wheat Formation
07/17/2006 — Area 29 – A Reverse Engineering Center of E. T. Technology?
06/18/2006 — Viewer Letters About NASA Airbrushing Photos; EBENs and Reptilian Humanoids
06/11/2006 — Updated: Two Mysterious Circles in Wheat Baffle Kansas Farmer
06/07/2006 — Gary McKinnon: An Electronic "Robin Hood"?
05/05/2006 — Military Man's Description of EBE Telepathic Download
03/17/2006 — Part 1: U.S. Navy Chief Yeoman Describes "Extraterrestrial Biological Entities" in TOP SECRET/MAJIC Photographs
02/28/2006 — Part 13 – Peculiar Phenomenon: Early United States Efforts to Collect and Analyze Flying Discs
02/27/2006 — Part 4: Military Voices Reply About Government Interaction with UFOs
11/11/2005 — Part 3: An Alleged 1953 UFO Crash and Burial Near Garrison, Utah
11/10/2005 — Part 2: An Alleged 1953 UFO Crash and Burial Near Garrison, Utah
10/27/2005 — Updated Part 1: Unusual Animal Deaths – 22 Horses and 1 Burro Near Calhan, Colorado
09/08/2005 — Canadian UFO Researcher Blocked by U. S. Homeland Security From Speaking at NUFOC Conference, Hollywood
07/29/2005 — Bentwaters and Rendlesham Forest Mystery Beyond December 1980
07/23/2005 — Mystery of Six Grass Circle Formations in North Carolina
04/14/2005 — "Battle of Los Angeles" On February 25, 1942: When America's 37th Coast Artillery Brigade Fired Off 1,430 Anti-Aircraft Shells At A UFO
02/21/2005 — Updated – Bull and Cow Mutilations Northwest of Corpus Christi, Texas
02/13/2005 — Part 1: UFO Crash/Retrievals: Status Report IV – Fatal Encounter At Ft. Dix-McGuire
01/15/2005 — Bull and Cow Mutilations Northwest of Corpus Christi, Texas
12/30/2004 — September 12, 1952: America's "Secret War"? Part 2: USAF Starfire Disappeared Over Gulf of Mexico
12/30/2004 — September 12, 1952: America's "Secret War"? Part 1: UFO Retrieval in Flatwoods, West Virginia
12/30/2004 — Audience Feedback About Earthfiles "September 12, 1952: America's 'Secret War'?"
12/30/2004 — September 12, 1952: America's "Secret War"? Part 3: Nuclear Physicist Stanton Friedman Comments
12/30/2004 — September 12, 1952: America's "Secret War"? Part 2: USAF Starfire Disappeared Over Gulf of Mexico
12/30/2004 — September 12, 1952: America's "Secret War"? Part 1: UFO Retrieval in Flatwoods, West Virginia
12/22/2004 — Part 2: "Reasons Why U.S. Government CAN'T Release Truth About UFOs!" with Canadian Researcher, Grant Cameron
12/22/2004 — Part 1: "Reasons Why U.S. Government CAN'T Release Truth About UFOs!" with Canadian Researcher, Grant Cameron
12/10/2004 — Part 4: "Peculiar Phenomena," V-2 Rockets – and UFOB Retaliation?
12/10/2004 — Part 3: "Peculiar Phenomena," V-2 Rockets – and UFOB Retaliation?
12/04/2004 — Part 1: "Peculiar Phenomena," V-2 Rockets – and UFOB Retaliation?
11/12/2004 — Strange Metal Pieces from Plains of San Agustin Alleged UFO Crash Site Analyzed.
10/17/2004 — American Crop Formations: 1880-2004
08/28/2004 — Cow Mutilation and Loud, Unidentified Sound in Farnam, Nebraska
08/18/2004 — New Mexico Gov. Bill Richardson Wants More Investigation of 1947 Roswell UFO Crash
06/14/2004 — Part 3 – The Danger of Time Loops and A Wormhole on Frenchman Mountain, Nevada
06/14/2004 — Part 2 – The Danger of Time Loops and A Wormhole on Frenchman Mountain, Nevada
06/12/2004 — Part 1 – Field Trip with Microbiologist Dan Burisch to Frenchman Mountain, Nevada
06/08/2004 — Part 3: Whistleblower Microbiologist Dan Burisch Interview on June 7, 2003
05/19/2004 — Part 1: Whistleblower Microbiologist Dan Burisch Interview on June 7, 2003
04/26/2004 — Update About Microbiologist Dan Burisch, Ph.D.
03/26/2004 — Back Engineering ET Craft
03/17/2004 — Part 2 – "Horrible Secret" in UFO Crash Retrievals Near Roswell, New Mexico, in July 1947?
03/17/2004 — Part 1 – "Horrible Secret" in UFO Crash Retrievals Near Roswell, New Mexico, in July 1947?
03/01/2004 — Part 3: UFO Crash/Retrievals: The Inner Sanctum – Status Report VI © July 1991 by Leonard H. Stringfield
02/07/2004 — Part 12 – UFO Crash/Retrievals, Status Report VII by Len Stringfield
11/07/2003 — British UFO Crash Retrievals
---
Websites:
Stanton Friedman:  http://www.stantonfriedman.com
Majestic-12 Documents:  http://www.majesticdocuments.com
American Presidential Knowledge: http://www.presidentialufo.com/

© 1998 - 2023 by Linda Moulton Howe.
All Rights Reserved.