Part 2:  Inside Saucer Post ...3-0 Blue
© 1957 by Leonard H. Stringfield  (out of print)
Reprinted with permission in Earthfiles.com
© 2006 by Linda Moulton Howe
"What constitutes proof? Does a UFO have to land at the River Entrance
to the Pentagon, near the Joint Chiefs of Staff offices? Or is it proof when a ground radar station detects a UFO, sends a jet to intercept it, the jet pilot sees it, and locks on with his radar, only to have the UFO streak away at a phenomenal speed?"
- USAF Capt. Edward J. Ruppelt
Return to Part 1
November 28, 2006  Albuquerque, New Mexico -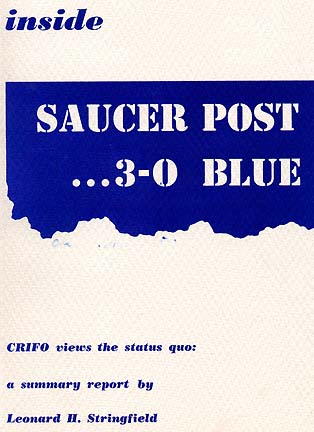 Click here to subscribe and get instant access to read this report.
Click here to check your existing subscription status.
Existing members, login below:

© 1998 - 2023 by Linda Moulton Howe.
All Rights Reserved.