"This is the highest energy at which any periodic signal has been observed, nearly 100,000 times higher than previously known."
– H.E.S.S. Observatory, Namibia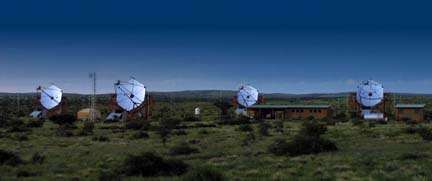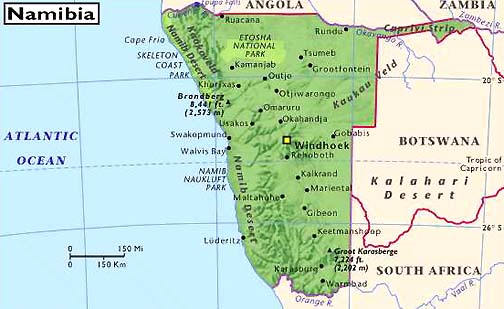 November 27, 2006  Gamsberg, Namibia – Astrophysicists operating the High Energy Stereoscopic System (H.E.S.S.) gamma-ray telescopes in Namibia have announced the discovery of periodic emission of very-high-energy gamma rays from a binary system. The object which is responsible for this emission is a double system called LS 5039, comprised of a massive blue star twenty times heavier than the Sun.
Orbiting every 3.9 days around the blue star is an unidentified, compact object – perhaps a black hole. The HESS scientists reported in the November 26, 2006, issue of Astronomy & Astrophysics that as the object dives towards the blue-giant star, the object is exposed to the strong stellar 'wind' and the intense light radiated by the star. Particles are accelerated to high energies, which at the same time make it increasingly difficult for gamma rays produced by these particles to escape, depending on the orientation of the system with respect to us. The interplay of these two effects is at the root of the complex modulation pattern we see from Earth. This is the highest energy at which any periodic signal has been observed, nearly 100,000 times higher than previously known.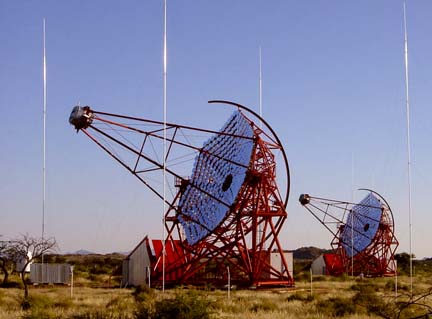 In our Galaxy, more than 80% of the stars are members of multiple systems made up of two or more stars in orbit about each other. Isolated stars, such as our Sun, are in the minority. LS 5039's massive blue star and possibly orbiting black hole are in an extremely tight orbit. Their separation varies between two and four times the radius of the star, which represents about a tenth of the Earth-Sun distance. The unidentified object has an orbital period of 3.9 days, confirmed to a precision better than 0.04% by H.E.S.S.
The H.E.S.S. team showed that the LS 5039 system emits gamma rays with a certain periodicity, with the highest emission when the compact object is in front of the star, and the lowest (but not zero) emission when it is behind. "Additionally, we discovered that the energy distribution of gamma rays varies strongly along the orbit, with an excess of the highest-energy gamma rays in the high-emission state," says H.E.S.S. researcher, Gavin Rowell, formerly with the Max Planck Institute for Nuclear Physics.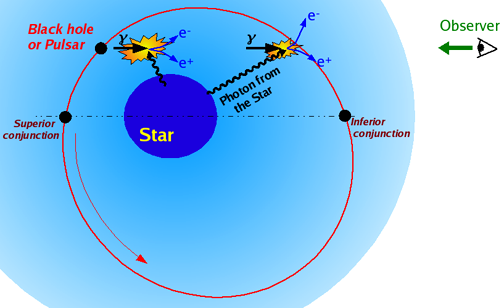 This gamma-ray emission could be produced by the violent interaction between the compact object and the stellar wind. This wind is the flux of particles accelerated in the star's atmosphere. In our Sun the solar wind causes magnetic storms and the aurora borealis or "Northern lights" seen near the Earth's poles. The compact object, in moving along its orbit, acts like a probe of the star's electromagnetic environment. That includes the intensity of the star's wind and its optical and ultraviolet radiation and the magnetic field which changes, depending on the distance to the star and particle acceleration influence near the compact object. Another implication of this discovery is that the particle acceleration responsible for the emission takes place at a short distance from the star, at distances similar to the Earth-Sun distance.
HESS scientists report that in addition, "a geometrical effect adds a further modulation to the flux of gamma rays observed from the Earth. We know since Einstein derived his famous equation (E=mc²) that matter and energy are equivalent, and that pairs of particles and antiparticles can mutually annihilate to give light. Symmetrically, when very energetic gamma rays meet the light from a massive star, they can be converted into matter (an electron-positron pair in this case). So, the light from the star acts like a fog for gamma rays, absorbing them especially when their source — the compact object — is behind the star, and so is partially eclipsed. 'The periodic absorption of gamma-rays is a nice illustration of the production of matter-antimatter pairs by light, though it also obscures the view to the particle accelerator in this system,' explains Guillaume Dubus, Astrophysical Laboratory of Grenoble, LAOG.
"The modulation seen with H.E.S.S. is therefore likely to be caused both by a variation in the particle-acceleration process along the orbit and also by the geometric effect due to the light-fog. 'This is the first time in the history of very high energy gamma-ray astronomy that we can observe a repeating, evolving, particle-acceleration experiment in a well-determined environment,' says Mathieu de Naurois, Nuclear and High-Energy Physics Laboratory, LPNHE, Paris.
"The discovery by the H.E.S.S. collaboration of this orbital clock, thanks to the precision of the measurements, will open the way to a better understanding of the environment of black holes, neutron stars, and more generally of the sites of particle acceleration in the Universe."
---
More Information:
The University of Namibia reports that H.E.S.S. uses three or more telescopes to observe gamma-ray induced air shower from different angles to obtain a 3-dimensional "view" of the showers – or "stereoscopic." This acronym also honors the famous Austrian Physicist, Victor F. Hess who is credited with the discovery of cosmic radiation (energetic particles and photons from outer space) in 1911.
"The array of telescopes being built in Namibia will be a next-generation instrument consisting of four 12-meter-diameter concentrators that will be used to focus faint Cherenkov light flashes caused by incoming gamma-ray photons onto a sophisticated detector (or camera). This instrument will be capable of detecting the effects of gamma-ray photons from a photon energy of 40 GeV upwards (hence, the reference to "High Energy"). The instrument will be able to detect gamma-ray sources with a spatial resolution of about 0.1 o and an energy resolution of about 20%.
"During a second phase, the four telescopes of the first phase will be expanded to a total of 12 to 16 telescopes which will increase the capabilities of the project considerably. This will make the H.E.S.S. Project the largest of its kind in the world.
"The purpose of this project is to study the so-called non-thermal universe – processes taking place in interstellar and intergalactic space that can be traced back to populations of energetic particles whose energy spectra are power laws, not the well-known Maxwellian distributions. In more concrete terms, the project will be used to study exotic phenomena like black holes, quasars, pulsars, supernova remnants, exotic heavy particles left over from the creation of the universe, and much more."
For further information about astronomical bodies, please see reports below in the Earthfiles Archives:
10/23/2006 — One, Maybe Two, More Mysterious Radio Bursts from Galactic Center
12/17/2005 — Sirius's Companion Star, Sirius B, Finally "Weighed"
12/07/2005 — Zeta Reticuli I and II – Binary Home of Extraterrestrial Biological Entities?
11/09/2005 — Martian Dust Storm, Cosmic First Light and Black Hole At Galactic Center
09/16/2005 — "Planet X" and the Kuiper Belt's Oddballs, "Santa" and "Easterbunny"
08/12/2005 — Deep Impact Spectra: Carbonate, PAHs and Some Amino Precursors in Comet Tempel I
07/30/2005 — Astronomers Report 10th Planet Far Beyond Pluto
03/25/2005 — Glow of Distant Worlds Seen For First Time
03/03/2005 — What Made Five Strong Radio Bursts At the Center of Our Galaxy?
08/28/2004 — Near-Earth Asteroid 4179 Toutatis Comes By Again On 09-20-04
06/25/2004 — Wild 2, An Amazing Comet
06/07/2004 — Mayan Priest in Guatemala Writes About Rare Venus Transit
03/15/2004 — Most Distant "Icy Planetoid" in Our Solar System Has Baffling Orbit
02/03/2004 — Planet 150 Light Years from Earth Has Oxygen and Carbon Atmosphere
10/11/2003 — Is Our Universe Finite and Shaped Like A Dodecahedron?
09/02/2003 — Updated – Astronomers Don't Think Asteroid Will Hit Earth in 2014
07/16/2003 — First 3-D Images of the Sun's Granular Surface
03/07/2003 — Scientist's Record Sun's Plasma Interaction with Comet NEAT
11/02/2002 — 6,500-Year-Old Astronomical Stone Circle and Megaliths in Nabta, Egypt
10/07/2002 — Large Kuiper Belt Planetoid Found Beyond Pluto
08/16/2002 — Did CONTOUR Probe Break Apart Or Disappear Into Space?
07/11/2002 — Hubble Telescope Photographs 7 Objects Traveling In Pairs Beyond Pluto
06/14/2002 — Another Solar System Like Ours?
01/26/2002 — Something Is Perturbing Comet Orbits in the Oort Cloud
11/10/2001 — The Orion Constellation and the Pyramids of Giza
10/05/2001 — Large Prehistoric Underground Circle Found in Chillicothe, Ohio
06/16/2001 — Beyond Stonehenge with Astronomer Gerald Hawkins
12/24/2000 — Martian Bacteria?
12/14/2000 — A Pleiadian Star Tears Apart Black Interstellar Cloud
11/19/2000 — Great Pyramid At Giza – Star Alignment Might Determine Age
10/09/2000 — Astronomy Updates
09/06/2000 — Hubble Photographs Mystery Object in Centaurus Constellation
01/28/2000 — Black Hole Mystery at the Center of the Andromeda Galaxy
12/01/1999 — Six More Planets Discovered 60 to 190 Light Years Away
11/06/1999 — Leonids – and Linearids? – Light Up November Skies
10/25/1999 — A Mysterious "Perturber" at the Edges of Our Solar System
08/28/1999 — Oddball Quasar and Salt Water Inside Meteorite
06/15/1999 — Current Brightest Binocular Comet and Upcoming Solar Eclipse
02/01/1999 — Astronomy Updates with Brian Marsden and John Huchra, Harvard
01/10/1999 — Updates: Astronomy and Rufus Baughn, Nevada Test Site
---
Websites:
H.E.S.S. Project:  http://www.mpi-hd.mpg.de/hfm/HESS/HESS.html
University of Namibia:  http://www.unam.na/research/hess/index.html
Journal of Astrophysics and Astronomy:  http://www.ias.ac.in/jaa/

© 1998 - 2019 by Linda Moulton Howe.
All Rights Reserved.