"We're seeing that some beekeepers have lost fairly high levels of bees over the winter – one beekeeper as high as 90% loss."
– Brent Halsall, Pres., Ontario Beekeepers Assoc., Canada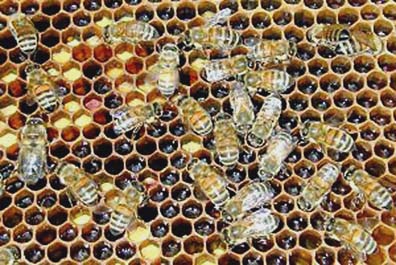 April 6, 2007   London, England  – When hives in Toronto and Saskatchewan, Canada, were opened up in the last week of March, at least 40% had either disappeared – or in another twist of the mystery – in some Canadian hives, thousands of bee bodies were found dead.
In addition to the United States and Canada, in Europe at least nine countries are now reporting massive disappearances of honey bees – similar to the Colony Collapse Disorder that has affected American beekeepers since the fall of 2006. The European countries reporting bee disappearances are:
1)  Spain
2)  Poland
3)  Greece
4)  Croatia
5)  Switzerland
6)  Italy
7)  Portugal
8)  Germany
9)  And England.
To everyone's surprise, in the U. K. where genetically modified crops have been resisted and beekeeping is on a smaller scale with less pesticide use than in the United States, honey beekeepers in London who opened hives the end of March found at least half of their hives empty.
On April 4, 2007, I talked with the Chairman of the London Beekeeping Association, John Chapple, about the missing bee phenomenon.
---
Interview:

John Chapple, Chairman, London Beekeeping Association, London, England:  "In London, we normally expect to have 10% to 20% losses every winter in our bees. But this year, at the last  meeting of London members, loads of people reported far more than the normal percentage. And in talking around, they all came up with the same thing that is happening: the bees just disappeared. There were no dead bees to look at, so we could not examine anything. And they all had plenty of stores (of honey) left. And a phenomenon that we can't understand is that they don't appear to be robbed out by other bees.
CAN YOU EXPLAIN THAT?
Normally, when a hive is deserted, robber bees from other colonies come and take the stored honey away. They would much rather get it from there than go looking in flowers.  But for some reason this year, it hasn't happened.
SO,  THE NORMAL OPPORTUNISTS ARE EVEN STAYING AWAY FROM THE EMPTY HIVES?
Yes. And we don't know why.
THAT'S VERY CONSISTENT WITH REPORTS FROM AT LEAST 22 TO 24 STATES IN THE UNITED STATES AND APPARENTLY IN SOME LOCATIONS JUST DISCOVERED IN THE PAST WEEK OR TWO IN SASKATCHEWAN AND ONTARIO, CANADA.
THE TELEGRAPH ONLINE REPORTED: "IN LONDON, ABOUT 4,000 HIVES – TWO-THIRDS OF THE BEE COLONIES IN THE CAPITAL –  ARE ESTIMATED TO HAVE DIED THIS WINTER."
[ Editor's Note:  John Chapple estimates there are 8,000 to 10,000 hives in London, of which at least half mysteriously disappeared in the winter of 2006 to 2007. ]
Half of my stock are gone and I cannot explain why they disappeared.
SO, YOU'VE HAD AT LEAST A 50% LOSS?
Yes. I've lost 23 hives this year (out of 40), which I can't explain why they died.
AND THE BEES DISAPPEARED IN THOSE 23 HIVES?
They disappeared, yes. That's the bit I can't explain.
DO YOU FIND IT FRIGHTENING?
Yes, I find anything I can't explain frightening, you know?
ONE OF THE QUOTES FOR YOU IN THE TELEGRAPH WAS: 'THE MORTALITY RATE IS THE HIGHEST IN LIVING MEMORY AND NO ONE SEEMS TO KNOW WHAT IS BEHIND IT.'
Yes, that's true. I can't find anyone. I chatted with one of our senior beekeepers who has been keeping bees for 60 years and he's known nothing like it. He lost his bees as well.
SO IN HIS 60 YEARS OF BEEKEEPING, HE HAS NEVER SEEN…
Anything like this, no. And he can't explain it.
"Pesticide Cocktails" Too Much for Bees?
WHEN YOU ALL TALK WITH EACH OTHER ABOUT WHAT THIS BODES FOR 2007 AND BEYOND, HOW SERIOUS DO YOU THINK THIS IS RIGHT NOW?
Well, talking with other beekeepers, we all think it is some how varroa mite-related. All the chemicals over the years that we have been pouring into the hives might have messed up the bees' senses. But we don't know the answer. We are only guessing. We've been tipping our hives with loads of chemicals for years, thinking we could control this varroa mite. Obviously, we can't.
IN THE UNITED STATES, I KNOW IN TALKING WITH DAVID HACKENBERG OF THE HACKENBERG APIARY OF PENNSYLVANIA, HE IS CONVINCED THAT IT IS PESTICIDES OF SOME SORT AND THERE IS A BIG QUESTION MARK ABOUT THE NEW NICOTINE-BASED PESTICIDES CALLED NEONICOTINOIDS. THESE ARE THE PESTICIDES THAT FRANCE AND ITALY, AS I UNDERSTAND HAVE BANNED IN THE LAST FOUR YEARS?
Yes, they are banned there, but the thing in London is we don't have large rural areas. It's an urban environment, so the amount of pesticides you get is very small. So we don't think it's that. We think it might be something with the chemicals we've been using to control the varroa mite over the years.
SO, YOU'VE BEEN TRYING TO CONTROL A MITE AND THOSE 'PESTICIDE COCKTAILS,' AS SOME PEOPLE CALL THEM, MIGHT NOW BE HAVING AN ACCUMULATIVE EFFECT OF SOME SORT?
Yes. Something has happened that we cannot explain. DEFRA, which is our (Dept. of Environment, Food and Rural Affairs) agricultural body, has taken samples from some of my live hives and let's hope they can find something.
HAVE YOU RECEIVED BACK ANY DATA FROM ANY LABORATORY OR INVESTIGATOR?
No.
WHEN WOULD YOU SAY IT BECAME REALLY CLEAR THAT LONDON BEEKEEPERS WERE LOSING 40% TO 50% OF THEIR HIVES?
It became clear to me in January 2007 and that's when I started asking questions. Then we had our February 2007 meeting at the beginning of the month and that's when people came in reporting losses of bees.
Bee Research Has Been Low On Government Priority and Budget Lists
ANOTHER QUOTE IN THE TELEGRAPH ARTICLE SAID: 'BEEKEEPERS FEAR  THAT CUTS IN DEFRA'S FUNDING FOR BEE RESEARCH FROM 250,000 POUNDS IN 2004 TO 180,000 POUNDS FOR 2007 TO 2008, HAVE LEFT THEM VULNERABLE."
Yes, we have no source for excellent research left in the country now.
WHAT HAS HAPPENED?
Well, you know what government bodies are like. They like to save money and beekeeping is an easy thing to save money on.
BUT THE POLLINATION OF CROPS IS VITAL.
It is vital, but when you're explaining to a politician the importance of bees, they can't understand what you're talking about. They can only see rows of figures on charts. And it's easy to say, we just cut staff by cutting bee research out. And that saves money.
DO YOU FIND CONCERN IN THE U. K. ABOUT THE GENERAL DECLINE OF POLLINATORS?
Among educated people, yes. But amongst the general public, I don't think they understand what bees do. Most people think that bees just produce honey. They don't realize that their main function in life, the most important thing to us, is pollination. People don't realize that without pollinating insects, we won't have berries on trees and so won't have birds. If we don't have birds, it just works up the food chain.
RIGHT, IT'S LIKE DOMINOES FALLING.
Yes, it is. Some how or other, the ecosystem has been messed around with and my good bet is that mankind has messed around with it somehow or other."
House Subcommittee Hears About Colony Collapse Disorder
Finally Congress is beginning to pay attention to the Colony Collapse Disorder.
On March 29th, the House Subcommittee on Horticulture and Organic Agriculture held a meeting in Washington, D. C., with several of the scientists, beekeepers and other agencies involved in researching the phenomenon. Diana Cox-Foster, Ph.D. and Prof. of Entomology at Penn State in College Park, Pennsylvania, told me that Ontario and Saskatchewan, Canada, had been added to the list of locations reporting massive disappearances of bees.
[ Editor's Note:  For more details and coming transcripts of the House Subcommittee meeting, see:  "News from the House Agriculture Committee." ]
But complicating the picture, are some beekeepers in Ontario who have opened hives recently to find thousands of dead bees – some dry and desiccated as if dead for weeks – and others fresh, as if dead only days.
Brent Halsall, President of the Ontario Beekeepers Association in Greely, Ontario, said he and his beekeeping colleagues in Canada were shocked when their hives were opened the end of March.
---
Interview: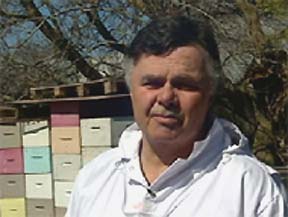 Brent Halsall, President, Ontario Beekeepers Association, Greely, Ontario, Canada: "We were quite surprised this spring when we started opening up our hives. And I should mention that we've only just opening our hives, so we don't have a real good handle on it yet. But we're starting to see a bit of a pattern. We're seeing that some beekeepers have lost fairly high levels of bees over the winter – one beekeeper as high as 90% loss.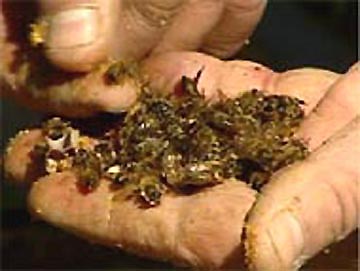 IN THAT ONE CASE OF 90% LOSS, WERE THERE ANY BEES LEFT IN THE HIVE?
Yes, there are. Our colonies are not completely empty by any means. I know the colonies I have looked through on my own are full of bees. The bottom boards are covered with bees and there are bees all over the place. I don't normally find dead colonies with bees all over the place in them.
SO IN A WAY, IT'S SORT OF THE POLAR OPPOSITE WHERE IN THE UNITED STATES IT'S BEEN ZERO BODIES, IN ONTARIO, YOU'RE FINDING ENTIRE COLONIES OF DRY, DESSICATED BODIES.
Yes, but they are not always dry and desiccated. Usually I would assume dry, desiccated bees had been dead for quite a while. In some cases, they are nice, plump juicy ones, so they haven't been dead that long.
IS IT FAIR TO SAY THAT AS MYSTERIOUS AS THE COMPLETE DISAPPEARANCE OF THE BEES FROM HIVES IN THE UNITED STATES HAS BEEN, THAT IT IS EQUALLY MYSTERIOUS THAT WHOLE COLONIES WOULD BE FOUND DEAD IN OPENING UP IN MARCH 2007?
Well, at this point it certainly is. In Ontario, we have a Tech Transfer team, it's a research team of three researchers who work for us. I think they are as surprised as anyone at what they are finding right now. But again, they have just started looking and who knows where it's going to go?
THE BOTTOM LINE – WHETHER IT'S CANADA OR THE UNITED STATES – MASSIVE NUMBERS OF BEES ARE GONE.
That's right. We're all wondering what's going on here? I think one of the big concerns with the bee hives is that anything the bees are bringing back into the hives, the wax in there is like a fat and it will absorb various chemicals. So, whatever the bees are exposed to can end up being in the colony on a long-term basis.
SO FAR, NO ONE HAS AN ANSWER ABOUT WHY BEES IN THE MILLIONS ARE COMPLETELY DISAPPEARING.
That's right. It's a big mystery and we have a large distribution network here with articles coming around, but no answers."
Microarray Analysis: Compare Dead Bee Genome with Healthy Bee Genome
On October 25, 2006, a research consortium supported by the National Human Genome Research Institute (NHGRI), announced the publication of a high-quality draft genome sequence of the western honey bee (Apis mellifera), finding that its genome is more similar to humans than any insect sequenced thus far. There are approximately 260 million DNA base pairs in the honey bee genome.
Although only 9 percent the size of the 3 billion base pairs in the human genome, the honey bee contains nearly half as many genes as the human genome, more than 10,000 in the bee compared to around 20,000 genes in the human.
When compared to other insects, the honey bee genome contains fewer genes involved in innate immunity, detoxification enzymes, and gustatory (taste) receptors. But the honey bee genome contains more genes for olfactory receptors and novel genes for nectar and pollen utilization. Interestingly, the honey bee genome shows greater similarities to vertebrates than insects for genes involved in circadian rhythm, as well as biological processes involved in turning genes on or off.

The newly decoded honey bee genome will now be applied in the challenge to find out what is causing the Colony Collapse Disorder. Researchers at the University of Illinois Urbana-Champaign and the U. S. Department of Agriculture's Beltsville, Maryland, laboratory, are going to try microarray analysis that compares dead bee genomes with healthy bee genomes. If the Colony Collapse Disorder bees have been exposed to some kind of pesticide or fungal toxin or other poisonous substance, scientists might be able to find the "footprint" of that assault in genes turned on or off and proteins that might have been made to combat the poison that are not turned on in healthy bees.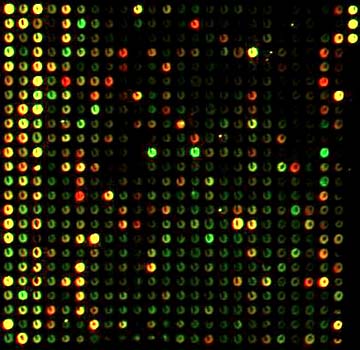 2007 California Almond Crop – Weaker Pollination Than Expected?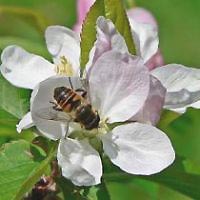 The first data from the microarray analysis might be reported this summer. By then, if the massive disappearances of honey bees and the decline of other pollinators continues, what happens to berry, melon, almond, apple, and vegetable crops? Shortages are anticipated. According to Prof. Diana Cox-Foster at Penn State, recently the California almond growers have quietly contacted Congressional offices because the 2007 pollination was weaker than normal as the honey bees continue to disappear in huge numbers. Even Australian bees imported to California for the almond pollination disappeared.
---
More Information:
For further information about missing honey bees, please click on links to recent Earthfiles reports:
---
Websites:
Colony Collapse Disorder (CCD):  http://www.ento.psu.edu/MAAREC/pressReleases/CCDSummaryWG0207.pdf
Biology of Honey Bees:  http://plantphys.info/Plants_Human/bees/bees.html
Honey Bee Genome Project:  http://www.hgsc.bcm.tmc.edu/projects/honeybee/
Honey Bee Oligonucleotide Microarray: http://www.beespace.uiuc.edu/BeeArray
Microarray Analysis:  http://www.gene-chips.com/

© 1998 - 2023 by Linda Moulton Howe.
All Rights Reserved.