"It appears that the body is standing in the tube with nothing around it.  ... And now, I change bodies."
- "Wanna Lawson," New Jersey city employee and human abductee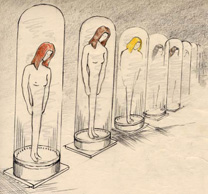 Return to Part 1.
February 19, 2011 Albuquerque, New Mexico - After I posted Part 6 on February 14, Joshua Rhinehall emailed his further thoughts about genetic material used by advanced intelligences to influence timelines through the creation of hybrids or cloned bodies.

© 1998 - 2018 by Linda Moulton Howe.
All Rights Reserved.