" A very tentative working theory was expressed by the scientific
members of the inspection team that pilot-aerodyne interaction
may occur via electronic-nonword symbols perceived through the
tactile manipulation of the fingers, feeding impulses to the brain and
visa versa ... a product of artificial intelligence."
- Page 0020131 Crash Retrieval Report
from CIA to MAJIC, September 19, 1947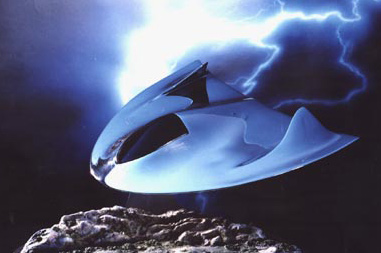 Return to Part 1
Return to Part 9.
February 26, 2011  Albuquerque, New Mexico - Continuing from Part 9 with the leaked CIA to MAJIC September 19, 1947, "Project White Hot Intelligence Estimate (Preliminary)" report about the retrieval of three "unidentified lenticular-shaped aerodyne (ULAT)" craft from three different "Landing Zones" between July 4 and 6, 1947, that were wedge-shaped, not round.
Click here to subscribe and get instant access to read this report.
Click here to check your existing subscription status.
Existing members, login below:

© 1998 - 2023 by Linda Moulton Howe.
All Rights Reserved.