- "The cat was cleanly sliced in half with a sharp cutting instrument.
Internal organs, including the heart, were removed. No blood.
The cat's back half was missing and has not been recovered."
- Sgt. Ray Kress, Nevada Cty. Sheriff, Auburn, CA
- "The Angus bull calf's penis was removed in a nearly
perfect circle 5 inches across without blood anywhere."
- Angus Breeder in Eastman, Georgia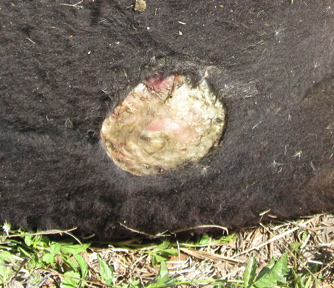 May 8, 2012   Albuquerque, New Mexico - Since the last week of March 2012, there have been several different types of animal mutilations reported in the United States and England. The following is ordered chronologically from most recent date backward in time.

© 1998 - 2018 by Linda Moulton Howe.
All Rights Reserved.