"The reptilian soldier had on the right side of his clothing a black triangle  and a blue background and a circle that was blue. It contained this black triangle and on the black triangle was a serpent in the shape of an 'S,' a snake. And the snake had wings ­ not like bat wings, but like feathered wings like a bird. The snake had its tail curled around and it had stars in the middle of the curl of the tail."
- "Howard," Summer 1995, Orlando, Florida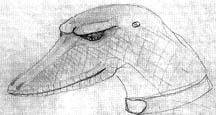 Return to Part 1.

Reprinted on July 1, 2013 this original July 26, 2005 Orlando, Florida Earthfiles report -
Part 2 - Interview with "Howard," Computer Network Administrator, Orlando, Florida: "WERE YOU CONSCIOUS WHEN YOU REACHED THE DONUT AND RED SPHERE PART? We never got up that high, as far as my memory goes, no. HOW FAR FROM THE RED SPHERE DO YOU THINK YOU WERE BEFORE YOU WENT UNCONSCIOUS?

© 1998 - 2018 by Linda Moulton Howe.
All Rights Reserved.