"Si, we know about the red-haired, tall extraterrestres."
- Peruvian policemen near Pillpinto, Peru, south of Cuzco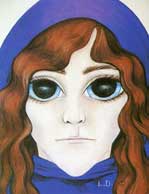 Return to Part 1.
September 19, 2013 Albuquerque, New Mexico - Throughout the 20th to 21st Century history of the human abduction syndrome, there have been encounters with not only very tall blond-haired humanoids with unusually clear, light blue or gold eyes, but occasionally with tall red-haired humanoids, who also have clear, light blue or light green eyes. Sometimes the two types seem to be working together. Rarely, only the tall, red-haired beings are seen.

© 1998 - 2018 by Linda Moulton Howe.
All Rights Reserved.