"I do understand that at one point there was a faction of Greys
at Dulce that left Dulce, and those are the Dropas of Tibet and China."
- Anthony F. Sanchez, author, UFO Highway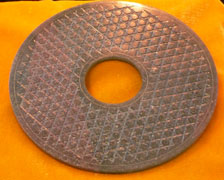 Return to Part 1
September 17, 2014  Albuquerque, New Mexico - After our Earthfiles and Coast interviews on August 29, 2014, I talked further with Anthony Sanchez about the Mars connection to the Progenitors, Annunaki, AUSTRA ALBUS, Eloaha Greys, hybrid humans and ancient Earth mysteries such as the Dropas and Dropa discs of China and Tibet.

© 1998 - 2018 by Linda Moulton Howe.
All Rights Reserved.