© 1999 by Linda Moulton Howe
June 28, 1999 Sussex  New Jersey ­ Back on June 3, 1999, I interviewed Charles Warren of www.contrailconnection.com on Coast to Coast AM radio about unusual contrail patterns and some linked to unidentified aerial objects in or near the white trails. In my June 3, 1999 Earthfiles report associated with that radio broadcast, I posted two x-shaped contrail photos shown below dated May 14, 1999 taken at 3:30 p.m. EST by a New Jersey eyewitness, Ed Davieau, of Vernon in Sussex County near the New York State border. A bright, round object with a pale corona stands out in the sky near the X-shaped contrails.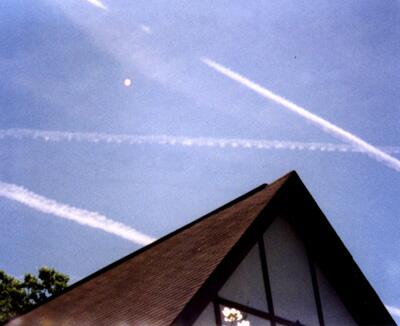 © 1998 - 2018 by Linda Moulton Howe.
All Rights Reserved.