"I guess it's the equivalent of striking oil. It was enormously exciting. It was unbelievable."
– Tasios Melis, Ph.D.
Plant and Microbial Biology
University of California, Berkeley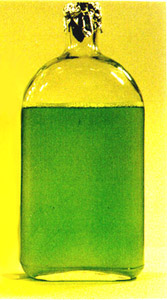 February 25, 2000 Berkeley, California – The journal, Plant Physiology, reported in February 2000 that for the first time scientists at the University of California, Berkeley and National Renewable Energy Laboratory (NREL) in Golden, Colorado, have been able to trigger a metabolic switch in algae to turn sunlight into large quantities of hydrogen gas. A joint patent on this new hydrogen production technique from plant photosynthesis has been filed by the two institutions.
Currently, hydrogen fuel is extracted from natural gas, a non-renewable energy source.The U. S. Department of Energy's Hydrogen Program has been hoping to find a renewable source of hydrogen. For nearly sixty years, scientists have known that certain types of algae can produce gas, but until now the amounts were only small traces. The breakthrough was discovering a "molecular switch." This is a process by which the cell's usual photosynthetic apparatus can be turned off at will and the cell can be directed to use stored energy which produces hydrogen as a by-product.
Tasios Melis, Professor of Plant and Microbial Biology at UC Berkeley and one of the algae researchers said, "The molecular switch is actually very simple to activate. It depends on the absence of an essential element, sulfur, from the micro-algae growth medium. The algae are utilizing stored compounds and bleeding hydrogen just to survive. It's probably an ancient strategy that the organism developed to live in sulfur-poor anaerobic conditions.
"It was actually a surprise when we detected significant amounts of hydrogen coming out of the culture. We thought we would get trace amounts, but we got bulk amounts. In the future, both small-scale industrial and commercial operations and larger utility photobioreactor complexes can be envisioned using this process. Hydrogen is so clean burning that what comes out of the exhaust pipe is pure water. You can drink it."
The scientists first grow the alga in sun like all other plants on earth. This allows the green-colored miniature plants to collect sunlight, carbohydrates and other fuels. Then the liquid alga culture, which resembles a lime-green soft drink photographed at the top of this report, is transferred to one-liter glass bottles with no sulfur present. The alga culture is corked and metabolizes all the oxygen until hydrogen begins to bubble to the top of the bottle. The hydrogen gas bleeds off into tall, hydrogen-collection glass tubes.
So far, the algae can produce about three milliliters of hydrogen per liter of culture every hour over four days. Then the culture needs to go back to sunlight to absorb more fuel. A few days later, it can be tapped for hydrogen again. Researchers say the cell culture can go back and forth many times.




© 1998 - 2019 by Linda Moulton Howe.
All Rights Reserved.