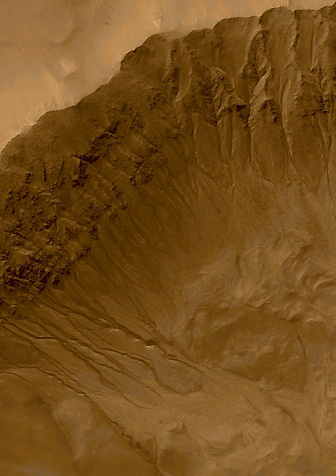 June 26, 2000  Boulder, Colorado – Major breaking news this past week was NASA's press conference in Washington, D. C. at NASA Headquarters on Thursday, June 22nd, to announce 250 photographs of widespread areas on Mars that closely resemble gullies and springs of water on earth.
Scientists are truly baffled by all the photographs in 120 Martian sites taken by NASA's Mars Global Surveyor. Some argue that water should not be able to exist at the low atmospheric pressure on the red planet. One planetary geologist from the U. S. Geological Survey, Michael Carr, said: "My confidence is shaken. This does not fit with what I know from studying Mars for 31 years."
Carr and other scientists have accepted that a lot of water flowed over Mars three to four billion years ago. But these new high resolution photographs show surface features that look like water was flowing there today.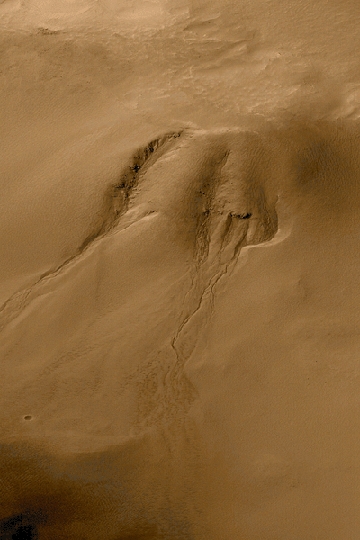 One of the planetary scientists at the press conference agrees about their freshness. Dr. Bruce Jakosky received his Ph.D. in Planetary Science from Cal Tech, is Professor of Geological and Planetary Science at the Laboratory for Atmospheric and Space Physics at the University of Colorado in Boulder. Dr. Jakosky is also Director of the Center for Astrobiology at CU. After the press conference, I talked to him about the surprising number of sites and detailed photographs.
---
Interview:
Bruce Jakosky, Ph.D., Professor of Geological and Planetary Science, Laboratory for Atmospheric and Space Physics (LASP), University of Colorado, Boulder, and Director of CU's Center for Astrobiology: "They are so widespread and they don't seem to be connected up to a single type of geological feature, you know, like they are not all on the flanks of a single volcano or something like that. They don't seem to be connected to volcanoes at all. It just seems that they are widely distributed and that would seem to indicate that there is a lot of water on Mars in the crust, that there is a lot of liquid water in the very recent past, which is something we didn't know. And most importantly, perhaps, is that it's accessible at the surface. Nobody expected to find liquid water this close to the surface, AT the surface in springs that are emanating from that shallow a depth. I think the geologists are struggling to figure out how you can get water that close to the surface and in that quantity. But the images are compelling! I look at them, I looked at the hard copies in addition to the ones that were on TV and in the press and they just look exactly like small flood gullies on earth. It's hard to believe they could be anything else.
WOULDN'T THEY HAVE TO BE RELATIVELY RECENT TO BE HOLDING UP WITH SUCH DEFINITION GIVEN THE DUST STORMS AND WIND AND ALL OF THAT ON MARS?

Exactly. There are two things that say they are very recent. One is what you just said. The second is that they don't find any degraded ones, or they don't find sand dunes or other features covering them up. These things are the top most things stratigraphically, which means they are the most recent event. If you try to put dates on it, it could be as recently as yesterday. And it can't be much older than a few tens of millions of years. But either way, ten million years is still yesterday geologically.
BUT YOU WOULD THINK IN TEN MILLION YEARS THAT ANY OF IT WOULD HAVE BEEN COVERED UP BY THE DUST STORMS THAT WE HAVE SEEN PHOTOGRAPHED MANY TIMES JUST THIS CENTURY.

We can argue about that. The dust storms would cover it up quickly, but the wind could also strip off the dust. So, the fact that they don't seem to have any dust on them I don't think is conclusive.
NOW IF YOU MAKE THE HYPOTHESIS THAT THEY LOOK SO FRESH AND THEY MIGHT HAVE BEEN YESTERDAY, TO USE YOUR WORD, AND THAT THERE IS SOME KIND OF MECHANISM IN WHICH WATER IS BEING RELEASED AND THEN IS RIVELLING DOWN IN SOME OF THESE AREAS THAT ARE PHOTOGRAPHED: HOW DOES THAT SQUARE WITH AN ATMOSPHERE THAT IS SO MUCH THINNER THAN THE EARTH'S THAT YOU WOULD EXPECT THAT ANY WATER BREAKING TO THE SURFACE WOULD ALMOST IMMEDIATELY EVAPORATE?

Our expectations are based on relatively limited thinking in whatever data we have available. Along with everybody else, I've been caught up in this idea that Mars is uniform and homogenous and has a cold surface and therefore, you're going to have to go down kilometers to find liquid water to find warm enough temperatures. But as soon as we saw these pictures, people were able to start thinking of ways that would allow liquid water that close to the surface. For example, the analogy that I use is if it's a freezing cold day outside, in order to keep my pipes from freezing, I'll turn the faucet on a little bit. The water comes through the pipes more quickly than it can freeze. Similarly, if we have a conduit from depth to near the surface through which water is flowing, it can flow up to the surface more quickly than it can freeze. And you don't need a very big conduit. You don't need a very porous aquifer to allow that to happen.
DO YOU THINK THAT MIGHT BE LIKELY AND THAT THESE ARE REALLY FRESH SPRINGS?

Yes and yes. Now, let me give you a more detailed answer. One of the things we're finding as we learn more and more about Mars is that it's not the simple planet so much simpler than Earth that we always thought it was. Globally, it may be simple compared to the Earth, but locally the geology is very complex.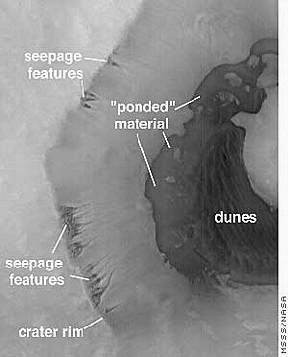 FOR THE LAST SEVERAL YEARS WE HAVE BEEN READING ABOUT THE CONTROVERSY OF WHAT MIGHT BE BACTERIA FOUND IN SOME METEORITES FROM MARS. WOULDN'T THIS NEW POSSIBLE WATER EVIDENCE ACTUALLY SUPPORT A GREATER POSSIBILITY THAT THESE REALLY ARE FOSSILIZED BACTERIA?

The short answer is no. But let me give you a longer answer because if I just say no, I'm missing the point of what you're really trying to ask. And that is: liquid water is one of the key requirements for life and finding convincing evidence like this for liquid water today, really. OK, ten million years ago. That's the same as today. Finding present day evidence for liquid water says that life could exist on Mars today. We've known that Mars has had liquid water for some time. But we've always thought it was 3 1/2 to 4 billion years ago rather than today. In that sense, we've been saying for a few years that maybe Mars had life early on, but without liquid water today, it would be very hard to sustain it. Finding the evidence for present day liquid water says that if there ever was life on Mars, it could exist today, especially with the water being so widespread to have popped up in so many different places on the planet. That says it's not a single isolated reservoir of water tapped by one spring.
WOULDN'T IT BE MORE SATISFYING FOR HUMANS TO REALIZE THAT THERE WAS LIFE ON AT LEAST ANOTHER PLANET IN OUR SOLAR SYSTEM AND THERE IS A KIND OF PHILOSOPHICAL ANGST ABOUT BEING ALONE IN THE UNIVERSE?

Exactly, that's the issue. It's one of those things that if we find even another example of life elsewhere, even if it was microbial, that would be truly profound. It would be daunting to imagine that there is life elsewhere. But at the same time, it would be just as daunting to imagine that we're alone. Either way, it's a big deal and finding out is important.
HOW LONG DO YOU THINK IT WILL BE BEFORE WE ACTUALLY PUT HUMAN SCIENTISTS OR ASTRONAUTS ON MARS WITH A SHOVEL, SO TO SPEAK, TO REALLY DIG INTO THIS?

It will be a dozen years from the day we decide to do it. We could decide today that that's what we're going to do and then it will happen twelve years from now. We might not decide for twenty years and then it will happen thirty years from now.
WE'RE IN JUNE OF 2000. COULD YOU GIVE AN OVERVIEW OF WHAT IS PLANNED OVER THE NEXT TEN OR TWELVE YEARS IN TERMS OF ALREADY SLOTTED MISSIONS?

Sure, but there is a lot of uncertainty. We are launching the new spacecraft to Mars next year, in 2001. It's an orbiter and it's going to continue the global reconnaissance that the Global Surveyor is doing right now. They are debating whether to send a spacecraft in 2003. They will make a decision next month. You know, with the loss of two spacecraft last year everything is in a little turmoil. The 2003 spacecraft will be either an orbiter or a lander and they haven't even decided that.
Downstream from that, they are in the middle of redefining what suite of missions they want to carry out, but the overall goals of the program are to understand the entire breadth of how Mars works as a planet and to address specifically the question about whether Mars ever had life and how that fits into the global context of how Mars evolved. What's similar to the Earth and what's different from the Earth?
It's anticipated that within the decade, we'll have a return of samples from the surface of Mars to the Earth where we'll be able to investigate it in a lot more detail about whether there is any evidence for ancient or present day life.
YOU MEAN BY ROBOTICS?

Yes. And there are no plans for human exploration, although everybody talks about it.
OVER THE ARC OF THE NEXT DECADE OR SO, IT WOULD BE ONLY ROBOTIC MISSIONS IF WE CAN GET THEM THERE?

Yes."

---
Websites:
http://www.jpl.nasa.gov/pictures/mars/



© 1998 - 2019 by Linda Moulton Howe.
All Rights Reserved.