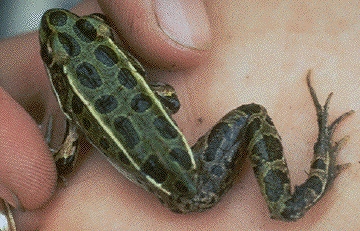 November 12, 2000 Corvallis, Oregon – This year the largest ozone hole on record at the Antarctic extended over the city of Punta Arenas in Chile, exposing humans, animals and plants to increased ultraviolet radiation which can cause skin cancer, kill amphibian embryos and stunt and deform those that survive. Over the next four months, atmospheric scientists will be monitoring what happens at the North Pole. Will the Arctic ozone hole also get bigger as winter takes hold and expose more humans, animals and plants to increased ultraviolet radiation?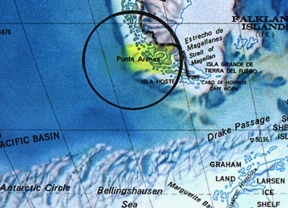 One zoologist who is very concerned about the effects of thinning ozone and increased UV radiation is Dr. Andrew Blaustein at Oregon State University in Corvallis. After a large increase in numbers of deformed frogs, toads and salamanders in the mid-1990s, and decline in amphibian populations around the world, Dr. Blaustein began studying the animals in their natural Oregon lake habitats. He reported in the December 1997 Proceedings of the National Academy of Sciences that ambient UV-B radiation alone can cause death and deformities in amphibian embryos.
But eventually he and other scientists agreed that a fluke parasite was probably responsible for most of the reported deformities. However, no one is certain why the parasite suddenly infected so many amphibians over such a widespread geographic area. And deformities and population declines have continued.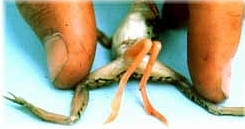 Dr. Blaustein hypothesizes that increased UV radiation from large ozone holes weakens amphibian immune systems making them more vulnerable to disease and parasites. He also has new and troubling information that has recently been published in England's Journal of Zoology; Germany's Ethology, and the American Archives of Environmental Toxicology and Chemistry.
---
Interview:
Andrew Blaustein, Ph.D., Professor of Zoology, Oregon State University, Corvallis, Oregon: "Recently we have shown that some species whose eggs are not dying are still affected later on in life when they grow into tadpoles and into frogs because they undergo sub-lethal effects – effects that don't kill them outright, but really ruin their behavior and ruin the way they grow and develop.
HOW AND IN WHAT WAY?
There are several ways in which this occurs. Under (increased) ultraviolet radiation, for example, some of these species will not recognize predators. So they get eaten. Or they won't be able to escape predators. They stop their movement patterns to a degree. They get slow. It looks like they have a fever and can't move away.
Another thing that happens is their growth is stunted. Sometimes they become hyperactive and that aids their predator in capturing them. So, what I'm trying to say is that in some cases it is good to hide and the animals don't hide after they are exposed to UV. And in some cases, the animals come out and they start moving around more, so they get captured more easily.
EITHER WAY, THEY BECOME MORE VULNERABLE TO PREDATORS.
Yes.
DO YOU HAVE ANY UNDERSTANDING ABOUT WHAT WOULD BE HAPPENING BETWEEN DOSE OF UV RADIATION AND THEIR NOT BEING ABLE TO PERCEIVE PREDATORS OR HAVE STUNTED GROWTH?
We don't have any idea what's going on with the doses per se. But what I am telling you right now is that this is natural, but increasing levels of ultraviolet radiation.
MEANING FROM THE THINNING OF THE OZONE LAYER YOU ARE FINDING THESE EFFECTS?
Right. We are not enhancing it at all. It's natural sunlight. So, let me give you a scenario and then we'll get to that ozone hole.
Let's say you are in a forest area and you're living in the tropics or in the Pacific Northwest and you chop down a little bit of forest and light comes in. These animals will get hit with unnatural levels of ultraviolet radiation they are not used to because they lived in forests. Now, it may not kill them outright, but it may effect their behavior and that is very important to know.
Now, if something is occurring where there is an actual hole in the ozone like in Punta Arenas down in South America, then we have organisms that have NEVER seen that kind of ultraviolet radiation throughout their entire lives. And this could cause severe damage. We all know that ultraviolet radiation can cause skin cancers, eye damage, can destroy immune systems, can effect crop plants and so on. We've got a problem there.
ANY SPECULATION ABOUT WHY AN AMPHIBIAN WOULD NOT BE ABLE TO RECOGNIZE A NATURAL PREDATOR JUST BECAUSE OF INCREASED UV RADIATION EXPOSURE?
It's not a recognition per se. What is going on – they may recognize it, but they don't do anything about it. They are just not moving away. What I think is going on is an endocrine problem. We think they are stressed, the amphibians are under stress when ultraviolet rays hit the body and the endocrine system puts out stress hormones and they don't behave naturally.
IN TERMS OF THE STUNTED GROWTH, DOES THAT MEAN THERE IS DAMAGE AT THE GENETIC LEVEL?
We don't know about that, but there is definitely some damage developmentally. We have shown and so have others that if you put these animals in high doses of UV radiation, their growth will be stunted.
But this (new research data) is unique in that these (UV increases) are natural levels (from the sun), but that increase stunts their growth.
WE HAD HEADLINES EVERYWHERE ABOUT DEFORMED AMPHIBIANS ONLY THREE YEARS AGO, LAST YEAR, FOUR YEARS AGO. THIS YEAR OF 2000 THERE HAVE NOT BEEN AS MANY HEADLINES AND I WONDERED ONE, IS IT THAT THE MEDIA IS NOT PAYING ATTENTION? WHAT IS THE CURRENT STATUS?
That's a good question. Deformed amphibians are still around in the same numbers they were. They were three reasons why they could have been deformed: one is a pesticide problem. One is an ultraviolet radiation problem. And one is a parasite. It's pretty convincing evidence now that it's a parasite known as a fluke or trematode that is causing the multiple leg and missing leg deformities in most of the cases. Not in all, but most of the cases.
That does not mean it's a natural phenomenon. It means it's a natural thing that's causing it. But there could be some ecological changes that have caused parasites to become more prevalent. And that's what we're looking into also. So are other people. What we're thinking is that the amphibians affected by ultraviolet radiation are not behaving normally, which can also help them increase their parasite load. In other words, if they don't get away from the parasites sufficiently, then they may get more parasitism. Also, the endocrine system will be affected and the immune system will be affected and then they can get parasites more easily also.
DO YOU THINK THAT AMPHIBIANS ARE IN A GENERAL STEADY DECLINE AROUND THE WORLD NOW?
Yeah, I think amphibians ­ there are many populations of amphibians that are declining around the world. I don't know about a steady decline, but they are missing from places where they used to be. This is an overall problem in biodiversity. We're loosing species at unprecedented rates. Some of the estimates for species loss that I've seen range from 50,000 to 100,000 species being lost per year! That's a lot. So they are being hit by a lot of things. All organisms on this planet have to come to grips with these environmental changes which are significant when you read about ozone holes over the first major city of the world, Punta Arenas.
THIS IS THE FIRST TIME THERE HAS BEEN SUCH A THINNING OVER A CITY WITH A LARGE POPULATION?

I think so. And I think the ultraviolet rays hitting that city are really high.
ANY DOCUMENTED CHANGES IN ENZYME LEVELS IN HUMANS ASSOCIATED WITH INCREASED UV RADIATION?
Don't know about that.
IF THERE WERE, WHAT KIND OF EFFECTS MIGHT WE SEE IN HUMANS?
I don't know what kind of changes we would see in humans except the skin cancers, the immune system problems. When I first published my UV paper in 1994 which is one of the first papers in our studies showing that amphibian eggs are dying from ultraviolet radiation, I got calls from a couple of physicians who study auto immune responses. They are interested because they knew that UV radiation hampers immune systems. So, there is a link there."




© 1998 - 2019 by Linda Moulton Howe.
All Rights Reserved.