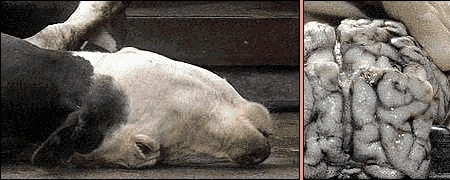 November 26, 2000 Western Europe – On Friday, a shocked Germany and Portugal reported two new cases of mad cow disease that seems to be spreading in Europe. Doctors think the brain destroying prions that cause loss of muscle control and progressive dementia originated in Great Britain after cattle were given feed containing the ground up remains of infected sheep. There is a form of mad cow disease known as Creutzfeldt-Jakob which enters humans who eat infected meat. In England, 81 people have died of that disease since 1996.
In France, two people have died, a third is dying from the Creutzfeldt-Jakob microbe, and a hundred cows have been infected. Recently French President Jacques Chirac requested a ban on using any cow remains in animal feed to help prevent the increasing spread of mad cow disease. The French Agriculture Ministry announced that the restaurant delicacy, sweetbreads, will be banned from sale to the public for an entire year. Sweetbreads are made from a cow's thymus gland. Dozens of school districts in France and neighboring Geneva, Switzerland have also banned beef from school menus. Beef prices have plunged and several slaughterhouses have closed.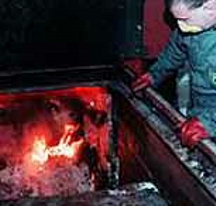 Further, the Swiss Red Cross announced it was barring blood donations from people who spent more than six months in England between 1980 and 1996. As alarm spreads, the European Union's health and consumer protection commissioner, David Byrne, asked member nations to immediately increase more random testing of cow herds. Diagnosis is made only by examination of brain tissue after death.
Across the English Channel, the Financial Times reported that Britain's rat population is at one of the highest levels on record. The National Pest Technicians Association said rats are building up resistance to rat poisons and are so smart they avoid deadly baits after seeing other rats die. The association also thinks global warming is allowing more rats to survive winters.
Global Warming and how to reduce greenhouse gas emissions has been the subject of negotiations by more than 170 countries in The Hague, Netherlands for the last two weeks. But sadly, the European Union and the United States could not agree about how to implement the 1997 Kyoto treaty that calls for the world's industrial countries to reduce their pollution levels by more than 5 percent from 1990 levels.
What nations can do next is uncertain at a time when many scientists warn that global warming will cause temperatures to rise between 6 and 12 degrees over this century. The predicted result is more violent storms, melt down of the polar ice caps and rising sea levels.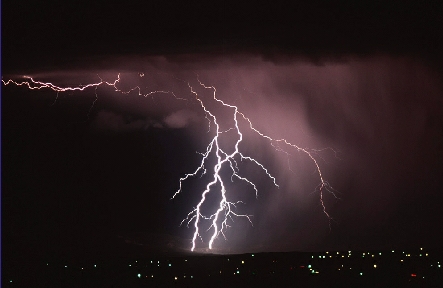 Global warming has also evolved hand in hand with ozone destruction at the North and South poles. This year the largest ozone hole on record at the Antarctic extended for the first time over the city of Punta Arenas in Chile, exposing humans, animals and plants to increased ultraviolet radiation which can cause skin cancer. Over the next four months, atmospheric scientists will be monitoring what happens at the North Pole. Will the Arctic ozone hole also get bigger as winter takes hold and exposes more humans, animals and plants to increased ultraviolet radiation?
Is increasing ultraviolet radiation damaging amphibians? See: Earthfiles.com Environment 11/12/00.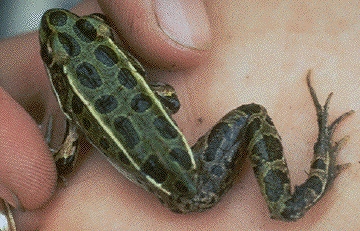 ---
Websites:

© 1998 - 2019 by Linda Moulton Howe.
All Rights Reserved.