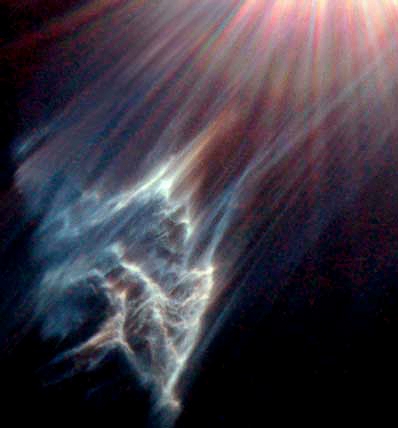 December 14, 2000 Hubble Space Telescope – In this new Hubble image, the star Merope in the Pleiades cluster is just outside the frame on the upper right. Not far away in astronomical terms is a cloud of dust and gas referred to as "Barnard's Merope Nebula," or IC 349. The cloud is being destroyed by the passage of Merope. NASA says the beautiful and eerie light effect is produced "like a flashlight beam shining off the wall of a cave. The star is reflecting light off the surface of pitch black clouds of cold gas laced with dust. These are called reflection nebulae." The parallel wisps extending from the lower left to upper right are explained by University of Hawaii astronomers, George Herbig and Theodore Simon, as dust particles slowed down by the strong starlight. Physicists call this phenomenon "radiation pressure."
The scientists theorize that "smaller dust particles are slowed down more by the radiation pressure than the larger particles. Thus, as the cloud approaches the star, there is a sifting of particles by size, much like grain thrown in the air to separate wheat from chaff. The nearly straight lines pointing toward Merope are thus streams of larger particles, continuing on toward the star while the smaller decelerated particles are left behind at the lower left of the picture."
The Pleiades, or "Seven Sisters" of Greek mythology, are a small group of bright blue stars that resemble a dipper. The star cluster lies in the constellation Taurus at a distance of about 380 light-years from Earth and are clearly visible in the winter sky.
This collision between Merope's starlight and interstellar dark matter has never been photographed so clearly before. Now astronomers hope to learn more about the structure of dust lying between the stars.
---
Websites:
http://www.athena.ivv.nasa.gov/curric/space/planets/lvhubble.html



© 1998 - 2019 by Linda Moulton Howe.
All Rights Reserved.